House smoked pastrami Reuben on our caraway rye with kraut,
melted Emmantal, and fermented sweet pepper "1000 Island"
(available for take-away lunch Sat+Sun while supplies last)
Winter Dinner Schedule 
We're pleased to continue offering 
"Curbside Coquine" for take-away dinner, Thursday through Sunday.
  Orders can be placed online via 
Tock
 as late as 3:30pm the same day.
Additionally, we're happy to take your order over the phone for same day pickup. Call us at 503-384-2483 between 4pm and 6pm. Most orders can be ready within 30 minutes. 
Take-Away Dinner Menu for the week of February 25-28: Thursday-Sunday
Pasture raised, organic chicken, by the half, to share, rubbed with ras-el-hanout and served with Meyer lemon jus
Coquine Burger No. 9: Quarter pound beef burger on house-made potato bun with crispy onions, pickles, Dijon, mayo and the option to add Gruyère and/or house smoked pastrami
Vesuvio pasta with milk braised pork sugo, fennel, lemon, and crispy sunchokes
Rack of lamb with black cherry glaze, and Taggiasca olives and winter savory sauce vierge
Potato gnocchi with black trumpet mushrooms, black truffle butter and Belper Knolle
Potato, celery, and green garlic soup with Dungeness crab, spring herbs, charred scallion, and lemon
Roasted carrots and salsify with pumpkin-seed-romesco
Chicories with Fourme D'Ambert, toasted walnuts, crispy parsnip chips and Pippin apple vinaigrette
Wild rice with broccoli romanesco, dates, preserved lemon, and smoked almonds
Hand cut French fries with house-made ranch
Our dinner rolls with butter
Brown sugar and apple sorbet
Chocolate and walnut Torta Caprese with nocino sauce and Chantilly cream
Long pepper pavlova with blood orange and crème fraîche mousse
Coquine Cookies!
Cold beer & pre-mixed cocktails
Wines: Choose your own adventure, or let us pick for you
 I Just Want Cookies! Thursday – Sunday, 4:30PM to 7PM open arrival

You are welcomed to pre-order cookies and sweets for Curbside pickup, with open arrival, Wednesday through Sunday, between 4:30pm and 7pm. Book through Tock at the link above.
Farm Direct Pickup
Orders are now open for Wednesday, Saturday and Sunday, March 10, 13, and 14
Fresh veggies, citrus, a new meal kit, and more this week (tender spring green things are starting to trickle in!)
Monthly veggie subscriptions are now available for weekly or every-other-weekly pickup!
New Chef's Glass wine pack for March, Evening Land Vineyards special wine pack & Little Beast Brewery "Wild Beers" set.
What we're drinking this month 
Here are a few of the things we're looking forward to filling our glasses with this month
Chef's Glass – March 2021 – 
"Best Coast Double Duo" 4-pack
$130 / 4-pack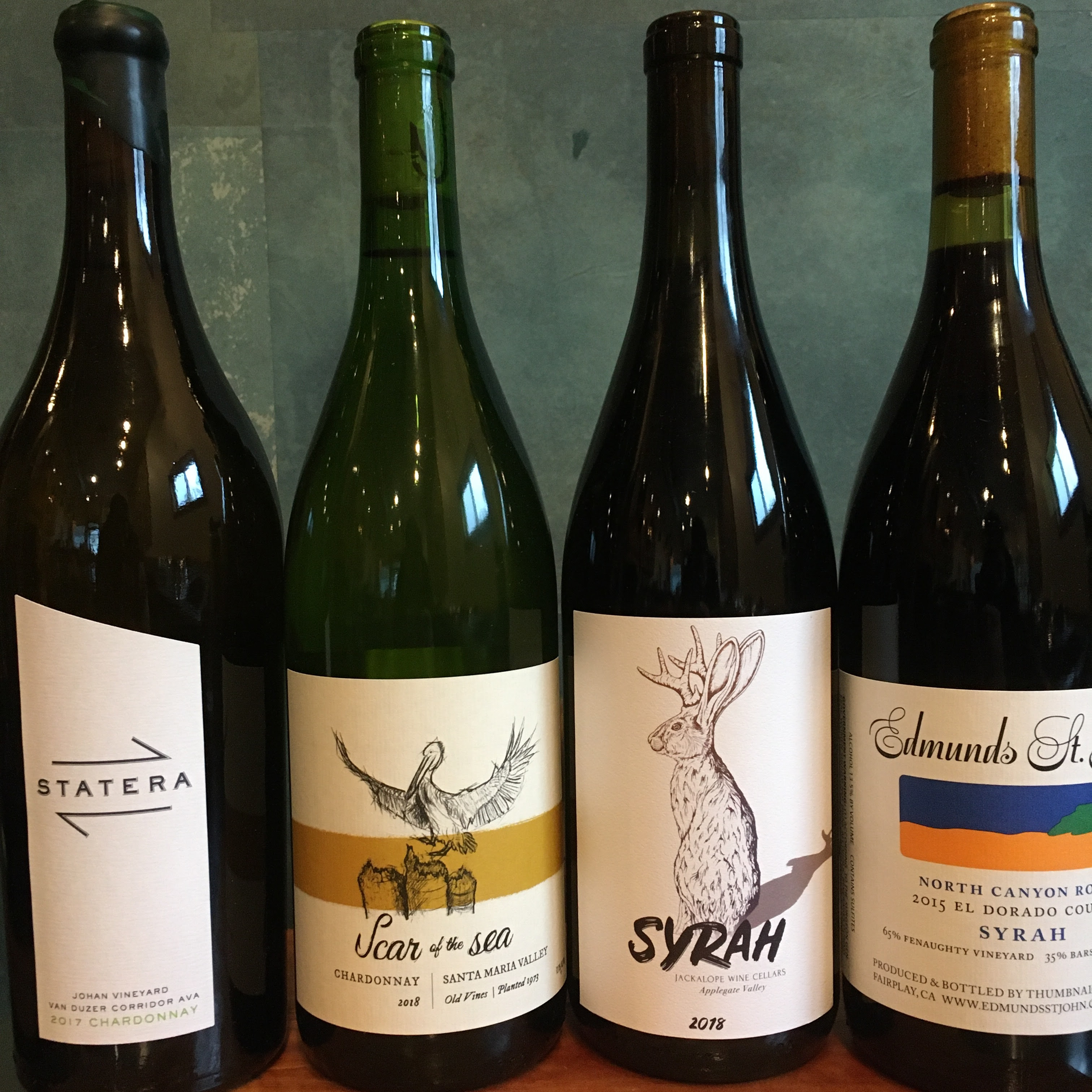 Two Chardonnay and two Syrah. Really good Chardonnay and really good Syrah. One each from California, and one each from Oregon.
If you've been following along with the Chef's Glass series, then you already know about our love of these two compelling grape varieties. This set presents a fun and delicious study into how place impacts the personality of these two varieties, especially when made with similar ethos; honest, accessible, appropriate for now.
Chardonnays of a rugged nature:
Both of these Chardonnay are bottled un-fined and un-filtered, and as a result, are not exactly star-bright in the glass. This is part of their appeal. They bring a slight rugged sense of texture and a raw energy that speaks of their place of origin. They are triumphantly honest.
Chardonnay, Statera, "Johan Vineyard," Willamette Valley, Oregon 2017- Jura styled Chardonnay made with no intervention by an exciting Willamette Valley chardonnay specialis
Chardonnay, Scar of the Sea, Santa Maria Valley, California 2018 – Vibrant and fresh Chardonnay, influenced by the cooling coastal fog of California's lower central coast.
The Siren's Call of New World Syrah:
It's difficult to argue with Syrah as immediately delicious as these. The differences between the two are evident; one with some age, the other emphasizing its youth, but both made by conscientious winemakers on a small scale.
Syrah, Jackalope Cellars, "Mae's Vineyard," Applegate Valley, Oregon 2018 – Persistent and just the right amount of punchy, this is Syrah from sustainably grown fruit in Southern Oregon, a truly under-sung region for this variety
Syrah, Edmonds St. John, "North Canyon Syrah," El Dorado County, California 2015 – Dark blue-red in color, with a fresh and slightly savory nose, this is a Syrah of longevity.
Includes tasting notes, pairing suggestions, and a recipe to compliment the set
The Other Side of Seven Springs Vineyard – 3-pack
$105 / 3-pack

Rajat Parr and Sashi Moorman are responsible for some of the most exciting wines being made in Oregon and California. They are perennial favorites of ours here at Coquine.
Together, at the head of Evening Land Vineyards, they steward the historic Seven Springs Vineyard into its fourth decade. Seven Springs is planted overwhelmingly to Pinot Noir, followed by Chardonnay, and Gamay. The oldest own-rooted blocks of Pinot Noir and Gamay are a testament to, and daily reminder of, Oregon's incredible history and potential.
While they have cemented their reputation along with the best of Oregon's Pinot Noir and Chardonnay producers, this selection features a newer face of this spectacular vineyard. Chenin Blanc, Rosé of Pinot Noir and a Passetoutgrain.
2018 Seven Springs Vineyard Chenin Blanc- The second vintage from a newly grafted section of Chenin blanc, a surprisingly under-represented variety in the Willamette Valley. This wine makes a great case for planting more Chenin!
2019 Seven Springs Rosé of Pinot Noir – Pinot noir as a dry rosé that reminds us why we love rosé. It manages to be secretly serious; If you want to look past how pretty and mouthwatering it is, you'll find the kind of depth and sense of place that only Pinot noir can deliver.
2019 Seven Springs Passetoutgrain – Bourgogne Passetoutgrain, once relegated to the realm of Burgundy Obscurity, has in recent years, emerged as one of its darlings. For good reason. When perfected, it is a style to captures all the youthful charm of Gamay and combines it with just the right amount of depth and structure of Pinot noir. This is the newest addition to the Evening Land Vineyards lineup, and we're thrilled to share it.
Must have proof of age at time of pick up, 21 years or older
Little Beast Brewery "Wild Beers" – 4-pack
$36 / 4-pack

Little Beast have been crafting mixed culture ales in Portland since their founding in 2017
Founded by partners in life and work, Charles Porter and Brenda Crow, Little Beast is a family brewery with a passion for making great beer and sharing it with others.
they craft wild, wood-aged and blended beer naturally with diverse cultures, including Saccharomyces, Brettanomyces, Lactobacillus, and wild flora. By harnessing the little beasts that ferment their beers, capture their untamed beauty, and produce farmhouse beers that are diverse in flavor and rare in character.
Included in this selection are four beers that give a great introduction to their wild and wonderful work:
BES
Tart Wheat Ale – 6%
Brewed with Belgian malts, Noble hops and chamomile flowers then fermented with a blend of unique Saccharomyces yeast and conditioned with Lactobacillus. Juicy, bright and balanced with notes of pineapple, lemon, coconut and wheat.
COUNTRY WIZARD
Brett Super Saison – 8.5%
Fermented with Saccharomyces in primary fermentation and secondary on Brett, this beer really expresses a prominent Brett character of stone-fruit with American hops.
FERME ROUGE
Oak-Aged Tart Red Ale – 7.5%
Our mixed-culture, light-bodied farmhouse red ale has bright flavors resulting from a balance of developed malt character, toasted oak and soft acidity.
GOLDEN STONE
Oak-Aged Ale w/ Peaches, Nectarines, & Apricots – 8.1%
A blend of peaches, nectarines and apricots imparts a luscious elegance to this farmhouse style ale. Prevailing notes of vanilla and toasted French oak, a defined malt character and a yeast dominant profile, its sum is greater than its parts.

Must have proof of age at time of pick up, 21 years or older
We look forward to serving you