Enrollment for Winter CSA Membership
Weekly farm-direct fresh veggies are available by subscription.
We will be accepting new enrollments
For pick up each Wednesday or Saturday, our Farm Direct Subscription will offer mini-veggie ($30) bags we've been curating this past year, complete with Katy's notes about what's included, and suggestions for what to do with each item. 
Winter quarterly subscription will run for 13 weeks; December 7th – March 14th
There will be no Farm Direct Pickup orders offered December 28th, and 31st.
(These skipped dates are accounted for in quarterly pricing)
Please note: Each quarter must be repurchased. Memberships do not automatically renew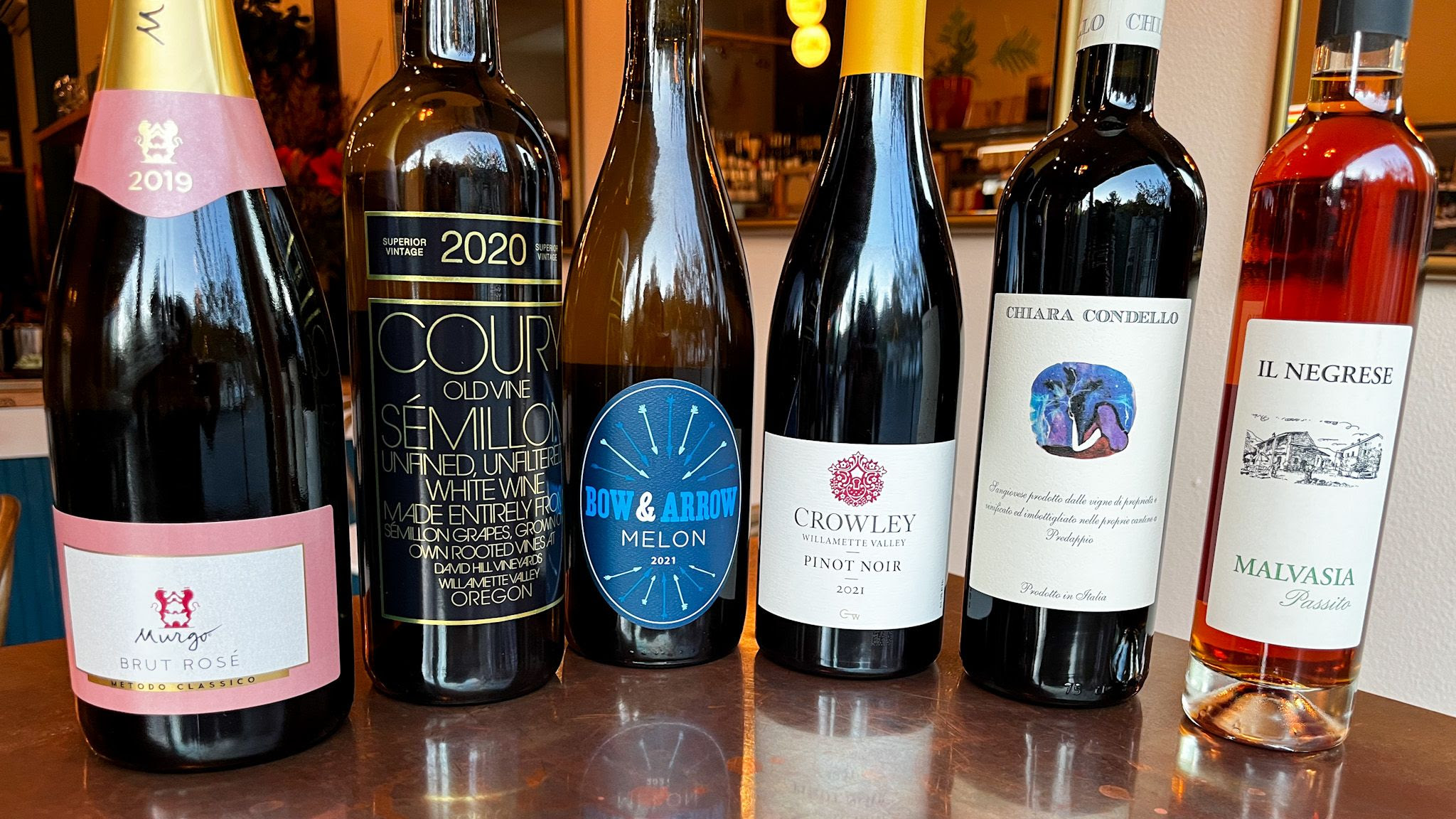 Holiday Ease Wine 6pack
Ready to grab and go in the Market
6 wines perfectly selected for the Holiday season.
Surprise guests? Tuesday night?
No fuss, all satisfaction wines to enjoy at the drop of a hat
 $142
This selection includes all the wine you need to help with dinner prep, welcome guests, and enjoy with dinner and dessert
In the Market
Starting Saturday Nov. 26th we will be offering
Gingerbread by the slice in the Pastry Case
Offered warmed with a side of butter

Smoked Trout Roe and Caviar now available for purchase for your Holidays

Coquine Merch
"The Fantastical World of Coquine" Merch now available
Crewneck Sweatshirts
T-shirts
&
Tote Bags
---
---
Farm Direct Pickup
Wednesdays and Saturdays
10am- 2pm
Preorder your veggies.
Shop for everything else when you arrive
Orders for Wednesday and Saturday, November 23rd and November 26th are now open
Goose Dinners 2022
An annual Coquine tradition around the winter Solstice, the goose dinner is our delicious and epic send-off to the year. We'll be releasing bookings for this year's goose dinners on Tuesday, November 22nd, along with our regularly scheduled releases at 3pm via our
Tock page
***
Goose Dinners will be offered:
Wednesday, December 14th through Saturday 17th
&
Tuesday, December 20th through Friday 23rd.
Oyster Hour is now Coquine Market Café
Come join us for casual a la carte dinner in the Market!
Thursday, Friday, and Saturday. 4:30PM to 8PM
Upcoming Dates of Note
Market closed:
-November 24th and 25th
-December 24th-28th
-January 1st
Dinner closed:
-November 23rd and 24th
-December 24th – January 3rd