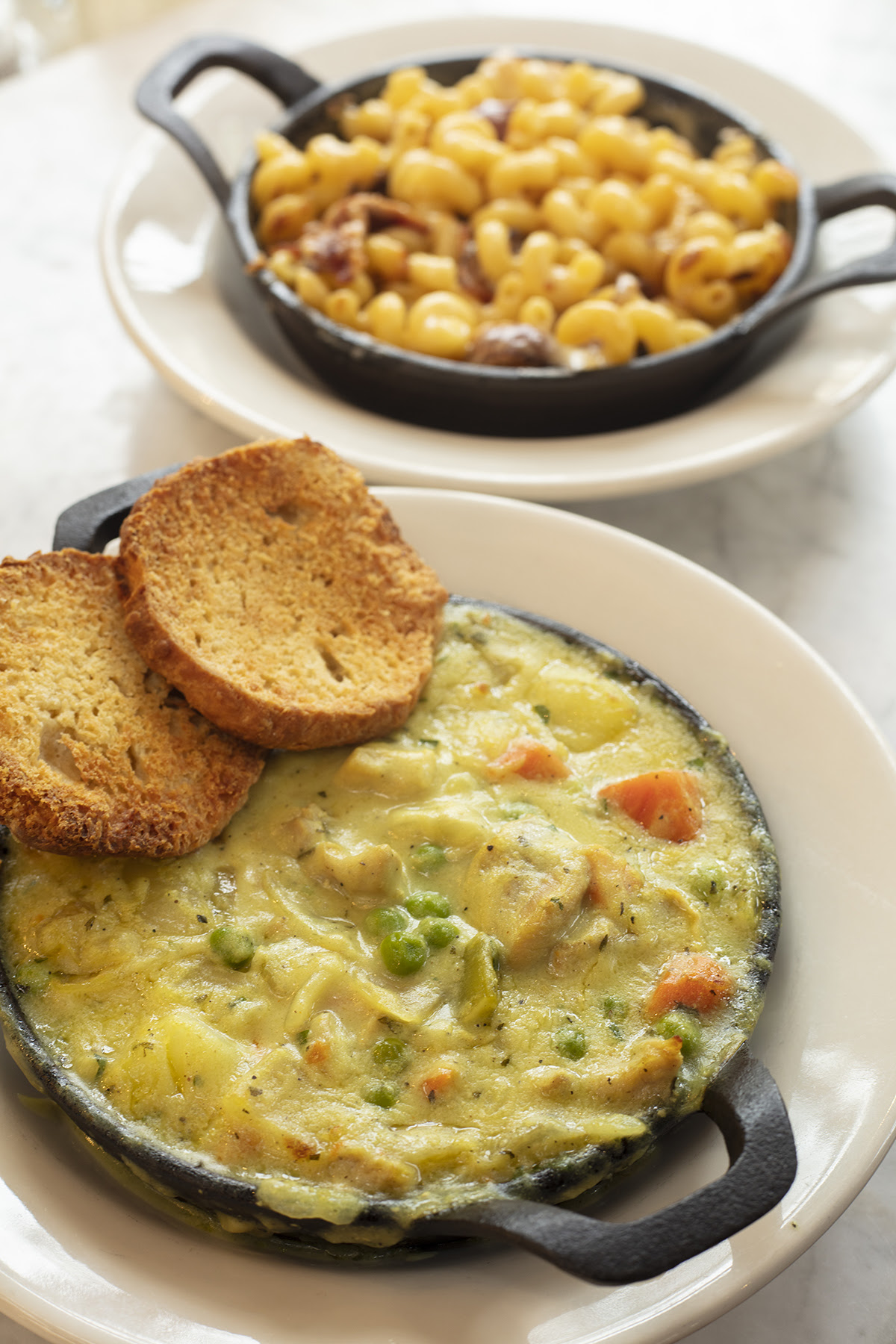 What's more satisfying than tucking into a hot cast-iron skillet meal? You can enjoy three of our classics–fresh from our pizza oven–at both Elephants on Corbett and Elephants Delicatessen at NW 22nd.
Swiss fondue. House-made fondue served with our French baguette, Olympia Provisions bratwurst, Granny Smith apple slices, and cornichons.
Macaroni and cheese with smoked bacon. Our creamy macaroni and cheese with Applewood-smoked bacon, caramelized onions, Parmesan cheese, parsley, and lemon.
Chicken pot pie. Chicken, root vegetables, and creamy herb sauce topped with Elephants homemade biscuits.
Elephants on Corbett grill and oven menu.
Elephants Delicatessen at NW 22nd grill and oven menu.
Our egg sandwiches are so delicious you'll want to enjoy them all day. Both varieties are served on our freshly made ciabatta rolls. (You'll also find them in the grab-and-go case at New Seasons Markets, too!)
Choose from:
Veggie sausage. Baked eggs, jackfruit black bean veggie sausage, Tillamook cheddar, and spinach with hollandaise
Bacon. Baked eggs, bacon, and Tillamook cheddar cheese with creamy Cholula sauce
Get your soup spoon ready. Here are the soups you'll find in our tureens right now.
Tomato Orange Soup
Elephants Cure Chicken Soup
Mama Leone's Chicken Soup
Wild Mushroom Soup
Be sure to grab a quart from the cold case to enjoy later. Our soups freeze well so you can sock some away for a chilly day.
Soup is hot and ready for you to enjoy at all Elephants locations.
Copyright © MMXVII Elephants Delicatessen, All rights reserved.