---
To Our Market Community,
Bees are magical. Millions of years ago they were similar to carnivorous wasps, but when flowering plants appeared on Earth, they became vegetarians, eating only nectar and pollen taken from flowers. Many plants and crops depend upon bees to spread pollen, helping them to reproduce. Think of bees when you enjoy apples, blueberries, cherries, cranberries, cucumbers, melons, peaches, pears, plums, strawberries, and many more.
Native bees, such as Mason bees and Leaf Cutter bees, are those that have always lived in an area and are considered to be super pollinators. They are solitary bees, they do not form a hive therefore they do not sting and do not make honey. Conversely, honey bees live in colonies where their sting serves as a way to defend against predators. Honey bee biology evolved so that they have a special tongue to suck up sweet nectar which they then store in a place in their throat until they get back to the hive where it is turned into honey.
Honey's taste profile is determined by the type of flowers visited by the bees. This is sometimes confusing because honey labeled as "blackberry honey" means that the bees gathered nectar from blackberry flowers. While blackberry honey has a characteristic flavor it will not taste like blackberries. Ron Stark, the market's resident beekeeper and expert on all things "honey", explains that it is important to know where the nectar was gathered because it changes some of the qualities of the honey. For example, people that suffer from springtime allergies can improve their sensitivity to spring pollens by eating honey made from nectar gathered from spring flowering plants. Ron sells only raw honey which, unlike grocery store honey, is never heated or processed, both of which destroy many of the natural nutritional elements of honey.
If you are interested in the medicinal uses for honey, Ron is the person to talk to. He can also tell you about other bee products such as Royal jelly, bee pollen, propolis and Ambrosia (a combination of Royal jelly, honey and pollen). A new addition to the TbeeS product line is honey containing CBD oil. CBD is a non-psycho active compound found in cannabis plants, in this case from hemp, which is believed to have many positive health benefits. CBD oil is approved by the Oregon Dept. of Agriculture Food Safety division as an additive to food products.
If you buy honey simply because it is sweet and delicious, TbeeS has many tasty choices for you including creamed honey which is whipped to creamy perfection and comes in several flavors. They also make delicious honey based condiments including honey mustard and barbecue sauce. Of course you will find their 100% pure raw honey from various nectars including, Blackberry, Wild Flower, Mystery Blend, Blueberry, Raspberry, Pumpkin, Buckwheat, Plum, Meadowfoam and Fireweed. TbeeS is very generous with samples so don't be afraid to ask for a taste before you buy.
Warm Regards,
The Beaverton Farmers Market
---
We will see you this Saturday at the Market, from 9:00AM – 1:30 PM
---
Planting a Pollinator Garden
As many know by now bee populations are dwindling due to loss of habitat, pesticides and herbicides, and disease. One way we can help these vital beings — and all pollinators — is by creating a safe haven for them to continue to live and pollinate! A pollinator garden is a real win-win for everyone; your yard will be lush with colorful flowers, shrubs, trees, and buzzing with hummingbirds, bees, butterflies and other pollinators making for a vibrant space to enjoy.
Better Homes and Gardens shares a great primer on what plants attract pollinators along with how to tend to plants. Whatever you do, do not use insecticides! If pests are a problem a constant jolt of water or picking them off can deter this pesky nuisance from returning. Pesticides are harmful to pollinators.

Photo Credit: J Wilde Creative Images, courtesy of Better Homes and Gardens
The Beaverton Farmers Market is filled with helpful farmers eager to help you plant your garden.
Loibl Farms has a wide variety of flowering plants, hanging baskets and potted plants to add some color to your yard or patio.
Lux Perrenials have some colorful perennials plants that will deliver year after year. Yarro is an easy to grow wildflower-like perennial that is stocked at Lux. Go for bright pink, orange, or yellow for attracting pollinators.
Attracting pollinators isn't just about pollen laden flowers. To first grab your attention you will need lots of color. Colorful trees and shrubs can help boost color and variation in your garden. Pearson Nursery has a wonderful selection of flowering hostas and Japanese maples. And just next door to Pearson you will find Price Right Nursery & Produce where you can pick up flowering shrubs or a colorful Dogwood tree.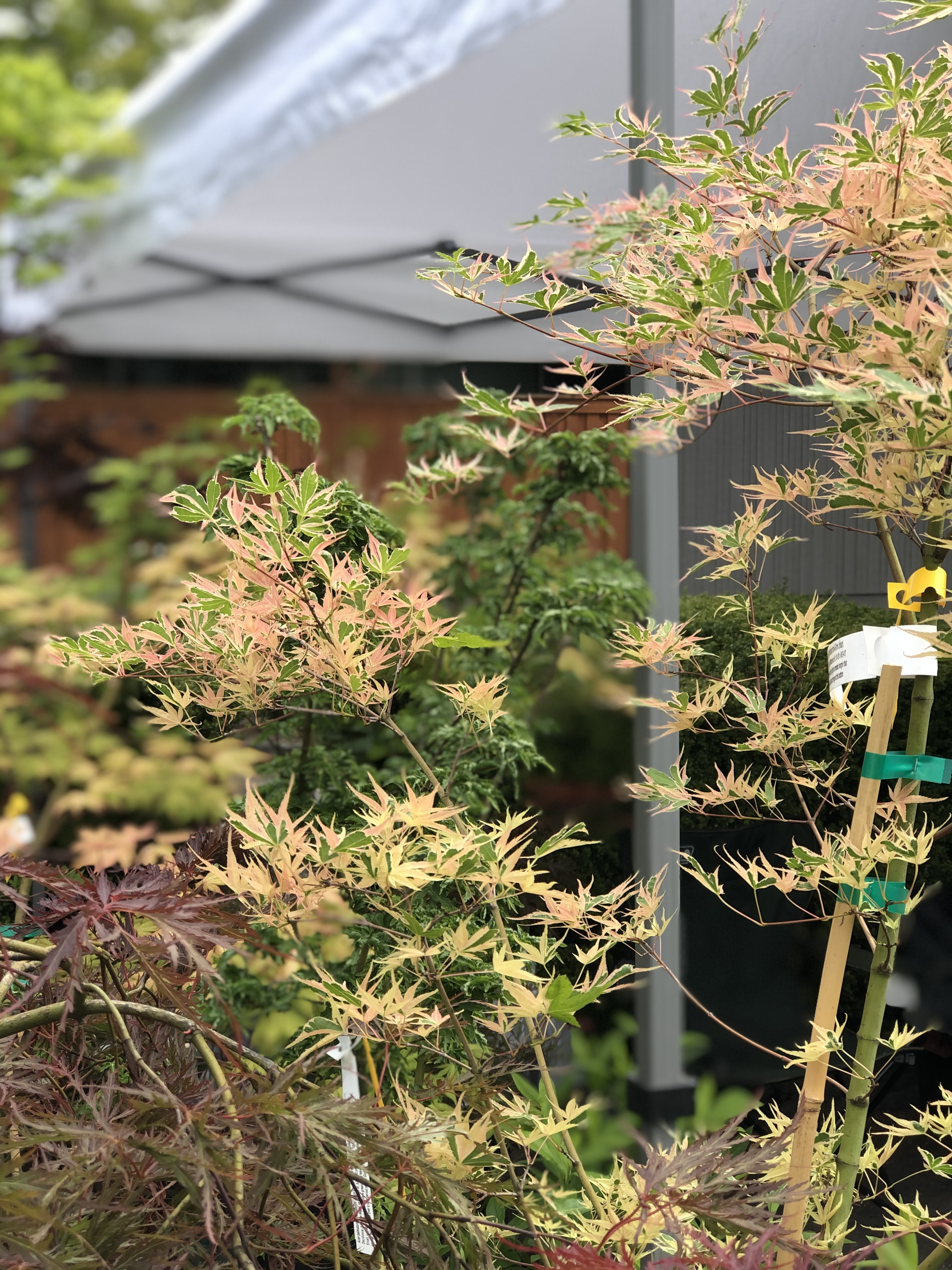 N&M Herb Nursery is also a must stop for their stunning hummingbird pots. These pots are carefully planted with the most attractive flowers to hummingbirds and other pollinators, and are a great way to add pollinator friendly plants to a patio or small space.
---
In keeping with our pollinator theme, this week's Market Sprouts kids activities are all about pollinators! We will have a pollinator scavenger hunt sheet that kids can take home to find various winged pollinators as well as plants to attract them. Additionally, we'll have pollinator themed trivia for kids to meet vendors with a pollinator product! 
---
Pucker Up!
A while back Jasmine Tran of Essance Skincare said that she was busy formulating a totally natural organic lipstick. We were intrigued and could not wait to see the finished product. If you haven't had a chance to visit her booth in the last few weeks you might have missed the soft release of this new product, but it will be here to stay! These lipsticks are luxuriously soft and smooth and last for a couple hours of wear. Not only do they moisturize, but add a nice pop of color! Essence Organic Lipstick comes in five colors; Amber Noir, Cherry Champagne, Sassy Coral, Coco Mousse, and Spicy Bronzette.
Because the lipsticks are organic the color goes on light, to get a deeper color you can apply more or layer two lipsticks to create your own color. Marketing Director, Kate Laubernds, particularly loves the Coco Mousse on it's own (pictured below), but sometimes layers with the Sassy Coral for a blended berry color.
Copyright © 2021 Beaverton Farmers Market, All rights reserved.
Our mailing address is:
Beaverton Farmers Market
PO Box 4
Beaverton, OR 97075