FISH MARKET • RESTAURANT • OYSTER BAR
3004 East Burnside Street • 971-806-6747
OUR HOURS
MARKET: 10am–8pm every day except Tuesday
RESTAURANT: 11am–8pm every day except Tuesday (walk-in only, no reservations)
CHEF SHACK: 1–8pm Friday–Sunday + SPECIAL VALENTINE HOURS MONDAY 
HAPPY HOUR: 3–5pm every day except Tuesday
TUESDAY: CLOSED
Please read our Covid-19 house rules HERE  •  We accept EBT/SNAP/Oregon Trail.
VALENTINE CELEBRATION @ F. F.
Wow, thanks for the support, geezer. 
We'd like to begin this special weekend with a thank you to Saint Valentine himself, who likes his fish whole, his oysters halved, and his thumb ring shiny. Very cool, bro. We'd also like to thank the Portland press who supports local small business: Eater PDX and The Oregonian agree that Flying Fish is a nice place to bring your Valentine (see below), The Mercury digs the Chef Shack, and Pechluck had a good time at Chef Andre's Science Night (1 – also see below). Thanks to all of you! (Secret insider shoutout to Lisa too!!!) So, re: Valentine. At Flying Fish, we celebrate the man who invented romance (a true historic fact) with a special menu from both our kitchens – Erik & Danny on the inside and Trever in the Chef Shack – all weekend long. And yes, oh yes, there are oysters. The restaurant's open as usual, and the Chef Shack will have special hours on Monday, Valentine's Day itself, so don't miss out on these tastes available for four days:
A VERY SPECIAL VALENTINE'S MENU. Small plate special for two: Painted Hills Beef Tartar – Herbs, Colatura, Caviar, Papadum – paired with two boutique oysters dressed with Quail Egg Yolk, Ikura, Ponsu, and Shiso. For dessert: Flourless Chocolate Tart with Blood Orange, Chevre Whip, and Pistachio. Bar Man Ross will have a Pamplemousse French 75 on special featuring New Deal Gin, pamplemousse liqueur, lemon, cremant, and bitters, plus a bottle special on the Chemistry Brut Rose.

PLEASE NOTE: We do not take reservations, so this special menu is, as always, first come first serve. This special menu will be available 4pm to close today through, Monday 2/14.

CAVIAR! As pictured at right, we got a whole bunch of it for your Valentine's weekend at home. Alaskan salmon caviar, brook trout caviar, salmon caviar infused with Four Pillars Gin, American paddlefish caviar, sturgeon caviar… Good ol' caviar. For Valentine's Day.
---
SCIENCE NIGHT 2 SOON COME
By golly, that was a downright hoot with Chef Andre, Chef Patrick, Professor Annie, Quizmaster Lyf, and everybody who came out to Science Night last week. So much so we're gonna do it again! Same same, but different. Actually totally different, this time the meal will feature four sustainable Oregon Coast fisheries, new speakers, and new trivia questions. It's $75 for the whole shebang on a night we're usually closed (it's an intimate crowd), with drinks available extra. It's coming Tuesday, March 15th – getcher tickets HERE. And check out Sustainable Meals Oregon for amazing zero-waste meals prepared for you – and Jessica Alba. (Seriously.)
WE'RE TURNING TWO
Well, our Burnside location is turning two. Flying Fish turns 43 this year, and our time in Portland is now a teenager (13)… But at this location, at Burnside & the 30th Street greenway, we opened two years ago yesterday, and we are HELLA grateful for all of your support. Thank you, thank you. So grateful that in two weeks, Saturday February 26th, we'll have live music all day, $2 beers, $2 oysters, and free smoked salmon for the first 100 customers.
---
---
FLYING FISH FIELD TRIPS & SPECIAL EVENTS
AN UPDATE ON AVAILABLE SPOTS. DO NOT SNOOZE, LEST YE LOSE. ALL CAPS.
Mon 4/11: Washington oyster farm tour SOLD OUT
Thur 5/5: Oregon Coast nearshore rockfish fishing trip • DETAILS & SIGNUP • 11 SPOTS LEFT
Fri 5/6: Oregon Coast deep reef lingcod fishing trip • SOLD OUT
Sun 6/5: Astoria sturgeon fishing trip SOLD OUT
Mon 7/17 – Thur 7/21: Hells Canyon rafting trip DETAILS & SIGNUP
Weds 9/14: Astoria coho salmon fishing trip SOLD OUT
Thur 9/15: Astoria coho salmon fishing trip DETAILS & SIGNUP • ONE SPOT LEFT
CHEF SHACK: A SELECTION  OF NATALIE PHOTOS
Featuring tunes by Steve Cheseborough
You know the Chef Shack is official when Natalie Gildersleeve brings her camera. Natalie takes amazing photos of families and scenes in the best possible lights. She also captures us better than anyone, and we had to share some of her pics of the Chef Shack's opening days.

Chef Trever's grilled oysters
…  and his grilled carrot salad
Thank you to Natalie for these awesome photos. That's also her pic of 
Chef Trever
 on the right, plating his dazzling grilled oysters with tangy citrus relish, drizzled with chili and garnished with cilantro. Deeelish.
As noted above, the Chef Shack will have special Valentine's Day hours on Monday, so this weekend's certified Chef Shack hours are: Friday, Saturday, Sunday & Monday 1–8pm.
UPCOMING CHEF SHACK CHEFS
Saturday February 19: Chef Doug Adams (Bullard, Top Chef)
Saturday March 5: Chef Maylin Chavez (Nácar Merroir &  Terroir, Olympia Oyster Bar)
UPCOMING CHEF SHACK MUSIC (Saturdays, 4:30–7pm)
HERE IS THE FRESH FISH SECTION
Wholly whole, holy moly.  Whole fishes make whole dishes, and have we whole fishes for YOU. Pictured above, a whole Rainbow Trout with a rainbow of accoutrements. You like whole trout? We got whole trout. Whole branzino and whole sable too. Sablefish that is, BLACK COD.

FRESH FISH AS OF FRIDAY FEBRUARY 
11TH
Ahi/Bigeye Tuna* – wild, Pacific Ocean (Hawaii)
Black Cod/Sablefish – wild, Pacific Ocean (Oregon) – whole fish & fillets →
Branzino – sustainable farm-raised, Greece – whole fish
Escolar/Walu* – wild, Pacific Ocean (Hawaii)
Lingcod – wild, Pacific Ocean (Oregon)
Monkfish – wild, Atlantic Ocean (Massachusetts)
Ora King Salmon* – sustainable farm-raised, New Zealand
Petrale Sole – wild, Pacific Ocean (Oregon)
Rainbow Trout – sustainable farm-raised, Idaho – whole fish
Rockfish – wild, Pacific Ocean (Oregon)
Steelhead – sustainable farm-raised, Washington
Swordfish – wild, Pacific Ocean (Hawaii)
Tombo/Albacore Tuna* – wild, Pacific Ocean (Hawaii)
True Cod – wild, Iceland
* – Sushi-grade fish
HURRY UP & GRAB A CRAB
Icin' em. Once again, photo by Natalie.
Season's winding down, supply's winding down. It's not ONLY a marketing ploy to get you to buy 
Dungeness Crabs
, but in the words of André 3000, "but yeah it's that too." It's just a weird truth: the season WILL, in fact, go on a while, but supply will continue shrinking until season officially closes and populations rebuild and we do it all again next year. You may see this message again. This message, like the Dungeness Crab fishery, is sustainable.
Whole cooked Dungeness Crabs. Get em while they're here.
FRESH SHELLFISH AS OF FRIDAY FEBRUARY 11TH
Dungeness Crabs – wild, Oregon Coast – whole, cooked
Manila Clams – sustainable farm-raised, Washington
Medium Kokus (grilling sized Carbajal oysters) – Washington
Mussels – sustainable farm-raised, Washington
Savory Clams – sustainable farm-raised, Washington
Shucked Oysters in a Jar
OYSTER JAMMIN'

Actual size. Please don't lick your phone.
Eight. Eight are our varieties of oyster; an elite eight, a great eight. A spate of eight, a weight of eight — eight that you ate, STRAIGHT FROM YOUR PLATE. Eight.
EIGHT VARIETIES OF FRESH OYSTERS AS OF FRIDAY FEBRUARY 11TH
Baywater Indigos – Washington
Baywater Sweets – Washington
Chelsea Gems – Washington
Disco Hama – Washington
Fin de la Baies – New Brunswick
Los Rucos – Washington
Netarts – Oregon
Tidepoint – Washington
Eight. Great.
THE PRAWN IS ON
We are happy to report that we have a wee grip of 
Spot Prawns
 from Alaska back in the freezer. Sweet, succulent, suck the juices from the head. Spot Prawns. 
Ama ebi.
SELECT FROZEN PRODUCTS AS OF FRIDAY, FEBRUARY 11TH
Alaskan Spot Prawns →
Calamari
Copper River Sockeye
House Made Stock & Broth
Ikura
Local Albacore Tuna
Local Coho Salmon
Masago
Mexican Blue Shrimp Easy Peel and Peeled & Deveined
Octopus
Oregon Bay Bhrimp
Premium Lobster Tails
Salt Cod
Tobiko
Hmmm. This prepared products section might work better in its own section rather than bundled with the frozen. But then is that overkill? How long should a weekly newsletter about food products be? Would you read it? Would I?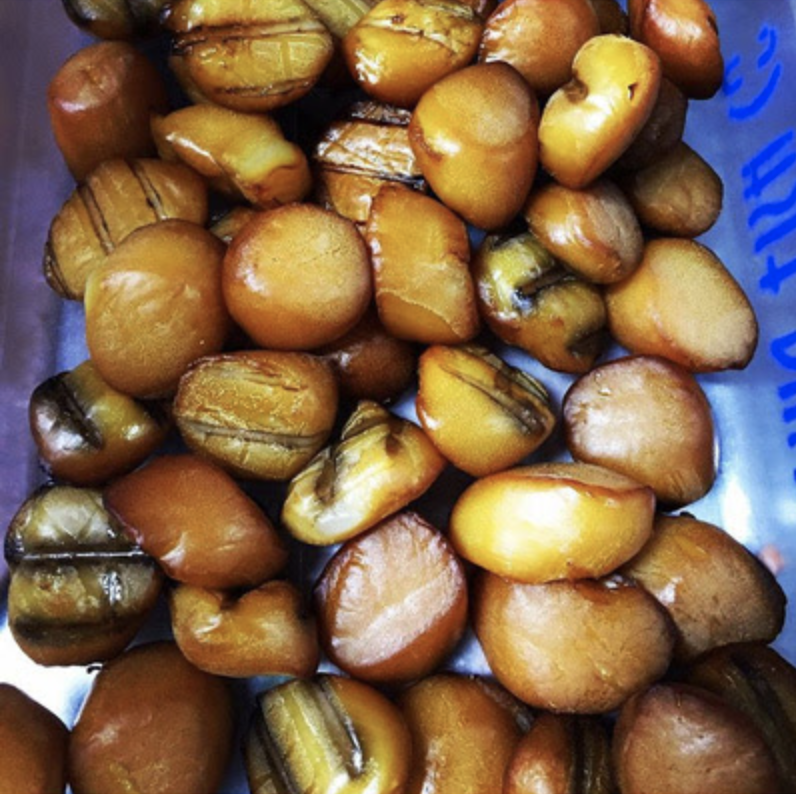 PREPARED PRODUCTS TO GO AS OF FRIDAY, FEBRUARY 11TH
Cold Smoked Ora King Salmon
Smoked Salmon Dipº
Smoked Whitefish Dipº
House Smoked Fishesº
Pickled Herring
Grab n Go Pokeº
Sushi Style Pickled Ginger
Shellfish Escabeche
Smoked Oysters
Smoked Scallopsº →
º – Flying Fish house-made products
OUR RESTAURANT MENU
For dining here or to-go.
CLICK MENU TO ORDER ONLINE FOR PICKUP: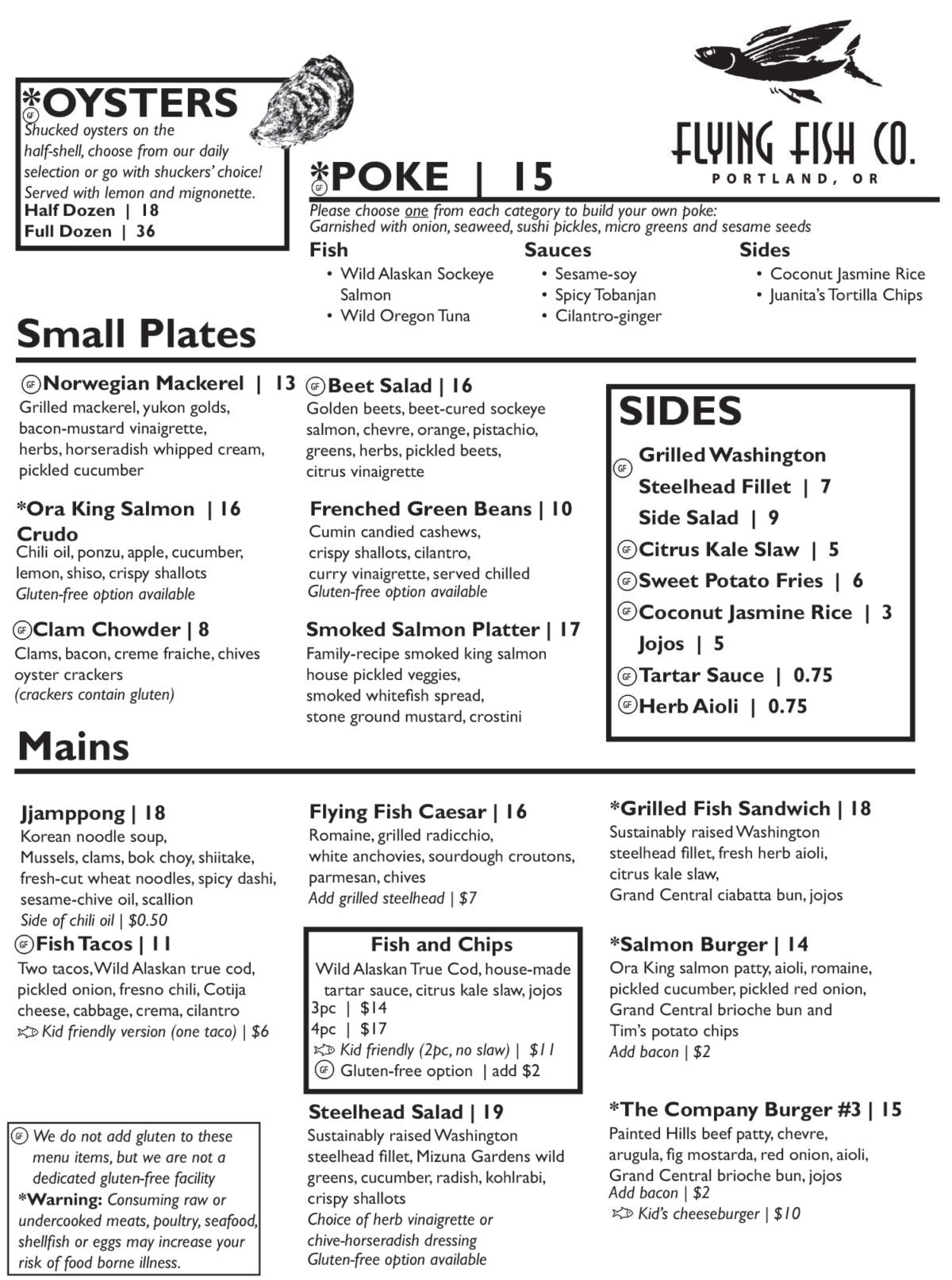 ALSO: Cocktails, sake, wine, and beer for dining onsite. Inquire within.
FLYING FISH DISCLOSURE
PLEASE NOTE: This email was accurate at the time of its weekly writing. Some products come and go quicker than others, so for best results on the freshness, follow us on the social medias: Facebook, Instagram, and Twitter. And tag us in your Instagram pics @flyingfishpdx – we love seeing your food pics!
---
Cheers,
Lyf and the Flying Fish Team: Alana, Alex, Alyssa, Boo-boo, Chris, Danny, Elowynn, Erik, Gabby, Jack, Jaelyn, Jesse, Jordan, Kenneth, Kevin, Luis, Mad Dog, Madeline, Mike, Neebs, Ross, Ryan P, Ryan S, Sam, Sarah, Sawyer, Trever, Wyatt, and Brad
Lyf Gildersleeve: Owner, Chief Fishmonger
Erik Englund: Culinary Director
Danny Atkins: Sous Chef
Jack Bressoud: General Manager
Ross Richardson: Beverage Director
Genevieve "Boo-Boo" Jen: Operations Manager
Sam Moser: Oyster Bar Manager
Sawyer Lovell: Fish Market Manager
Alana Ginster: Assistant Manager
Trevor Gilbert: Chef Shack Executive Chef
FLYING FISH, FAMILY OWNED SINCE 1979
Craig and Sandy Gildersleeve opened Flying Fish Company in Sandpoint, Idaho in 1979. The next year, their son Lyf was born into the family business. Now president of Flying Fish, Lyf has spent his entire life around fish, including an aquaculture education at the Harbor Branch Oceanographic Institute at Florida Atlantic University.
Lyf opened Flying Fish in Portland in 2010 as a food cart at the D Street Noshery on Division Street. In 2011, we opened the fish shack at Kruger's Farm Market on Hawthorne Boulevard. In 2016, we moved into a stand at Providore Fine Foods on Sandy Boulevard. And in February 2020, we opened our standalone location on East Burnside with a restaurant and patio, and in January 2022 we added the Chef Shack.
Flying Fish has sister locations in Sandpoint, Idaho and Durango, Colorado.
* * *
Thank you for supporting our family-owned business. 
—Lyf, Natalie, Juniper, and Miles Gildersleeve (and Hazel the Dog)
* * *
PHOTO BY NATALIE GILDERSLEEVE PHOTOGRAPHY: Family brand ambassadors.
Copyright © 2022 Flying Fish Company, All rights reserved.
Our mailing address is:
Flying Fish Company
3004 E Burnside St
Portland, OR 97214-1950