FISH MARKET • RESTAURANT • OYSTER BAR
3004 East Burnside Street • 971-806-6747
OUR HOURS
MARKET: 10am–8pm every day except Tuesday
RESTAURANT: 11am–8pm every day except Tuesday (walk-in only, no reservation needed)
CHEF SHACK: 1–8pm Friday–Sunday
HAPPY HOUR: 3–5pm every day except Tuesday
TUESDAY: CLOSED
Please read our Covid-19 house rules HERE  •  We accept EBT/SNAP/Oregon Trail.
Flying Fish Co. BE OUR VALENTINES?
We would love for you to share your love on the day designated for love — the holiday that evolved out of the imprisonment of a Roman clergyman for ministering to persecuted Christians. You know how these things go. And how they go at Flying Fish has two VERY SPECIAL VALENTINE OPTIONS:
Dine with us and our special Valentine's Day menu. Small plate special for two: Painted Hills Beef Tartar – Herbs, Colatura, Caviar, Papadum – paired with two boutique oysters dressed with Quail Egg Yolk, Ikura, Ponsu, and Shiso. For dessert: Flourless Chocolate Tart with Blood Orange, Chevre Whip, and Pistachio. Bar Man Ross will have a Pamplemousse French 75 on special featuring New Deal Gin, pamplemousse liqueur, lemon, cremant, and bitters, plus a bottle special on the Chemistry Brut Rose.

PLEASE NOTE: We do not take reservations, so this special menu is, as always, first come first serve. This special menu will be available 4pm to close next Friday 2/11 through actual Valentine's Day, Monday 2/14.

Eat out at home with a Flying Fish Valentine's Day Meal Kit for two. This special surf & turf meal kit will set the mood whether you're with an S.O. or by ya damn self and eating like you mean it. The kit will include: Green Salad with Herbs and Citronette, 16oz boneless Painted Hills Ribeye, 2 Lobster Tails, Red Curry Glazed Carrots, and Coconut Chocolate Sticky Rice. All this for just $85 — RSVP required by next Friday 2/11. GET YOURS HERE (or in person at the shop). Kits can be picked up Sunday 2/13 or Monday 2/14.
---
---
FLYING FISH BURNSIDE IS ALMOST TWO
The way we were: Opening Day, February 2020
And what a two years it's been, amirite??? It is ka-razy to think how much the world has turned in the 725 days since we opened the doors on our brick and mortar location at 30th & Burnside. The world's been turning at Flying Fish Company too, and we are so grateful for your support. And we're gonna celebrate! In three weeks — Saturday, February 26th — we'll celebrate our second anniversary with live music all day, $2 beers, $2 oysters, and free smoked salmon for the first 100 customers.
---
---
FLYING FISH FIELD TRIPS & SPECIAL EVENTS
Hey now, we had such a blast on Tuesday with Chef Andre and Chef Patrick that we're gonna run it back next month! Science Pub 2.0 will have a new menu and a new lineup for discussion, details to come. It'll be $75 for a four-course good time — reserve your spot HERE.
AND? Year-round good times! Join us farther afield for these good times, but sign up soon as tickets are going!
Mon 4/11: Washington oyster farm tour SOLD OUT
Thur 5/5: Oregon Coast nearshore rockfish fishing trip • DETAILS & SIGNUP • 11 SPOTS LEFT
Fri 5/6: Oregon Coast deep reef lingcod fishing trip • DETAILS & SIGNUP
Sun 6/5: Astoria sturgeon fishing trip SOLD OUT
Mon 7/17 – Thur 7/21: Hells Canyon rafting trip DETAILS & SIGNUP
Weds 9/14: Astoria coho salmon fishing trip SOLD OUT
Thur 9/15: Astoria coho salmon fishing trip DETAILS & SIGNUP • ONE SPOT LEFT
CHEF SHACK: NOW ITS OWN SECTION
Okay! We have two weekends of the Chef Shack under our belts. First of all, a big major THANKS to everyone who's supported our latest endeavor, and shoutout to Chef Trever for making the flavor flow. Secondly, thank you to Michael Russell and The Oregonian for the love in this week's restaurant news.
At this early hour, some important Chef Shack updates:
The Chef Shack is open Friday, Saturday, and Sunday 1–8pm. We'll also have special hours on Valentine's Day.
Save the dates for these excellent Portland personalities bringing their culinary command to the Chef Shack, with more to come:
We also have LIVE MUSIC every Saturday, including TOMORROW, when we welcome Eliot Chamberland  back to the Flying Fish stage. 4:30ish to 7ish.
---
---
AND NOW WE MOVE TO THE FRESH FISH AND SUCH. 
'BOUT THAT TROUT NO DOUBT
This one's for anyone who likes a down home classic. Rainbow Trout has been a steady staple on Flying Fish's fresh list for years. And — restaurant spoiler alert — Chef Erik is whipping a little something up with whole trouts we'll tell you more about soon. But why wait? That's gonna be great, you can bet on it, but this weekend seems like prime time for some cornmeal crusted, pan fried trout served over cheesy grits with two poached eggs. Yes, this is the weekend for that.

Rainbow Trout, available as a whole fish, if you like. Branzino's a whole fish option too, with a whole bunch delicious fillet options too. Options are available, choices will be made.

FRESH FISH AS OF FRIDAY FEBRUARY 
4TH
Ahi/Bigeye Tuna* – wild, Pacific Ocean (Hawaii) →
Black Cod/Sablefish – wild, Pacific Ocean (Oregon) – whole fish
Branzino – sustainable farm-raised, Greece – whole fish
Escolar/Walu* – wild, Pacific Ocean (Hawaii)
Lingcod – wild, Pacific Ocean (Oregon)
Monkfish – wild, Atlantic Ocean (Massachusetts)
Ora King Salmon* – sustainable farm-raised, New Zealand
Rockfish – wild, Pacific Ocean (Oregon)
Rainbow Trout – sustainable farm-raised, Idaho
Steelhead – sustainable farm-raised, Washington
Swordfish – wild, Pacific Ocean (Hawaii)
Tombo/Albacore Tuna* – wild, Pacific Ocean (Hawaii)
True Cod – wild, Iceland
* – Sushi-grade fish
MUSSEL, MUSSEL MAN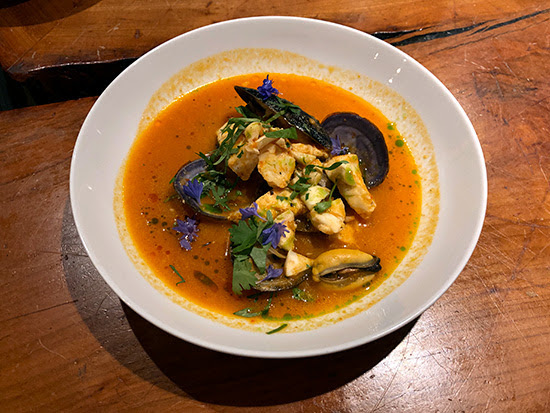 That headline is so stupid.
In the interest of leading the shellfish section with something other than Dungeness Crabs, here is a photo of Chef Trever's cazuelas de mariscos — a seafood casserole of his Colombian heritage with mussels, clams, halibut, and a red coconut broth. Trever does like his coconut — and you'll love this dish. Add some shrimp? Dig it. Try 
this recipe
 as a base.
But yes yes indeed, do note that Dungeness Crab season is a shrinking, so get em good and big and easy while you can.
FRESH SHELLFISH AS OF FRIDAY FEBRUARY 4TH
Dungeness Crabs – wild, Oregon Coast – whole, cooked
Manila Clams – sustainable farm-raised, Washington
Medium Kokus – grilling oysters – Washington
Mussels – sustainable farm-raised, Washington
Shucked Oysters in a Jar
OYSTERS

Oysters.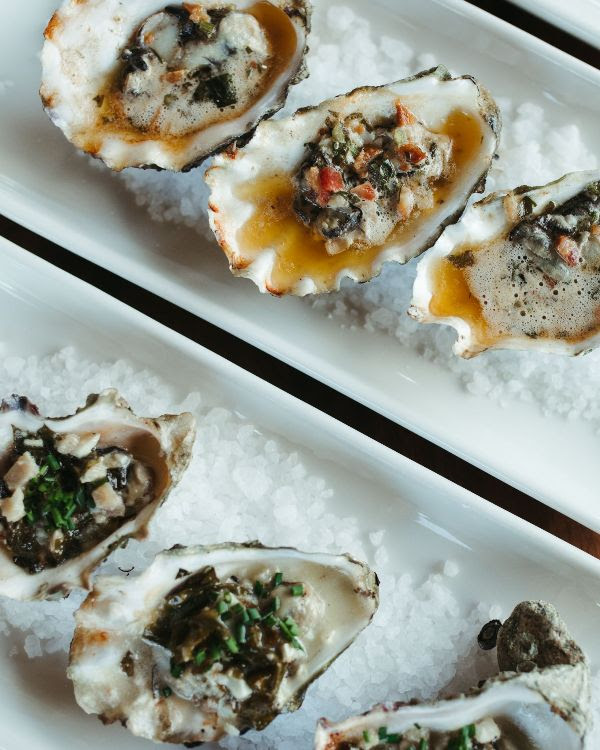 Our shells clacked on the plates.
My tongue was a filling estuary,
My palate hung with starlight:
As I tasted the salty Pleiades
Orion dipped his foot into the water.
—Seamus Heaney, "Oysters"
FRESH OYSTERS AS OF FRIDAY FEBRUARY 4TH
Baywater Indigo – Washington
Baywater Sweet – Washington
Chelsea Gem – Washington
Fin de la Baie – New Brunswick
Hama Hama – Washington
Los Rucos – Washington
Tidepoint – Washington
Whaleback – Maine
NO  DOZIN' ON THE FROZEN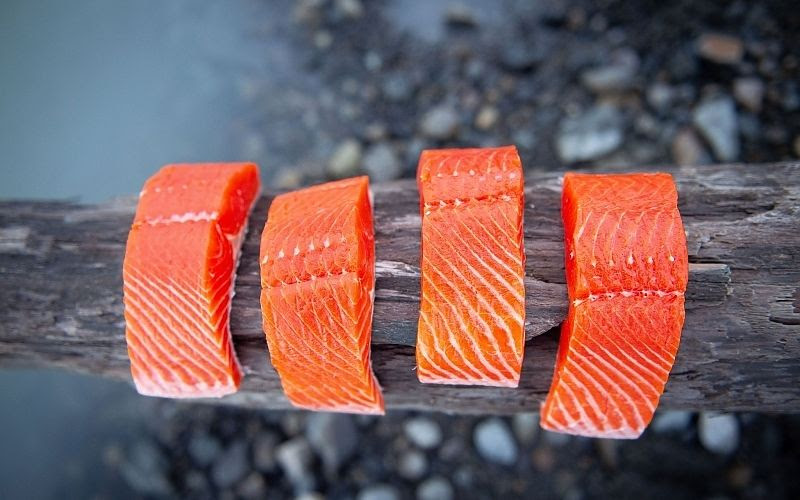 Four bars of Copper River Sockeye Salmon.
Photo courtesy Copper River Prince William Sound Marketing Association.
Every summer, we lean into Copper River Sockeye Salmon season, because there ain't nothing like it fresh from the ocean. Know what's the next best thing? The same fish, deep in the winter, thawed in the fridge for 24 hours, letting it ease back in to its natural flavor locked in from flash freezing immediately after harvest. That's what's happening in the Flying Fish freezer at this very moment. Bring some on home.
SELECT FROZEN PRODUCTS AS OF FRIDAY, FEBRUARY 4TH
Alaskan Sablefish/Black Cod
Copper River Sockeye Salmon
Ikura
Masago
Mexican Blue Shrimp – easy peel
Mexican Blue Shrimp – peeled & deveined
Octopus
Oregon Bay Shrimp
Premium Lobster Tails
Salt Cod
Tobiko
PREPARED PRODUCTS TO GO AS OF FRIDAY, FEBRUARY 4TH
Cold Smoked Ora King Salmon
Smoked Salmon Dipº
Smoked Whitefish Dipº
House Smoked Fishesº
Pickled Herring
Grab n Go Pokeº
Sushi Style Pickled Ginger
º – Flying Fish house-made products
OUR RESTAURANT MENU
For dining here or to-go.
CLICK MENU TO ORDER ONLINE FOR PICKUP: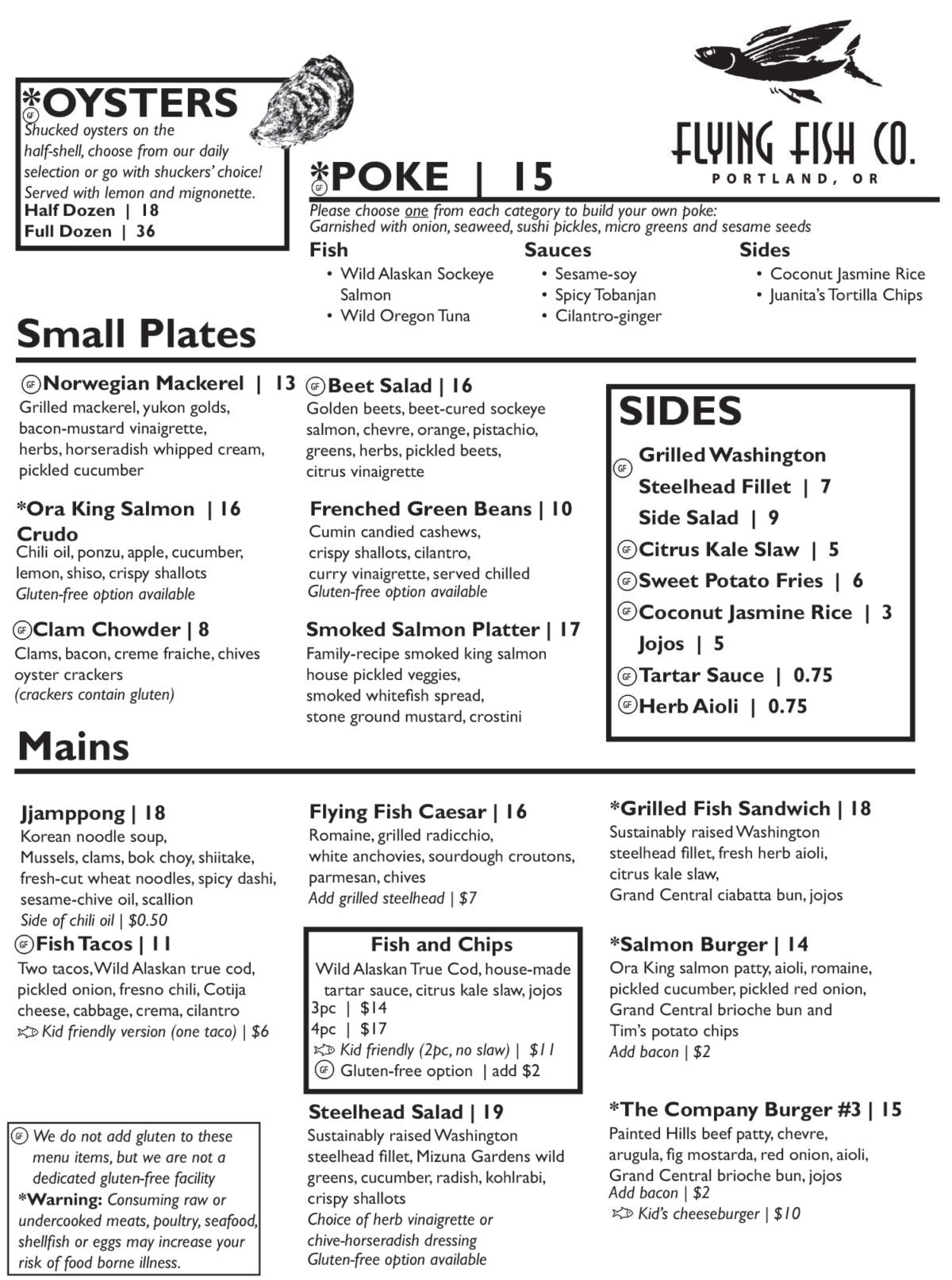 ALSO: Cocktails, sake, wine, and beer for dining onsite. Inquire within.
INSTAGRAM JAM OF THE WEEK
That's a nice hunka swordfish for @boatdriver1986 with his saffron rice and veggies.
FLYING FISH DISCLOSURE
PLEASE NOTE: This email was accurate at the time of its weekly writing. Some products come and go quicker than others, so for best results on the freshness, follow us on the social medias: Facebook, Instagram, and Twitter. And tag us in your Instagram pics @flyingfishpdx – we love seeing your food pics!
---
Cheers,
Lyf and the Flying Fish Team: Alana, Alex, Alyssa, Boo-boo, Chris, Danny, Elowynn, Erik, Gabby, Jack, Jaelyn, Jesse, Jordan, Kenneth, Kevin, Luis, Mad Dog, Madeline, Mike, Neebs, Ross, Ryan P, Ryan S, Sam, Sarah, Sawyer, Trever, Wyatt, and Brad
Lyf Gildersleeve: Owner, Chief Fishmonger
Erik Englund: Culinary Director
Danny Atkins: Sous Chef
Jack Bressaud: General Manager
Ross Richardson: Beverage Director
Genevieve "Boo-Boo" Jen: Operations Manager
Sam Moser: Oyster Bar Manager
Sawyer Lovell: Fish Market Manager
Alana Lewis: Assistant Manager
Trevor Gilbert: Chef Shack Executive Chef
FLYING FISH, FAMILY OWNED SINCE 1979
Craig and Sandy Gildersleeve opened Flying Fish Company in Sandpoint, Idaho in 1979. The next year, their son Lyf was born into the family business. Now president of Flying Fish, Lyf has spent his entire life around fish, including an aquaculture education at the Harbor Branch Oceanographic Institute at Florida Atlantic University.
Lyf opened Flying Fish in Portland in 2009 as a food cart at the D Street Noshery on Division Street. In 2011, we opened the fish shack at Kruger's Farm Market on Hawthorne Boulevard. In 2016, we moved into a stand at Providore Fine Foods on Sandy Boulevard. And in February 2020, we opened our standalone location on East Burnside with a restaurant and patio, and in January 2022 we added the Chef Shack.
Flying Fish has sister locations in Sandpoint, Idaho and Durango, Colorado
* * *
Thank you for supporting our family-owned business. 
—Lyf, Natalie, Juniper, and Miles Gildersleeve (and Hazel the Dog)
* * *
PHOTO BY NATALIE GILDERSLEEVE PHOTOGRAPHY: Miles of the morning.
Copyright © 2022 Flying Fish Company, All rights reserved.
Our mailing address is:
Flying Fish Company
3004 E Burnside St
Portland, OR 97214-1950