---
To Our Market Community,
During the pandemic, we all had more than our fair share of take-out, eat-at-home- meals. Many were amazing, others not so much. Nothing is worse than opening a takeout box to find a lifeless, lackluster dish that was supposed to be your dinner. When this happens at Market Master, Ginger Rapport's, house their go-to-meal-savor is a bottle of Chiliyaki Sauce from Danielle's Sauces.   A blend of sweet chili and teriyaki sauces, it is loaded with flavor and comes in handy in a variety of applications. Ginger's chef husband likes to say, "everything is better with Chiliyaki sauce".
Clearly the folks at the Fiery Food Challenge in Irving, Texas agree because they awarded Danielle's Chiliyaki sauce the Golden Chile (first place) in the Asian condiment category earlier this month.  Danielle's Sweet Chili Sauce took second place and the awards kept coming.
The Fiery Food Challenge is the longest-running, most recognized, and most prestigious competition judging manufactured products in the zesty food world.
Conceived as a means of recognizing superior products and implemented through a series of blind food tastings by culinary experts, the Fiery Food Challenge has become the industry benchmark.
In the Steak Sauce/Ketchup category, Danielle's finished second with their A-Too Savory Sauce. In the Hot Sauce/Habanero category they took first with their Extra Hot Habanero and third with their Sweet Habanero.
On Friday and Saturday, the thousands of attendees cast their votes for the best products in four categories:
-BBQ
-Condiment
-Hot Sauce
-Salsa

This is like the "Best of the Best," and Danielle's, Chiliyaki, won first place in the Condiment Category!
We want to congratulate the Danielle's Sauces family on their many awards. They are well deserved!
Warm Regards,
The Beaverton Farmers Market
---
We will see you all this Saturday at the Market, from 9AM-1:30PM!
---
Fresh Fish
Fresh fish is not always available in farmers markets so here at the BFM we feel extremely fortunate to have had Linda Brand Crab and Seafood Collaborative supply market goers with a variety of local seafood for the last 18 years. Linda Brand is a collective group of fishermen, processors and shellfish farmers who bring the best local, sustainably harvested, and wild seafood to the market every week.
Linda Brand has some great recipes on their site if you're stumped on how to prepare your fish or shellfish, including Hangtown Fry!
"Legend has it that a 49'er hit a glory hole, an incredibly rich pocket of gold nuggets.  He walked into the El Dorado Hotel restaurant in Hangtown (now Placerville California) and asked the waiter what was the most expensive item on the menu.  The waiter answered that would be one of the three things, oysters (which were tinned and shipped all the way from Boston), bacon (which was scarce), and eggs (which were also very scarce).  The prospector answered, fix them all on one plate and bring it to him.  So was born the 'Hangtown Fry'.  If you have never tried this delight, please do so.  Elegance can be complicated but it can also be simple. In this case, it is simple."
Marketing Director, Kate Laubernds, grew up not far from Placerville and loves having a good Hangtown Fry.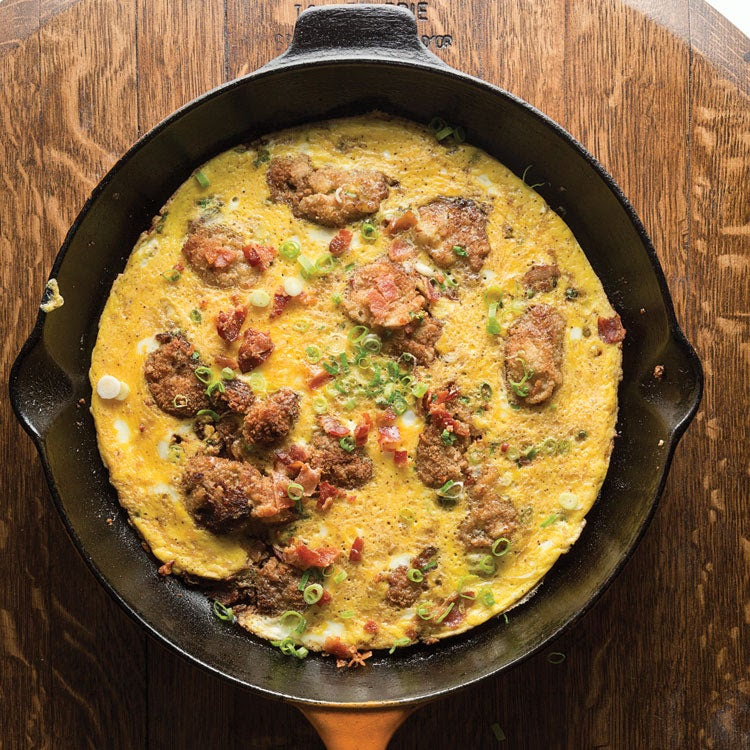 Photo courtesy of Saveur
This week we are excited to introduce visitors to a new fisherman joining the market lineup. Lamar Fairley-Minthorn, is  a member of Umatilla Indigenous Reservation who grew up fishing on the Umatilla River near the Tutuilla flats. It is an area that holds a special place in his heart which is why he named his business Tutuilla True Fish.
Lamar will bring his fresh Native caught salmon, steelhead, sturgeon and roe to market this Saturday.
He and his crew have numerous years of experience fishing zone six from Cascade Locks to McNary dam. They take pride in honoring their heritage and bringing their catch to their loyal customers. Visit Tutuilla True Fish on the Washington street aisle.
---
Cherry Season Officially Begins This Saturday!
We know that market-goers have been looking forward to cherry season because you have been stopping by the information booth asking when we are expecting them. We are happy to report that the first cherries of the season will be available in the stalls of Alex Farms from Wapato, Washington and Profarm from Zilla, Washington this Saturday. Baird Family Orchards and Stephen's Farm will both have cherries starting the 19th.
Cherries are one of the most beloved fruits because they are both delicious and good for you. They are packed with vitamins, minerals and plant compounds with powerful health benefits. They are rich in antioxidants and anti-inflammatory compounds and are a good source of vitamin C, potassium and fiber.
Of course, eating fresh cherries out of hand is always our go-to way to enjoy them but they can be used in baked goods, salads and condiments. Food and Wine shares their 20 favorite cherry recipes.

Photo by Ben Dearnley for Food and Wine
The challenge to cooking with fresh cherries is that they need to be pitted. There are a variety of fancy cherry pitters available but if you don't have one of these gadgets there are several ways to accomplish this task. One of the classic methods is to use a chopstick and an empty wine bottle.
But the reusable straw method, demonstrated by the CRAZY HACKER, is the one we will try this season.
Rather than mashing the cherry with the blunt end of a chopstick, the hard plastic of a reusable straw cuts through the fruit to help remove the pit. Give both of them a try and let us know which one works best for you. Either way, you will have fresh cherries to use in a favorite summer recipe.
---
Fred is back! Every week the Info Booth staff get dozens of inquiries on when Smokin' Rose BBQ will return and we are excited to finally share that Fred will be back with his finger-lickin' good bbq this Saturday! Meat shortages have made it difficult for Fred to stay well-stocked so you may want to order your lunch early, as menu supplies are limited.
Copyright © 2021 Beaverton Farmers Market, All rights reserved.
Our mailing address is:
Beaverton Farmers Market
PO Box 4
Beaverton, OR 97075