GREETINGS AND SALUTATIONS
Hello, all. Thank you for your patience during this last mandated indoor dining pause! We're looking forward to welcoming you back in the Library beginning Wednesday, May 12th. Online reservations are open, or you can call the front desk at (503)954-1381 or email us at info@mwlpdx.com.

In the meantime, we have exciting news for all MWL members, friends and aficionados: we're very happy to announce that MWL has acquired more space and are expanding our kitchen, adding a patio, and designing a new member's lounge!

What will this mean for you? New menu options and more events, dinners, pairings, and classes. Best of all? More space to celebrate with your family, friends, and colleagues. Keep reading for more information.
We're also happy to announce that MWL team member Bailey Broxson has accepted the role of Event Coordinator! She's planning a fantastic line-up of house events and is looking forward to assisting our guests in hosting their own get-togethers at the Library.

Also in the news, May is Asian American Pacific Islander Heritage Month and we're celebrating with a special cocktail! A portion of the proceeds will go to the Asian Pacific American Network of Oregon (APANO).

APANO is a volunteer-led, social justice issue-driven statewide organization advocating for the interests of Asians and Pacific Islanders. The flight will be announced in an email and through social media, so stay tuned!

As always, thank you for your support. Stay safe, and we look forward to seeing you soon!

Sincerely,

Your Friends at the Library
MORE TO MEMBERSHIP
A PATIO, A MEMBER LOUNGE & EXPANDED KITCHEN
New spaces bring new experiences and more ways to use your membership at MWL.
Hello, silver lining. We know that the past year has been full of ups and downs for our members and guests. As much as we've missed you during the closures, we've spent our time well:  redesigning the Library experience around our most iconic value – celebration. Over the next year, we will be adding new spaces to the Library bringing new ways to connect to our collection, our community of members, and to the people you care most about sharing time with.

First up: While away the long, lovely Portland evening on our soon-to-arrive patio. Slated to open mid-June, this extension to the Green Room is the perfect place to kick back and enjoy an aperitif before heading up to the Library.

Next on the list: By this summer, Chef Jason will be settling into our newly-expanded kitchen. He's already dreaming up new menu items and expanded private dining options. Where did we get the room to expand our kitchen? Good question!
We've joyfully acquired 616 SW Alder (formerly Grayer's). This beautiful brick-lined space backs up to our current kitchen and the Tasting Room. While Chef has staked his claim to the back portion, the front is earmarked for…

Last, but not least: A new member's lounge! We're still in the design phase for the lounge, but are crossing our fingers for an early 2022 opening date. We know that's a long time to wait, but it will be worth it! Picture all the warm coziness and atmosphere of the Library, but with more windows, more member events, and all the comfort and ease of a space that feels like your own. With no reservations, you'll have the freedom to drop by, bring your friends, pull up another chair, or just stand around and chat with the member next to you at the bar.

We're still looking for the perfect name for this space – something Library-esque but with it's own feel. What do you think? Send us your suggestion, and if we choose it, your first round in the new space will be on us!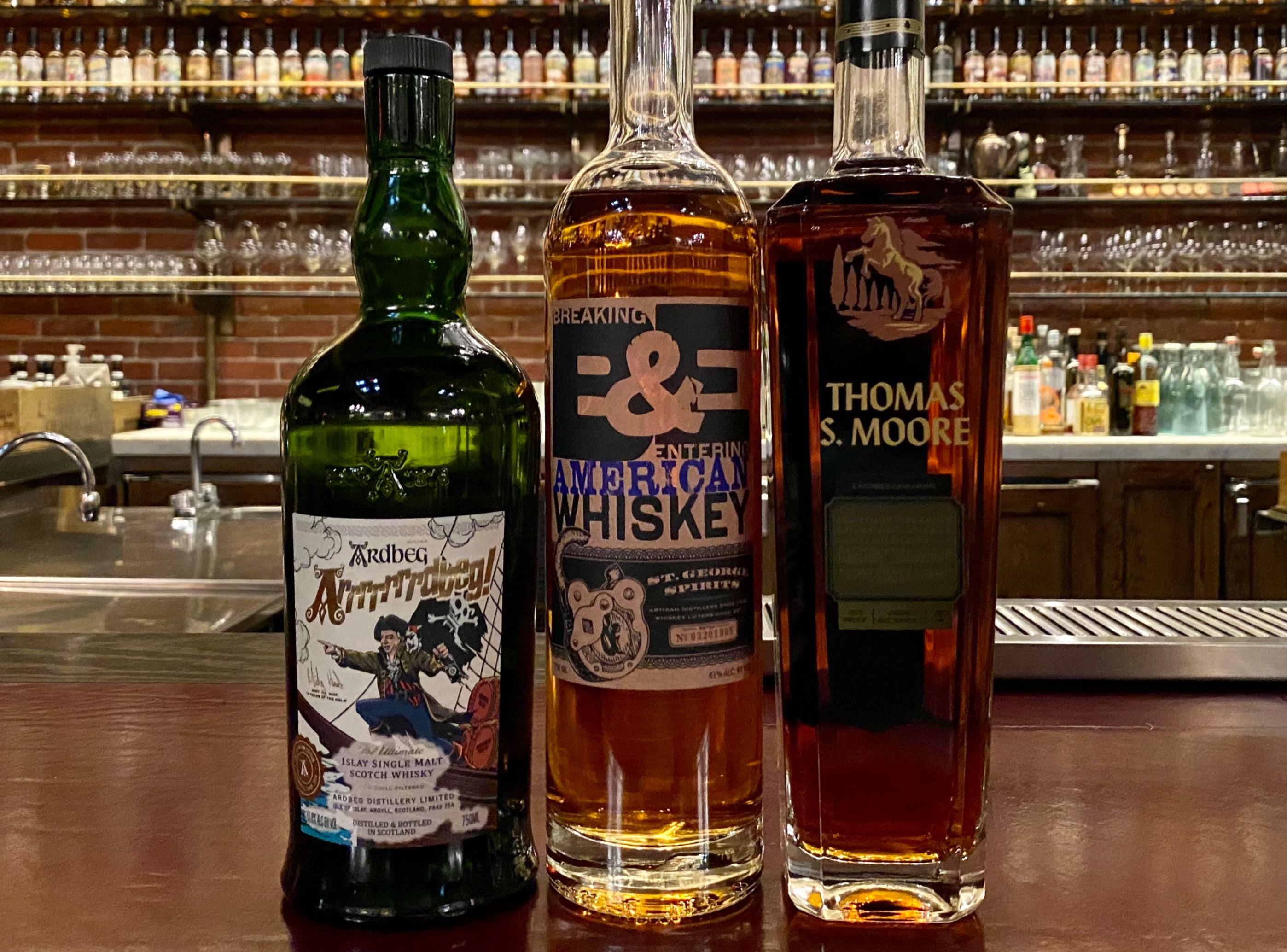 ARDBEG – ARRRRRRRDBEG
Single Malt Scotch Whisky, ck Ex-Rye, nas, 51.8 abv
Isle of Islay
ST. GEORGE – BREAKING & ENTERING
American Whiskey, nas, 43 abv
California
THOMAS S. MOORE  – CABERNET SAUVIGNON CASK
Kentucky Straight Bourbon, ck finished in Cabernet Sauvignon, nas, 47.65 abv
Kentucky
By now, MWL Lead Bartender Cody Mulcahy is an expert at mixing up drinks in her home bar. It has been a looooong year. For May's featured cocktail, we asked her what her go-to home concoction is.

"To be perfectly honest, I really only make the 3 most simple cocktails at home because I always have the ingredients on hand, and they seem to fit any mood I might be in – a Negroni, a Margarita, and a 50/50 martini," Cody says.

"The 50/50 is definitely not a traditional martini. The sweetness of the Lillet and oil from the lemon make it a bit more citrusy and light. You can use dry vermouth instead if you prefer a more savory martini. In that case I'd express the lemon oil and also add a few Castelvetrano olives."
Ingredients:

1.5 oz Beefeater gin
1.5 oz Lillet Blanc, Carpano Bianco or Carpano Dry Vermouth
To Make:

Add ingredients and ice to mixing glass. Stir and serve on the rocks. Express lemon oil over the top and enjoy!
INTRODUCING THE BULLETIN BOARD
Every month, we are happy to share notices from members regarding bottles you are looking to purchase, sell or trade, as well as upcoming events and opportunities. Submit contributions to this section by emailing us at membership@mwlpdx.com. 
An MWL member is looking for an opportunity to purchase or trade for the following bottles:

-Lagavulin 25 year 200th Anniversary bottle
-Ardbeg 1976 Single Cask #2392
-Ardbeg 1976 Single Cask #2394
-Balvenie Tun 1401 Batches 6 & 8
-Bowmore 1971 34 year

If you would like to be connected with this member, email membership@mwlpdx.com for contact information.
A LOVE LETTER TO BAR CARTS
WE MISS YOU!
If you, like us, are missing the rumble of the bar carts across the wood floors in the Library, don't worry, they will be back soon!

We've temporarily parked our carts to facilitate social distancing and keep our guests and our team as safe as possible during the initial reopening phases. Feel free to email us for more details about our safety and sanitation procedures.
Copyright © 2021 Multnomah Whiskey Library, All rights reserved.
Our mailing address is:
Multnomah Whiskey Library
1124 SW Alder St
Portland, OR 97205