GREETINGS AND SALUTATIONS
Welcome 2022! We're so excited for everything the new year is bringing to MWL – the new member lounge, more private barrels and bottles, and more member events and community engagement. It's looking very bright indeed.
Keep reading for highlights and upcoming events plus a sneak peek at private barrels winging their way towards our collection.
As always, thank you to our kind, generous and amazing members and friends. We hope to see you all soon in the Library!
Sincerely,
Your Friends at MWL
MWL has partnered with some of our favorite brands to bring our members the House Pour: a complimentary taste of a new, classic, interesting, or just-plain-fun spirit.
January's House Pour is Stone Barn Brandyworks Bottled in Bond Straight Rye – MWL Selection. This private barrel selection boasts a mashbill of 66% rye and 34% oats. Members who drop by this month can request a half pour of this MWL private bottling.
MWL PRIVATE BARREL COLLECTION
SNEAK PEEK
The MWL team chose over a dozen barrels in 2021, and they are just now starting to arrive here in Portland. Joining the recent bottling of Colonel E.H. Taylor and a truly delicious barrel from Stonebarn Brandyworks Bottled in Bond Straight Rye, will be private barrel selections from Stagg Jr., Cognac Park, WhistlePig and Weller.

Each distillery works within it's own mysterious time frame, so we don't know exactly when these new additions will arrive in Portland, but we thought we'd give you all something fun to look forward to in 2022. Our plan is to allocate available bottles by lottery to members, so keep an eye on your inbox for more information!
MWL Bartender Joshua Madrid making delicious drinks in the Library. Photo by Jordan Hughes.
This month we're featuring Sun Don't Shine by MWL bartender Joshua Madrid. It's a bittersweet, spirit-forward cocktail with notes of orange, chocolate, smoke, sweet oak and just a touch of honey. According to Josh, the inspiration behind this cocktail comes in two parts.

"First, it's named after my favorite song by one of my favorite Portland bands, 'The Shivas'," Josh says. "The opening line in the song Sun Don't Shine is, "the rain is coming down/and I got no place to go" which is what a lot of us feel during the rainy months here in Portland. Keeping that in mind, I created a sipping cocktail that's designed to be savored over a period of time, as the slow dilution will help the imbiber discover the 6 different ingredients utilized in the composition at different moments in the journey."
The second component is that this drink was created around the holidays, so I wanted it to sort of taste like one of the those chocolate oranges (albeit, a smoky version) you smash open that I always see only around this time of year. The drink is smoky, herbal, dry-yet-slightly-sweet from the Swiss chocolate liqueur from Tempus Fugit, and complex. It's a challenging cocktail while still being familiar, as the template was based on splitting up the ratios of a Manhattan."

To Make:

1 oz Talisker 10yr Scotch

.75 oz Knob Creek 9yr Bourbon

.5 oz Gran Classico

.25 oz Amaro Sfumato

1 barspoon Tempus Fugit Cacao

1 barspoon Benedictine

Add all ingredients with ice to a mixing glass, mix well and strain over a big cube. Express an orange peel over the top of the drink and discard the peel. Enjoy!
DECEMBER'S BLIND TASTING POUR WAS:
 Nikka Whisky From the Barrel
Thank you to everyone who accepted the blind tasting challenge. No one guessed the correct spirit, but it was a tricky one. Good luck on the next round!
JANUARY'S BLIND TASTING POUR IS NOW AVAILABLE IN THE LIBRARY. GIVE US YOUR BEST GUESS!
About the program: every month, we present our Members with an opportunity to exercise their tasting skills by purchasing a pour from a Members-only Blind Tasting Bottle. This top secret break-even bottle* (even the bartenders won't know what it is) will be available in .5 oz tasting pours for a month, or until it's gone.

Members are welcome to write down their best guess as to what the spirit is and give it to their bartender. The winning Member, or Member with the closest guess, will enjoy their next drink on us (up to $20). We'll reveal the name of the spirit when we announce the next round.
The Rules:
• Pours from the Blind Tasting Bottle are limited to .5 oz per person per visit in the Library
• Members can submit only one guess per bottle
• Feel free to pick your bartenders brain about the Blind Tasting Bottle, but know that only the team member who chose the bottle actually knows what it is!
*A "break-even bottle" is an interesting, rare or collectible bottle sold by a bar at cost and presented in the spirit of education and exploration.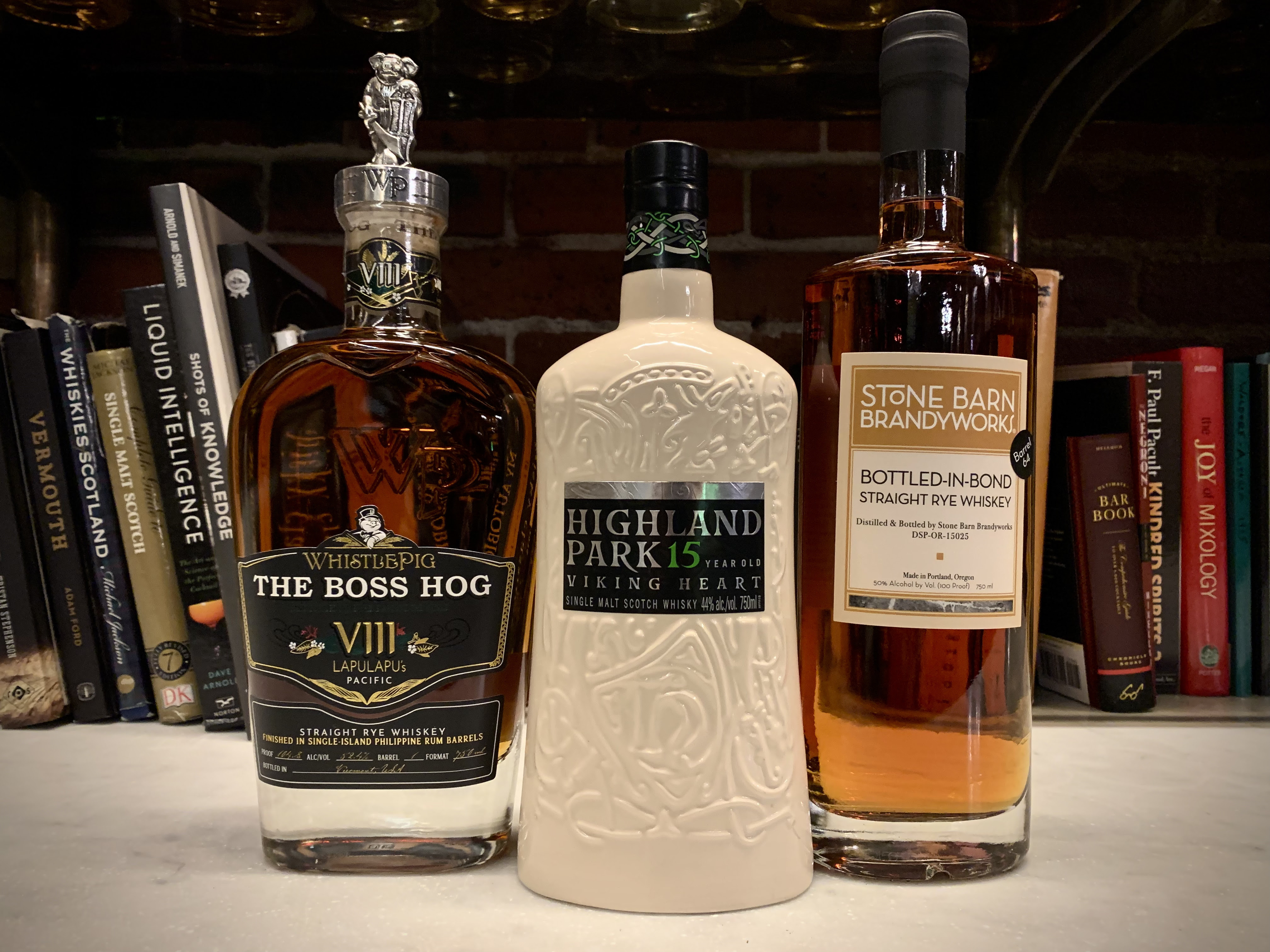 WHISTLEPIG BOSS HOG VIII LAPULAPU'S PACIFIC
Single Barrel Straight Rye, ck Single-Island Philippine Rum Barrels, dstlr Alberta Distillers, cs 52.4 abv
Vermont
HIGHLAND PARK 15YR OLD VIKING HEART
Single Malt Scotch, 44 abv
Orkney Islands, Scotland
STONEBARN – MWL SELECTION
Bottled in Bond Straight Rye Whiskey, grn 66% rye, 34% oats, 50 abv
Portland, Oregon
UNDER THE SCOPE
WHISTLEPIG BOSS HOG VIII
LAPULAPU'S PACIFIC
The WhistlePig brand started in 2007 with the purchase of a snug farm nestled in rural Vermont. At the time, rye whisky was just beginning to make its comeback among imbibers of brown spirits. Under the stewardship of the late, great Dave Pickerell, Wistlepig purchased a stock of 10yr old Canadian whisky and started bottling, making a quick jump from an unknown program to being one of the top rye whiskey brands in a very short amount of time.
WhistlePig began their annual releases of the Boss Hog series in 2013 with a 12yr single barrel. Each subsequent year, they seek to improve and explore new innovations in blending and barrel finishing. This eighth edition of WhistlePig's 'Boss Hog' series is a fitting sequel to 2020's Boss Hog VII: Magellan's Atlantic, which symbolically follows Magellan's journey across the Atlantic by being finished, first with Spanish Oak staves, and then a secondary finish in South American Teak Wood barrels. The Boss Hog VIII: Lapulapu's Pacific, finished in Philippine rum barrels, marks the end of Magellan's journey across the Pacific.
While many remember Magellan for piloting the first recorded journey circumnavigating the globe, many forget that he actually met his end only two-thirds of the way though the voyage at the hands of Filipino cultural hero, Lapulapu, in the Philippines during the Battle of Mactan.
At midnight on April 27th, 1521, Magellan led a group of nearly 60 of his men and 20 to 30 native war boats from the nearby island of Cebu to the island of Mactan in an attempt to force Lapulapu to bend the knee to the Spanish crown. Despite their superior firepower and armor, Magellan and his men were overwhelmed by Lapulapu and 1,500 warriors.
The battle resulted in Magellan's death, and his remaining men were so few, they were forced to abandon two of their three ships in the retreat. Lapulapu's status as hero was cemented, and he and the Philippines were able to resist Spanish colonization for almost forty more years.

With The Boss Hog VIII: Lapulapu's Pacific, Whistlepig pays homage to this hero, and to today's often overlooked Philippine rum makers, by finishing this nearly-eighteen-year-old rye whiskey in high toast single island Philippine rum casks.

"On the heels of Magellan's Atlantic, it was a great challenge to find the perfect finish for the most special rye barrels in our warehouse," says Meghan Ireland, a blender at WhistlePig Distillery. "We were already tracing Magellan in-depth, and when we discovered Lapulapu's story, we knew we had to track down the best Philippines Rum barrels we could for the sequel. Before maturing Rum for seven to ten years, the barrels were coopered from American Oak and originally held bourbon. In this way, they've made their own circumnavigation from American whiskey to the Philippines, and back again to us in Vermont."

Tasting Notes:  "I spent a longer time nosing this whiskey than usual. There was just so much to unpack," writes Christopher Osburn, a freelance food and spirits writer, on tasting the Boss Hog VIII. "First, there was an unmistakable hint of orgeat syrup, almond cookies, bananas, sweet rum, and caramelized sugar. The more I sniffed, the more I found a symphony of tropical fruits. This nose is so fruity, I almost didn't expect to find a rye whiskey once I took a sip. But there it was, very present on the palate.

The unmistakable peppery rye spice is right there up front, along with butterscotch, cinnamon, nutmeg, vanilla, more candied almonds, and dried cherries. It ended with more toffee, orgeat, and pleasing, warming cracked black pepper."
MWL COCKTAIL DONATION PROGRAM
BLANCHET HOUSE & FRIENDS OF TREES
At MWL, we are committed to supporting our community, whether that is by raising funds, volunteering with our members and our team, or by providing a platform for local non-profits to share their vision.

Driven by the deeply-rooted civic spirit and enthusiasm of our staff, our cocktail donation program is just one of the ways we share the love with our neighborhoods, our city, and the incomparable PNW. We will be raising funds through March 31st for the following incredible organizations.
Blanchet (pronounced Blan-shāy) House is a nonprofit social services organization located in Old Town Portland. We make a difference, one relationship at a time, through food, clothing, and supportive housing programs. We serve anyone who comes to our doors without judgment because we believe everyone deserves dignity, hope, and community.

Mission: To offer food, shelter and aid to all those in need of a safe place to be nourished and restored. Assist the transformation of each life we touch with compassion and dignity.
Learn more about how Blanchet House is helping people right here in Portland!
Friends of Trees inspires people to improve the world around them through a simple solution:
Planting trees. Together.
Thanks to Friends of Trees, 870,000 trees and native shrubs have been planted in neighborhoods, parks and natural areas throughout the Pacific Northwest since 1989. We are excited to help Friends of Trees spread the "green" word this quarter through awareness, donation and volunteering!
See what
JANUARY 20

The Library is Closed for a Private Event

Please join us in The Green Room

JANUARY 23

Cocktail Class
Featuring Woodford Reserve

JANUARY 29

The Green Room is Closed until 8pm for a Private Event
Please join us in the Library

JANUARY 30

The Library is Closed for a Private Event

Please join us in The Green Room

FEBRUARY

Valentine's Day Pairing Dinner
Ticket Information Coming Soon
FEBRUARY

 Cocktail Class

Ticket Information Coming Soon

FEBRUARY

Scotch 101

Ticket Information Coming Soon
Copyright © 2022 Multnomah Whiskey Library, All rights reserved