GREETINGS AND SALUTATIONS
Happy Holidays, Members and Friends. It's the most wonderful (and popular!) time of the year to share the Library with friends and family. Now is the time to make your reservations as the books are filling up quickly.
*Reservation tips: if you don't see the date or time you are looking for, email the front desk at info@mwlpdx.com as we may still be able to accommodate your party. All booked up? Ask to put your name on the wait list in case there are any cancellations. Last but not least, if you know you want to enjoy a leisurely time catching up with your guests, take advantage of the option to choose the duration of your visit when booking.
Also in the news, our newest private barrel has landed!
Keep reading to find out how to reserve a bottle of the Colonel E.H. Taylor Single Barrel – MWL Selection. If you miss your chance this time around, stay tuned for updates as we have more barrels on the way. Plus, check out one of our favorite make-from-home holiday cocktails and an indepth look at The Macallan Edition No. 6 .
As always, thank you for your readership, and we look forward to seeing you soon!
Sincerely,
Your Friends at the Library
MWL PRIVATE BARREL PROJECT
COLONEL E.H. TAYLOR SINGLE BARREL – MWL SELECTION
We're excited to welcome the newest private barrel to our collection: Colonel E.H. Taylor Single Barrel – MWL Selection. This is the second private barrel we've hand picked from this distillery, and like the previous barrel, this 100 proof bottled-in-bond straight Kentucky bourbon is guaranteed to warm up even the coldest nights.
A limited number of bottles will be made available to purchase by MWL members for $65 each. The RSVP window opens at 9am on Monday, December 13th and will be open for 48 hours. Check our event page for more information.
When the RSVP window closes on Wednesday, we will email purchasing directions to the first 70 members on the list. The remaining 8 bottles will be allocated by lottery among the remaining members on the list.
We're excited about this newest addition to our collection! We have several other private barrels in the works, and we are looking forward to offering our members exclusive purchasing opportunities in the new year. If you have any questions, please email us at membership@mwlpdx.com.
MWL has partnered with some of our favorite brands to bring our members the House Pour: a complimentary taste of a new, classic, interesting, or just-plain-fun spirit.

December's House Pour is a four-year old MWL Single Barrel Selection from Peerless Bourbon dubbed Dulce Celina by Peerless in homage to the flavor profile imparted by the barrel including notes of brown sugar, vanilla and coriander. Members who drop by this month can request a half pour of this MWL private bottling.
IN THE HOLIDAY SPIRIT – CARA MIA & LION'S TAIL
The Cara Mia, a favorite from The Green Room cocktail list, is the spicy and sweet-tart drink you've been dreaming of.
A delicious balance of tang and spice, this cocktail by MWL bartender Yuramy Pirela was inspired by the tamarind candies she remembers eating as a child.
We start with añejo tequila, then add a homemade puree made by simmering tamarind fruit with cinnamon, orange zest, star anise, cloves and pink peppercorn. A touch of Ancho Reyes liqueur adds richness and a hint of smoke while Ancho Reyes Verde layers in complexity and green pepper notes. Firewater bitters finishes the cocktail with just the right amount of heat.
Stop by and try the Cara Mia for yourself! A dollar from each of these drinks is being donated to the Wild Salmon Center.
Looking for a great classic cocktail to make at home during the holidays? The Lion's Tail is a balanced blend of bourbon, winter spices and citrus.
To Make:
2 oz. bourbon (we use Buffalo Trace)
.5 oz. St. Elizabeth Allspice Dram
.25 oz. rich demerara syrup
.75 oz. lime juice
Add all ingredients with ice to a cocktail shaker, shake well and strain into a chilled coupe. Enjoy!
BLIND TASTING BOTTLE
TEST YOUR PALATE WITH A MEMBERS ONLY BREAK-EVEN BOTTLE
Every month, we present our Members with an opportunity to exercise their tasting skills on a Members-only Blind Tasting Bottle. This top secret break-even bottle* (even the bartenders won't know what it is) will be available in .5 oz tasting pours for a month, or until it's gone.

Members are welcome to write down their best guess as to what the spirit is and give it to their bartender. The winning Member, or Member with the closest guess, will enjoy their next drink on us (up to $20). We'll reveal the name of the spirit when we announce the next round.
The Rules:
• Pours from the Blind Tasting Bottle are limited to .5 oz per person per visit in the Library
• Members can submit only one guess per bottle
• Feel free to pick your bartenders brain about the Blind Tasting Bottle, but know that only the team member who chose the bottle actually knows what it is!
*A "break-even bottle" is an interesting, rare or collectible bottle sold by a bar at cost and presented in the spirit of education and exploration.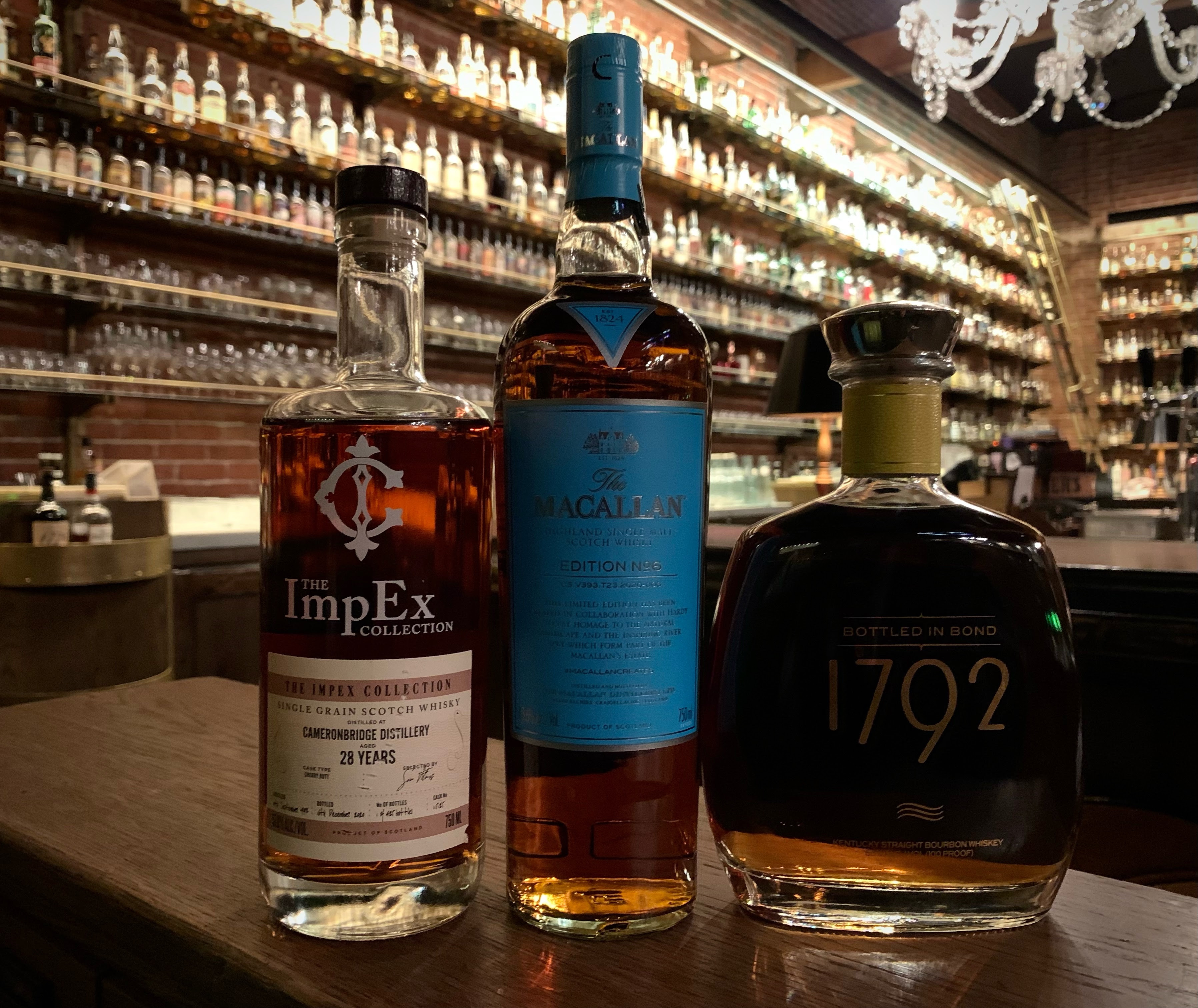 CAMERONBRIDGE 28 YR
Single Grain Scotch Whisky, btlr Impex, 28yr, ncf, ck Sherry Butt, cs  51.8 abv
Lowlands, Scotland
THE MACALLAN EDITION NO 6
Single Malt Scotch Whisky, nas, ck American & European Sherry Oak, 48.5 abv
Highlands, Scotland
1792 BOTTLED IN BOND
Straight Bourbon, 50 abv
Kentucky
UNDER THE SCOPE
THE MACALLAN EDITION NO. 06
In 1824, when most scottish spirits were still being made on the sly to avoid taxation, Alexander Reid obtained one of the very first licenses to legally distill whisky. Reid, a teacher and a farmer, then leased eight acres of land and founded The Macallan Distillery on a plateau above the River Spey. Since that time, the distillery has grown to encompass 485 acres, changing hands several times, and not only surviving the modernization of the property and the trials of mergers and acquisitions, but emerging victorious as one of the most well known single malt distilleries in the world.

The Macallan Edition Series, debuting with Edition No. 1 in 2015, is an annual series that, in their own words, "explores our approach to whisky making and exposes the detail of its creation." Each limited bottling is hand picked by The Macallan whisky makers to exemplify the diversity of casks used at the distillery and the multifaceted inspirations that power their unique creations.

Edition No. 6, the newest (and final!) release in the series, is a celebration of the natural wonders of The Macallan estate and the storied River Spey – famous for its beautiful scenery and "home to the mighty Atlantic salmon." By partnering with the Atlantic Salmon trust, Edition No 6 underlines The Macallan's commitment to sustainability, stewardship and conservation.
One of the only distilleries to employ a ghillie, or fishing guide, on their estate, The Macallan has deep ties to the surrounding landscape. Each cask type used in the creation of Edition No. 6 was chosen to honor a different aspect of the estate: first-fill American oak butts to represent the River Spey, first-fill European oak hogsheads for The Macallan ghillie, first-fill European hogsheads and butts to represent Hardy (who supplies them with fishing gear), second-fill European and American oak butts for the Atlantic salmon fishery supported by the river, and to represent the 200 years of whisky making, they selected first-fill American oak butts.

The resulting whisky stays true to the character and style of The Macallan – delivering deep aromas of fresh fruits, warming spices, oak, leather and chocolate. On the palate, you can find hints of orange, cinnamon, toffee and nutmeg along with a balanced sweetness from the oak and a lingering and creamy mouth feel. The finish is long and luxuriant with the flavors of fruit and spice turning towards chocolate and toasted oats.

We were inspired to feature the Edition No. 6 in the December newsletter as it dovetails so nicely with our partnership with the Wild Salmon Center to help support their mission to protect the local waterways so vital to our PNW salmon population. You can read more about their important work below.
MWL COCKTAIL DONATION PROGRAM
WILD SALMON CENTER & REFUGEE CARE COLLECTIVE
At MWL, we are committed to supporting our community, whether that is by raising funds, volunteering with our members and our team, or by providing a platform for local non-profits to share their vision.

Driven by the deeply-rooted civic spirit and enthusiasm of our staff, our cocktail donation program is just one of the ways we share the love with our neighborhoods, our city, and the incomparable PNW. We will be raising funds through December 31st for the following incredible organizations.
Refugee Care Collective serves diverse populations of refugees being resettled in the Portland Metro area and empower them to rebuild their lives and step more fully into self-sustainability.
One dollar from every House Old Fashioned in the Library will be donated to help RCC achieve their goal of bridging the gap between "what is and what could be," through restart kits and relational programs, partnership with resettlement agencies, and namely, the thousands of people who have given of their time and resources.
Learn more about how Refugee Care Collective is helping people create new homes right here in Portland
Wild Salmon Center (WSC) is a Portland-based nonprofit working to protect the greatest remaining wild salmon rivers in Oregon and across the North Pacific.
One dollar from every cocktail sold on the seasonal menu in The Green Room will be donated to this impactful organization. WSC focuses on salmon because these fish are an iconic and powerful conservation symbol, wild to the core, with an incredible life story. When you protect salmon, you protect a whole watershed and everything in it, including wildlife, water, forests, and people.
The Oregon Water Initiative is working to keep more water in rivers and streams for wild fish, and to adapt the state's outdated water rights system to reflect the changing needs of all water users. With many of our salmon streams reduced to a trickle during summer, new approaches are critical to restore the flow in our life-giving rivers while supporting the out-of-stream water uses that depend on them.
To accomplish this, WSC works with scientists, state agencies, cities, rural landowners, and partner nonprofits to prevent further reduction of instream flows in key salmon rivers and return water to struggling river systems. This work is critical, given the accelerating impacts of climate change and the diverse and increasing water needs of our communities. WSC's goal is to ensure that Oregon's world-class streams flow cold and deep for generations to come.
Watch TedxTalk with Wild Salmon Center CEO Guido Rahr on the subject of "Salmon Strongholds" – the healthiest salmon ecosystems across the North Pacific.
 DECEMBER 13

Flying Fish Collaboration Dinner
Sold Out

DECEMBER 16

The Green Room is Closed until 8pm for a Private Event
Please join us in The Library

DECEMBER 24 & 25

Closed for Christmas
DECEMBER 31

The Green Room and Library are Closed for Private Event*

JANUARY 1st-4th

Closed for Staff Holiday

*We are sad to announce that we will not be ringing in the new year with our beloved members and guests this year. With the uncertainty caused by Covid-19, we have made the difficult decision to forgo our annual event this year. We would still love to see you this holiday season, please let us know if you need any assistance booking a reservation!
Copyright © 2021 Multnomah Whiskey Library, All rights reserved.