For continued safety and precaution, we ask that everyone continues to wear masks when picking up orders. With the confusing "progress" we have made in the pandemic, playing it safe and remaining cautious has served the community well and allowed us to stay open. It has only been a couple weeks since we moved our pickup table from the doorway to just inside our shop. It felt like a baby step forward, although mainly spurred by the extreme temperatures outside.
We are tired and a little weary but still in a holding pattern. But we are committed to waiting out the pandemic and are hopeful for some additional government assistance to make the changes we are in need of to adapt to a modified service style. Doing to go only for the last 18 months has been a temporary solution to our global crisis. Although we have all adjusted, modified and survived thus far, we continue thinking about and focusing our intentions towards our next iteration. We remain patient and dependent on the health and safety of our staff and community.
We are a very small crew. In the last year we have had two full-time employees that have been with us 5+ years each. In addition, we have three people who are part-time, who also live with me and a sprinkling of friends that have dependably pitched in. And last but most definitely not least, we have my two daughters who have been integral and vital to the last year, in keeping our doors open and me "sane". These are the vaccinated folks that are keeping us running.
At this very moment, we all are nervous and not so comfortable with "opening up", especially as we existed before the lockdowns. It is really hard to imagine how it all used to operate in such a small space, can't imagine how we used to squeeze 11 staff and 40 guests inside. As we can see in the world, and now with the dramatic domestic covid uptick, this pandemic is really not over. Not even close. We enjoyed the short "loosening", but we just don't see a path that takes us back to how things were. The old way of our industry has revealed its cracks. And we are not comfortable just plugging those holes and moving on. Working in the service industry will not be the same, nor should it be. Late nights, low wages, rampant substance abuse, unfair, unpredictable and misguided tipping systems, and more entitled and rude customers, some just seem out to make overt political statements when going out for dinner. After non-essential services were mandated to close, I explained to my youngest daughter that I wasn't sure if another customer would ever set foot in our dining room. I was not sure if we would go out of business or if our operation would fundamentally change to survive a new world. My goal when this all went down was to stay consistent and dependable as much as humanly possible. Not changing hours, not changing service style, trying to keep my family, staff and community safe. Trying to stick with what folks know us for, pizza inspired by the farmers. I am so thankful for the community that has supported us through all of this.
So ultimately we are spending days and nights trying to imagine and plan what Tastebud 5.0 will be, in what is our 21st year of operation and 6th year in Multnomah Village. Ideas range from more pizza, more bagels, more breads, chicken dinners, lunch sandwiches, bakery, coffee, private dining, mutual aid, and how we can support disadvantaged communities. We are waiting for a committed pivot to fulfill our goals and not continuing this temporary setup that is keeping us afloat. We are hoping the restaurant revitalization fund will come through, but we are not holding our breath.
I hope we all stay safe, heathy and vigilant and that we see you soon.
Mark
pioneer square farmers market 2016
Now taking pizza orders for:

Thursday – 8/5
Friday – 8/6
Saturday – 8/7

Pickup slots available between 4pm – 7pm
Baird Family Farm peaches are available 
To go containers are getting hard to come by, so we might be rotating through what we can get our hands on.
One stop shop…
Add salad, bread, produce, beer, wine, to your order!
Pizza menu is at the bottom of this email and online
We cannot accommodate build your own pizzas at this time
Whole pizzas only, no half-n-half's
Pizzas will be served hot and ready to eat, pre-cut and pre-boxed
Orders are first come first serve and will be closed when sold out
All payments will be made prior to pick up
If you want to tip, you can find the option on the order form, no cash is accepted at the restaurant
Pre-ordered, pre-paid, limited call in and walk up orders available
Our first priority is to keep our staff, customers, and community safe during this continued pandemic, our dining room will remain closed
Salads are boxed, undressed and should be tossed thoroughly before serving.
To reheat pizzas – place a wire oven rack in upper part of oven, turn oven to 400. Place pizza immediately on a wire rack with a pan underneath to catch any drippings. Heat for a few minutes until cheese is melty.
Remember that your pizza boxes are compostable!
Bread – (Friday and Saturday only)
focaccia – cherry tomatoes and rosemary 

hearty whole grain
ciabatta with rye
Bagel Chips – thinly sliced, toasted, olive oil and sea salt
Baird Family Farm Peaches
Cases of sweet sue peaches
New Can Options available! 4 packs or single cans.
VERY LIMITED SUPPLY!!
2020 Artomana Xarmant Txakolina, SP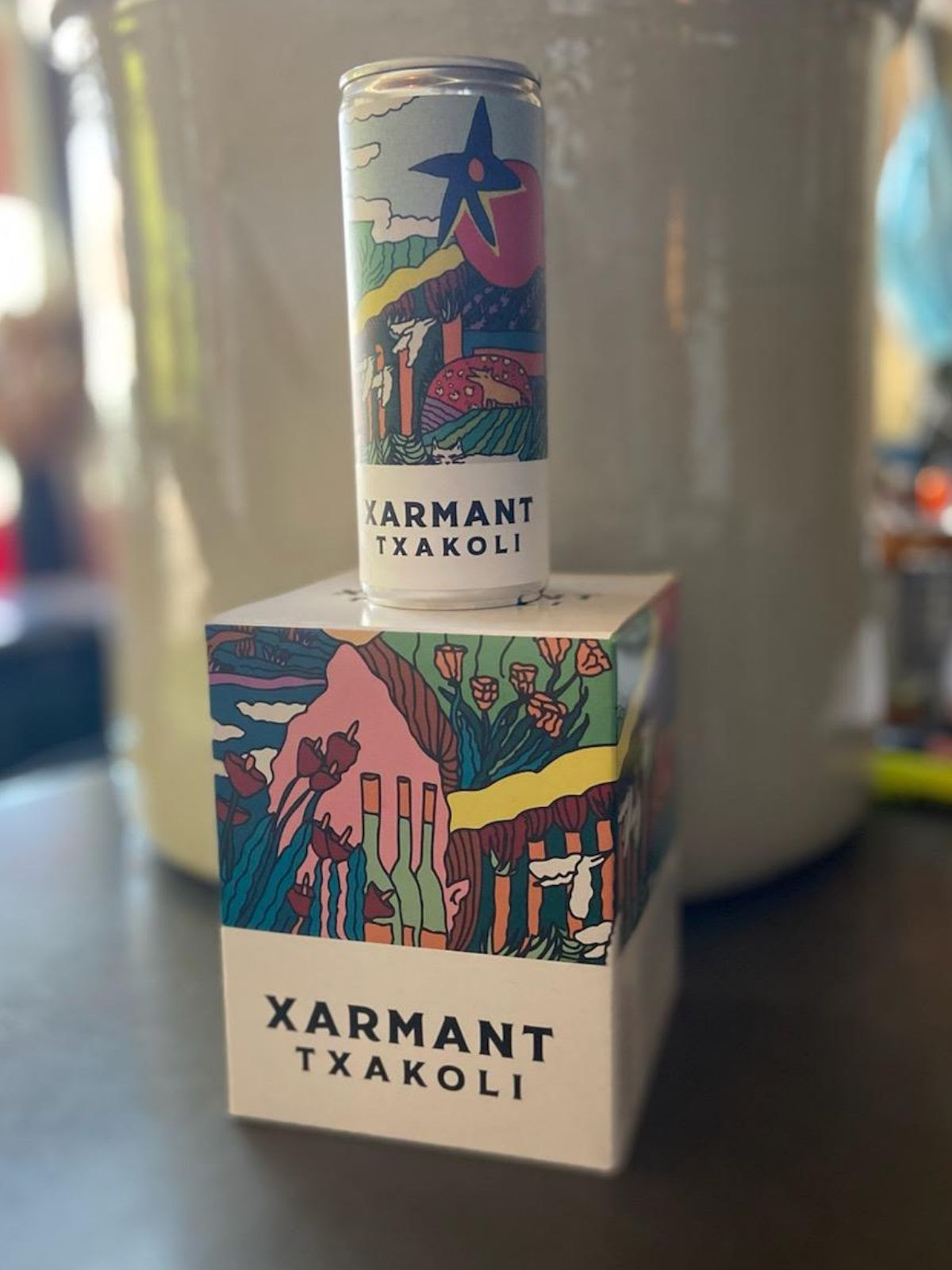 In Spain's coastal Basque Country, "Xarmant" (char-mant) means 'charming.' Txakoli (cha-ko-lee) is the joyous, light, white wine shared amongst friends with northern Spain's legendary cuisine. Xarmant is made from the highest quality, sustainably-farmed, estate vineyards from the verdant Amurrio valley in the Basque Country, close to the Bay of Biscay on Spain's rugged, green northern coast. Its proximity to the Atlantic Ocean creates a unique, ideal microclimate to produce this 'charming' wine.
2020 Isategi Sagardo Naturala (Dry Natural Cider), SP

Isastegi is a refreshing, DRY natural cider from the verdant mountains of the Basque Country, high above the Bay of Biscay along Spain'srugged and green northern coast.
Basque Sagardo is traditionally served cold, poured into a wide-mouth tumblerfroman arm'slength a little bit at a time to give the cider itssignature creamy, effervescent mousse.
Much love,
Mark and Tastebud Crew
8/5 – Thursday and Friday and Saturday

SUMMER PIZZAS

Herbivore – corn, shishitto peppers, pickled peppers, mozzarella, feta – 26

Carnivore – pesto, cherry tomatoes, leeks, sausage, mozzarella, provolone – 28

Peachzza! – Baird Family Farm peaches, jalapeños, basil, mozzarella, fresh mozzarella – 25 – add pancetta +4

Basil Pesto – basil pesto, cherry tomato, mozzarella, goat cheese – 22

Classic – tomato sauce, mozzarella – 17

Spicy Classic – tomato sauce, roasted jalapenos, ricotta, mozzarella – 21

Margarita – tomato sauce, fresh mozzarella, basil – 20

Vegan – tomato sauce, olives, sweet onion, peaches, shishitto peppers, cashew parm (on side) – 26

Pepp – pepperoni, tomato sauce, mozzarella – 21

Sausage – pork sausage, tomato sauce, mozzarella – 21

Seeded Flat Bread – black and white sesame, poppy, fennel, sea salt – 10

add to your pizza –
– Roasted shiitakes – 4
– Pork Sausage – 5
– Anchovies – 4
– Sardines – 6

SALADS

Kale Caesar – kale, bagelcrumbs, parmesan, garlic anchovy aioli* – 14

Summer Greens – summer salad mix and veggies, hazelnuts, goat cheese, oregano vinaigrette – 14

Market Salad – Roasted and fresh summer veggies, chickpeas, wheat berries, basil pesto, tahini sauce (vegan) – 12

BREADS – 

Ciabatta – Sifted whole wheat, high gluten white, rye, salt, yeast – 5

Cherry tomato focaccias – Edison whole wheat, cherry tomatoes, rosemary, olive oil, sea salt, yeast – 5

Whole grains – whole wheat, whole rye, whole buckwheat, sea salt, yeast – 5

Bagel Chips – thinly sliced, toasted, olive oil and sea salt – 7

WINE and DRINKS!  
see website!
7783 SW Capitol Hwy. Portland, OR 97219
503.245.4573
CATERING & EVENTS
info
@tastebudpdx.com
Copyright © Tastebud, All rights reserved.