---
To Our Market Community,
This winter's cold weather has us thinking about a steaming bowl of soup. Besides being hearty, warm and nourishing, we love that there are so many ways for soup lovers to get their fix. They can make it themselves, which we will talk about later, or buy it ready-made. We are not talking about that canned stuff from the grocery store. No way! We are talking about a ready-to-go soup that is made by a talented, trained chef with over 25 years of experience in the kitchen. Heidi Lebowitz of Souper Natural soups started her career in food at the Culinary Institute of America in New York. From there she worked in restaurants and catering where she found she had a knack for making incredible soups. She turned this talent into a successful business which she named Souper Natural. Fortunately for us, Souper Natural can be found at the market every Saturday, their ice chests loaded with dozens of varieties of soup including vegan and vegetarian options, most of which are also gluten-free. Souper Natural soups are sold frozen in 24 oz. containers which make for three generous portions.

Photo courtesy of Souper Natural
This week, Heidi will stock her coolers with a fan favorite, Sausage and Kale soup, as well as a Lemon Chicken soup which is made by massaging lemon zest into cooked chicken as it cools. The juice from those lemons is added to the stock. Market Master, Ginger Rapport, loves Heidi's Curry Lentil soup which is delicious plain but can be turned into a more fulsome dinner entrée served over rice with a side of roasted carrots. Of course you can never go wrong with the classic Tomato Basil, with or without a grilled cheese sandwich to accompany it.  For a socially distanced group, serve Heidi's Tortilla soup with fun mix-ins such as avocado, sliced radishes, crumbled cotija cheese, shrimp and/or chicken pieces, shredded cabbage, pickled jalapeño slices and of course, tortilla strips. Each person can customize their soup to their own tastes.
Don't be afraid to stock your freezer. We like to recommend Souper Natural soups even in the middle of Summer. When it gets too hot to cook in the kitchen and we are tired of eating salads, we like to have a hot meal that doesn't involve turning on the oven or stove. https://www.soupernatural.net
Warm Regards,
The Beaverton Farmers Market
---
We will see you all this Saturday at the Market, from 10AM-1:30PM!
---
Tomato Bisque With a Zing!
Josh and Grace Williams are new to the market this season. They make a line of hot sauces which are a unique cross between hot sauce and salsa. This convergence results in a thick, chunky sauce they named 2 Angry Cats, inspired by their cats Eeyore and Nala.
Josh and Grace have a passion for cooking and because sometimes it is fun to make your own soup from scratch; Josh shared with us his recipe for a zingy Tomato Bisque featuring 2 Angry Cats sauces, Short Fuse (made with scorpion peppers), or Cherry Bomb (mild).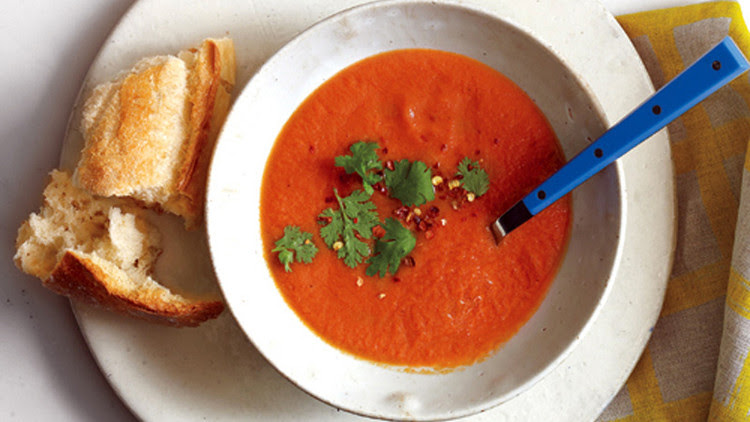 Photo courtesy of Everyday Food, April 2010
Josh's Tomato Bisque With Short Fuse or Sweet Cherry Bomb Hot Sauce
Ingredients
4 medium-large tomatoes
4 tbsp of butter/ ½ stick
1 medium yellow onion diced
2 Carrots
2 Celery stalks
5 garlic cloves
5 cups chicken broth, or broth of choice.
5 tbsp of flour
1 tbsp parsley
1 tbsp thyme
1 tbsp rosemary
Salt and Pepper to taste
1 cup heavy cream
2-4 oz 2 Angry Cats Short Fuse or Sweet Cherry Bomb hot sauce  (Depending on how hot you want it)
Roast tomatoes and carrots at 350 degrees for 10 minutes.
On medium heat, melt butter in large pot and add onions, carrots, celery, and garlic. Cook until onions are soft. Roughly 10 minutes.
Add flour and stir until a paste like consistency. Add broth and tomatoes. Bring to a boil and stir. Add Parsley, Thyme, and Rosemary. (Optional: blend spices together and then add to pot)
When it starts to boil, lower temp and simmer for 30 minutes. Remove from heat and cool for 10 minutes.
When cooled, transfer all solid ingredients to a blender and puree until smooth. Add ingredients back into the pot and cook on medium heat. Add in Short Fuse or Sweet Cherry Bomb and simmer for 10 minutes. Stir in heavy cream, salt, and pepper. Serve and enjoy!
* If you have an immersion blender, leave all ingredients in the pot and blend it that way.
---
A Powerhouse Pantry Staple
Mundus Foods makes a plant based Cream of Everything Soup Mix which is a powerhouse of a pantry item. While it not only makes the best soup base for creamy soups including chowder, cream of mushroom or broccoli (or any vegetable really!), and tomato soup, it's a great base for vegan shepherd's pie and most casseroles. But we're here to talk about soup so let's dive into that! This time of year we are craving cream of mushroom soup since the Pacific Northwest is abundant with these fun guys! Head over to The Mushroomery to get recommendations and pick up the best mushrooms for this market to table meal!

Photo courtesy of Mundus Foods
Cream of Mushroom Soup
For a simple cream of mushroom soup for four, sauté 16 ounces of wild mushrooms with 3 garlic cloves sliced in olive oil in a skillet for approximately 7 minutes, or until mushrooms are tender and slightly golden.
In a separate pot, combine ½ cup of Mundus Foods Cream of Everything Soup, 2 cups non dairy milk of your choice (we recommend almond, cashew, or soy), 2 tablespoons of oil or non-dairy butter. Heat over medium high heat until boiling or desired thickness is reached. 
For a chunkier style soup, chop ½ of the cooked mushrooms and fold into the soup. For a smoother soup, add ½ the mushrooms to the pot and use an immersion blender to blend soup to desired consistency. Portion soup and top with remaining sautéed mushrooms.
---
Black Dirt Farm – We were elated to receive an email this week from Eric Hvidsten of Black Dirt Farm letting us know that he wanted to join the market one week earlier than expected. Black Dirt Farm is a small sustainable farm in North Plains with a wide range of produce. He will have a wonderful selection of early spring treats including bagged mixed lettuce and arugula, cabbage, turnips, leeks, and fresh eggs.
Essance Skincare – owner Jasmine Tran creates specialty herbal, organic, and vegan skincare products.  Jasmine was taught by her mother at an early age about the benefits and remedies of Chinese medicine based on Yin and Yang energy. After college she served as a project manager for a large skincare company where she learned about the formulations found in mass produced skincare. She used this experience to develop her own skincare line inspired by the power of plants and their intrinsic and topical healing properties.
---
Copyright © 2021 Beaverton Farmers Market, All rights reserved.
Our mailing address is:
Beaverton Farmers Market
PO Box 4
Beaverton, OR 97075