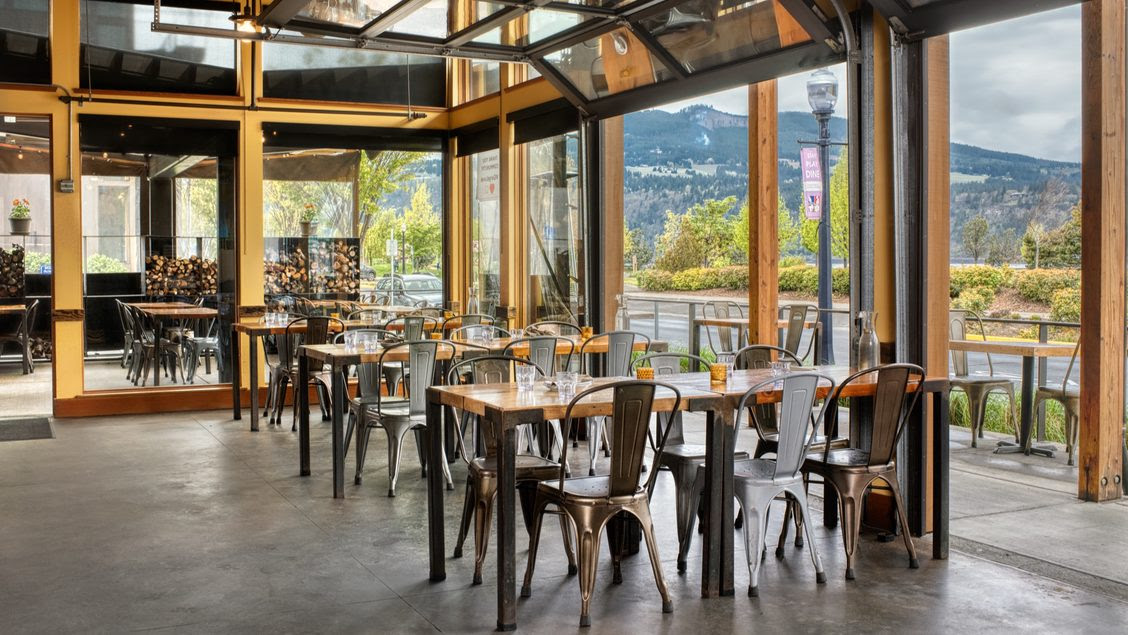 A Letter from Aaron & Suzanne
Hello cherished Solstice guests! We're excited to reconnect with you. We're eternally grateful for our local customers and friends who have shown us incredible loyalty & support these past few, tough years. This Gorge community is a true community! Thanks to the wonderful visitors who all came to eat and share positivity during the height of Covid times. Our many long-term employees, new staff, and stellar leadership team deserve highest praise, banners, confetti, fireworks, and trophies for their dedication, grit, creativity and adaptability. We're still here and we're thriving!

We're delighted to share all the goodness coming out of our kitchen during this abundant, late summer harvest. We hope you are enjoying all the good things this season offers us, and hope you join us in anticipation of autumn, cooler days, and beautiful food growing in our valley. Read on for all the delicious news we have to share! We hope to see you soon at Solstice.

Warmly,

Suzanne & Aaron Baumhackl
Welcome (back) to our Newsletter!
We're very excited to be relaunching our e-newsletter after a long hiatus. If you have not dined at Solstice recently, we have some updates for you!
Our Hood River Waterfront Cafe warmly welcomes walk-ins, as well as reservations via Tock. We offer in-person and online takeout orders, both of which can be picked up at our takeout kiosk behind our Waterfront Cafe.
If you're looking for quick and casual nourishment, please visit our Waterfront Pizza Truck for slices, whole pies, salads, and soft serve. The Pizza Truck welcomes walk ups and offers online ordering. It is open weekends from noon-7pm. Please check our Truck Instagram for hours updates. (Please note that this truck will be open up on the hill in The Heights neighborhood food truck pod on Wednesday 10/17.)
A new and very fun development on our mobile side is our 2nd Pizza Truck at The Ruins Events! We've been there since May of this year serving wood-fired pizza, salads, and ice cream sandwiches at concerts and catering private events. Please see our News and Happenings page for our dates of operation and go to The Ruins for info about the shows and musicians!
We've been quietly (and slowly) refreshing our website, so give it a look and be sure to join our communities on Instagram and/or Facebook.
| | |
| --- | --- |
| | 9/2/22 – 9/5/22 – Come to our Waterfront Cafe over Labor Day weekend for a Back to School close out sale! Take 25% off all of our retail items! We are making space in our lobby for new gear and a refreshed space. Get these fun shirts, hats and barware before they're gone! |
9/8/22 – On Thursday, September 8th, our bar and culinary teams will be rolling out new seasonal beverages and dishes! We love all the summer produce, but we have a special fondness for the local apples, pears, figs, chanterelles, and grapes that are just around the corner, being foraged and grown by our neighboring farmer friends. Be sure to check our site, Instagram, or Facebook to see what's new!

Please note that we will be closed on Wednesday 9/7 for a staff recharge day.
| | |
| --- | --- |
| | 9/21/22 – We welcome the return of our midweek specials including our famous calzone and beloved fried chicken sandwich! These specials will be available at our Waterfront Cafe on Wednesdays and Thursdays. We can't wait to feed you! |
| | |
| --- | --- |
| | 9/23/22 – Solstice will be hosting a pizza night on Friday 9/23 at the Grow Organic Gorge Fungi Foray! If you are a mycelium connoisseur or even just fungi curious, this entire weekend looks to be a total blast. |
About Solstice
Solstice Hood River is more than a pizza restaurant. It is a destination dining and hospitality experience that unites friends, families, and community with a common love of our region's bounty. Inspired by the Columbia Gorge and seasonal harvests from our neighboring farms, our food and beverage menus are chef-driven and handcrafted. We consider ourselves Ambassadors to The Gorge, eager to bring our guests on a culinary journey through the place we call home.
The pride of Solstice is our wood-fired pizzas, leavened with old culinary traditions, our dough is made from regionally milled flour, slow-fermented for 72 hours, and fired to a perfect char in our imported Italian oven. While we're honored to be so well known for our wood-fired pizzas, we're also excited for our guests to try our seasonal specials, salads, small plates, pasta, entrees, and elevated classics. Our full bar program complements our dishes with beverage pairings ranging from culinary-inspired cocktails, local craft brews, regional ciders and award-winning wines to kombucha, house-made shrubs, and zero-proof options. Our culinary and bar teams work together to expertly highlight ingredients and artisanal products that have been grown or produced in our backyard by our neighboring farmers and makers.
Whether you are celebrating a special occasion, feeding a hungry family, or on vacation in the gorge, all are welcome at Solstice. We are proud to offer vegetarian, vegan, and gluten-friendly dietary options to our guests. Please ask about making any pizza with our house-made gluten-friendly crust!
Founded by husband-and-wife team Suzanne and Aaron Baumhackl, Solstice has been weaving itself into the fabric of the Columbia Gorge community since 2006. Our passions go beyond the plate via philanthropy that strives to actively support a wide range of local programs for arts, youth, food security, social services, and environmental justice. We believe in mentoring youth and new entrepreneurs in the industry and advocating for farmers and healthy food systems.
If you are receiving this, it's because you have either subscribed, have been a customer and guest at Solstice, or are one of our media and PR contacts. If you do not wish to receive these updates, we would be sad to see you go, but feel free to unsubscribe at any time.
Copyright (C) 2022 Solstice Hood River. All rights reserved.
You are receiving this email as a part of our media and public relations outreach. We'd be sad to see you go, but please feel free to opt out at any time.
Our mailing address is:
Solstice Hood River
501 Portway Ave Ste 103
Hood River, OR 97031-1288