---
To Our Market Community,
While some may think of salad as merely a side dish for the main course, others of us appreciate salad's full potential. Well crafted Main-Course or Entree salads are usually composed of a wide variety of ingredients making them a meal unto themselves.
Market Master, Ginger Rapport, made such a salad for a visiting friend last weekend. As they enjoyed the many tastes and textures of the Chopped Salad with Jalapeno Dressing from NYTimes Cooking, Ginger and her friend found themselves fantasizing about all of the other  ways to expand upon this already delicious dish.
The recipe calls for making a dressing that is a riff on classic Ranch dressing using buttermilk and mayonnaise, adding chopped scallions, cilantro and jalapeno. The salad is built on a base of crispy bite-sized pieces of romaine lettuce, then it is topped with fresh corn kernels, thinly sliced radishes, diced avocado, sliced scallions, chopped cilantro, grated cotija cheese and crumbled lime tortilla chips. Toppings can be scattered over the lettuce, or arranged in rows or piles depending upon your time and patience. While utterly delicious and satisfying as is, this salad would also lend itself to a whole host of other tasty ingredients – black beans, small squares of butternut squash or sweet potato, and diced chicken or pork. If you don't have cotija cheese, substitute parmesan, feta or crumbled goat cheese.
A Composed Salad, from the French "salade composee", is simply a salad arranged on a plate rather than tossed in a bowl. Many entree salads are served in this  style including Ina Garten's Roasted Salmon Nicoise Platter which calls for arranging baked salmon fillets, boiled yukon gold potatoes, haricots verte (thin green beans), hard boiled eggs, arugula, olives and anchovies on a platter, served with a drizzle of a vinaigrette made with champagne vinegar and dijon mustard.
A Chef's Salad is an American classic consisting of hard-boiled eggs, one or more varieties of meats, tomatoes, cucumbers, and cheese, served on a bed of lettuce. For an over-the-top version of this salad, try Rachael Ray's Ultimate Chef's Salad recipe which uses a traditional Thousand Island dressing. She builds her salad on a platter of slices of iceberg lettuce which is sturdy and crunchy enough to hold all of the toppings –  bacon, sliced roast turkey, tomatoes, Swiss cheese, diced ham, hard-boiled eggs, scallions, blue cheese, sliced roast beef and provolone. Rachel garnishes the salad with pickled onions and giardiniera (an Italian relish of pickled vegetables).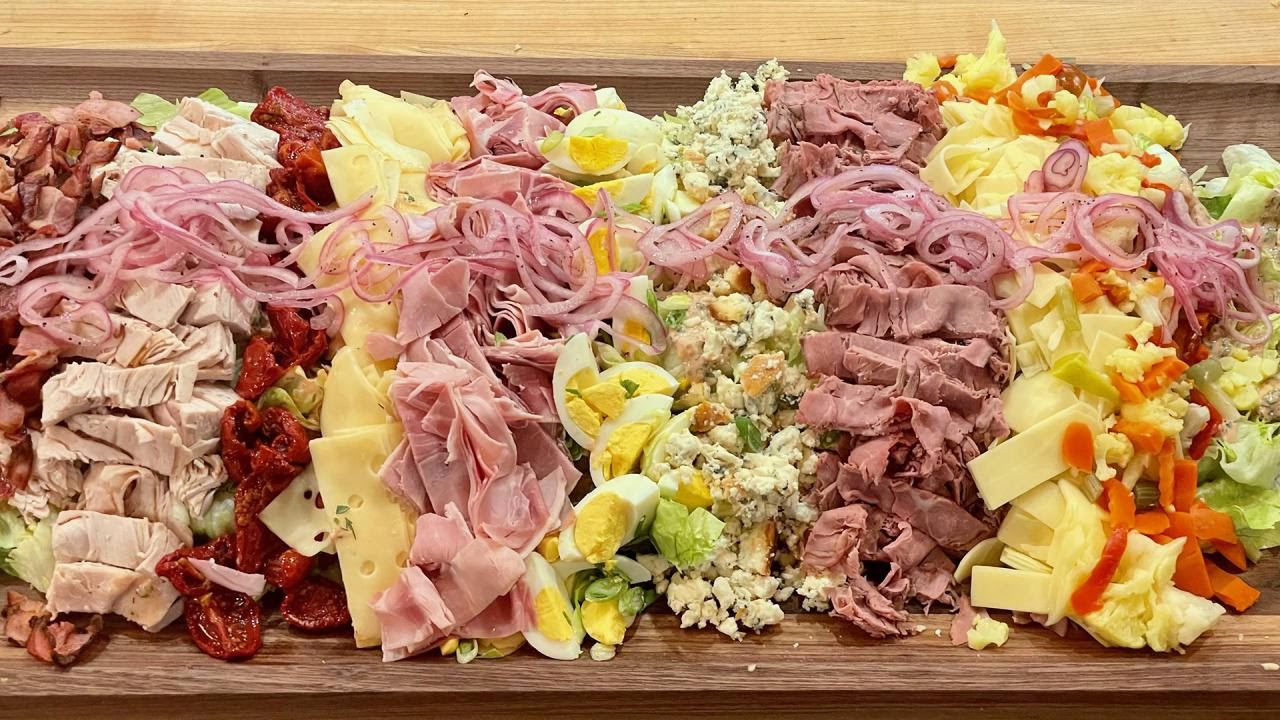 To explore the world of Main Course Salads, we suggest this trove of recipes from FOOD & WINE.
Warm Regards,
The Beaverton Farmers Market
---
We will see you this Saturday at the Market from 9:00AM-1:30PM.
---
Community News
After a successful first two visits at the Market, the Washington County Department of Health and Human Services is back for another COVID-19 Vaccine Clinic this Saturday, October 2nd! Here are the details of the clinic:
Vaccines are FREE
J&J vaccine- ages 18+
Pfizer- ages 12+ (ages 15+ are able to provide medical consent for themselves. If you are under the age of 15 you will need parental consent)
Moderna- ages 18+
No ID required
No Insurance Needed
Gift cards will be available for everyone upon receiving first vaccine
---
As the Market transitions into Fall, we would like to welcome some new vendors to our line-up:
Sasquatch Botanicals – blending organic, wildcrafted, and foraged plants to create nutrient dense spice mixes. Chef Timber's spice blends add wonderful flavor to many dishes and soups. The Moon Milk is the perfect way to usher in fall and longer nights!
Cecret Soap – artisan cold process soaps & bath products inspired by the cardinal directions (N,S,E,W). Our Marketing Director, Kate Laubernds, is looking forward to picking up the Muscle Soak Foaming Bath Salts for post hiking soaks.
Ananda Kitchen (Plant Rebel) – plant based creamers that are ridiculously creamy, adventurous, and made with whole ingredients.
Many Beavertonites are familiar with Mamancy Tea Co. and their tea and chocolate shop, which is why we are happy to welcome this local favorite to the market where they will be serving hot and cold tea beverages, including bubble tea!
This will be the last week for Baird Family Orchards and Unger Farms.
Copyright © 2021 Beaverton Farmers Market, All rights reserved.
Our mailing address is:
Beaverton Farmers Market
PO Box 4
Beaverton, OR 97075