A Portland Classic: Wildwood
It spawned a generation of Portland food service professionals.
We're gathering some of the most important of those from Wildwood's rich history for one special evening 
at STONE SOUP.
– First owner and chef Cory Schreiber
a rare Portland cooking appearance – don't miss this opportunity to enjoy his food and meet Cory
– Scott Dolich, who went on to make another mark at Park Kitchen
– Dustin Clark, Wildwood's last chef and now at Besaws and Solo Club
Cana Flug, Wildwood's last owner
&
Ryan Csanky, bar manager and now producing Aria Gin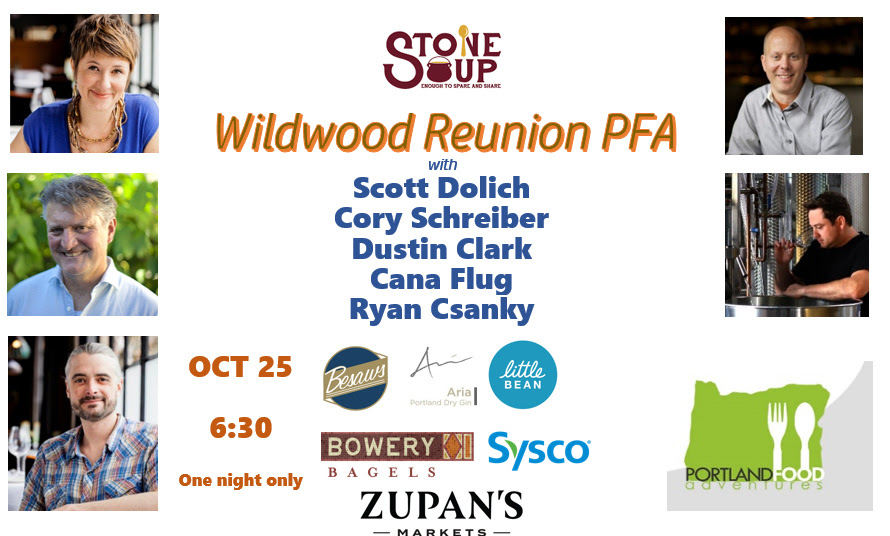 Friday, OCT 25 – 6:30
Why you want to go:
1. Incredible, fun reunion of some of Wildwood's key players over the years
2.  Stone Soup is helping folks in need learn new skills
3. See what former Park Kitchen owner and chef Scott Dolich is up to
4.  Great cocktails by Aria Gin and Former Wildwood Bar Manager Ryan Csanky
5. The added value of PFA events– Besaw's, Little Bean, Bowery Bagels, Zupans and more!
PFAs are always your best value
in Portland Dining Events
$135 Ticket price includes
Six paired courses AND
 Gift Certificates to chefs' faves
Besaw's, Little Bean, Bowery Bagels
along with a $25 gift card to 
WHAT 'S COOL ABOUT STONE SOUP?
PODCAST HERE

Go deep!  
Hear the stories of the people serving you that evening:
(click on images)
---
---
on Instagram and eat with us vicariously as we take 10 adventurers through Emilia Romagna Oct 4-12!
we are proudly sponsored by