FISH MARKET • RESTAURANT • OYSTER BAR
3004 East Burnside Street • 971-806-6747
* MARKET OPEN 10AM–8PM EVERY DAY EXCEPT TUESDAY *
* RESTAURANT OPEN 11AM–8PM EVERY DAY EXCEPT TUESDAY *
* EXCEPT THIS WEEKEND – SEE BELOW 
🥵
*
(Both closed every Tuesday)
Please read our Covid-19 house rules HERE  •  We accept EBT/SNAP/Oregon Trail.
HOT HOT HOT. KITCHEN'S OPEN TODAY, CLOSED THIS WEEKEND
UGH.
KEERIPES. Four days into summer and we're looking at record temperatures. Really bodes well for later this summer, dunnit? 
 This weekend, drink lots of water, don't be lighting any fires in the Gorge, and take good care of yourself and your loved ones.
To take good care of ourselves and our loved ones – our customers and our staff –
FLYING FISH RESTAURANT WILL BE CLOSED THIS WEEKEND.
Everything is open today (Friday), but the restaurant will be closed Saturday, Sunday, and Monday, plus our usual day closed Tuesday. Assuming we don't all combust, the patio, beer garden, and kitchen will reopen on Wednesday. However, in the meantime…
THE FISH MARKET WILL BE OPEN THIS WEEKEND.
Follow us on the social medias for latest updates. And on that note, here's what you'll find in the shop.
COLD WATER FISHES, HOT WEATHER PORTLAND
Don't get no colder than the deep blue Pacific, where the Halibut hover.
Photo by Natalie, styling by Matthew.
Those hunks of 
Halibut
 pictured above could feed you all weekend. Cook it once and you're good to go. The texture of cooked halibut in the fridge? There is no better midnight snack, Jack, and that's a fact. Since it's so dang hot, we're going to dabble in sacrilege and even recommend some mayo in your Halibut prep. WHAT? Mayo. And CHEESE. On HALIBUT. 
DEAL WITH IT.
ALSO: Just a reminder, Copper River Sockeye Salmon season is not infinite, in fact it's quite small. Don't sleep on the best reds in the world. They're here now, and they are hella fresh, sent to us directly by Sarah and her second-generation, woman-owned Alaska business. Pic below courtesy of Copper River Prince William Sound Marketing Association.
FRESH FISH AS OF FRIDAY JUNE 25TH
Ahi/Bigeye Tuna* – wild, Pacific Ocean (Hawaii)
Branzino – sustainable farm-raised, Greece
Chinook Salmon – wild, tribal caught, Columbia River
Chinook Salmon – wild, Pacific Ocean (Oregon)
Lingcod – wild, Pacific Ocean (Oregon)
Ora King Salmon* – sustainable farm-raised, New Zealand
Pacific Halibut – wild, Pacific Ocean (Alaska) – fillets, steaks
Petrale Sole – wild, Pacific Ocean (Oregon)
Rainbow Trout – sustainable farm-raised, Idaho – fillets
Rockfish – wild, Pacific Ocean (Oregon)
Sablefish/Black Cod – wild, Pacific Ocean (Oregon)
Sockeye Salmon – wild, Copper River, Alaska →
Steelhead – sustainable farm-raised, Washington
Swordfish – wild, Pacific Ocean (Hawaii)
* – Sushi-grade fish
GO EASY, IT'S ALREADY SMOKED
What with the heat wave, you're probably going to want to go easy on the heat this weekend, so here's an excellent and super easy dish that's good for any early morning this weekend: Fresh avocados, fresh eggs, and a good hunka Flying Fish Smoked Ora King Salmon. Garnish and season to taste. 
Hey Rachel Marion
 created the recipe pictured above – check it out 
HERE
.
SMOKED FISHES AS OF FRIDAY JUNE 25TH
Smoked Steelheadº
Smoked Scallopsº
Smoked Ora King Salmon
º – Flying Fish house-smoked, Gildersleeve family recipe
SCALLOPS,  THE SEQUEL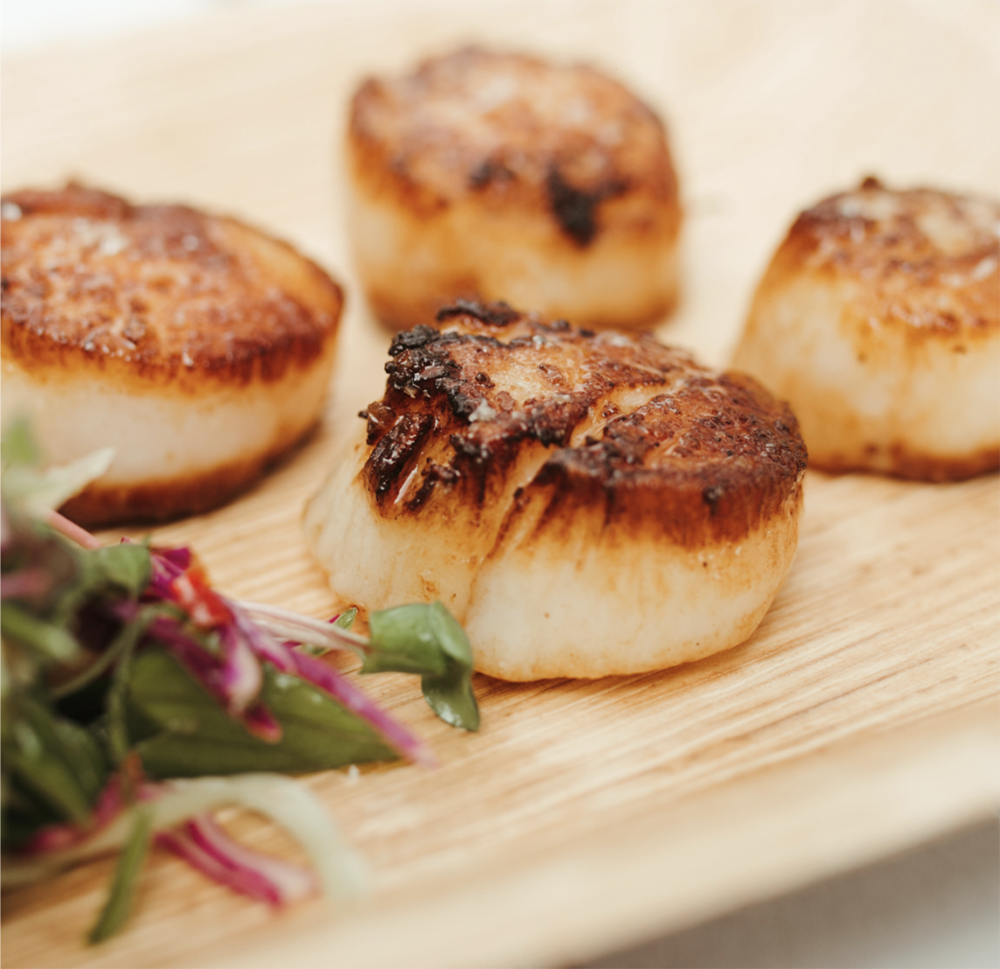 SPOILER: It's just as good as the first one. The book was better though.
Photo by Natalie. Styling by Matthew.
Oh look, another scallops feature! They're sweet, they're rich, maybe a little briny, with a texture you can immediately call to mind when you hear "pan seared scallops." That memory tastes good, doesn't it?

FRESH SHELLFISH AS OF FRIDAY JUNE 25TH
Sea Scallops – wild, Atlantic Ocean (Massachusetts)
Littleneck Clams – sustainable farm-raised, Massachusetts
Manila Clams – sustainable farm-raised, Washington
Mussels – sustainable farm-raised, Washington
FLYING FISH: A PLUMPER OYSTER
A plumper photo by Natalie.
Plumper. An adjective indicating the state of being more plump. Plumper. A noun defining an object carried in the mouth to fill out the cheeks. Plumper. Another noun to describe some (but not all) of the oysters in house. Dawg I heard you like plumpers so we recommend a plumper plumper for your plumper.
FRESH PLUMPERS AS OF FRIDAY JUNE 25TH
Disco Hama – Washington
Hoshi – Washington
Island Sweet – Washington
Kokus – Washington
Luna Bella – Washington
Ruby – Washington
Sea Cow – Washington
GROUND BEEF AND STEW MEAT
Ground beef and stew meat. Photo by Natalie.
Ground beef and stew meat. Laney Family Farms. Ground beef and stew meat.
FRESH MEAT AS OF FRIDAY JUNE 25TH
BEEF – Laney Family Farms, Canby, OR
Ground beef (Laney)
Stew meat (Laney)
Ground beef and stew meat.
OUR RESTAURANT MENU
For dining here or to-go. Menu updated June 2021
CLICK MENU TO ORDER ONLINE FOR PICKUP:
ALSO: Cocktails, sake, wine, and beer for dining onsite. Inquire within.
FLYING FISH SIGNOFF & DISCLAIMER
PLEASE NOTE: This email was accurate at the time of its weekly writing. Some products come and go quicker than others, so for best results on the freshness, follow us on the social medias: Facebook, Instagram, and Twitter. And tag us in your Instagram pics @flyingfishpdx – we love seeing your food pics!
Cheers,
Lyf Gildersleeve and the Flying Fish Team: Alana, Boo-boo, Chris, Danny, Elowynn, Erik, Isabelle, Jack, Jae, Jesse, Jordan, Kevin, Luis, Mad Dog, Mike, Neebs, Ross, Ryan P, Ryan S, Sam, Sarah, Sawyer, Tara, Trever, Wyatt, and Brad
INSTAGRAM JAM OF THE WEEK
@yelpportland gets five stars for this Instagram post. @johnny.eats.world gets five stars for taking the fish taco photo. Five stars for everybody. ⭐⭐⭐⭐⭐
ABOUT FLYING FISH

Craig and Sandy Gildersleeve opened Flying Fish Company in Sandpoint, Idaho in 1979 – the year before their son Lyf was born.
Now president of Flying Fish Company, Lyf has spent his entire life around fish, including an aquaculture education at the Harbor Branch Oceanographic Institute at Florida Atlantic University.
Flying Fish has three locations: Sandpoint, Idaho; Durango, Colorado; and Portland, Oregon. The Portland location opened in 2009 as a food cart at the D Street pod on Division Street. In 2011, we opened the fish shack on Hawthorne Boulevard. In 2016, we moved into a stand at Providore Fine Foods on Sandy Boulevard. In February 2020, we opened our standalone location on East Burnside with a restaurant and a patio.
* * *
Thank you for supporting our family-owned business. 
—Lyf, Natalie, Juniper, and Miles Gildersleeve (and Hazel the Dog)
* * *
PHOTO BY NATALIE GILDERSLEEVE PHOTOGRAPHY: Juni and her peonies.
Copyright © 2021 Flying Fish Company, All rights reserved.
You are receiving this email because you opted in via our website.

Our mailing address is:

Flying Fish Company

3004 E Burnside St

Portland, OR 97214-1950