---
To Our Market Community,
BFM Market Master, Ginger Rapport, is a list maker. She loves nothing more than going through a to-do list checking off finished projects and items that needed her attention. However, as a homeowner, new grandmother and manager of a busy market, that to-do list can get long. And tiring! While being organized and productive is very important to her, she also knows when it is time to give herself and her family members a break.
This Saturday is the end of Daylight Savings Time which means that we all set our clocks back one hour at 2:00 am. Given that this loss of an hour is always a little upsetting for everyone, Ginger decided that it would be a good idea to declare a "Recharge the Batteries" day for her house. This means that to-do lists get put away (temporarily) and everyone spends the day resting, relaxing, sports viewing and napping. Hopefully this means that the house will have renewed energy and enthusiasm for those to-do lists on Monday morning.
Since Ginger isn't very good at sitting around, her idea of relaxing is to get in the kitchen and cook something fun. On tap for this Sunday's menu is something delicious using butternut squash. A food writer once referred to this humble fall vegetable as the Golden Retriever of vegetables. Since Ginger has always counted at least two Goldens among her family members she took this reference to mean that butternut squash is always sweet, reliable, and will make you happy. It is not new and trendy but the butternut squash always delivers in both sweet and savory recipes.
Preparing a butternut squash can be a little intimidating so we have a couple of recommendations for you. Gimme Some Oven gives excellent step by step instructions for preparing a butternut squash.
If you prefer to watch a video, try this one from Clean And Delicious.
Both websites include recipes.
Bon Appetit considers a trusty list of butternut squash recipes to be "essential for fall and winter", which is when they are at their peak. Check out their list of 35 favorite recipes featuring the humble butternut.
Ginger plans on serving her family this recipe for Pasta with Winter Squash and Pinenuts. Shredding the raw squash makes it cook into a smooth and hearty sauce for the pasta.
Butternut squash are abundant in our growers stalls where you will find them in a variety of sizes to suit your needs.
 Warm Regards,
The Beaverton Farmers Market
---
We will see you this Saturday at the Market from 9:00AM-1:30PM.
---
Fresh Shell Beans
Winters' Farms grows horticultural beans (sometimes called cranberry beans) and they are the star of another of Ginger's favorite lazy day meals – Shell Bean Succotash.
Horticultural beans produce pods and bean seeds which range in color from white to cream with cranberry speckles. You have to shell the beans, which means splitting the pods and removing the beans, but this task can easily be done sitting in front of the television or visiting with friends or family.
Because the beans are fresh, there is no need to soak them before cooking. Generally speaking, the beans need only simmer in liquid for about 30 minutes until the skins are soft and the beans are creamy and tender.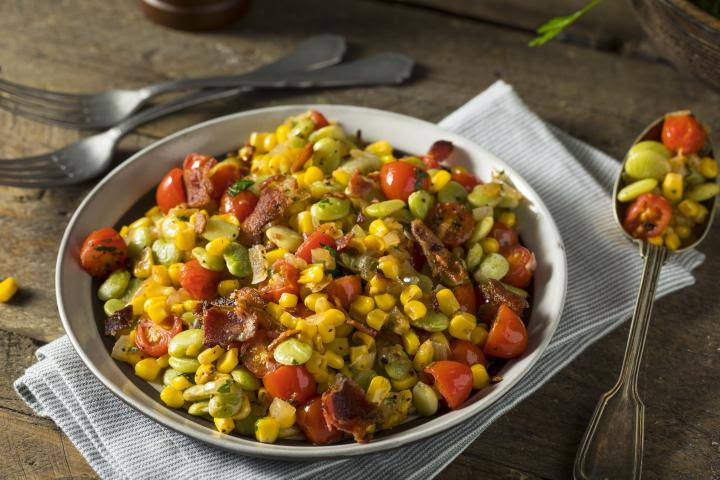 Pick up some horticultural beans from Winters Farm and make this recipe from the Victory Garden Cookbook:
2 c. Horticultural Beans from Winter's Farm
1 strip bacon or 1 T. olive  oil
1 t. salt
2 T. chopped onion
1 c. peeled, seeded, and chopped tomatoes
2 c. corn kernels
2 T. butter
Salt and freshly ground pepper
Put beans, bacon, salt, and onions in a saucepan; add a cup of water (or vegetable or chicken stock). Bring water to a boil, cover, and simmer for 20 minutes. Stir in tomatoes and corn. Simmer for 10 minutes longer adding additional water or stock to keep the beans covered. Remove bacon, stir in butter, and season with salt and pepper. (serves 4 – 6)
Add fresh herbs to taste.
---
New in the market: Lucille and Annie's Poundcakes made with a touch of homemade goodness and southern flare.
Owner Nattalie Edwards explains, "I am home baker based in Portland Oregon. I spent my summers in Mississippi as a young girl and learned to bake with my grandmothers Lucille and Annie. For the past 20 years I lived in Alabama and Georgia, now relocated back to the Pacific Northwest. I am excited to share these southern flavors with you and hope you all enjoy my homemade goodies, as much as I enjoy baking them."
Also back in the market this week: Ocean Green Healing – handcrafted CBD bath and body products.
Missing from the market this week: Linda Brand Crab will be taking a rare and much needed vacation this week but will return on the 13th.
Finished for the season: Wraps, Martinez Farm, and Nola Donuts.
Copyright © 2021 Beaverton Farmers Market, All rights reserved.
Our mailing address is:
Beaverton Farmers Market
PO Box 4
Beaverton, OR 97075