---
To Our Market Community,
This year the BFM was proud to offer our vendors the opportunity to apply for our Vendor Rebuild Grant. Made possible by a generous donation from the Tualatin Soil and Water Conservation District, this program was meant to assist awardees with rebuilding their business to face the challenges of the post pandemic world. You can read more about the ways TSWCD has helped our local community and other farmers markets through the pandemic here.
The grant funds were awarded to vendors who best articulated and demonstrated their plans for developing new and creative practices to help them emerge from the pandemic stronger and with a plan for the future. These creative ideas may take the form of new product delivery methods, such as setting up pre-ordering systems, or developing or growing new products, or different marketing strategies.
This year's Awardees Are:
Firebrew (Mind Your Manna)
Plant based healing remedies crafted to sustain the mind, body and soul.
Funded project(s) – marketing, offer special promos, run targeted ads on Facebook and Instagram.
Fermentista
Nutritious and delicious fermented products using only the freshest local produce.
Funded project – funds will be used to purchase vegetables from local farms and to support as many farmers as possible.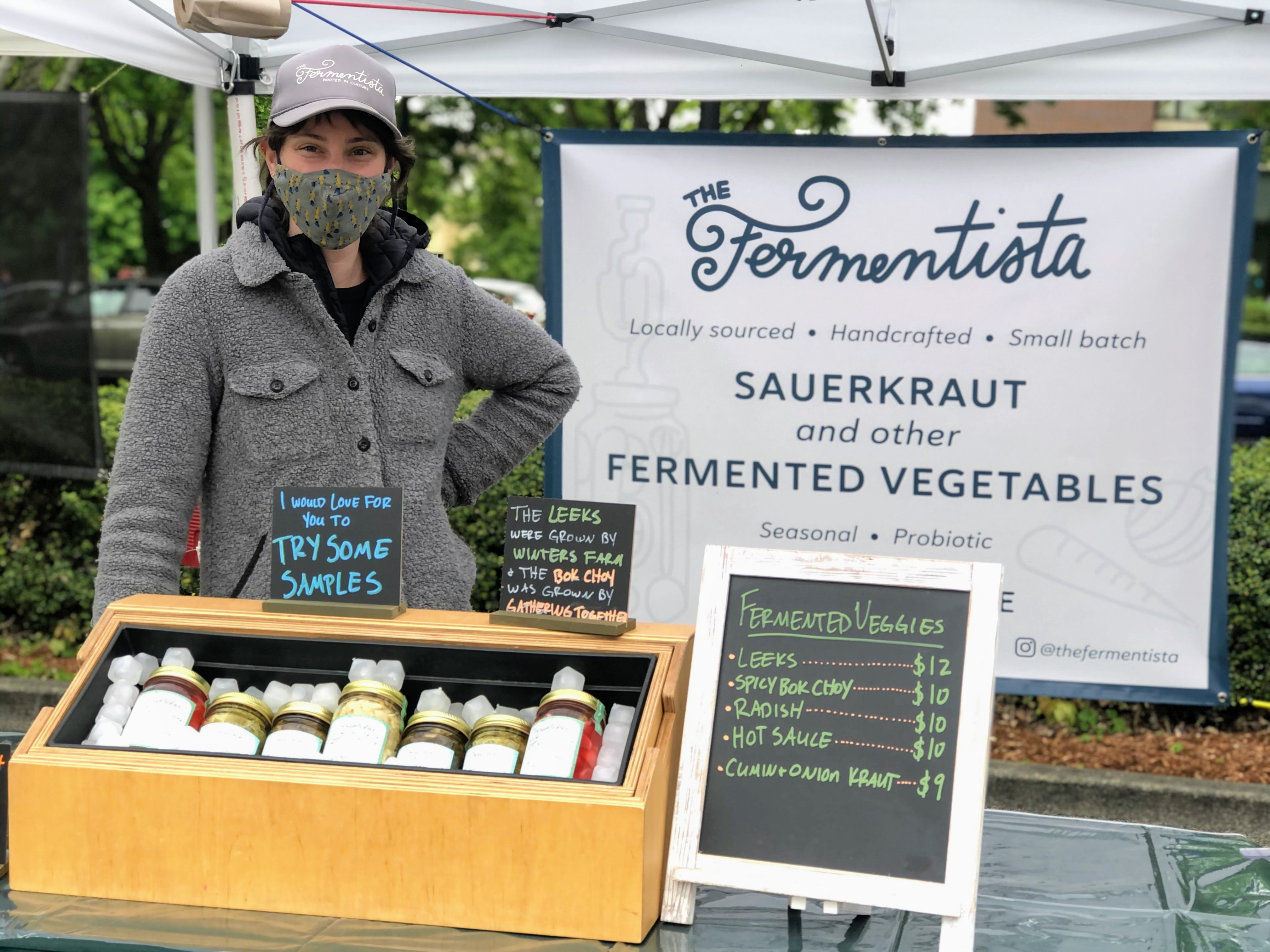 North Fork 53 Tea
Farm to teacup farm growing and processing a wide variety of herbs for their tea blends.
Funded project –  grow farm's capacity by increasing their greenhouse growing capacity with more LED growing lights & germination mats.

Photo by Mai Sugawara
Sidekick Provisions 
Handmade savory almond dips
Funded projects – move business beyond a one woman show. Purchase booth equipment and hiring a helper.
Bastion Coffee Roasters 
Artisan coffee roaster with a focus on the environment
Funded project – purchase of more storage & cold storage plus a coffee grinder and brewing equipment.
Tutuilla True Fish
Native American owned and operated fishery, fishing East up the Columbia River like their ancestors have for hundreds of years.
Funded project – establish a marketing presence to grow customer base.
Milk Money
Small batch bakery with an emphasis on pies
Funded project(s) – Expand marketing, improve labels, upgrade coolers, purchase a sneeze guard.
Le Petite Jardin 
An Urban Market Garden located in Cornelius, Oregon, specializing in microgreens, greens, and summer produce.
Funded project – purchase equipment for expanding production capabilities later into the fall and winter, and earlier in the spring. Caterpillar tunnels provide protection from the more extreme weather patterns we are facing.
Eleni's Kitchen 
An Ethiopian food business, committed to bring authentic Ethiopian flavors to farmers markets.
Funded projects –  expand product line by adding frozen flatbread among other improvements.
Creole Me Up
Allergen free Creole marinades, condiments, sauces, and other specialty items.
Funded Project(s) – improve marketing and brand awareness – social media advertising, influencer's ads, putting together a booklet with the company info, products & ingredients and cooking tips,  product label printing
Warm Regards,
The Beaverton Farmers Market
---
We will see you this Saturday at the Market, from 9:00AM – 1:30 PM
---
Library Fountain Improvements Construction Update
It's been a couple months since the last project recap. We wanted to provide you a quick update to let you know what's in the works and what to expect in the months ahead.
Project Progress
Timeline: Construction for the project is on track to be completed at the end of August. Opening date/ribbon cutting ceremony will be held soon after, but the exact date is TBD. The Mayor and City Councilors will tour the construction site over the next couple of weeks.
Testing: Between August 12th and August 27th, we will be intermittently testing the new programmable jets and sound features during the hours of 8am and 5pm.
Fencing: Fencing was moved back to provide a larger community space for Farmers Market patrons.
Play Structure: The swing set is almost complete near the play structure.
Trees: Relocation of one tree has been completed by the City Arborist and Team.
Pump House: The new pump house is being constructed and will be completed in the coming weeks.
Splashpad: Construction on the new fountain splashpad continues and will be completed in the coming weeks. Brick work around the splashpad of the fountain will begin soon.
Site Landscaping: Looking to start irrigation repair and flat work soon.
Questions? Contact Stacy Revay, Capital Project Public Outreach, at srevay@BeavertonOregon.gov or 503-713-7809.
Copyright © 2021 Beaverton Farmers Market, All rights reserved.
Our mailing address is:
Beaverton Farmers Market
PO Box 4
Beaverton, OR 97075