---
To Our Market Community,
Grilled cheese sandwiches are a go-to favorite for most meals because they are easy, delicious, and highly customizable. Over the years we have seen dozens –maybe hundreds – of combinations of bread, condiments, cheese, and add-ins, all resulting in a gooey taste-filled sandwich. However, we have to confess that it never occurred to us to use sauerkraut as a solo add-in until we saw this recipe for Grilled Cheese with Sauerkraut and Dijon sandwich from Umami Girl.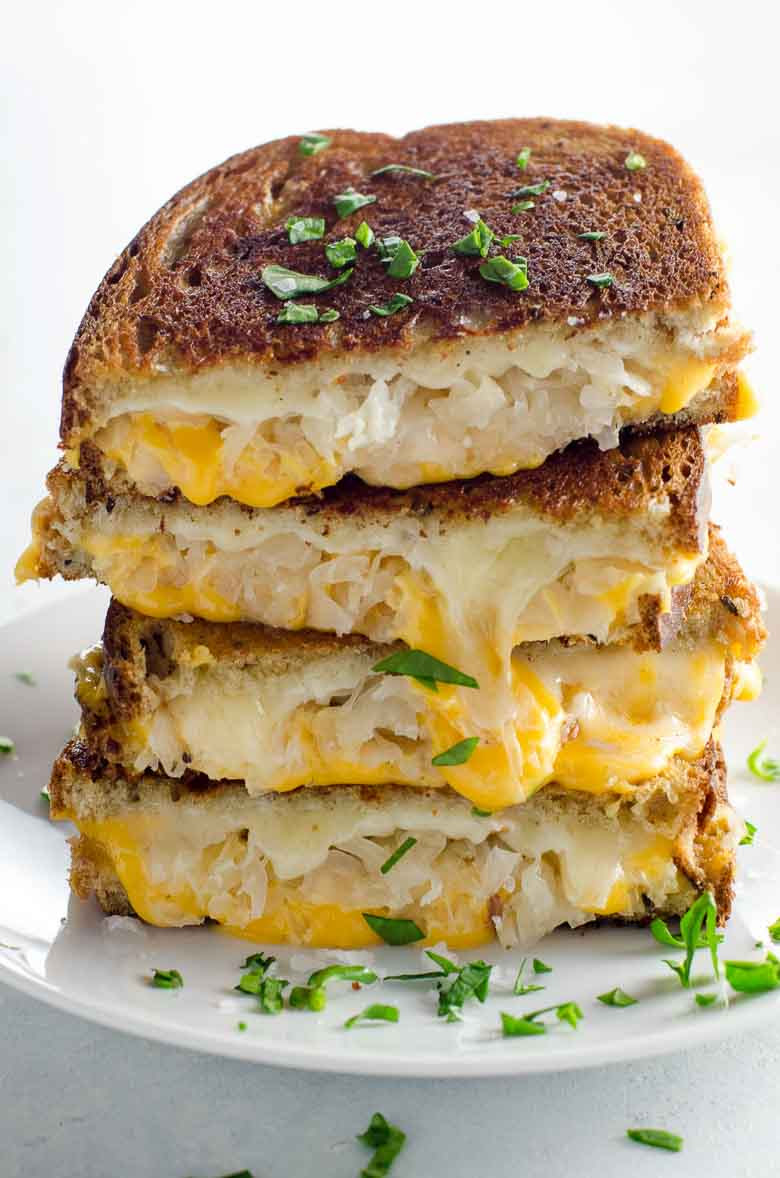 Photo Credit: Umami Girl
When we think of sauerkraut on a sandwich most of us think of the classic Reuben which is made with corned beef, sauerkraut, and Swiss cheese on rye bread slathered with Russian dressing. The sauerkraut acts as a counterbalance to the richness of the cheese, meat, and dressing much the way pickles do on other types of sandwiches.

Photo Credit: Parker Feierbach
The sharp fresh taste of the kraut helps cut through the rich fat of the cheese, making for a more balanced bite. This is especially true if you are using aged or sharp cheeses with a lot of flavor and fat. Once the idea of adding sauerkraut to a grilled cheese made sense to us, the next question was, what kind of sauerkraut do we use? So we turned to the market's expert on the subject, Sarah Pesout, owner and chef of Fermentista.
Sarah specializes in fermented vegetables from sauerkraut to salsa. Fermenting gives food a sour flavor without any added acid which differs from pickling which involves putting food into an acidic brine. Fermenting is a healthier, and in our opinion, tastier way to preserve vegetables such as cabbage. Sarah makes several delicious krauts so we asked for her recommendation. Market Master, Ginger Rapport, was leaning towards her Caraway Sauerkraut because she loves the hint of onion that Sarah adds to the mix. However, she changed her mind at Sarah's urging and instead picked up a jar of Fermented Leeks with Black Pepper.
Sarah explained that the leeks, like pickled onions, are a perfect accompaniment to grilled cheese and wanted us to know that she and her assistant hand-cut every leek she uses. Despite the resulting tears shed by the duo, they are committed to finely shredding the leeks by hand to avoid bruising and mangling of the otherwise sturdy allium. The final result is a product that is crunchy but not tough, full of flavor but not overpowering, and is a perfect match for a sharp cheddar and fontina grilled cheese on Jewish rye bread with Dijon mustard.
Note: In Ginger's first sandwich she was very conservative with the leeks not knowing what to expect. They were surprisingly gentle so she was much more generous with them in subsequent sandwiches and they were a big hit with her family.
We urge you to experiment with your own grilled cheese and sauerkraut combination so be sure to stop by Sarah's booth for her expert recommendations.
 Warm Regards,
The Beaverton Farmers Market
---
We will see you this Saturday at the Market from 10:00 AM-1:30 PM.
---
Vegan Baked Goods!
As a reader of this newsletter, you might already know that Ginger is fond of the Great British Baking Show. As a retired pastry chef, she enjoys watching the contestants tackle the challenges presented to them by Judges Paul Hollywood and Prue Leith. In Season 7 (2018), the show had its first-ever "Vegan Week". All pastries, savory and sweet, were to be made with no animal products – eggs, dairy, and honey. When the challenges were issued to the bakers, the instructions always included the requirement that the final product should be as light, flavorful, and texturally delightful as a non-vegan product would be. As if this was easy to accomplish!
Here at the BFM, we are fortunate to have two vegan bakers who have risen to that challenge, making cookies and pastries that are indistinguishable from their non-vegan counterparts. Katy Hebert from Tipping the Scales Vegan Bakery makes a wide variety of sweet and savory pastries from huge soft pretzels to her crowd-pleasing almond croissants. Nate Lown of Nate's Oatmeal Cookies makes his own secret recipe vegan butter for his line of cookies which includes Peanut Butter, Raisin Pecan, and special flavor-of-the-week varieties.
Like the judges from the GBBS, we urge you to taste the magic that these bakers can achieve, without the use of dairy, eggs, or honey.

Photo Credit: Nate's Oatmeal Cookies
---
Spring Has Sprung!
The first day of Spring was last Sunday, March 20. If you are a gardener, this means that gardening season is getting underway and farmer Eric Hvidsten of Black Dirt Farm had us all salivating with his stall full of veggie starts last Saturday. For those of us who have our beds and garden boxes ready for planting, it was exciting to begin getting some things in the ground.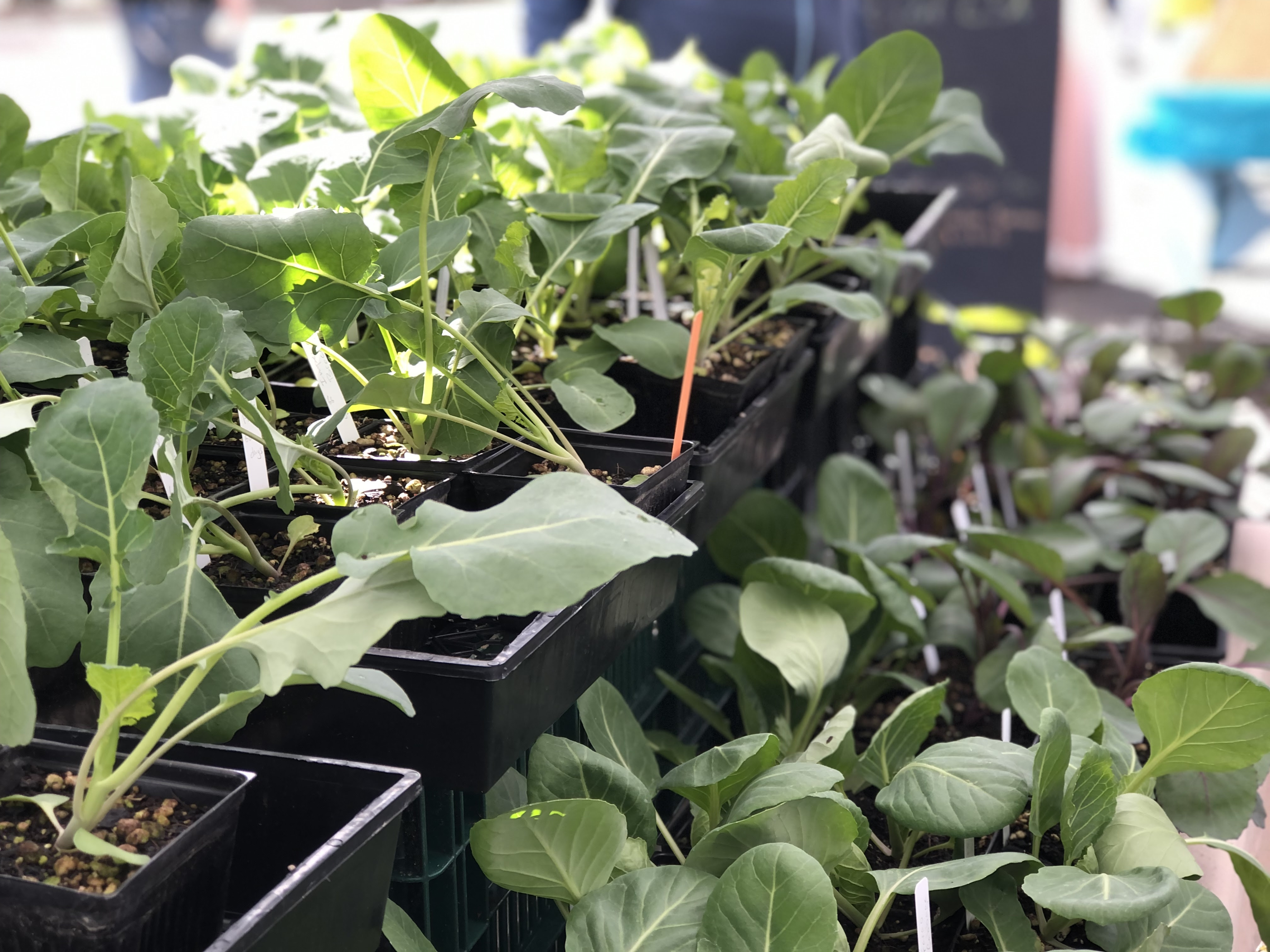 Word of caution – be careful not to go overboard with planting just yet. Now is the time for getting your cool-season crops in the ground – peas, cabbage, cauliflower, broccoli, and lettuces. For crops that prefer warmer temperatures, it is important to be patient for warmer days ahead.  It may be difficult but resist the urge to buy tomato starts, especially when you see them in local garden centers. If you plant tomatoes now, you will be disappointed in their performance and will likely be buying them again when they succumb to the chilly nights ahead.
If you are unsure when to plant your favorite veggies, we recommend this planting guide from Portland Nursery. It offers guidelines, tips, and timing for planting vegetables in the Pacific Northwest.
---
Speaking of spring planting, our Market Sprouts Kids Club will be planting snap pea seeds this weekend to take home. Bring your kiddos by to participate and be prepared to get dirty!
---
We are sad to announce that this will be Taming Turtle's last week. They are closing up shop permanently so if you are a fan of their amazing soft cookies, be sure to stock up because this will be your last chance to buy them. Hint: they freeze perfectly!
Coin Toss Brewing will be joining us for the first time. Check out our Local Liquid section of the market where you will always find the best in local breweries, wineries, and distilleries.

Photo Credit: Coin Toss Brewing
Click on the map image for the farmers market interactive map to view which vendors will be attending the first market of the season. The vendor list will grow as the season progresses, so if you don't see your favorite vendor this Saturday they will likely be at future markets.
Copyright © 2022 Beaverton Farmers Market, All rights reserved.
Our mailing address is:
Beaverton Farmers Market
PO Box 4
Beaverton, OR 97075