Now taking pizza orders for:

Thursday – 7/29
Friday – 7/30
Saturday – 7/31

Pickup slots available between 4pm – 7pm
Baird Family Farm peaches are available by the case this week
We are offering walk up ordering of bagel sandwiches and dozens this Sunday, hope to see you there
One stop shop…
Add salad, bread, produce, beer, wine, to your order!
Pizza menu is at the bottom of this email and online
We cannot accommodate build your own pizzas at this time
Whole pizzas only, no half-n-half's
Pizzas will be served hot and ready to eat, pre-cut and pre-boxed
Orders are first come first serve and will be closed when sold out
All payments will be made prior to pick up
If you want to tip, you can find the option on the order form, no cash is accepted at the restaurant
Pre-ordered, pre-paid, limited call in and walk up orders available
Our first priority is to keep our staff, customers, and community safe during this continued pandemic, our dining room will remain closed
Salads are boxed, undressed and should be tossed thoroughly before serving.
To reheat pizzas – place a wire oven rack in upper part of oven, turn oven to 400. Place pizza immediately on a wire rack with a pan underneath to catch any drippings. Heat for a few minutes until cheese is melty.
Remember that your pizza boxes are compostable!
Bread – (Friday and Saturday only)
white whole wheat
hardy whole grain
ciabatta with rye
Bagel Chips – thinly sliced, toasted, olive oil and sea salt
BAGELS
Sunday from 10am-1pm we will have our doors open for walkup ordering of bagels and sandwiches! please see our menu at bottom of 

newsletter.
Baird Family Farm Peaches
Cases of sweet sue peaches
WINE FOCUS
New Can Options available! 4 packs or single cans.
2020 Artomana Xarmant Txakolina, SP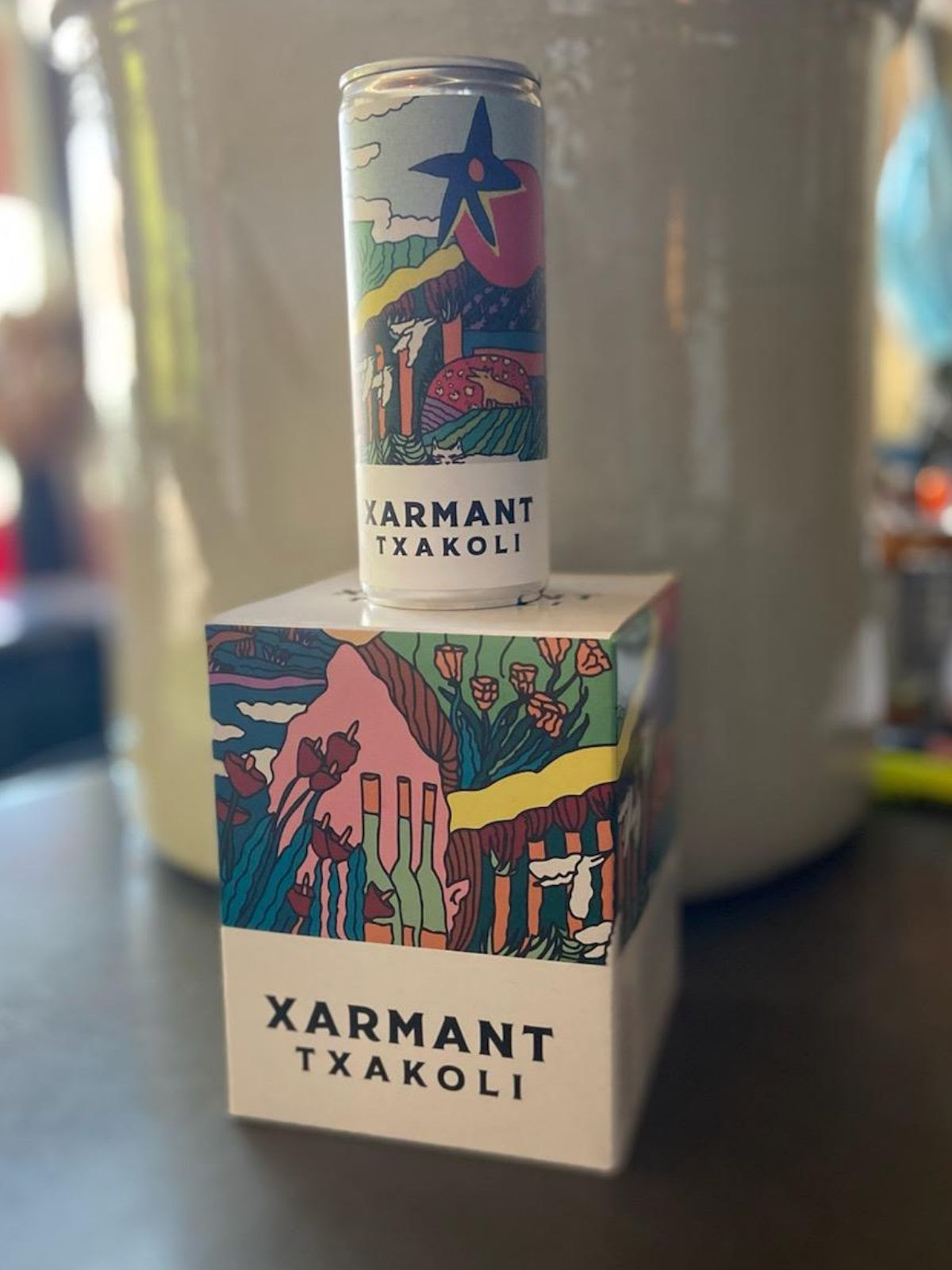 In Spain's coastal Basque Country, "Xarmant" (char-mant) means 'charming.' Txakoli (cha-ko-lee) is the joyous, light, white wine shared amongst friends with northern Spain's legendary cuisine. Xarmant is made from the highest quality, sustainably-farmed, estate vineyards from the verdant Amurrio valley in the Basque Country, close to the Bay of Biscay on Spain's rugged, green northern coast. Its proximity to the Atlantic Ocean creates a unique, ideal microclimate to produce this 'charming' wine.
2020 Isategi Sagardo Naturala (Dry Natural Cider), SP

Isastegi is a refreshing, DRY natural cider from the verdant mountains of the Basque Country, high above the Bay of Biscay along Spain'srugged and green northern coast.
Basque Sagardo is traditionally served cold, poured into a wide-mouth tumblerfroman arm'slength a little bit at a time to give the cider itssignature creamy, effervescent mousse.
7/28 – Thursday and Friday and Saturday

SUMMER PIZZAS

Herbivore – pesto, anaheim peppers, cherry tomatoes, onion, mozzarella, feta, cilantro – 26

Carnivore – pepperoni, kale, pickle, tomato, parmesan, mozzarella – 27

Peachzza! – Baird Family Farm peaches, jalapeños, basil, mozzarella, fresh mozzarella – 25 – add pancetta +4

Classic – tomato sauce, mozzarella – 17

Spicy Classic – tomato sauce, roasted jalapenos, ricotta, mozzarella – 21

Margarita – tomato sauce, fresh mozzarella, basil – 20 

Vegan – cilantro pesto, olives, sweet onion, peaches, shishitto peppers, cashew parm (on side) – 26

Pepp – pepperoni, tomato sauce, mozzarella – 21

Sausage – pork sausage, tomato sauce, mozzarella – 21

Seeded Flat Bread – black and white sesame, poppy, fennel, sea salt – 10

add to your pizza –
 – Roasted shiitakes – 4
 – Pork Sausage – 5
 – Anchovies – 4
 – Sardines – 6
  

SALADS

Kale Caesar – kale, bagelcrumbs, parmesan, garlic anchovy aioli* – 14

Summer Greens – summer salad mix and veggies, hazelnuts, goat cheese, oregano vinaigrette – 14

Market Salad – Roasted and fresh summer veggies, chickpeas, wheat berries, basil pesto, tahini sauce (vegan) – 12

BREADS – 

Ciabatta – Sifted whole wheat, high gluten white, rye, salt, yeast – 5

White wheat – Edison whole wheat, sea salt, yeast – 5

Whole grains – whole wheat, whole rye, whole buckwheat, sea salt, yeast – 5

Bagel Chips – thinly sliced, toasted, olive oil and sea salt – 7

WINE and DRINKS!  
see website!
Sunday 7/1 – 10am – 12:30pm – Walk up service!

BAGEL SANDWICHES

Wood fire baked bagels – 1.5 each or 18 per dozen

Plain Cream Cheese Sandwich –
Whipped Gina Marie Cream Cheese – 3.5

Flavored Cream Cheese Sandwich – 4.5
Chive
Dill
Honey
Salmon

Pork sausage and peach – pork sausage patty, basil, fresh peaches, calabrian chili aioli,  – 10

Trout sandwich  – 2 oz cold smoked trout, shiitake, spicy kale kimchi, plain cream cheese – 10

Pesto and tomato sandwich – basil pesto, tomatoes, plain cream cheese – 6

Peach sandwich – fresh peaches and plain cream cheese – 6 add bacon – 4

Lox sandwich  – 2 oz cold smoked salmon, salmon cream cheese – 9

Loaded lox sandwich  – 2 oz cold smoked salmon, plain cream cheese, pickles, capers, radish, onion, dill – 13

ACCOUTREMENT:

½ Pint whipped plain Gina Marie cream cheese – 5

½ pint Flavored Cream cheese – 6
Chive
Dill
Honey
Salmon

4oz Lox – Cold smoked Sockeye salmon – 11
4oz Trout – Smoked Rainbow Trout – 8
Ayers Creek jam (assorted flavors) – 8

Click here to place an order via website

Walk up only!

+pesto is dairy and nut free

*Eating raw or under cooked food may increase your risk for food borne illness
7783 SW Capitol Hwy. Portland, OR 97219
503.245.4573