Pi Day!
It's COMING! March 14th is Pi Day!!!
Ok, we never need an excuse to eat pie – but a reason to eat 3 pieces of pie?!? Don't mind if we do.
Mark your calendars! Monday 3.14 our Division shop will be open from Noon to 9PM and we will have ALL THE PIE. We're offering a Pi Day Mystery Box! It's a super fun box of 3 surprise slices for $14. You can also buy slices of whatever you'd like for $5.50 or whole pies for $39. (Please note with the mystery boxes, there are no substitutions or special requests. It's a MYSTERY! Maybe you'll discover your next favorite slice??)
Of course, Pi Day tends to be a very busy day for us, but know that we'll be fully staffed for the day and we'll be slicing and dicing pie as quickly as we can. Come expecting a bit of a wait, but know that it will be WORTH it. All pie will be served out of our pie window in to-go boxes. We do have limited outdoor seating available, but bundle up as the line and ordering will all take place outside.
In honor of this VERY important holiday, we will be making a few fun one-off pies! Do you want to read about them and drool over them so you can plan your Pi Day orders?! (Of course you do!)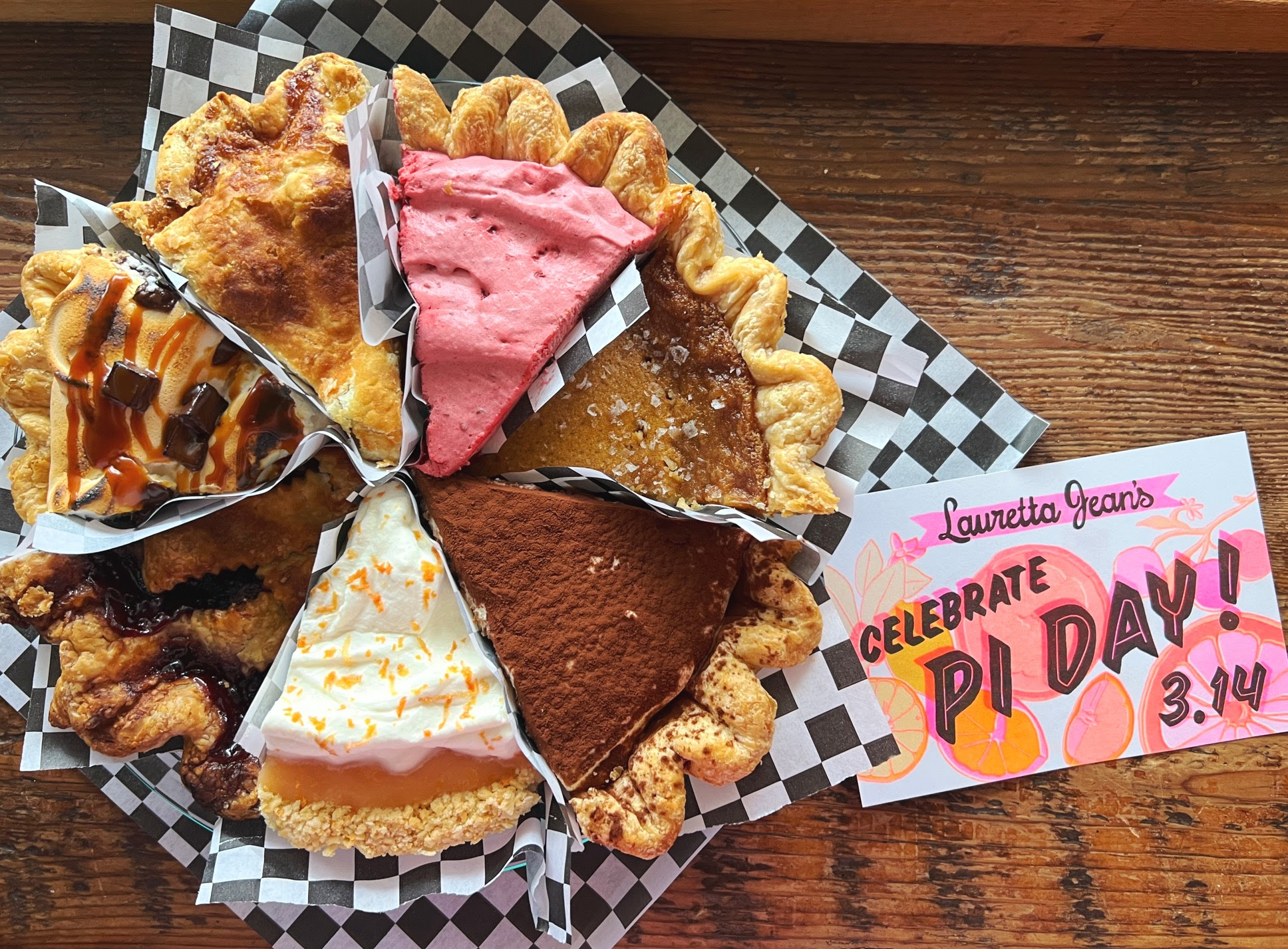 SPECIAL PI DAY PIES:
Banoffee Pie: This pie is now a Pi Day tradition! The people have spoken, and this beloved pie makes a return every year for 3/14. It's got a cinnamon spiced walnut and graham crust, loaded with gooey toffee topped with bananas and fresh whipped cream.
Tiramisu – layers of walnut sponge cake soaked in espresso and coffee liquor, & marsala cream filling all in a flakey all butter pie crust.
Saltine Grapefruit – tangy and bitter grapefruit curd tucked in a Saltine cracker crust topped with sweetened whipped cream.
Marionberry – a fruit pie making a sneak peek in winter. Big marionberries, bright and lemony slightly sweet and a whisper of warmer days to come.
Honey Black Sesame – sweet honey custard, umami black sesame paste, crunchy sesame seeds and big flakey salt.
And, of course, we'll have all the classics. We'll have your favorite pie, your mom's favorite pie, we'll even have your dog's favorite pie. We'll have ALL THE PIE – over 20 different kinds! Our Pi Day selection will include (but is not limited to): Heirloom Apple, Bourbon Pecan, Banana Cream, Tart Cherry, Chocolate Chess, Blackberry Raspberry Streusel, Lemon Meringue, Coconut Cream, Blueberry Victoria, S'Mores Pie, Pear Cranberry Streusel, Key Lime, and so much more!
We will be open from 12PM to 9PM. See all you nerds on 3.14! AND HAPPY PI DAY TO ALL!
Copyright © 2022 Lauretta Jean's, All rights reserved.