Pigeon & Friends Welcome
Welcome to the new Pigeon & Friends newsletter! It's been a bittersweet fall, having bid a fond farewell to Little Bird Bistro. We look forward to the holiday season ahead, and are excited to celebrate with you soon!
Thanksgiving & Black Friday Holiday Closure
Both Le Pigeon and Canard will be closed on Thanksgiving (Thursday, November 28th) and Black Friday (Friday, November 29th) to give our staff time with family and loved ones. We apologize for any inconvenience and we hope you have a relaxing turkey holiday. We will reopen on Saturday, November 30th, and look forward to seeing you then!
Le Pigeon Insider Tip: Chef's Counter Walk-ins

The Chef's Counter at Le Pigeon just might be Portland's best kept dining secret: no reservations required! We reserve our 10 seats nightly for walk-ins only, so swing on by next time you're in the neighborhood for dinner and a show. Le Pigeon is open daily, 5 p.m. to 10 p.m.
Le Pigeon Gift Set For The Holidays

The holiday season is here, and we have a few ideas for all the bird lovers you know. New this year, pick up a Le Pigeon gift set, featuring a T-shirt, $50 gift certificate, and a Le Pigeon: Cooking at the Dirty Bird cookbook. Save $15 when you purchase it all together. It is $95 at the restaurant and the holiday pack is also available for delivery for $105. If picking up in person, please pick up your gift bundle from Le Pigeon by or before December 23rd between the hours of 3 p.m. and 10 p.m. Check out our website for even more gift ideas!
At Canard, The Early Bird Gets The…
Breakfast at Canard is a fantastic way to start the day, whether you're seeking a quick bite, an early morning coffee or more indulgent start to the day, Canard has it all – including soft serve–soaked French toast. Did you know our famed Steam Burger has a cousin? The Breakfast Sando with breakfast sausage, tabasco onions, American cheese, or you can always splurge for the classic, available all day long. Canard is served Monday – Friday from 8 a.m. to 11:30 a.m.
Belle Oiseau Now On Happy Hour At Canard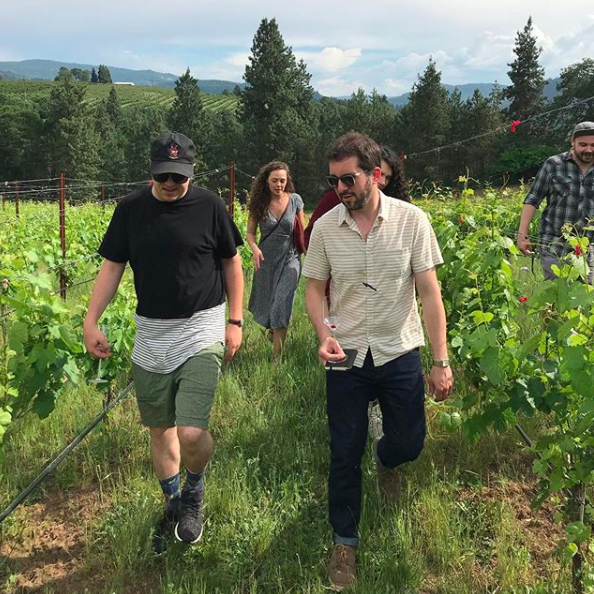 We're paying homage to our recently departed Little Bird Bistro by introducing our Belle Oiseau blend to the Canard Happy Hour list. Our house white, if you will, made with our friends at Belle Pente Vineyard, the wine is inspired by the edelzwicker wines of Alsace. It is a blend of traditional Alsatian varietals (grown in Oregon, of course) blended to be fruity, but crisp and dry. A wine that you can gulp down, but also stop and find complexity in. The 2016 vintage is based off of old vine Riesling from Hyland vineyard, estate grown Pinot gris and Gewurz, and a dash of Muscat from up the road at Belle Pente. The wine joins our daily Happy Hour at Canard, offered 4 p.m. to 5 p.m. and 10 p.m. to Midnight, with specials on oysters, Steam Burgers, aperitifs, and more.
Copyright © *2019* Le Pigeon, All rights reserved.
Find Us:
Le Pigeon
738 E Burnside St
Portland, OR 97214
(503) 546 – 8796
Open Every Night
5pm – 10pm
Canard
734 E Burnside St
Portland, OR 97214
(971) 279 – 2356
Open Every Day
8am – 12am M-F
9am – 12am Saturday and Sunday