News From Pigeon + Friends: One Final Cellar Sale of 2020

Last Call on Wine Packs….(for a few weeks)
So many of you have been relying on us for your wine sipping needs since March, so first off, a hearty THANK YOU for trusting us with these picks. We are CLOSING, but just for a couple weeks starting on New Year's Day, to take a little time to relax and regroup. This will be the last wine pack offer until the week of January 18th, so if you need to stock up, here is your chance.
First off we have our Last Call Sipper Pack. We picked wines that felt wintery to us – 2 whites, a hearty & powerful rosé, and 3 reds to take you through to next month.
Next up is our Classy Trio for the Next Trio of Weeks pack. This trio of wines is made up of bottles we had our eyes on to use for pairings at Le Pigeon as the winter menu unfolded, but alas, we are taking a pause from dining. Each is a tasty bottle that wants to be enjoyed and frankly represents a ton of value for the quality of the wine. We hope you'll enjoy.
TO ORDER select your wine bundle of choice, follow the steps to securely order your wine. All payments will be processed ahead of time through our website.
Once you order they will be available for pickup at Le Pigeon Tuesday, Wednesday, and Thursday, December 29th through 31st, from noon to 6:00 pm, and then again when we reopen in January. You can pick them up from our front door, or we can bring them out to your car. If those times do not work for you, please let us know and we can arrange an alternative. Shipping is available as well. Please call after placing your order.
We are all in this together, and when you're drinking good stuff, well hey, you're keeping it classy.

Last Call Sipper 6-Pack, $125
Côtes de Roussillon Blanc (Grenache Blanc &Gris, Carignan Gris, Macabeau), Cine Panettone, Clot de L'Oum, 2016, FR
The Côtes de Roussillon is a large appellation that encompasses many diverse terroirs. For a long time vast amounts of mediocre wines flowed from the region. However, over the last couple decade there has been an explosion of new domaines staking out cool, high altitude, wind-swept pockets of the appellation and making wines with the indigenous varieties that are vibrant and complex. This blend of Grenache Gris, Carignan Gris, Grenache Blanc, and Macabeau all grown on schist and granite and aged in neutral barrels is a revelation. The nose showcases white flowers, pear, and gravelly minerality. The palate is so well textured it's silly, with minerality and salinity traipsing across your tongue and long bright crisp finish.
Beaujolais Villages Blanc (Chardonnay), Terres Blanches, Robert Perroud, 2018, FR  
Robert Perroud is a winemaker of dedication, precision, and hard work. On a visit to the domaine on a 90+ degree day in the summer of 2015 he had his teenage son rebuilding an out building in the late day sun. When we inquired who the kid was working on the wooden structure, he said he needed to learn hard work. That is representative of Robert's approach to farming and winemaking. No detail is overlooked and no shortcuts are taken. The Beaujolais sun lends a ripe orchard and citrus fruit quality, but this chardonnay is striking for its vibrant acidity and tangy texture, enhanced by the minerality of the chalky soil.
Cerasuolo di Abruzzo Rosato, Malandrino, Cataldi Madonna, 2019, IT 
Founded in 1920 by Antonio Cataldi Madonna, the winery is now run by the second and third generations. Cerasuolo, while sharing the name with the wines of Vittoria in Sicily, refers to a tradition of rosé wine in the region. Aromas of crushed limestone, red-cherry skin and blood-orange rind are the greetings of this organically grown Montepulciano. The medium-bodied palate boasts tart red-berry, orange, and herbal spice notes that are wrapped in a gentle frame of light tannins.
Gamay, Par Contre, Suzor Wines, 2019, Eola-Amity Hills, OR 
Suzor wines is husband and wife Greg and Mélissa McClellan. Both are joyful people whose wines are a mirror of that. This Gamay is sourced from fruit in the Eola-Amity Hills is light in color, and redolent of flowers, sweet herbs, cherries, and strawberries. Bright fruit, bright acid, touch of dried leaves. As soon as I tried it I emailed Greg to say: "f@*k, that Gamay is delicious."
Pinerolese (Barbera), Colombe, Le Marie, 2017, Piemonte, IT
"Pinerolese is a DOC of north western Italy's Piedmont wine region. It was created in 1996 and covers red and rosé wines." Yes, we had to look it up! Le Marie is a small family winery worked by owners Valerio Raviolo and his wife Luigina alongside both their children Daniele and Simona. While not a famous region today back in the 13th century it was THE THING. Colombe is a serious Barbera. Floral nose with blackberry-pie aromas. Crunchy raspberry and black cherry fruit on the palate with a pure mineral core. There is some nice weight and touch of fresh earth in the finish. A great new find.
Montello-Colli Asolani (Cab Sauv & Franc, Merlot, Malbec), Della Casao, Loredan Gasparini, 2016, Veneto, IT
In the Veneto, surrounded by vineyards producing Prosecco, Loredan Gasparini has been producing this 'Bordeaux' blend since the 50's. It is a blend of Cab Sauv & Franc, Merlot, and Malbec that is aged in mostly older oak barrels for 18 months. Deep, rich garnet. On the nose is elegant ripe berry fruit, light leather, tobacco, and touch of clove spice. The palate is medium full with great fruit balanced with silky integrated tannins. Serious wine for a cold night and roast.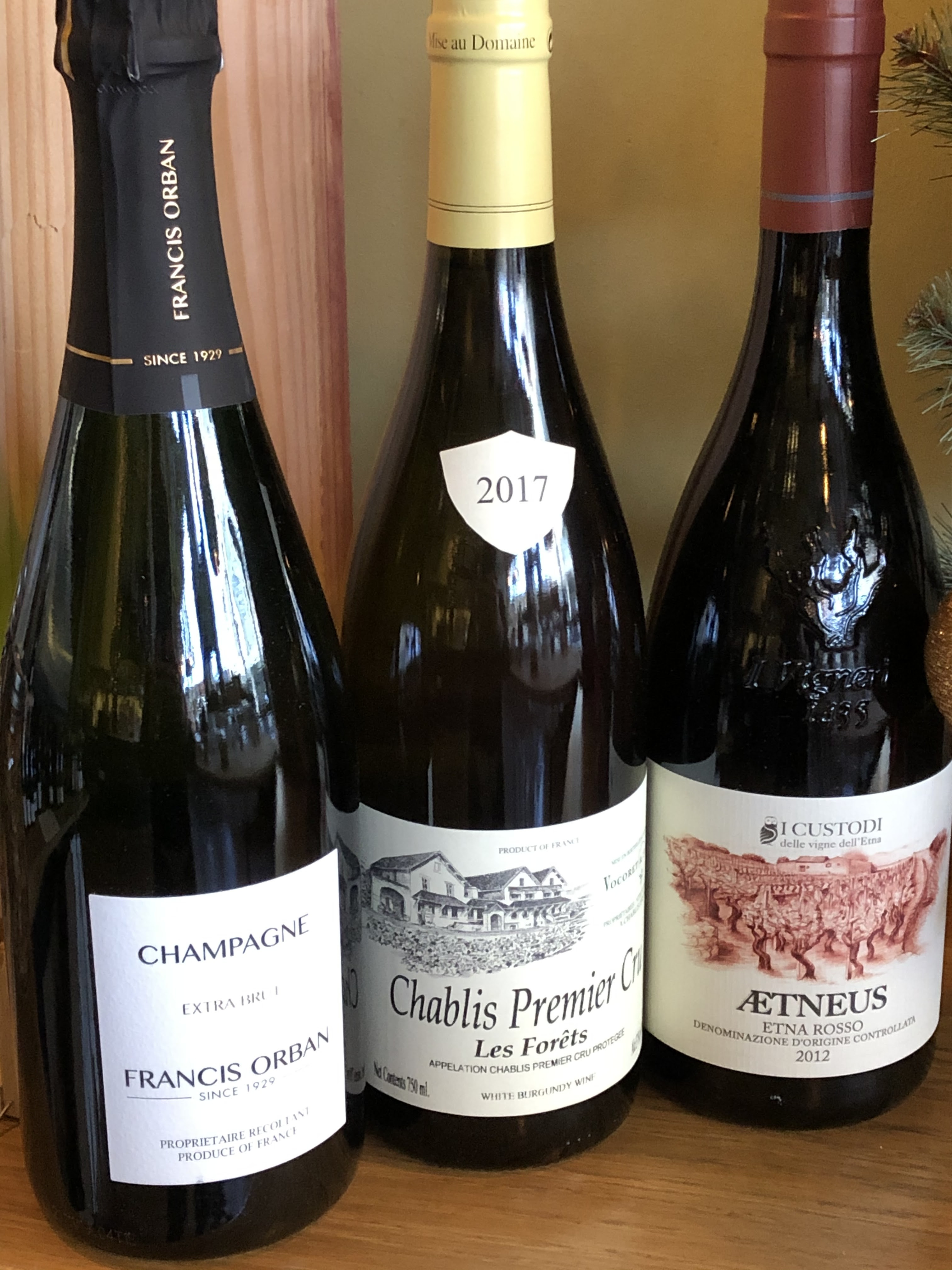 Classy Trio for the Next Trio of Weeks, $125 
Extra Brut, Blanc de Noir (Pinot Meunier), Francis Orban, NV, Champagne, FR
From a very early age Francis Orban knew he'd follow in the family tradition of tending Pinot Meunier vines on the sandy, clay-rich soils of the Marne Valley. Too long seen as "just" a blending grape in other Champagne regions, Pinot Meunier has pride of place here. Nearly 90% of Francis' vineyards are dedicated to this singular grape, as it is in the Marne where Pinot Meunier reaches its full potential. This wine is made from 30-40-year-old Pinot Meunier vines. Hand-harvested, fermented on indigenous yeasts. A blend of 50% vintage wine from 2017 and 50% reserve wine from 2016, 2015, and 2014, and aged for nearly three years in bottle. The wines show aromas of orchard fruit, light herbs, brioche, pepper. Fruity and juicy, with ripe citrus and apple flavors. Vibrant and very long.
Chablis, 1er Cru Les Forêts, Domaine Vocoret, 2017, Yonne, FR 
Vocoret is a traditional family-owned winery in Chablis. Patrice is the fourth generation of his family to farm the vineyards, but it was his grandfather who was the first to bottle the wines in 1930. Forêt is on the western side of the Serein river on a south-facing hill of high-quality Kimmeridgian soils just a few miles southwest of the town of Chablis. This wine is a knock out. Aromas of fresh lemon, lemon oil, crushed seas shells – undoubtedly Chablis to any taster. There is fine richness to the round generously proportioned midpalate that leads into a brighter more citrus and mineral finish. Why we love Chablis so much!
Etna Rosso, Aetneus, I Custodi, 2012, Sicily, IT 
80% Nerello Mascalese with 20% Nerello Cappuccio grown at 2300' elevation on the North side of Mt. Etna. The vines are up to 90 years old, and trained in the traditional alberello (bush) system. Grape growing and winemaking are overseen by Salvo Foti and the I Vignieri team – no one knows Etna better. Etna Rosso "Aetneus" is a full-bodied and intense red wine. It is aged for 48 months in older barrels. The nose is intense, complex, and broad, with sweet and sour notes of ripe berry fruit, cocoa and tobacco. The taste is elegant and full, with great freshness and tannins. Long finish with depth and balsamic notes.
Copyright © *2020* Le Pigeon, All rights reserved.
Find Us:
Le Pigeon
738 E Burnside St
Portland, OR 97214
(503) 546 – 8796
Canard
734 E Burnside St
Portland, OR 97214
(971) 279 – 2356