News From Pigeon + Friends: Cellar Sale Update
We have a new sipper 6-pack that we created as we wrote new wine by the glass lists for Canard and Le Pigeon. We had so many wines we wanted to work with we had plenty for both the lists and some sipper packs.

We are also featuring 3 of our favorite Burgundian Producers, Hubert Lamy, Berthau-Gerbet, and Gérard Mugneret. We are offering them in 3 packs. We are offering 3 tiers too, so whether you want to spend a little, or a little bit more you can still try all 3 producers by buying one pack.

TO ORDER select your wine bundle of choice, follow the steps to securely order your wine. All payments will be processed ahead of time through our website.

Once you order they will be available for pickup at Le Pigeon on Tuesday through Saturday from 12:00pm to 4:00pm. Beginning on Wednesday, 7/15 you can pick them up from our front door, or we can bring them out to your car. If those times do not work for you, please let us know and we can arrange an alternative.

We are all in this together, and when you're drinking good stuff, well hey, you're keeping it classy.
….And The Runner Up Is Sipper pack (36 for sale) $125
Last week we opened our doors to dine-in guests (limited seating and spaced out) for the first time in months. That means we had the chance to put together 2 wine by the glass lists, one for Canard and one for Le Pigeon. For us wine people, that is the best part of the job. There were so many wines we wanted to work with, but we had to whittle it down or we would have had 40-50 wines by the glass! This sipper pack contains a few that made the cut quality and value wise, but we just could not include on this round of wine lists. Here they are offered to you for at-home sipping.
Brut, Méthode Traditionnelle,  Domaine Bruno Cormerais, NV, Loire
Maxime Cormerais took over his family's domaine in 2009 and the wines get better every year! They are based in the sub-zone of the Muscadet region called Clisson that is known for its unique granite soils. The wine is made with 100% Folle Blanche, which is not a famous varietal, but grown widely throughout western France. It is very high in acidity which means it is great for making sparkling wine! This wine smells of yellow apples, lemongrass, and wet rocks. It makes for a perfect aperitif!
Muscadet Sèvre et Maine Sur Lie, Domaine Michel Brégeon, 2018, Loire, FR
Domaine Brégeon farms their grapes organically which is no easy feat the cool and damp coastal climate of Pays Nantes. These Melon de Bourgogne vines are planted on Gabbro soil which is igneous rock produced by magma eruptions under the ocean floor millions of years ago. This wine ages in glass-lined tanks underground on its fine lees for about a year before bottling with gives the wine added texture. It is crisp, and smells of pear, Meyer lemons, and salty ocean air.
Rosé Trocken (Spätburgunder/Trollinger/Portugeiser/Zweigel), Jochen Beurer, 2019 Wurttemberg, DE
Only about 30% of Wurttenberg, sometimes referred to as Swabia, in the far South of Germany is planted to white grapes, most of the production is Red. This rosé is a blend of Trollinger (Schiava), Blauer Portugieser, Zweigelt, and Pinot Noir. Beurer is a rockstar in the Swabia region and has been an influence to many biodynamic producers throughout the world. He feels that the plants, bees, and animals within a vineyard are as important to the finished wine as the soil and vines. Don't be fooled by the deep color of this wine…it is bright, light, and refreshing.  It smells of ripe berries and watermelon rind. Perfect for porch or backyard drinking on a hot day.
Cerasuolo di Abruzzo, Rosa-ae, Torre dei Beati 2019, IT
The Torre dei Beati estate located high in the mountains in Abruzzo on Italy's Adriatic coast was responsible for producing our #1 white wine of summer…it turns out they also make one of our favorite rosés. Cerasuolo rosés which are produced from the Montepulciano grape-are known for their richness and weight. This is not a wimpy rosé. At Torre dei Beati they vinifying half of the grapes as white wine and half as really dark rosé, and then blend them. This smells of rainier cherries, strawberries, and dried herbs, and is a great match to BBQ.
Rossese Riviera Ligure di Ponente, Punta Crena, 2018, Liguria, IT
The Punta Crena winery rises above a pristine Mediterranean beach on the Ligurian coast of Italy. The Ruffino family has been tending vines here for over 500 years and not much has changed. They specialize in local varieties. In fact, two of the wines they produce are made from grapes not grown by anyone else in the world! This wine is made from the Rossese grape which is red-fruited and very perfumed with notes of clove, black tea and dried herbs.
Morgon, Les Amethystes, Michel Guignier, 2018, Beaujolais, FR
For decades Beaujolais has been fighting the image that the wines are thin, simple, and fruity.  This stigma began the in the 1970s when the nouveau wines became popular in the United States. In reality the Gamay grape which produces Beaujolais wines is an excellent transmitter of terroir and can produces deep, soulful wines. This bottling is from the village of Morgon which is known for its decomposed granite soils which produce some of the most complex wines in the region. It has silky texture, medium body and smells of black cherries, earth and spice.
Tomorrow's Superstars  (sold in three tiers)
The three producers we are featuring here are neither super new, unknown, nor are they esoteric producers. All three are all known and highly respected both for their farming and their winemaking. They are producers we feature on our wine-lists regularly. Each year we are excited to try their new releases and are excited to share some of them with. Each of these producers has decades of winemaking ahead of them, and we bet that in 20 years' time each of their names will be mentioned among the very upper echelon of Burgundian Producers.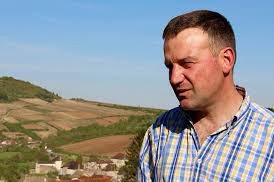 Domaine Hubert Lamy is based in the village of St. Aubin which is located to the west above the villages of Puligny-Montrachet and Chassagne-Montrachet. Historically St. Aubin was considered a less prestigious appellation because its cooler micro-climate made it more difficult to reliably ripen Chardonnay every year. However, today things have changed. With better farming practices and with the effects of global warming St. Aubin is gaining a reputation for mineral driven, chiseled white wines that due full ripen. Olivier Lamy is as intense and serious as the wines he produces. He is focused and fast moving and talking, a visit to his winery can leave you spinning. He is a consummate farmer and winemaker and continues to explore and push boundaries in an effort to make his Chardonnay express the unique terroirs in which they are grown.
Pascal Mugneret's, of Domaine Gérard Mugneret, winemaking trajectory is one of open-mindedness, adaption, and exploration. When he took over his families 6 hectares of prime vineyards in the Côte-de-Nuits the vines were being farmed conventionally using chemical herbicides and fungicides. By 2010, he had stopped using them in his vineyards and began to explore biodynamics. Since then, Pascal has found that having biodiversity in the vineyard increases the grapes ability to express the unique terroirs in which they are grown. His extractions have become gentler and the resulting wines are more perfumed, elegant, and pure. Pascal says that the goal of vinification and aging is to preserve the life inside the grapes. These small production wines are only going to become more difficult to get in the coming years, so now is the time to take advantage of these wines availability.
Domaine Berthaut-Gerbet is a 16 hectare domaine based in Fixin but with holdings in Gevrey-Chambertin and Vosne-Romanée as well. Wines from Fixin have a reputation for rusticity but Amélie Berthaut feels that may be due to the prevailing winemaking trends not the terroir. Documents from the 1800s show many vineyards of Fixin as having equal prestige to prime sites in neighboring Gevery-Chambertin. When Amélie took the reins in 2013 she joined her mother's and father's holdings together under the newly minted Domaine Berthaut-Gerbet. The wines have become more focused and soulful with increased complexity and depth. This is partially due to Amélie's deft hand as a winemaker, but also the careful work in the vineyard.
Ground Floor (Six 3-packs available) $100
St. Aubin, La Princee, Domaine Hubert Lamy, 2017
La Princee is a cuvée produced from 10 small vineyard plots throughout the village of St. Aubin.  A large percentage of the vines are over 60 years old. This aromatic, mineral-driven chardonnay is a great snapshot of Lamy's precise style.
Passetoutgrain, Domaine Gérard Mugnuret, 2017
Passetougrain translates to "all the grapes" but in Burgundy passetoutgrain is a roughly equal blend of Pinot Noir and Gamay. It harkens back to a time when Gamay was more widely planted throughout Burgundy than Pinot.  The fruit is sourced from three parcel in in the Côte de Nuits, one of whih is across the road from the Clos Vougeot.  Parcels and both grapes are co-fermented together. The wine has lots of bright fruit and pretty floral notes.
Bourgogne Rouge, Les Prielles, Domaine Berthaut-Gerbet, 2017
This comes from a single vineyard in the northeast corner of Fixin that was planted in 1980. The soils are comprised of limestone and marl. This cuvee has some earthy notes to compliment the bright and crunchy red fruit and is ready to drink now.
The Mezzanine (Six 3-packs available) $195
St. Aubin, 1er Cru Les Frionnes, Domaine Hubert Lamy, 2017
The three blocks of Lamy's vines in this Premier Cru vineyard were planted in 1935, 1965 and 1985. The vineyard has southeastern exposure and decomposed limestone soils. This broad but focused Chardonnay smells of lemon, grapefruit and chalky minerals.
Vosne-Romanée, Cuvée Précolombière, Domaine Gérard Mugneret, 2017
This e Cuvée is an assemblage of 3 vineyard parcels in the center of Vosne-Romanée. It is meant to express the character of the character of those central vineyards. Pascal uses about 50% whole cluster and 25% new oak to frame the wine and add some light spicy notes. The wine smells of raspberries, black cherries and black tea.
Fixin, Les Crais, Berthaut-Gerbet, 2017
This is Berthaut's most approachable bottling and one that shows that Fixin can in fact produce polished and silky young wines. This parcel sits a little bit lower on the slope and the soils are stony alluvial rocks. The wine dances between bright fruit and intense minerality which makes it an easy match for lots of different foods.
The Penthouse (Three 3-packs available) $345
Chassagne-Montrachet, Le Concis du Champs, Domaine, Hubert Lamy, 2017
Chassagne-Montrachet borders Lamy's home village of St. Aubin.  Chassagne is the 90210 of Burgundian Chardonnay.  This wine showcases Olivier's remarkable skill with a more historically prestigious terroir.  The wine undergoes a long, slow fermentation in 300-600L oak barrels, of which no more than 5% are new. . This stunning Chardonnay smells of meyer lemons, spiced pear, white flowers coupled with mineral and flinty undertones.
Nuits-Saint-Georges, 1er Cru Aux Boudots, Gerard Mugneret, 2016
Boudots is considered one of the top holding of the Domaine.  Although Boudots is located in Nuits-Saint-George, it is at the Northernmost point of the appellation on the border of Vosne-Romanée. The wine shows characteristics of both villages, combining the structure of Nuits-Saint-George with the flashy fruit and spice of Vosne-Romanée.  It smells of black pumbs, raspberries, spice and violets and will continue to evolve for more than a decade. 2016 was the last here this wine was made. Starting in 2017 Pascal decided to separate his Boudots into two 1er cru lieux-dits bottlings, Les Cras and La Richemone. Will the 2016 and prior be more complete wines, or will the Les Cras and La Richemone bottlings reveal even more nuance. Only time will tell.
Vosnée-Romanee, 1er Cru Les Petits Monts, Domaine Bertheaut-Gerbet, 2017
This Vineyard occupies some prime real estate in Vosne.  It sits above the Grand Cru vineyard Richbourg and adjacent to Cros Parantoux of Henri Jayer Fame.  This steep parcel is inaccessible by tractor and all of the vineyard work must be done manually.  Amélie coaxes out aromas of wild fruits, 5-spice, and wet earth.  This wine will age for decades but is dangerously approachable today.
Copyright © *2020* Le Pigeon, All rights reserved.
Find Us:
Le Pigeon
738 E Burnside St
Portland, OR 97214
(503) 546 – 8796
Canard
734 E Burnside St
Portland, OR 97214
(971) 279 – 2356