News From Pigeon + Friends: New Cellar Sale
As I am typing this (Monday midday) the sun is shining and I can see white blossoms on the trees across the street. Hopefully when you read this it still looks the same out there!
First off our Sipper 6-Pack is inspired by the season. 6 tasty wines, bursting with energy (and value) that will keep your dinner table enlivened for the next week or so.
Next up is a 3 pack delving a little deeper into the magic that is Spanish wines these days. If you liked last week's sipper, or even if you didn't try it, these 3 bottles are well worth trying.
Finally we have a single bottle of really fun Burgundy. Old vines, grown in historically esteemed terroir, from a revered domaine, and the stellar 2005 vintage. Read on.
TO ORDER select your wine bundle of choice, follow the steps to securely order your wine. All payments will be processed ahead of time through our website.
Once you order they will be available for pickup Wednesday through Saturday from noon to 6:00 pm, beginning on Wednesday the 24th.
We are all in this together, and when you're drinking good stuff, well hey, you're keeping it classy.

Spring Sipper Surprise $125 6-Pack 
Maybe it's not really a surprise, but we like the whole homonym thing with the Sipper packs, so sincerely sorry, haha. Week in and week out we craft the sipper packs with the same goal in mind: providing you with an assortment of delicious and versatile wines. We're really happy with how this pack turned out and although there is not a "theme" per se, all of the wines are perfect to open as we say goodbye to winter and usher in Spring.
Touraine Mousseux Rosé, Les Pierres en Bulles, Pierre Écrites, NV, Loire
Méthode Ancestrale wines, which are better known by their colloquial name "pet nat", are experiencing a resurgence (thanks in part to the natural wine movement). The Méthode Ancestrale is the oldest and most simple method of producing bubbles. To make this rosé, Carolin and Anthony Rassin of Pierre Écrites use 60% Gamay, 30% Grolleau and 10% Cot (Malbec). When the primary/alcoholic fermentation for this wine is almost done, they chill down the must so the yeasts become dormant. The wine is bottled and then as temperatures warm the yeasts wake back up and finish fermenting the remaining sugar which creates a fine mousse. This wine smells of perfectly ripe strawberries, Rainier cherries, and white flowers. Bring this wine along on your next picnic to enjoy with hard cheese and good friends.
Muscadet, Chemin de Priéres, Jérémie Huchet, 2019, Loire
Here at Le Pigeon, we think that the white wines of Muscadet in the Western Loire valley are some of the most undervalued in the world. Perhaps because it's overshadowed by more well-known Loire appellations like Vouvray and Sancerre. Or maybe it's because Muscadet sounds a little too much like Moscato which brings to mind sweet bottles of Italian fizz. To be clear, Muscadet is a dry white wine that is made from the Melon de Bourgogne grape. Up until a few decades ago it was traditional for producers to blend their multiple vineyard holdings into one single bottling of wine but in recent years vintners like Jérémie Huchet have started to embrace Melon's ability to express nuanced differences in terroir. This bottling comes from organically grown, 40-year-old vines planted on unique granitic soils only found in about 4% of the vineyards in the region. The wine smells of green apples and Meyer lemons and has a prominent saline quality that carries onto the palate. This is quintessential oyster wine, but can also be enjoyed on its own as an aperitif or alongside any seafood.
Riesling, Trocken, Clemens Busch, 2017, Mosel
Riesling has long been a favorite of wine geeks all over the world. This bottling is a great introduction if you don't have much experience, but will also have serious aficionados taking notice. The current Clemens Busch is the 5th generation to helm his family's estate (all his predecessors were also named Clemens), and since taking over in 1984 has introduced organic farming practices and brought a new level of focus within the winery. The domaine is located in the heart of the Mosel Valley where the vineyards are planted on steep slopes close to Mosel river. The soils are a combination of blue, red and gray slate, all from different geologic periods. The vines for this bottling grew in gray slate (hence the color of the capsule) and many of them are up to 60 years old, which helps imbue the wine with added depth and complexity. This trocken or "dry" bottling is fermented and aged in a mix of neutral barrels and tank. Clemens allows about 20% to go through malolactic fermentation to help round out the mouthfeel. This enticing bottle is light on its feet and smells of a cornucopia of fruits from limes to peach and even kiwi. There's some chalky and floral notes as well. Clocking in at only 10.5% it's a great lower ABV option for a weeknight.
Coteaux du Vendômois Rosé, Tradition, Domaine Brazilier, 2019, Loire  
The Coteaux du Vendômois is a tiny appellation located on the northern banks of the Loire river. The local Pineau d' Aunis grape is named after Prieure d'Auni, a nearby abbey that still produces wine. The Brazilier family has been producing wine for seven generations in 800-year-old limestone caves carved into local hillsides. This bottling is 100% organically grown Pineau d' Aunis and is fermented in stainless steel to retain freshness. This perfect springtime rosé it smells of wet leaves, tart cherries and red currants. It is a versatile, medium-bodied rosé that'll pair well with almost any food.
Vin de France (Grenache & Syrah), Chaussynette, Mas de Boislauzon, 2018 Southern Rhône
Mas de Boislauzon is an archetypal Châteauneuf-du-Pape producer located in the Northern part of the appellation outside the city of Orange. This tiny family-run estate biodynamically farms 10 hectares of vineyards in Châteauneuf-du-Pape and 15 hectares in the Côtes-du-Rhône appellation. Sticking close to tradition, none of the fruit is de-stemmed and fermentation and aging occur in cement tank that provides natural temperature control. The Chaussy family makes this namesake bottling from de-classified Châteauneuf-du-Pape fruit, a blend of Grenache and Syrah. The wine smells of blackberries and raspberries with notes of olive and tobacco. It has a great balance between intense fruit and savory earthy characters. Enjoy with anything off the grill or braised meats.
Dolcetto di Dogliani, Nicholas Altare, 2019, Piedmont 
Dolcetto often plays second fiddle to Piedmont's Nebbiolo grape. Found throughout the region, its medium body, pleasant fruitiness, and accessibility make it a mainstay of many Piemontese tables. Nestled high up against the Alps is a tiny area called Dogliani that specializes in producing Docletto of unparalleled depth and complexity. This Dolcetto is more than that. It made us stop and take notice. We are so happy to have discovered Nicholas Altare's wines. At only 27 years of age he's already proving to have a deft hand in the vineyards and the cellar. Altare farms organically, and he understands the importance of cultivating his vines in a holistic and regenerative manner. Nicholas tries to intervene in the winemaking process as little as possible and this wine is aged in stainless steel for 10 months to let the grapes express themselves without the influence of oak barrels. This wine has velvety texture and smells of blueberries, candied plums, purple flowers and wet leaves with a finish that lasts for minutes.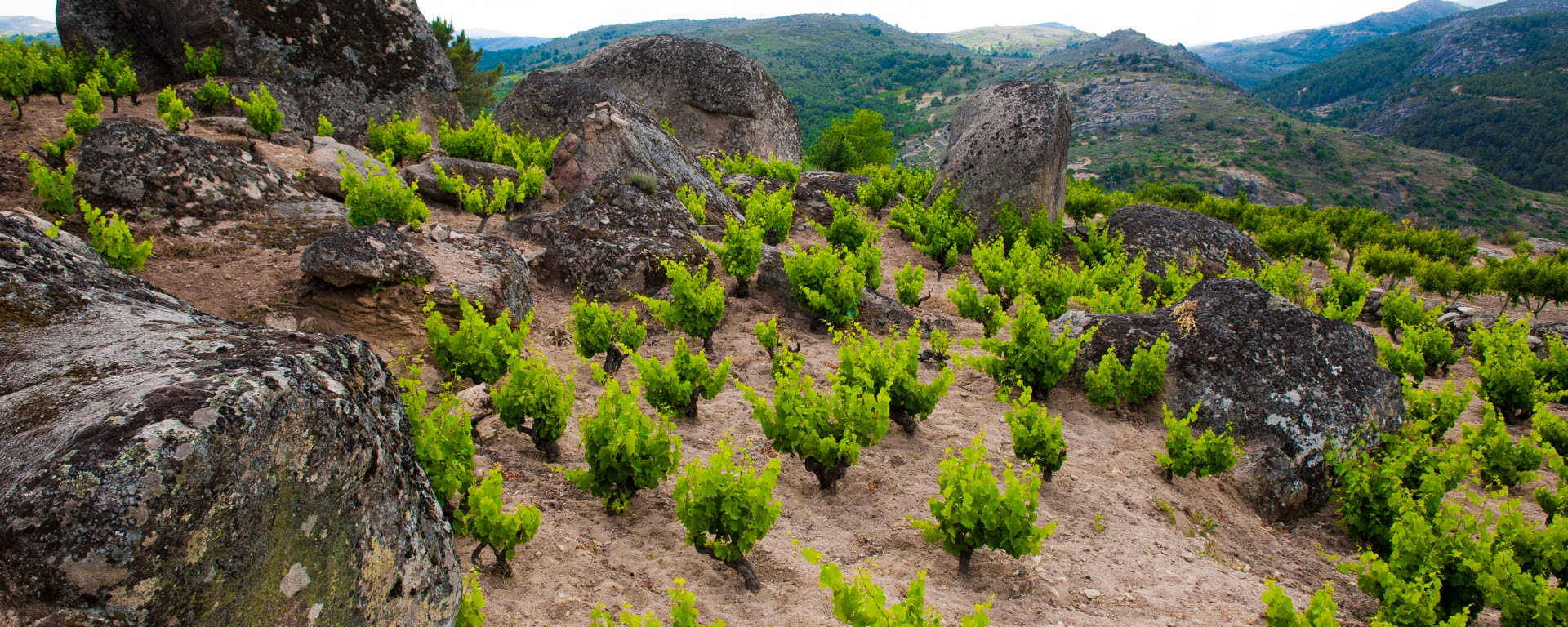 Suped-Up Spanish Trio (3-Pack), $115
Last week's sipper pack theme was Spain and we hope that those of you who purchased them were as excited about them as we are. This 3-pack is designed to further the exploration into the wines of Spain with some examples that are even more special. Although the wines come from different regions they have some commonalities. Primarily is that each producer is looking to the past, the "old ways" if you will, for inspiration in their vineyards and cellars to craft their modern visions of what wine can and should be like within their respective appellations. These wines come to the market in limited quantities and we are excited to share our limited supply of bottles with you.
Palomino, UBE Miraflores, Cota 45, 2018, Sanlúcar de Barremeda, Jerez
Ramiro Ibáñez is a true visionary making wines in his hometown of Sanlúcar de Barremeda. This is the heart of Jerez: Sherry country. To understand and appreciate Ramiro's wines, one must first look at the history and geography of the region as a whole. By the mid 1800s the market for fortified sherry was booming and the area was very prosperous. In the 1800s, there were over 100 prominent varieties being grown for Sherry production but by the end of the century many of them had been ripped up and re-planted with palomino because of its ability to develop flor (a special yeast that is vital to a lot of sherry production). As both a nod to history and an openness to experimentation Ramiro and a few other growers started a group called "Manifesto 119" with the goal of maintaining and resurrecting the forgotten varietals. What sets Ramiro apart from 99% of other growers in the region is his desire to explore the various terroirs of the region and their ability to express themselves through un-fortified bottlings of Palomino. The most prized vineyards in the area are planted to albariza soils, which is a white chalk that instills the wines with a strong mineral character. The Miraflores vineyard bottling is sourced from 5 parcels planted to 3 prominent types of albariza soils: Lentejuelas, Lustrillo and Tosca Cerrada. He ferments and ages the wine in neutral barrels (some over a century old). The wine smells of wet rocks, marcona almonds, lemons and yellow apples, with a strong vein of acid running through. This wine is delicious now but will continue to improve for up to 5 more years.
Garnacha, La Bruja de Rozas, Comando G, 2018, Sierra de Gredos
There is more buzz about Comando G in wine geek circles right now than any other Spanish wine producer, and in this case the hype is absolutely warranted. Comando G is a project that was founded by two college friends, Daniel Landi and Fernando Garcia. After college Dani went to work at his Family's estate in the near the Sierra de Gredos mountains (west of Madrid) and Fernando ended up at a nearby winery called Bodega Marañones. They started to hear stories from locals about old Garnacha vineyards that were difficult to access because they were high in the mountains. The pair began seeking out these fabled growing sites, and so the Comando G project was launched in 2008. They started to purchase and lease vineyards and only used organic farming methods. This bottling is their village wine that best showcases their house style. It's sourced from 50-80 year old Garnacha vines planted on granitic sand. Although this wine is light in color it has plenty of tannic grip to balance out the aromas of wild berries and plums. It has a rustic edge and lots of savory perfume but the mouthfeel is silky and the finish is incredibly persistent. This is a wine that can be enjoyed now (with a little air) or cellared for 5 more years. Try it with duck breast or rack of lamb!
Rioja Reserva, Remelluri, 2013 
Telmo Rodriguez is a monolithic figure in Spanish wine. Telmo's outlook encapsulates the theme of growers who are looking towards the past to forge ahead in the future. In his words "everything we're doing is restoring, we're not trying to invent anything new…our motto is: "The Future Lies in the Past".  The Remelluri estate has the highest elevation vineyards in all of Rioja. They sit between 500 and 950 meters in the Rioja Alavesa sub-zone. Vineyard work is supervised by Telmo's sister Amaia who has a PhD in anthropology from Oxford and worked at Domaine Leflaive in Burgundy, early pioneers of biodynamic farming in the region. Telmo and Amaia have isolated 80 different plots on the estate which are all vinified separately. Telmo's goal is to change what people think are the defining attributes of a Rioja, which currently circulates around aging regiment (Crianza, Reserva, etc.) and house style (how much new American or French oak is used). Instead, they're encouraging and examination of the nuance of specific growing sites. This is why Telmo vinifies his parcels separately and plants specific varieties based on the microclimates of various vineyard plots on the estate. The blend for the 2013 Reserva is 85% Tempranillo, 10% Garnacha, and 5% Graciano. The vine age ranges from 30-90 years old planted in a mix of calcareous clay and limestone soils. The Reserva bottling spends 21 months aging in barrels of mixed sizes until it is bottled without filtration. This wine is elegant and refined but still has the structure that one expects from the appellation. It smells of black cherries, raspberries, dried herbs and burnt orange. This wine has now had a couple years of bottle age and it makes all the difference. The tannins have softened a bit and the acid has integrated. It's just entered its prime drinking window (but don't worry, there's no rush either).

Yesterday's Grand Cru, $80 (per bottle)
Santenay, 1er Cru Clos Tavannes, Domaine de la Pousse d'Or 2005, Bourgogne
When you read old books about Burgundy you discover that some vineyards and villages have been heralded for centuries Chambertin, Montrachet, many of the vineyards of Vosne, etc…but what is interesting is there are spots that we think of as secondary now, but in the past were counted in the upper echeclon of sites. The vineyards of Santennay are in this group. This offering comes from one of the most critically acclaimed vintage in Burgundy in the last two decades: 2005. When the 2005s were first released they were tough to coax out of their shell. Finally, after 15 years the 2005s are stretching their legs and becoming more perfumed and complex.  Domaine de la Pousse d' Or traces its history back centuries and at one time was part of a larger domaine that included the likes of Romanée Conti and Clos de Tart. The domaine gained much fame when it was led by Gerard Potel in the 80's and 90's (until his passing in '97) who is a seminal leader and teacher to many other vigneron. The domaine continues to be a benchmark for quality. All the fruit is organically and biodynamically grown. The Premier Cru Clos Tavannes vineyard is located in the village of Santenay which is at the southern tip of the Cote d 'Or. This walled clos is east facing and the soils contain hard limestone interspersed with some clay. One third of the vines are over 90 years old and the average vine age is over 60 years. The fruit is fully de-stemmed and goes through a pre-fermentation cold soak at cool temperatures for a week before it begins fermentation with its indigenous yeasts. It then ages for 18 months in French Oak (20% new). This wine is drinking great right now, it still has lots of primary black and red cherry fruit but is starting to develop a lot of interesting earthy, herbal and spice aromas that continue to unfold as the wine sits in the glass. It's a rare treat to enjoy properly aged Burgundy from a benchmark producer from such an important vintage!
Copyright © *2020* Le Pigeon, All rights reserved.
Find Us:
Le Pigeon
738 E Burnside St
Portland, OR 97214
(503) 546 – 8796
Canard
734 E Burnside St
Portland, OR 97214
(971) 279 – 2356