News From Pigeon + Friends: Brand New Cellar Sale

From Italy to the Gorge and back to Portugal!
First off we have our normale Sippers back. "Normale" because it's a return to the normal sipper format, and all Italian this go around. We leaned a little heavy on the Piedmont region with a white, rosé, and a red from the region, but also wines from Le Marche, Tuscany, and sunny Puglia. We kept our mind on the season to pick wines that will warm your soul, and pair with the hearty foods of the season, and the first winks of spring we are starting to see in the farmers markets.
What is going on in the Columbia Gorge, just to our east, as far as wine goes is thrilling. The area is a myriad of micro-climates which change as you move along the Columbia river. Some vineyards are arid and have sandy desert-like soils ,while some are lush and green, and there is everything in between. We chose to showcase 3 small producers who work very hard to express their unique terroirs through site-specific bottlings. We hope these wines will peak your curiosity and lead to further exploration!
Finally we are offering, by the bottle, one of the most mind-bending wines we have sampled in a while. We figured to top last time's 10 year old red, we would throw in a 33 year old white. Read on below…
TO ORDER select your wine bundle of choice, follow the steps to securely order your wine. All payments will be processed ahead of time through our website.
Once you order they will be available for pickup Wednesday through Saturday from noon to 6:00 pm, beginning on Wednesday the 24th.
We are all in this together, and when you're drinking good stuff, well hey, you're keeping it classy.

Top to Bottom Italian Sipper 6-Pack, $125
Il sipper pack è tornado!
We've had a few weeks to dig deep and find 6 incredible wines for this week's Sipper pack. We leaned a little heavy on the Piedmont region with a white, rosé, and a red from the region, but also wines from Le Marche, Tuscany, and sunny Puglia. We kept our mind on the season to pick wines that will warm your soul, and pair with the hearty foods of the season, and the first winks of spring we are starting to see in the farmer's markets.
Verdicchio di Matelica, Bisci, 2019, Le Marche
Verdicchio may be Italy's most important white variety, and it is likely the most under-appreciated. This may be because a lot of the Verdicchio that made it to the U.S. in the 60s and 70s was over-cropped, and often times oxidized by the time the bottles were opened. That is not the case for the Verdicchios of the 21st Century! There is a huge contingent of passionate growers who are crafting age-able and site specific expressions of the variety. The largest production area for the grape in Le Marche is called Castelli di Jesi which is very close to the Adriatic coast. However, there is a lesser known region which sits in the Apennine mountains behind Jesi-called Matelica-that we feel is equally, if not more captivating, than its neighbor. The Verdicchios of Matelica benefit from the same ocean inflections as Jesi, but Matelica's higher elevation allows the grapes to slowly mature without sacrificing acidity. Bisci is a tiny winery that only produced 5,000 cases of organically grown Verdicchio annually. This wine is all about texture and minerality and smells of green apples, pear skin and sea shells.
Pick up some oysters or clams and pop the cork on this bottle!
Timorasso, Piccolo Derthona, Vigneti Massa, 2018, Piedmont
Timorasso…never heard of it? Well, if it wasn't for Walter Massa you wouldn't be reading about it right now. The white variety is native to the Tortonesi hills of Southeastern Piedmont and was steadily being ripped up in the 1980s and planted over with the higher yielding Cortese grape. After decades of work, Massa was able to single-handedly revive the variety and now other serious producers are beginning to embrace it as well (Vietti and Borgogno are two that come to mind). The Derthona bottling (which is local dialect for the town of Tortonesi) is sourced from a variety of vineyards with southern exposure and calcareous soils. Massa ferments in stainless steel with 24-48 hours of skin contact (for texture) then ages the wines in concrete. It's hard to take your nose out of this glass. It explodes with aromas of peach, Meyer lemon, white tea, and subtle notes of ginger. The combination of weight and texture, along with high acidity, make it incredibly versatile for food pairings or just for sipping on.
Nebbiolo Rosato, Nervi-Conterno, 2019, Gattinara, Piedmont
For this name the hyphen means a lot. When one discusses the great producers of Nebbiolo the name Giacomo Conterno is held in the highest regard. Nervi is the longest continuously operating winery in the Gattinara region having been founded in 1906. Gattinara is located in the Alto Piemonte, to the far north of Barolo and Barbaresco. Roberto Conterno purchased the Nervi winery in 2018. This rosé is perfect for cool weather. It has a little bit of weight to it but is bone dry. It smells of forest berries, with a hint of spice, and great savory undertones.
Colline Novaresi Croatina, Davide Carlone, 2016, Piedmont
In addition to a rosé from the Alto Piemonte we also thought you may enjoy trying a red variety that is native to the area and not really grown anywhere else. A majority of the reds in the Colline Noverasi are blends made up largely of Nebbiolo, with local varieties like Croatina and Vespolina acting in supporting roles. This is a rare opportunity to try a Croatina on its own…not only is it delicious, but it also illuminates what characteristics it could bring to a blend. Davide Carlone has been farming vineyards since he was a teenager and his efforts are strongly tied to the rebirth of the region (it fell on hard times in the post WWII era). This plot of Croatina consists of vines planted in 1935! The fruit is fermented in stainless steel to maintain freshness and varietal character. This red smells of juicy plums, red berries, clove and allspice. It is bright and medium bodied which makes it easy to pair with foods from pasta to burgers.
Rosso di Montalcino, Querce Bettina, 2013, Tuscany
Montalcino is a large hill located just north of Siena in the heart of Tuscany. The most famous wine that comes from here is Brunello which by law must be made up of 100% Sangiovese Grosso (the clone of Sangiovese native to the area). Brunello wines are very structured due to their high acidity and prominent tannins, they need to be aged for many years before entering their prime drinking window. Rosso di Montalcino has many of the same characteristics as Brunello, but is vinified in a manner so it can be released and drunk at a much younger age. Truly it is a win-win for both the consumer and the producer. It allows us the chance to experience the magic of Montalcino at a more reasonable price point, and through a fresher prism. This bottling comes from the Southwestern part of the zone and smells of red cherries, wild berries, tobacco leaf, and leather. It is really in a beautiful spot for near-term drinking.
Cacc'E Mmitte Di Lucera, Agramante, Paolo Petrili, 2015, Puglia
Many Americans associate the wines of Puglia, the heel of Italy's boot, with the ubiquitous purple-fruited Primitivo grape. However, there are lots of grapes grown throughout the region. Nero di Troia (also known as Uva di Troia) is planted in the province of Foggia and legend states it was originally brought there by the Greek hero Diomedes after sacking Troy. Paolo Petrili organically grows grapes, wheat, and some very special tomatoes  (they can be found at one or two places around town and are defiantly worth seeking out). The Agramante  bottling is a typical blend of the Cacc'E Mmitte Di Lucera DOC and contains 60% Nero di Troia with the remainder made up of a mixture of Sangiovese, Montepulciano and Bombino Bianco (a white grape used in small amounts for freshness). It smells of baked strawberries and rhubarb, dried figs, wet leaves and exotic spice. It is currently our #1 pizza wine but could you also try it with puttanesca or cima di rapa pasta.

Exciting Wines of the Gorge 3-Pack, $140
Most of the buzz about Oregon wine revolves around the Willamette Valley which has established itself as being a preeminent growing area for Pinot Noir and Chardonnay. We love and respect the wines and growers of Willamette valley, but are really excited right now about the exploration and experimentation happening in the Columbia Gorge. What makes it so special is the myriad micro-climates which change as you move along the Columbia river. Some vineyards are arid and have sandy desert-like soils ,while some are lush and green, and there is everything in between. We chose to showcase 3 small producers who work very hard to express their unique terroirs through site-specific bottlings. We hope these wines will peak your curiosity and lead to further exploration!
Atavus V (Gewürztraminer /Pinot Noir), Tzum Wines by Hiyu Wine Farm, Multi-Vintage
Nate Ready was a Master Sommelier whose resume includes restaurants like the French Laundry and Frasca. He moved to the Columbia Gorge and planted a small farm and some 14 acres of grapes with revolutionary visions about polyculture, biodynamic farming, and biodiversity within the vineyard.  Tzum wines are single vineyard bottlings from special sites that they farm off the home property.  The label allows them to explore the diversity of climate and terroirs within the Columbia Gorge. The vineyard for this singular blend of pinot noir and gewürztraminer is about 12 acres above White Salmon, WA that has views of Mt. Hood and the Columbia River. The defining factor for this site is its high elevation which allows the grapes to slowly and evenly mature so that the wines develop lots of phenolic complexity. The elevation also accounts for its unique soil composition. The Atavus vineyard sits above the Missoula flood plain in contrast to the sedimentary soils of the lower lying vineyards, the soils in the Atavus vineyard are mostly volcanic clay. Many winemakers focus on the micro or what you may call the "Burgundian method" when producing wines. They make single variety, single vintage, and single parcel wine as a means of expressing the specific terroir of the site they are dealing with. For this wine Nate take a different but equally logical approach. He co-ferments both varieties growing on the site and ages them in a solera. The solera system (which is used widely in Sherry production) is a system of blending wine from multiple vintages, each year a little bit is drawn off for bottling and the fresh wine from the current vintage is added on top. They began this solera in 2013, so the wine in the bottle is an expression of this site through multiple growing seasons. It could be argued that the combination of varieties and vintages is the most holistic expression of the growing site. In the glass the wines resembles an orange wine, but texturally is more in line with a white. The wine's aromas are kaleidoscopic with hints of candied ginger flowers, citrus, pineapple, quince, sweet herbs…. we really could keep going. Texturally it is full, but finishes dry with balancing acidity. Would pair amazing with roast chicken, squash, and really great enjoyed with a bug hunk of stinky cheese.
Syrah, Brutto Nobile, Buona Notte, 2018, Milton-Freewater
Graham Markel is a rising star in the Oregon wine scene. While working as the assistant winemaker at Hiyu for a number of years, he has had the opportunity to work with fruit from the best vineyards in the Columbia Valley. This Syrah comes from "the Rocks" district of Milton-Freewater AVA on the Oregon side of the Gorge, pretty far east. This area gets its name from the baseball sized sedimentary rocks that go 100 feet down before bedrock. Graham uses a light touch in the cellar and picks the grapes when they are perfectly ripe and alcohol levels are still in balance. This contrasts many other wines from this area that can be high in alcohol and smell excessively of new oak. This bottling has classic Syrah notes of lavender, pepper, and smoky black fruits.
Grenache/Tempranillo/Syrah/Mencia, Tinto, Analemma, 2017 Mosier Hills
The story of Analemma began in 2010 with the opportunity to lease and help rejuvenate one of the oldest vineyards in the region…Atavus (the same vineyard the Smock Shop bottling comes from). Although they continue to work with this site, Analemma is now based in the Mosier Hills. There, they Biodynamically farm 52 acres of vines, cherries, lavender and grassland. For this site, the founders Steven Thompson and Kris Fade have taken a deep dive into the grapes native to Northwestern Spain. This blend of Spanish and French grapes showcases the potential of the Mosier Hills as a versatile growing region capable of producing balanced and food-friendly wines. It is 40% Grenache, 25% Tempranillo, 25% Syrah, and 10% Mencia and has aromas of plums, dried red cherries, wet rocks and soil. It is medium bodied and plush with finely knit tannins. This wine wants some serious food. Roast Lamb, perhaps.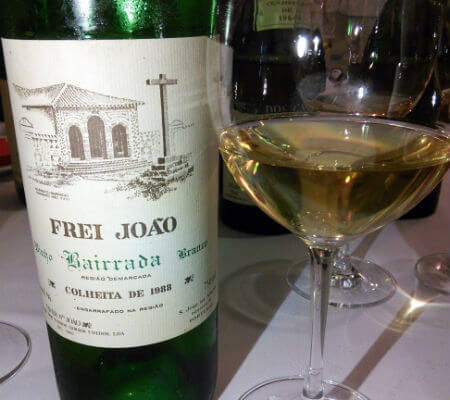 One from the Vault: 33 year old White! $96 (per bottle)
We've had fun sharing wines that normally would be reserved for a special place on our bottle list. We know we will get back to dining again, but for now we still want to share these special finds. The shared excitement of opening these wines in our dining room will remain on hold for now, but hopefully this wine will bring you some of that excitement and pleasure at home.
Frei Branco, Caves São João, 1988, Bairrada, Portugal
Caves São João was founded in the 1920s and successfully made wines with local varieties for decades. However, by the 1990s it was becoming increasingly difficult to sell their wines which  can take many years for their fruit and complexity to fully blossom. Many consumers then and now were looking for wines that provided more immediate gratification and were easier to understand. Thankfully, a few years back the Costa family (who owns the winery) decided to open up their huge cellar containing older vintages of these singular wines. This bottle was aged in the caves beneath the winery until it was labeled and shipped here last year. Bairrada, which is a cool-climate region located in central Portugal that benefits from a lot of maritime influence. The blend is 40% Maria Gomez, 40% Bical, 15% Cerceal, and 5% Rabo de Ovelha. Drinking a wine like this can be a meditative experience. We recommend opening this wine and drinking it over the course of 3-4 hours. A bottle we tasted recently was shockingly bright and fruit forward when we opened it, but also showed notes of pine, beeswax, mushrooms, dried orchard fruit, acacia, lemon peel, and dried flowers. The palates was surprisingly fresh and bright on the attack, then showed finesse and richness. Mature fruit continues on the palate with umami-laden flavors of mushroom, sappy candied orange zest, pear and mineral. Over the course of the evening the wine evolved and took on weight and texture.
This versatile wine can pair with a lot of different foods but we would recommend something simple and delicious in order to really let the wine be the star of the show. We hope you enjoy discovering the magic of Bairrada but please don't tell too many people about this wonderfully kept secret!
Copyright © *2020* Le Pigeon, All rights reserved.
Find Us:
Le Pigeon
738 E Burnside St
Portland, OR 97214
(503) 546 – 8796
Canard
734 E Burnside St
Portland, OR 97214
(971) 279 – 2356