Now taking PIZZA orders for:
Wednesday – 12/29 – CLOSED
Thursday – 12/30
Friday – 12/31
Saturday – 1/1 – CLOSED
Pickup slots are available between 4pm – 7pm
Now taking BAGEL orders for:
New Years – Take boil and bake frozen bagels – 30th or 31st
Bagel subscriptions for 2022 – commence January 9th
Fresh Baked bagels January 9th – 10am – 1pm
For continued safety and precaution, we ask that everyone continues to wear masks when picking up orders
Holiday closures – New Years Day
One-stop shop…
Add salad, bread, produce, beer, wine, to your order!
Pizza menu is at the bottom of this email and online
We cannot accommodate build your own pizzas at this time
Whole pizzas only, no half-n-half's
Pizzas will be served hot and ready to eat, pre-cut and pre-boxed
Orders are first come first serve and will be closed when sold out
All payments will be made prior to pick up
If you want to tip, you can find the option on the order form
Pre-ordered, pre-paid, limited call in and walk up orders are available
Our first priority is to keep our staff, customers, and community safe during this continued pandemic, our dining room will remain closed
Canceled orders will result in a refund of the total minus 5% to cover credit card processing fees
Salads are boxed, undressed, and should be tossed thoroughly before serving.
To reheat pizzas – place a wire oven rack in the upper part of the oven, turn the oven to 400. Place pizza directly on a wire rack with a pan underneath to catch any drippings. Heat for a few minutes until the cheese is melty.
To go containers and pizza boxes are getting hard to come by, so we might be rotating through what we can get our hands on
Remember that your pizza boxes are compostable!
Woodfire Baked Bagels Subscriptions – $50
2022 Q1 – First Sundays –
January 9th – not the first Sunday :)
February 6th
March 6th
Subscriptions Commences on January 9th
Pickup – from 10am – 1pm
1 Dozen per month for 3 months
Fresh boiled and wood fire baked bagels
Select bagel toppings now and let us know if you need a change
Sold in dozen increments only
Pre order – pre pay
take, boil and bagels & holiday feast kits  – JUST A FEW LEFT
What could be as fun as fresh hot bagels to ring in the snowy New Year. We might be letting a secret out, but boiling and baking your own bagels at home could be the new thing of '22. We are selling packs of 12 frozen bagels, seeds for toppings the bagels and simple step by step directions.  We also have kits to start your feast or you can order off of our a la cart menu for a casual breakfast in bed or a formal bagel feast around the table.
PICK UP Days:
New Years week – 
Thursday 30th – 4pm – 7pm
Friday 31st – 4pm – 7pm
cut off to pre order Tuesday 12/28
---
Bagels – $13
1 dozen frozen bagels to boil and bake at home
Keep frozen until use – use within 2 weeks of purchase for freshness
Sesame, poppy and everything mix to top at home
Yes, we will include directions!
---
Bagels Plus Cream Cheeses – 8oz of plain and chive cream cheese
Seafood kit – Salmon, trout, scallops, shrimp
Vegan Kit – cashew cheese, romesco, winter pesto
Full Feast – you get it all!
À la carte accoutrement – 
BREAD – Friday
seed and nut loaf – sweet bread with hazelnuts, dried figs, persimmon, apples, cinnamon
hearty whole grain loaf
rye ciabatta
hazelnut and cocoa breakfast rolls
apple and cinnamon breakfast rolls
Bagel Chips – thinly sliced, toasted, olive oil and sea salt – on sale!
WINE FOCUS: 
Bubbles to ring in the new year!
Here are a few bottles that we have hanging around that will be chilled and ready for your celebration. Quantities are limited:
NV Illahe Capitol Fizz Sparkling Rose, OR, $20
NV Torre Oria Brut Reserva Cava, SP – $11.50
2017 Avinyó Cava Reserva Brut, SP – $20
NV Case Paolin, Asolo Prosecco Brut, IT – $18
NV Cantina Puianello Dry Lambrusco, IT – $11
NV Clara C Fiori Brut Rosé, IT – $14
NV Thibault Tassin Champagne, Blanc de Blancs, FR – $50
NV Chartogne-Taillet Cuvee Ste. Anne Champagne, FR – $50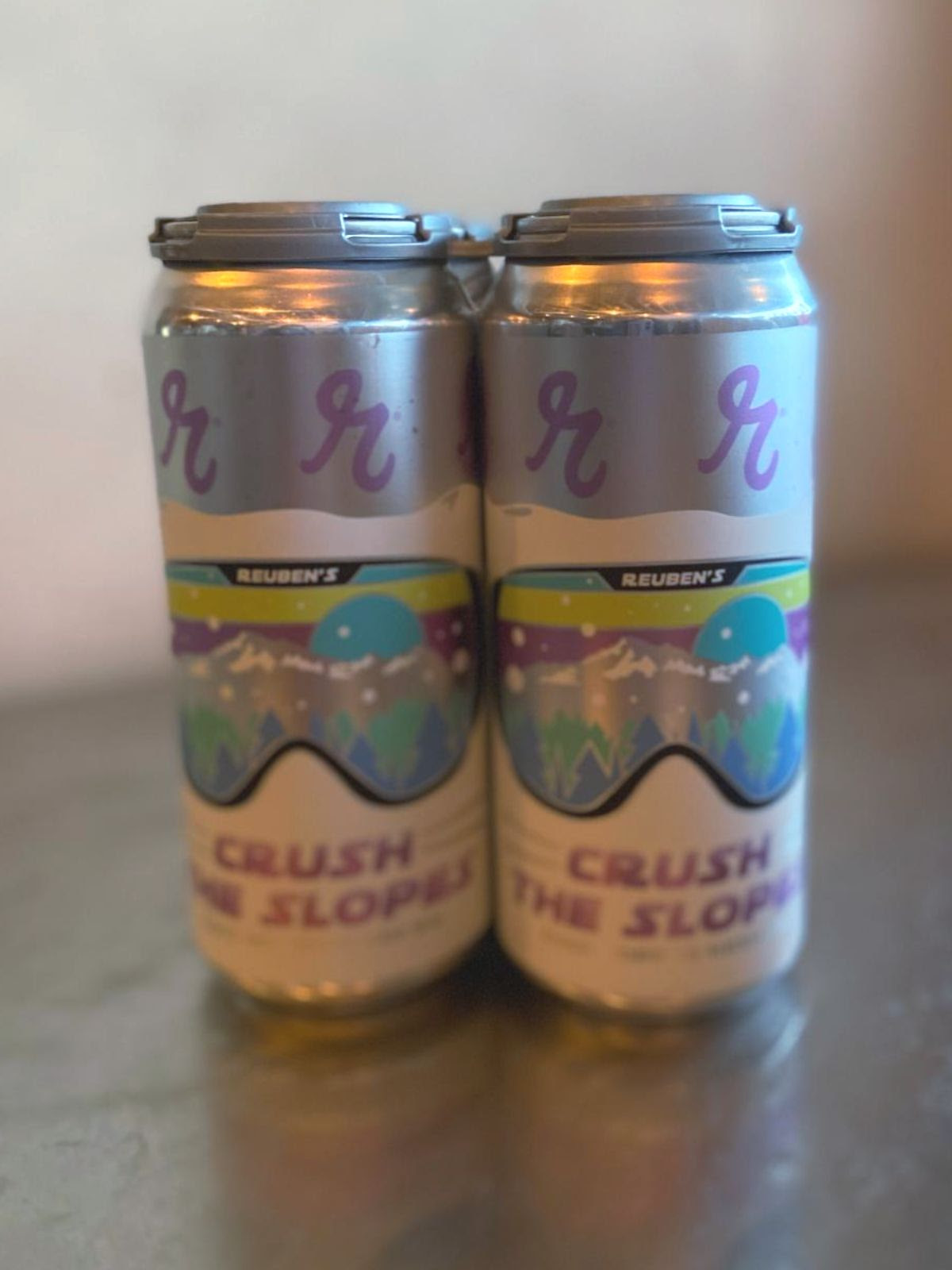 If wine isn't your thing, we have this new beer from Reuben's Brews that we just got in: Reuben's Crush the Slopes Hazy IPA has a massive run of hops all hitting this beer on the cold side, providing a theoretical IBU of zero and extra expressiveness on the nose and special full-bodied juiciness.
We also have a great selection of non-alcoholic beers on the website!
12/29 – Wednesday and Thursday and Friday 
Father Time –  butternut squash sauce, mustard greens, apples, leeks, mozzarella, pecorino – 27
Baby New Year – kale pesto, sausage, jalapeño, potato, mozzarella, fresh mozzarella – 28
Winter Solstice – dandelion marmalade – puntarella, olives, capers, chili flakes, currents, garlic, anchovy – topped with mozzarella and ricotta – 26
Island Life – pineapple, tomato, mozzarella – 21 – add Canadian bacon +5 – add jalapenos +2
Spicy Pesto – spicy arugula pesto, kale, turnips, mozzarella, goat cheese – 25
Classic – tomato sauce, mozzarella – 17
Vegan – butternut squash sauce, mustard greens, apples, leeks, cashew parm (on side) – 25
Pepp – pepperoni, tomato sauce, mozzarella – 21
Sausage – pork sausage, tomato sauce, mozzarella – 21
Seeded Flat Bread – black and white sesame, poppy, fennel, sea salt – 9
add to your pizza –
 – Arugula – 3 
 – Roasted cremini mushrooms- 4
 – Pork sausage – 5
 – Anchovies – 3
SALADS and SOUPS
Kale Caesar – kale, bagelcrumbs, parmesan, garlic anchovy aioli* – 14
Autumn Greens – fall salad mix and veggies, hazelnuts, goat cheese, roasted apple vinaigrette – 14
Radicchio Panzanella – radicchio, braised beets, kalamata olives, herby croutons and balsamic vinaigrette – 14
White bean and Kale Soup – 
BREADS – Friday and Saturday only
Breakfast Rolls – Hazelnut chocolate or Apple cinnamon 
Ciabatta – sifted whole wheat, high gluten white, rye, salt, yeast – 5
Seaweed and Sesame Ciabatta – Oregon dulce and sesame seeds
Whole grains – whole durum wheat, whole rye, whole buckwheat, sea salt, yeast – 5
Bagel Chips – thinly sliced, toasted, olive oil and sea salt – 7
WINE and DRINKS!  
see website!
7783 SW Capitol Hwy. Portland, OR 97219
503.245.4573