GREETINGS AND SALUTATIONS
Goodbye Winter, welcome Summer (you really bowed out this year, Spring, but we'll catch you next time)! Come on down and while away the long summer nights with us at MWL. Whether it's watching the sun set through the stained glass windows in the Member Lounge, enjoying the warm evenings on the patio or in the Green Room, or reveling in the A/C and low lights of the Library, we're looking forward to spending this lovely season with you.

There's a lot happening at MWL this month!  Our new cocktail menu is live, so expect to see beautiful new drinks arriving at your table. You'll see some new dishes on the menu as well, courtesy of Chef Rob and the talented MWL kitchen crew.
Our next photoshoot with Jordan Hughes (@highproofpreacher) is in just a few days, so photos of the new dishes and drinks will be popping up in our instagram feed in the next few weeks.

Also in the news, the Member's Break-Even Bottle is making a reappearance after a two-year hiatus. Keep reading for more information on this member benefit!

As always, thank you for your friendship and support. We hope to see you soon.

Sincerely,

Your Friends at MWL
LIBRARY & THE GREEN ROOM
Tuesday – Thursday  4:00PM – 11:15PM
Friday & Saturday 4:00PM – 12:15AM
MEMBER LOUNGE
Tuesday – Thursday  10AM – 11:15PM
Friday 10AM – 12:15AM
Saturday 4:00PM – 12:15AM
**COMPLIMENTARY VALET BEGINS AT 4:00PM FOR MEMBERS MAKING EVENING VISITS TO MWL**
Please note that membership rates at Multnomah Whiskey Library will be increasing this year. For new members, the new membership fees will applied beginning July 15th, 2022; for current members, the new rates will be applied beginning October 1, 2022. All renewing members whose renewal date falls after October 1st, 2022 will see the new rates outlined in the email reminders sent out in advance of their renewal.

We appreciate each and every one of our members, and we do not take this fee increase lightly. We have had this rate increase on hold the past few years due to the uncertainty caused by the pandemic, but rising operating costs necessitate raising membership fees so that we can continue to provide the same unique service and interesting programming that you love about the Library.
MWL MEMBERSHIP  FEES
2022-2023
Individual Membership – $800
Couples Membership – $975
Corporate Membership – $2900
One-time Administration Fee
(For new members joining after July 15th only) – $199
If you have any questions or concerns about why we are making this change or about your upcoming renewal, please email us at membership@mwlpdx.com.
MWL has partnered with some of our favorite brands to bring our members a complimentary taste of a new, classic, interesting, or just-plain-fun spirit. Available to Members only in the Member Lounge.

The July House Pour is Freeland Spirits Bourbon. From Freeland Spirits: soft caramel, vanilla and spice dance into the whiskey from charred American oak barrels. A final rest in Oregon's Elk Cove Pinot Noir barrels adds an element of Pacific Northwest terroir. Blended with precision by our Master Distiller, Molly Troupe, to achieve balanced texture and harmony of flavors.
A Q&A WITH BRIANA THORNTON
THE FOUNDER OF AESTHETE TEA & MWL MEMBER
A little history: Briana Thornton created Aesthete Tea in 2017 in collaborating with her mother and herbalist, Maggie Cassidy. The brand began in a small kitchen in Oregon and was produced out of a 200 sq ft space for the first 3 years. Today Aesthete Tea is blended, packed and shipped out of their 3,000 sq ft Production House in Portland, Oregon. You can visit their Teahouse [3530 SW Multnomah Blvd, Portland Ore.] in Portland to enjoy a cup of tea and share experiences with friends.

Tell us about Aesthete Tea. Aesthete Tea is a QBIPOC, Woman-owned brand. It is a not just about tea. The brand seeks to connect community and provide workshops, classes, and events that represent and promote a more conscious and less impactful way of living.

Aesthete Tea understands that the lands that provide for us, and the skills we take for granted, would not be here without the stewardship of our ancestors, their deep respect for nature, and their processes of mindful creation. The Collective was created to embrace and share the teachings of ancient traditions through the skills and community of modern individuals rooted in the folk healing practices of a variety of cultures.
What did you do before you started Aesthete Tea?  I worked for 6 years in Contemporary Art Galleries in New York City, and then worked at Creative Agencies for 2 years in Portland

What is your favorite cocktail or spirit? I'm absolutely involved with Mezcal cocktails lately.

How did you connect with the Q Center? I work with then by donating product to their events and was a part of their first queer farmers market.

What do you do in your spare time? Anything outside. Ski, Kayak, Camp, Hike.  I'm a very typical PNW'er

What has inspired you? The community that is always around and supporting me.

Thank you Briana! Fun fact: we were honored to have Briana join us as a member in February, and we were very excited to have MWL Lead Bartender Cody Mulcahy collaborate on a custom tea project with Aesthete Tea earlier this year. Members and guests will get to sample the results in the Chasing the Sun cocktail, by Pete Kellers, and the non-alcoholic drinks Sunfair Sundown and Sailor's Delight. 
On the first of every month, we will be opening a rare, expensive or collectible spirit and pouring it at cost to Members and their guests in the Member Lounge.

The July Break-Even Bottle is WhistlePig's The Boss Hog VIII: Lapulapu's Pacific. This bottling pays homage to Filipino cultural hero, Lapulapu, and to today's often overlooked Philippine rum makers, by finishing this nearly-eighteen-year-old rye whiskey in high toast single island Philippine rum casks.
Break-even price: $14 for a 3/4 oz pour or $28 for a 1.5 oz pour

This bottle is available in the Member Lounge from July 1st – July 31st, or until it is gone!  Please limit to one pour, per person, per visit.
FEATURED COCKTAIL
JOHN JONES
Photo by Jordan Hughes @highproofpreacher
July's cocktail is the John Jones by MWL bartender (and author…and magician…) Jacob Grier.

It's a delicious, rich, chocolatey Boulevardier-style drink that can be made easily at home. Enjoy one of these cocktails at MWL, and we'll donate $5 to Planned Parenthood.
To Make:
2 oz MWL Stone Barn Brandyworks Rye
.75 oz Ramazzotti
.75 oz Carpano Antica
Add all ingredients into a mixing glass, top with ice, stir and strain over a big cube. Garnish with a flamed orange twist.
BLIND-TASTING BOTTLE REVEAL
JUNE'S BLIND TASTING POUR WAS:
1792 Bottled in Bond 
This award-winning Kentucky Straight Bourbon brings notes of charred oak and fresh mint along with subtle caramel apple tones are the lingering essence of coffee and black pepper.
Thank you to everyone who accepted the blind tasting challenge. What was your guess?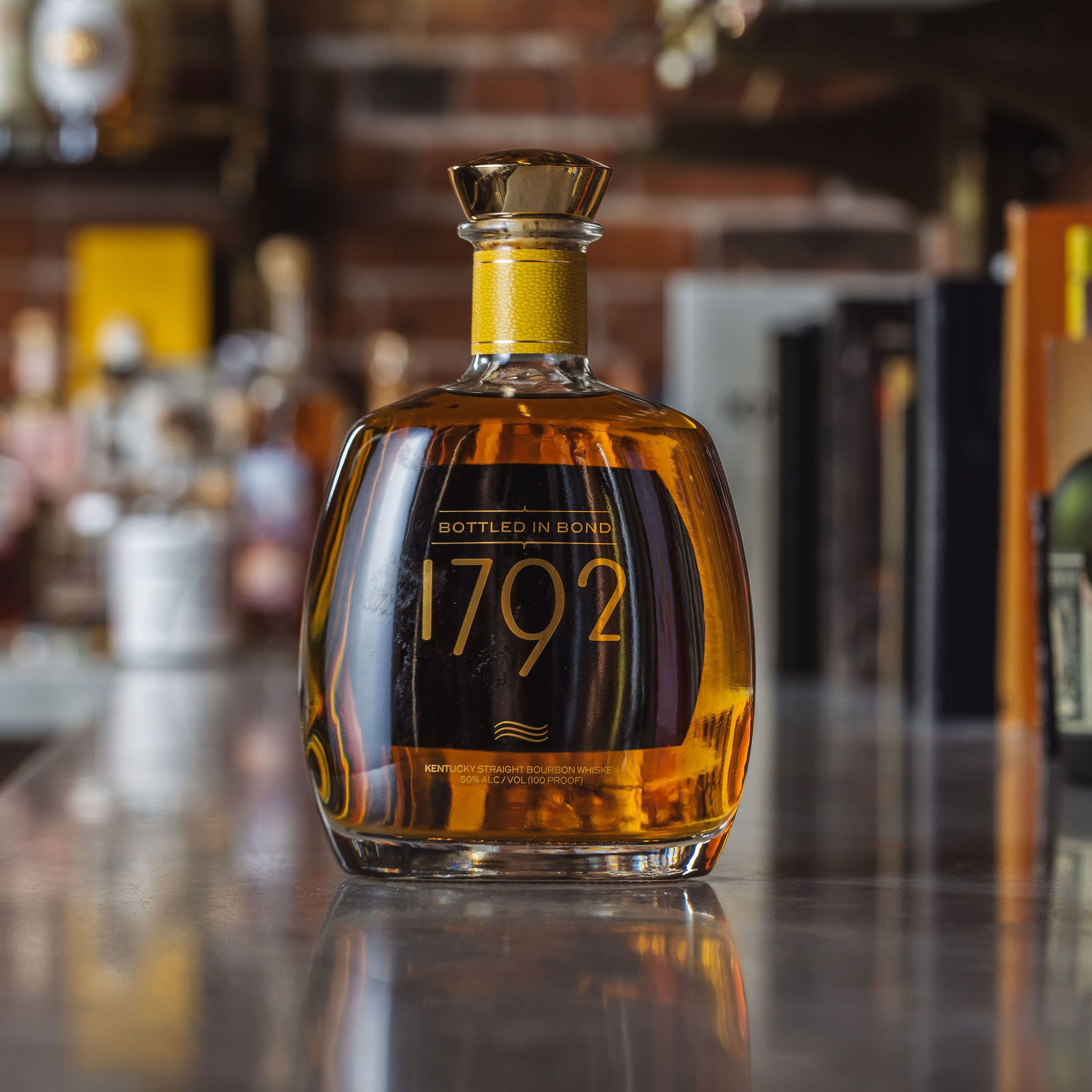 Photo by Jordan Hughes @highproofpreacher
THE JULY BLIND TASTING POUR IS NOW AVAILABLE IN THE MEMBER LOUNGE. GIVE US YOUR BEST GUESS!
About the program: every month we present our Members with an opportunity to exercise their blind tasting skills by purchasing a pour from a Members-only Blind Tasting Bottle. This top secret break-even bottle* (only the team member who chose it knows what it is) will be available in .5 oz tasting pours for a month, or until it's gone.

Members are welcome to write down their best guess as to what the spirit is and give it to their bartender. The winning Member, or Member with the closest guess, will enjoy their next drink on us (up to $20). We'll reveal the name of the spirit when we announce the next round.
The Rules:

• Pours from the Blind Tasting Bottle are limited to .5 oz per member (or member guest) per visit in the Library

• Members can submit only one guess per bottle

• Feel free to pick your bartenders brain about the Blind Tasting Bottle, but know that only the team member who chose the bottle actually knows what it is!

*A "break-even bottle" is an interesting, rare or collectible bottle sold by a bar at cost and presented in the spirit of education and exploration.
FEATURED SPIRITS
BY MWL SPIRITS CURATOR BRETT ADAMS
EL TEQUILEÑO REPOSADO RARE
 Reposado Tequila, 40 abv
Mexico
Available only in the Member Lounge, El Tequileño Reposado Rare is a special release bottle from a family-owned distillery. While most reposados are aged from two to twelve months, this one has been aged for a whopping 76 months! Normally any tequila aged for longer than a year is called an añejo, but the finer print of those rules also mentions that to be an añejo, the tequila can't be aged in a barrel larger than 600 liters. El Tequileño went just a bit bigger, aging the Reposado Rare in a massive 25,000 liter barrel! It's very common in traditional agave production to age distillates for years in glass, because agave spirits, like wine, can often change for the better as they rest. Aging for six years in such a large barrel minimizes the oak contact while capitalizing on this natural tendency to improve over time all on its own. What you're left with is an incredibly complex tequila that isn't over-oaked like so many other extra-añejos. It's not just marketing – this actually is a rare reposado.
ARDBEG FERMUTATION
Single Malt Scotch Whiskey, NCF, ck Ex-Bourbon, peated, 49.4 abv
Islay, Scotland
Back in 2007 the boiler at Ardbeg broke, almost ruining six washbacks full of whisky (fun fact: the washbacks at Ardbeg are made of Oregon pine.) With no hot water to run the stills, any mash currently fermenting had to sit and wait; thus an experiment in fermentation was forced upon Ardbeg. Typically in whisky fermentation, sugar is converted into alcohol in about 48 hours. After this point, lactobacillus bacteria begin to set up shop, creating new esters and flavors that can further develop during maturation later on. Ardbeg typically gives these bacteria one day to do their thing, stopping fermentation at 72 hours; but with the boiler broken, they let the fermentation go for a full three weeks! When the boiler was fixed, this batch was distilled, filled into ex-bourbon barrels, and set aside to mature for 13 years. Ardbeg Fermutation is the end result of this accidental experiment. It has an incredible complexity layered on top of Ardbeg's already assertive peat character. I recommend trying it side-by-side with the traditionally fermented Ardbeg 10.
RABBIT HOLE CAVEHILL
Kentucky Straight Bourbon, 47.5 abv
Kentucky
This is a wheated bourbon with a bit of a twist. It has a four-grain mash bill, with honey-malted barley appearing alongside corn, malted wheat, and traditional malted barley adding sweetness and a unique complexity. Try it in a flight next to some of our other wheated bourbons, like 1792 Sweet Wheat, Weller Single Barrel, and Redemption Wheated.
MWL COCKTAIL DONATION PROGRAM
COLUMBIA RIVERKEEPER & PLANNED PARENTHOOD
At MWL, we are committed to supporting our community, whether that is by raising funds, volunteering with our members and our team, or by providing a platform for local non-profits to share their vision.

Driven by the deeply-rooted civic spirit and enthusiasm of our staff, our cocktail donation program is just one of the ways we share the love with our neighborhoods, our city, and the incomparable PNW. We will be raising funds through March 31st for the following incredible organizations.
Columbia Riverkeeper's mission is to protect and restore the water quality of the Columbia River and all life connected to it, from the headwaters to the Pacific Ocean.
All along the Columbia, they work with people in dozens of communities—rural and urban—with the same goals: protecting the health of their families and the places they love.
They enforce environmental laws to stop illegal pollution, protect salmon habitat, and challenge harmful fossil fuel terminals. Legal work makes a difference. But lawsuits alone do not create the change we need. Change comes when people organize and stand together for something they believe in. Power shifts when conversations around kitchen tables grow into successful campaigns.
Planned Parenthood is a trusted health care provider, an informed educator, a passionate advocate, and a global partner helping similar organizations around the world delivering vital reproductive health care and wellness, sex education, and information to millions of people worldwide. Planned Parenthood is the nation's largest provider of reproductive education, providing medically-accurate information that advances the understanding of sexual health, healthy relationships, consent, body autonomy and access to the reproductive health care services all people need and deserve — with respect and compassion
JULY 11

Tulip Cowboy Floral Design & Astral Tasting

Design your own floral arrangement, with tips and tricks from designer and owner of Tulip Cowboy, Emma Strgar. A five-course small plate tasting menu will be provided by the chefs and founders of Astral, John Boisse and Lauren Breneman matched with a flight of MWL cocktail classics.
Tickets Available Here

JULY 18

Bourbon & Bingo

Hosted by The Bingo Queen, Peachy Springs, enjoy an afternoon of bingo, bourbon and small bites. A portion of the proceeds will be donated to MWL's cocktail donation program.
Sold Out

JULY 31

Study Hall – Mezcal 101

Hosted by MWL Spirit Curator and Education Manager Brett Adams and featuring rare and limited release bottles brought back from his most recent trip to Oaxaca. Adams will cover the history of Mezcal, distillation methods, and how the category of spirit has expanded in recent years. Guests will be guided through two curated flights accompanying a 5-part tasting menu, designed by MWL Executive Chef Robert Kelley.
Tickets Available Here

COMING SOON

Scholar's Flight Night

A special tasting experience, featuring rare whiskey that's been aged for 20+ years from around the world accompanied by a 5-course tasting menu. Hosted by MWL Spirit Curator and Education Manager Brett Adams.
Tickets Coming Soon
*Reservations in the Library for yourself and attending guests

*Exclusive daytime access to the Member Lounge as a quiet work space; evening access to the Member Lounge for yourself and your guests – no reservation required

*MWL Single Barrel offerings, House Pours and other complimentary tastings, Break-Even Bottles and Blind-Tasting Bottles.

*Complimentary valet for evening visits to the MWL spaces (starting at 4pm)

*Members-only events, classes, pairings and networking opportunities

*The ability to nominate friends and family to skip the wait for membership

*Priority access to rent a spirit locker, as available

*Two Member Hall Passes per year, so your friends and family can make a reservation at the Library.

*A complimentary drink of your choosing on your birthday ($20 value).