Meet the Wineries!
In an effort to keep you up to date on wineries in Portland we will be featuring one winery a month in an email and on social media. The plan is to give you a couple of highlights in this email and then follow us on Facebook or Instagram to hear more about each winery.We hope you enjoy this snapshot into each of these unique small Urban Wineries.
A big THANK YOU! has to go out to Aliya Hall for taking the time to interview our winery members.
Jackalope Wine Cellars
What makes your winery unique?   
I'm working with a variety of grape varieties from all over Oregon and Washington. I'm not focused on just the Willamette Valley or Columbia Valley; I'm getting fruit from the Willamette, the Dalles, Up in Washington, and from Southern Oregon. I really feel like the Northwest is such a special place, and I'm trying to keep the wines affordable, approachable, and fun to drink.
What kinds of wine do you make?  
I'm trying to make wines in a transparent fashion that are affordable, and good.  I'm trying to over deliver for the price.  I make wines that reflect the Northwest because that's where I'm making the wine and that's where the fruit is coming from.
What is your signature wine?
I think the wines people tend to know me best for are Viognier and Cabernet Franc. I've been making cab franc from the beginning and Viognier from my second vintage onward, those are the two that I hang my hat on a little heavier than the others.
Who inspires you within the wine industry?
In general the Oregon wine industry from the beginning has inspired me as a whole. It's such a collaborative, helpful community. Obviously, we're all in competition with each other but I haven't come across much in the way of people trying to undercut each other. It's a very collaborative community, which is part of what inspired me to start making my wines. I hesitate to try to name because there's so many people around me that inspire me for a bunch of different reasons, their approach to making wine, sales, how they're working with other people. For me, it's the Oregon wine industry as a whole that's been my inspiration. Striving to farm in responsible ways, make wine in responsible ways and just the community aspect of it all.
What are your future goals and plans?  
I just want to keep making good wine. My goals seems to shift from year to year, where I thought 10 years ago I'd be today is not where I am, and that's not a bad thing.  Given the way the world has been the last few years, I'm finding it benefits my mental health to be adaptive. When people ask me how I make my wine every year I say, "I have a plan, and if it doesn't work out, I adapt and come up with a new one." That's how my future goals are – adaptable.  I want to keep making wine, want to grow a bit, but still stay flexible enough to deal with the myriad of challenges.
Jackalope Wine Cellars is open for wine tasting on Thursday you'll find Corey himself behind the bar.
Thursdays: 4pm – 8pm
Fridays: 4pm – 8pm
Saturdays: 1pm – 7pm
Sundays: 1pm – 7pm
3201 SE 50th Avenue, Portland OR 97206
News or Events from other PDX Urban Wineries
Pre-Thanksgiving Open House @ The Laurelhurst Club in SE Portland.
Join Ash Street Wine Co., along with Jackalope Wine Cellars and Buona Notte Wines.
Taste through current releases from 1-5pm.  Proof of Vaccination or recent Covid negative test required.

$20 Tasting Fee.  Tickets available in advance or at the door.
3721 SE Ankeny Street Portland, Oregon 97214

Taste current releases from three wineries @ the Laurelhurst Club in SE Portland – Ash Street Wine Co., Jackalope Wine Cellars, and Buona Notte Wines.  $20 Tasting fee. Tickets available in advance or at the door.  Proof of Vaccination or recent negative test required for entry.
Willful Wines Thanksgiving Open House
Friday 19th November 2 to 7pm
Saturday 20th November 12 to 7pm
Sunday 21st November 12 to 7pm
Extended hours for the pre Thanksgiving Weekend. We'll be showing our full line-up of wines, including small lot, single vineyard Willamette Valley pinot noirs, Pinot Blanc, Chardonnay and Walla Walla reds. Case discounts, library offerings and gift packaging available.
$15 tasting fee
Willful Wines Holiday Wine Pairing Class
Saturday 20th November 10am to 12pm and Saturday 11th December
What could you drink that will go with Prime Rib and turkey? What should I serve at a holiday party? This fun, interactive class explores the basics of food and wine pairing and gives you the tools to easily master the art of what to drink with what. $40 per person.
To make a reservation for either of the events at Willful Wines click here. Willful Wines will be closed the week of Thanksgiving.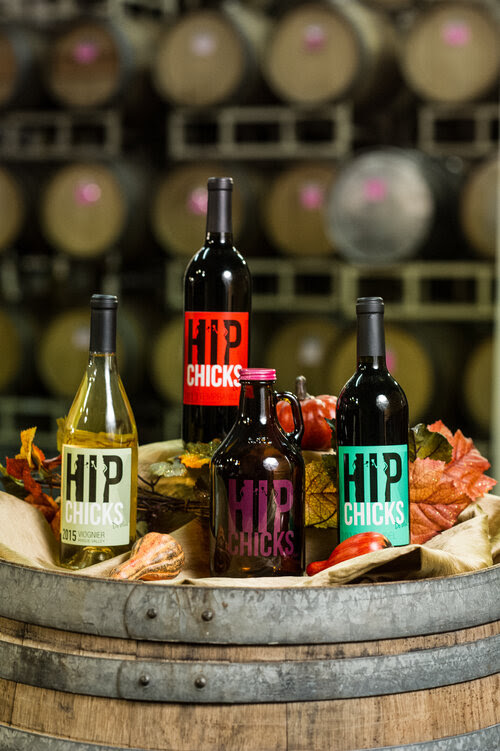 Thanksgiving Weekend Flights & Bites at Hip Chicks do Wine
Join us the weekend after Thanksgiving for Flights & Bites. We're pouring 5 wines + our Holiday Sangria and along with a couple of bonus pours. Tickets are $25 and must be purchased in advance limited walk ins available. Food available for purchase.
We will have Holiday Gift packs available and special discounts on wine purchases plus our Holiday Sangria kits. Additionally we will have live music on Friday and Saturday 3pm – 6p with Steve Hale
Event hours are:
Friday 11/26 2pm – 7pm, Saturday 11/27 12pm – 7pm, Sunday 11/28 12pm – 5pm
Copyright © 2021 PDX Urban Wineries, All rights reserved.
Our mailing address is:
PDX Urban Wineries
4510 SE 23rd Avenue
Portland, OR 97202