Meet the Wineries!
In an effort to keep you up to date on wineries in Portland we will be featuring one winery a month in an email and on social media. The plan is to give you a couple of highlights in this email and then follow us on Facebook or Instagram to hear more about each winery.We hope you enjoy this snapshot into each of these unique small Urban Wineries.
A big THANK YOU! has to go out to Aliya Hall for taking the time to interview our winery members.
Helioterra Wines
When did your winery form and how did you get into the wine industry?
My winery formed in 2009 but I got into the industry in 2002. 2021 was my 20th harvest. I got started in the production side of the wine industry in 2002 but I started a little earlier than that because I moved out to Portland in '99 and didn't know a single person. I had just graduated from college and moved out here for a nonprofit job in the environmental world and thought I should probably find a part time job in the tasting room of Tualitan Estate Vineyards. Being 22 at the time, I honestly had no idea there was wine country in Oregon. I didn't know that people made wine out here because in Wisconsin there isn't really a bastion of wine. At the time, I was like "holy cow I just landed myself in one of the most upcoming wine regions in the world!"  As I got more into wine I actually went back to school for winemaking at Chemeketa and after a few years of doing that I got a harvest job at the Carlton Winemaker Studio the year Eric Hamacher opened it. Then I spent eight years working in cellars for Hamacher Wines, Adelsheim, Dobbes Family Estate/ Wines by Joe and Apolloni. In 2009, which was apparently the year two births, I had my second child and I decided it was time to start my business. I surveyed the scene of who else was out there and I was looking for a new challenge. I had worked at Dobbes for three years as a winemaker and I was ready for something else and no one else I wanted to work for was hiring at the time. So I thought 'I know I can make 90+ worth wine and I could probably do that on my own', and looked at my husband at the time and said, "I want to do this" and he said, "go for it!".  I pulled half the equity out of my mortgage and bought a few fermenters and grapes and was off to the races.
Why did you decide to be an urban winery instead of in the valley?  
I am no longer married and as a single parent of two kids who go to school in Portland, my house is in Portland, and you know it's really a quality of life thing. I love being in the valley but if I don't own vineyards there's really no reason for me to be there.  I buy fruit from Washington and all over the Willamette Valley, and I just decided I don't need to be in the valley.  My production facility is in SE Portland and my kid's dad's and school is walking distance and my house is bikeable from here. It really comes down to that Portlandia quality of life. My whole life revolves around South East Portland.
Do you have a favorite non-profit or cause your winery supports?
 I tend to support three different things. I support a lot of local schools, I have kids so supporting the local neighborhood schools that my kids go to and my friends' kids go to makes sense.  I feel like young education is a really important thing and making sure we have a really well-educated youth in our city is important to me. Environmental causes are really important to me as well, especially as we've seen the impacts of climate change.   I specifically focus on the Oregon League of Conservation Voters because they focus on the legislative side of the environmental issues and electing the right people to get the job done on a federal, state and local level. And then food insecurity, we have a huge problem here in Portland with that. So the Oregon Food bank is also included in my charitable giving.
Helioterra Wines
2025 SE 7th Avenue
Portland, OR 97214OPEN FRIDAY-SATURDAY.
FRI 4-7, SAT 2-7, and SUN 2-5.
Indoor and Outdoor Seating Available!
Proof of Covid-19 Vaccine and ID required for all experiences at Helioterra.
NO RESERVATIONS NEEDED.
To hear more about Helioterra Wines be sure to check out our Social Media pages and you can find a link to them on our website.
Events or Specials at other PDX Urban Wineries
Wine and Chocolate Pairing February 4th – 6th and 11th-13th at Hip Chicks do Wine. Advance ticket purchase is STRONGLY suggested. Basic Pairing of 5 wines with 5 chocolates for $35 or get a VIP package adding a glass of sparkling wine + 2 truffles to go for $53.
Hip Chicks do Wine
4510 SE 23rd Avenue
Portland OR 97202
Make your reservation online.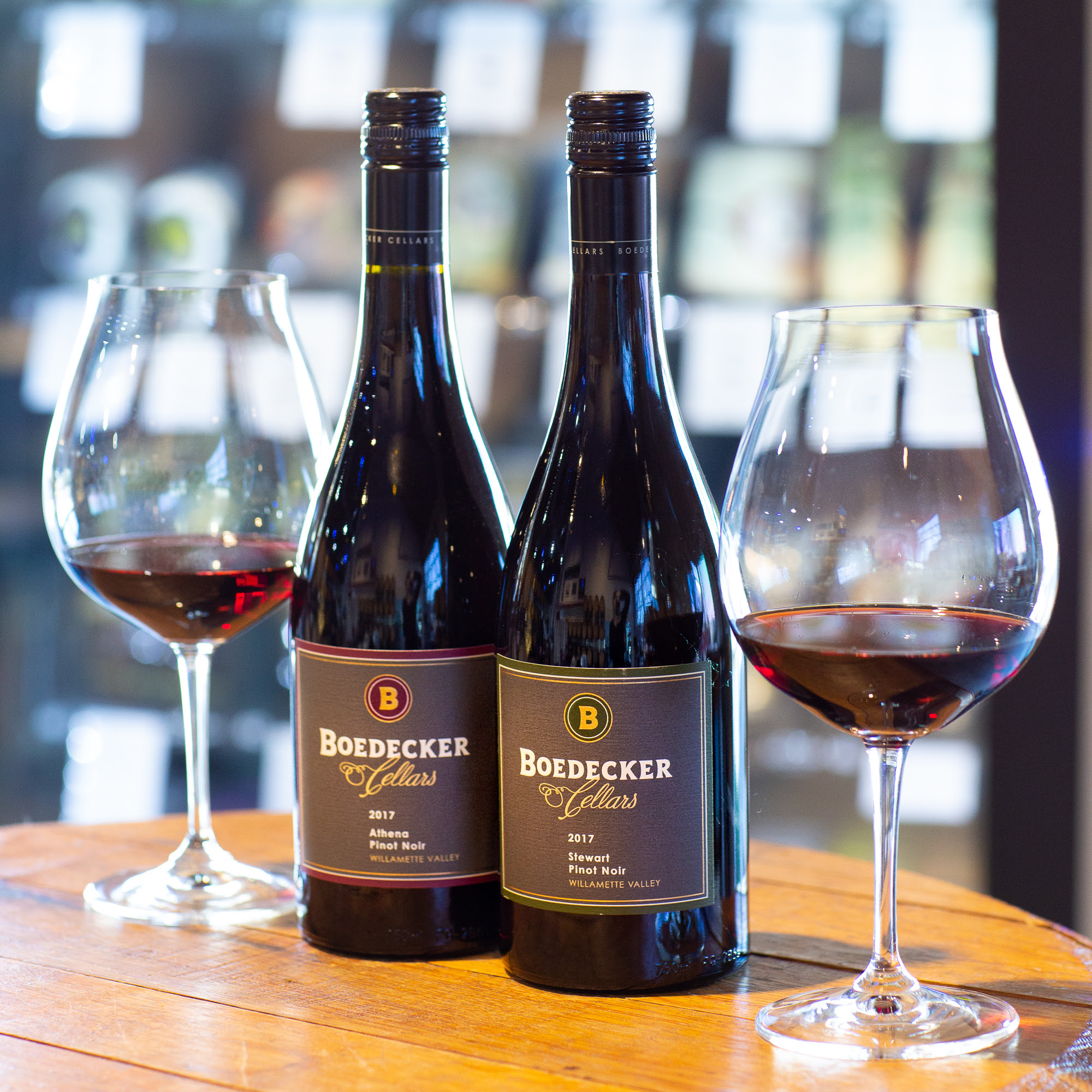 Valentine's Weekend Special @ Boedecker Cellars
Be the first to taste our 2019 Stewart, his, & Athena, hers, Pinot Noirs, as well as an exclusive and rare selection from our library. To make things sweeter, we'll feature suggested chocolate pairings from our charcuterie vending machine.
Friday, Saturday and Sunday
February 11th, 12th and 13th
2:00pm to 6:00pm
$25 per guest
Two styles, two vintages
Discover one vintage yet to be released, the other eight years mature; crafted by two winemakers with very different palates who remain (somehow, after 18 years of working together) contentedly married.
Plus our Still Life Pinot Noir rosé
The beautiful wine they craft together.
Suggested Chocolate Pairings
From our charcuterie vending machine; because Chocolate!

PDXUW member winery RAM Cellars, who offers free Portland-area delivery, is running a 20% off promotion for the month of February.  Use code 2022 at checkout in their webstore to save on all wine orders!
They are also hosting the next round of their quarterly tasting club, held via zoom, on 3 dates in late February and early March with tasting sessions on Friday, February 25th, Saturday the 26th, and Wednesday March 2nd, from 5:30pm-7pm on those dates!  Taste through 3 wines with their winemaking team from the comfort of your living room! Reserve your Tasting Club ticket today!
Copyright © 2022 PDX Urban Wineries, All rights reserved.
Our mailing address is:
PDX Urban Wineries
4510 SE 23rd Avenue
Portland, OR 97202