Meet the Wineries!
In an effort to keep you up to date on wineries in Portland we will be featuring one winery a month in an email and on social media. The plan is to give you a couple of highlights in this email and then follow us on Facebook or Instagram to hear more about each winery.We hope you enjoy this snapshot into each of these unique small Urban Wineries.
A big THANK YOU! has to go out to Aliya Hall for taking the time to interview our winery members.
Division Winemaking Company
When did your winery form and how did you get into the wine industry? 
Kate: "We met in San Fransisco in the mid-2000s and we actually both really loved wine in our personal lives. I come from a family that has a background in enjoying wine and Tom has a portion of his family that's also super into it. We always shared wine with friends and really for kids in our 20s were doing a lot of making dinners at home, doing dinner parties and drinking wine, which was a really important part of our lives. Tom actually went to business school in the mid-west and part of his final project was to put together a business plan, and enlisted my help, for a plan to start a winery. The business school competition went great, we actually got second place but were told that it was because the return on investments for a winery is lower than other businesses — also known as there's no return on investments in wine making. But we love it. But basically the economy crashed in 2009 and we looked around and thought, "We won't have jobs anymore" and my family encouraged us to follow this idea that we had, and we moved to France and learned how to make wine. We moved back to the States and physically to Oregon in 2010. At first we said we weren't going to make wine that first year but then we started our company and started making wine, Chardonnay and Pinot Noir, just a small amount that first year.  And that was the start of a really special, awesome adventure."
What makes your winery unique?
Tom: "Well, I think it's the range and diversity of the grapes that we work with. It's definitely one of the thing that sets us apart the most. Then being a winemaker that has focused our operation in the city of Portland. It may not be as unique as it was when we started, when we started there weren't many of us here doing that. But you can see it on our website, we love to make the wines we love to drink and so we're not one hit kind of drinkers. We love diversity and we love different foods and different beverages. I think that has really led us down the path of really making wines from different regions in the Pacific Northwest in different styles that all have the thread that is kind of us, and you know we have an old-world etiquette to us, but it's still a great range of the diversity of grapes."
What are your future goals and plans? 
Kate: "We're building a new winery in town. We outgrew our space in Division and Tom and I bought a new building with a couple other guys down at eighth and Harrison in SE that's twice the size, and our goal is to make that our forever home."
Division Winemaking Company
Watch for them to reopen soon in their new location!
To hear more about Division Winemaking Company be sure to check out our Social Media pages and you can find a link to them on our website.
Events or Specials at other PDX Urban Wineries
Easter Candy & Wine Pairing
April 9th & 10th

Join us for our first ever Easter Candy & Wine Pairing! We'll be pairing 5 wines with 5 traditional Easter Candies + pouring a seasonal Sangria for $25. Reserve your tickets online and be prepared for Peter Rabbit to visit your house. Reservation are requested and can be made online here.

Hip Chicks do Wine
4510 SE 23rd Avenue
Portland OR 97202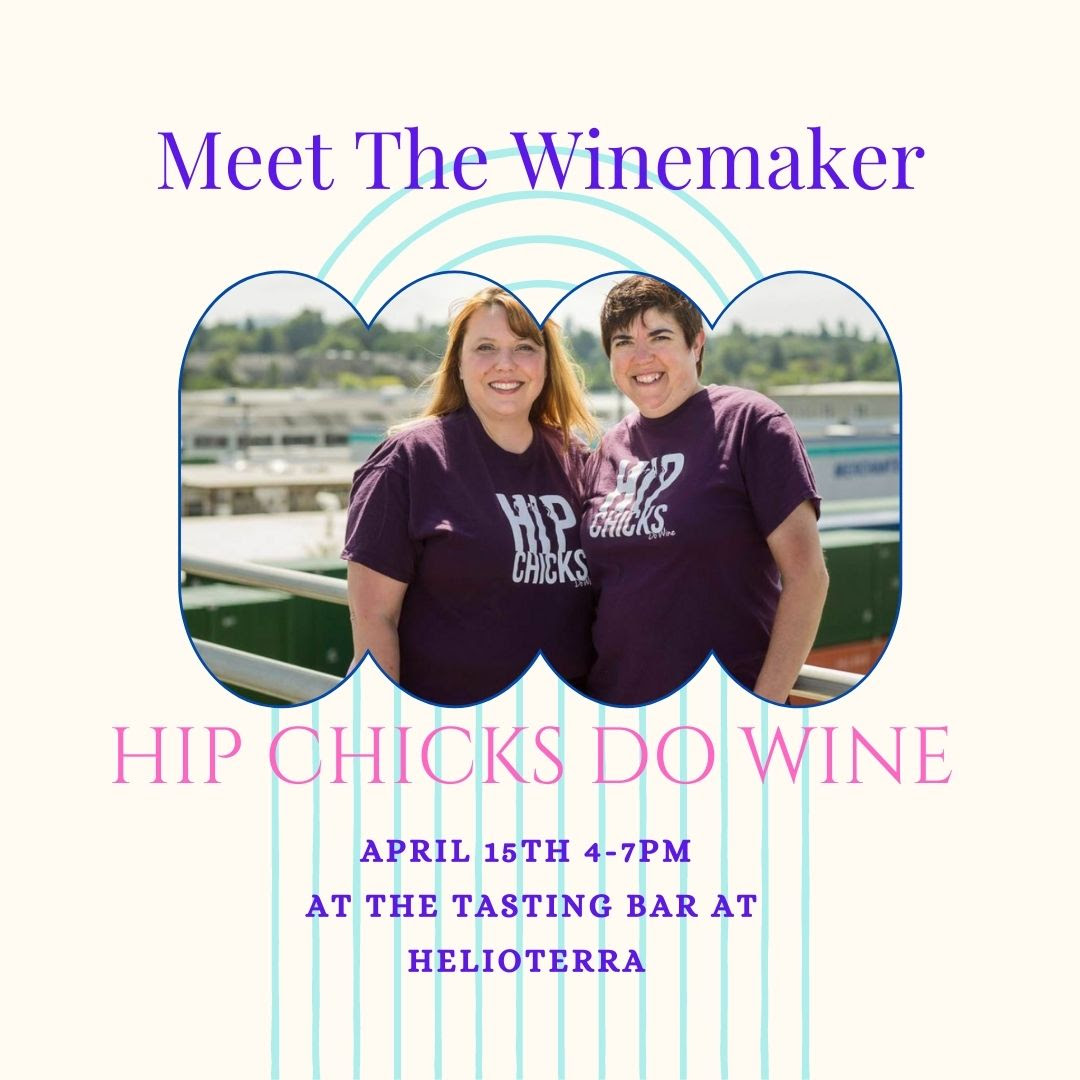 We are thrilled to have the pioneers of the Portland Urban Winery scene join us for a special meet the winemaker event Friday April 15th.
We will be pouring a special Hip Chicks Flight from 4-7pm. Just walk in. No reservations needed!
Helioterra Wines
2025 SE 7th Avenue
Portland, OR 97214
Copyright © 2022 PDX Urban Wineries, All rights reserved.
Our mailing address is:
PDX Urban Wineries
4510 SE 23rd Avenue
Portland, OR 97202