FISH MARKET • RESTAURANT • OYSTER BAR
3004 East Burnside Street • 971-806-6747
*** HOLIDAY HOURS ***
Today 12/17 thru Mon 12/20: 10AM–8PM MARKET, 11AM–8PM RESTAURANT
Tues 12/21: 10AM–6PM MARKET ONLY
Weds 12/22: 10AM–8PM MARKET, 11AM–8PM RESTAURANT
Thurs 12/23: 9AM–8PM MARKET ONLY
Fri 12/24: 9AM–3PM MARKET ONLY
Sat 12/25: CLOSED
Sun 12/26–Fri 12/31: REGULAR HOURS (10AM–8PM MARKET, 11AM–8PM RESTAURANT, CLOSED TUES 12/28)
Sat 1/1: CLOSED
Sun 1/2: RESUME REGULAR HOURS (10AM–8PM MARKET, 11AM–8PM RESTAURANT, CLOSED TUESDAYS)
Please read our Covid-19 house rules HERE  •  We accept EBT/SNAP/Oregon Trail.
HOLIDAY CHEERS
SPECIAL ORDERS EXTENDED THROUGH THIS SUNDAY
STOCKING STUFFERS, PERHAPS?
OYSTERS.
Listen. We've got a TON of oysters coming in over the next week. (Actually three tons if we're counting every single oyster.) Capiche? It's always oyster time at Flying Fish but right now is, like, REALLY oyster time. Holiday spreads and such. We've always got a bunch coming and going, so this list is ever changing, but as of this morning, Friday Seventeenth December Twenty Twenty-One, this is what we've got. Might look different by the time you get here, but fret not, oysters there shall be.
FRESH OYSTERS AS OF FRIDAY DECEMBER 17TH
Bass Point – Massachusetts
Baywater Sweet – Washington
Blue Pool – Washington
East Capes – Prince Edward Island
Fin de la Baie – New Brunswick
Hama Hama – Washington
Pali Kai – Washington
Shigoku – Washington
Tidepoint – Washington
DOWN WITH THE KING
Ora King Salmon
. Responsibly raised offshore in the cold waters of the Marlborough Sounds, that gorgeous place of fjords between New Zealand's two islands. They raise their salmon in a low-stress habitat with feed consisting of essential nutrients and none of the add-ons (GMOs, hormones, antibiotics). They even use underwater cameras to monitor the fishes' appetites. The end result is a superior, unique, sushi-grade quality that we feel justifies the energy required to get this fish to us from New Zealand. Ask us more, we're happy to discuss. Salmon sushi, salmon fillets… have it however you like it. We promise it will be spectacular.
FRESH FISH AS OF FRIDAY DECEMBER 17TH
Ahi/Bigeye Tuna* – wild, Pacific Ocean (Hawaii)
Branzino – sustainable farm-raised, Greece – whole fish
Escolar/Walu* – wild, Pacific Ocean (Hawaii)
Mahi Mahi – wild, Pacific Ocean (Hawaii)
Monkfish – wild, Atlantic Ocean (Massachusetts)
Ono/Wahoo* – wild, Pacific Ocean (Hawaii)
Ora King Salmon* – sustainable farm-raised, New Zealand
Rainbow Trout – sustainable farm-raised, Idah0
Rockfish – wild, Pacific Ocean (Oregon)
Steelhead – sustainable farm-raised, Washington
Striped Bass – sustainable farm-raised, Mexico – whole fish →
Swordfish – wild, Pacific Ocean (Hawaii)
Tombo/Albacore Tuna – wild, Pacific Ocean (Hawaii)
True Cod – wild, Iceland
* – Sushi-grade fish
SO MUCH CRAB
Mean muggin Dungie. Photo by Natalie. 
Yes indeedy, we're swingin' full swing on 
Dungeness Crab
 season, coming in hot from the Oregon Coast. Hot from the pot, nice on the ice. Real nice. Whole cooked crabs, come and get em.
FRESH SHELLFISH AS OF FRIDAY DECEMBER 17TH
Dungeness Crabs – wild, Oregon Coast – whole, cooked
Littleneck Clams – sustainable farm-raised, Massachusetts
Manila Clams – sustainable farm-raised, Washington
Mussels – sustainable farm-raised, Washington
Savory Clams – sustainable farm-raised, Washington
Scallops – wild, Atlantic Ocean (Massachusetts)
PLUS: Shucked oysters in a jar.
PORTRAIT OF A BURGER
Portrait of a burger. Photo by Natalie, styling by Matthew.
That there's our house burger, available during restaurant hours: Laney ground beef, Niman bacon, local veggies, house condiments, Grand Central brioche. Jojos on the side. Have your burger exactly like this, or have a burger your way at home. Ain't no wrong way.
Plus, again: PRIME RIB!
FRESH MEAT AS OF FRIDAY DECEMBER 17TH
PRIME RIB: Painted Hills Natural Beef – John Day, Oregon
GROUND BEEF: Laney Family Farms – Canby, Oregon
STEW MEAT: Laney Family Farms – Canby, Oregon
BACON: Niman Ranch, California
EGGS: Odyssey Hill Farm – Salem, Oregon
WICKED GOOD LOBSTAH
Never afraid to use that headline, I'll tell you HOOWHAT. It's Lobster Tail, wild lobster tail from Maine, the good stuff, flash frozen after the boil to lock in that Atlantic flavor. Check the freezer for tails and these other freezy delights.
SELECT PRODUCTS IN THE FREEZER AS OF FRIDAY, DECEMBER 17TH
U-15 Easy Peel Mexican Blue Shrimp
Oregon Bay Shrimp
Premium Lobster Tails
Tobiko
Ikura
Masago
Calamari
Octopus
Salt Cod
Fish Stock
Halibut
Copper River Sockeye Salmon
Tombo
Alaskan Sablefish/Black Cod
PREPARED PRODUCTS TO GO AS OF FRIDAY, DECEMBER 17TH
Cold Smoked Ora King Salmon
Smoked Salmon Dip
Smoked Whitefish Dip
House Smoked Fishes
Varieties of Caviar
OUR RESTAURANT MENU
For dining here or to-go. Menu updated October 2021.
CLICK MENU TO ORDER ONLINE FOR PICKUP: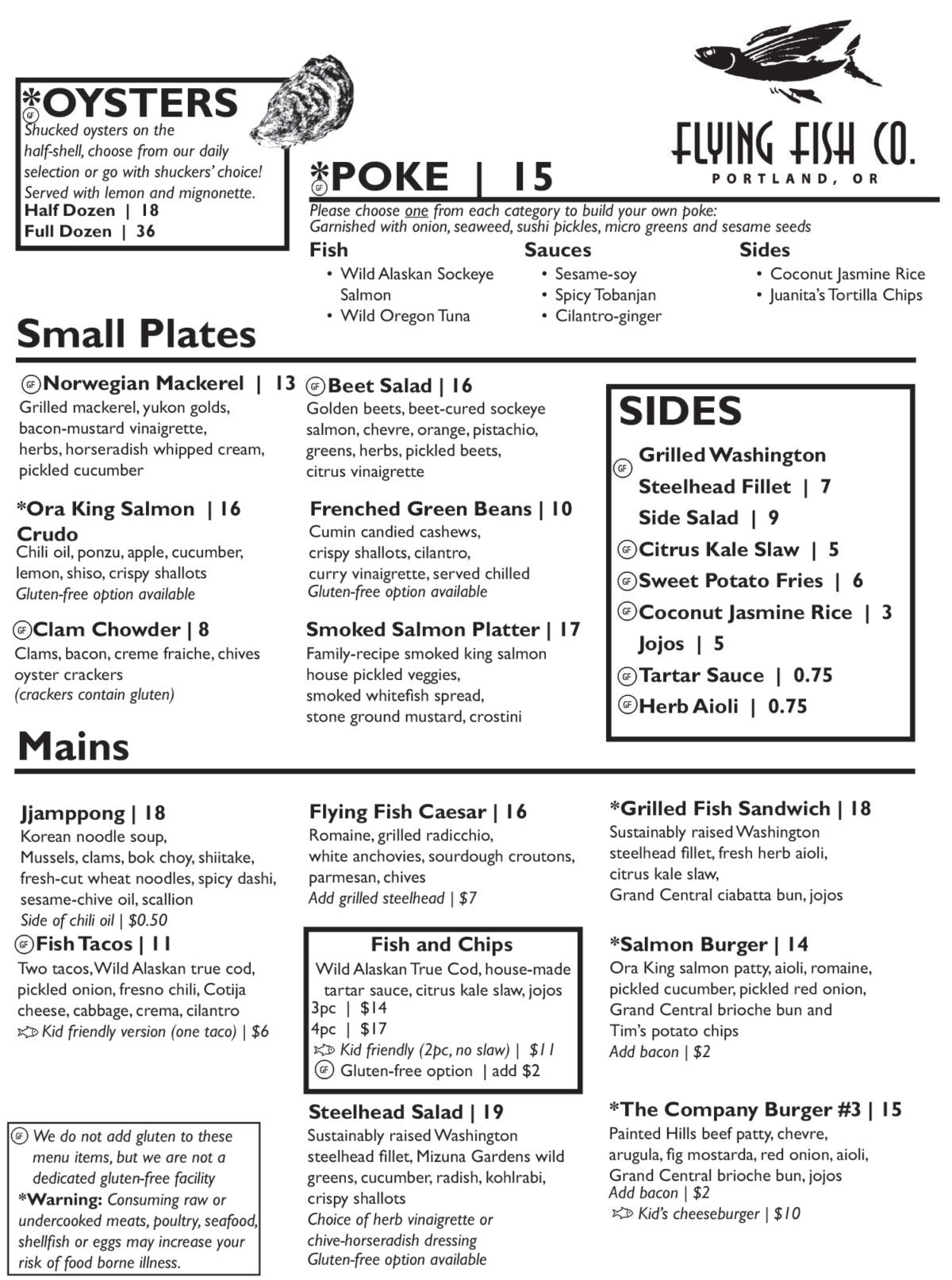 ALSO: Cocktails, sake, wine, and beer for dining onsite. Inquire within.
FLYING FISH SIGNOFF & DISCLAIMER
PLEASE NOTE: This email was accurate at the time of its weekly writing. Some products come and go quicker than others, so for best results on the freshness, follow us on the social medias: Facebook, Instagram, and Twitter. And tag us in your Instagram pics @flyingfishpdx – we love seeing your food pics!
Cheers,
Lyf Gildersleeve and the Flying Fish Team: Alana, Boo-boo, Chris, Danny, Elowynn, Erik, Erin, Gabby, Isabella, Jack, Jaelyn, Jesse, Jordan, Kenneth, Kevin, Luis, Mad Dog, Madeline, Mike, Neebs, Ross, Ryan P, Ryan S, Sam, Sarah, Sawyer, Stephen, Trever, Wyatt, and Brad
INSTAGRAM JAM OF THE WEEK
Gee whiz, @georgiesgardens, you really outdid yourself with this one. 
ABOUT FLYING FISH
Craig and Sandy Gildersleeve opened Flying Fish Company in Sandpoint, Idaho in 1979 – the year before their son Lyf was born.
Now president of Flying Fish Company, Lyf has spent his entire life around fish, including an aquaculture education at the Harbor Branch Oceanographic Institute at Florida Atlantic University.
Flying Fish has three locations: Sandpoint, Idaho; Durango, Colorado; and Portland, Oregon. The Portland location opened in 2009 as a food cart at the D Street pod on Division Street. In 2011, we opened the fish shack on Hawthorne Boulevard. In 2016, we moved into a stand at Providore Fine Foods on Sandy Boulevard. In February 2020, we opened our standalone location on East Burnside with a restaurant and a patio.
* * *
Thank you for supporting our family-owned business. 
—Lyf, Natalie, Juniper, and Miles Gildersleeve (and Hazel the Dog)
* * *
PHOTO BY NATALIE GILDERSLEEVE PHOTOGRAPHY: Congrats to Natalie for coming in 2nd in the Portraiture category in Click magazine's annual photography contest, which draws over 40,000 contestants!
Copyright © 2021 Flying Fish Company, All rights reserved.
Our mailing address is:
Flying Fish Company
3004 E Burnside St
Portland, OR 97214-1950