---
To Our Market Community,
Juneteenth commemorates the day, June 19, 1865, when enslaved Black people in Texas were finally informed that through an executive order issued two years earlier, President Abraham Lincoln had declared their freedom in the states that seceded from the union. One year later, in 1866, Black Texans congregated with music, dance, and BBQ marking the first Juneteeth celebration.
While Black communities have a long history of celebrating Juneteenth, many of us are just becoming familiar with the traditions. Cookbook author, Nicole A. Taylor, has written the first cookbook to help us understand, embrace and enjoy the significance of this new holiday.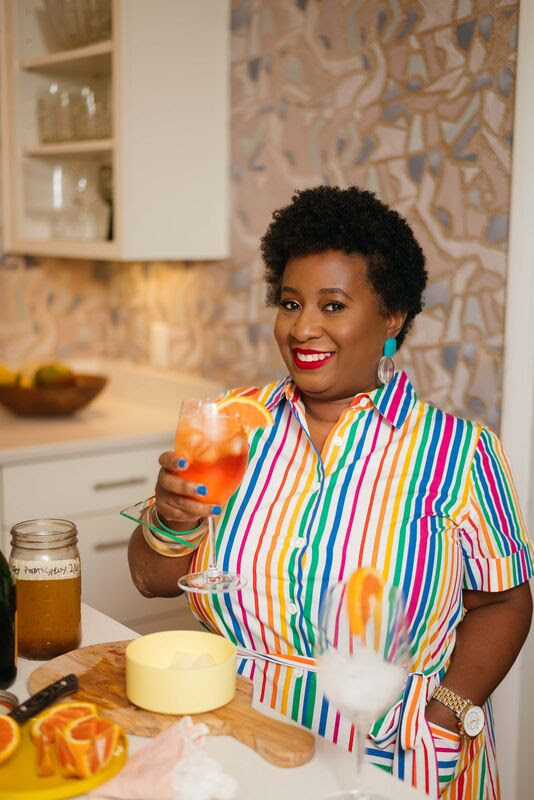 Photo courtesy of Nicole A. Taylor
Entitled Watermelon and Red Birds: A Cookbook for Juneteenth and Black Celebrations, Taylor describes the "All-day cookouts with artful salads, bounteous dessert spreads, and raised glasses of "red drink" which are essential to the gatherings. In addition to being a gifted storyteller, Taylor's book contains over 75 recipes of iconic Juneteenth dishes from drinks to desserts.
Essential to any proper Juneteenth celebration are:
Red Juneteenth Foods: soda, punch, hibiscus tea, red velvet cake, red beans and rice, hot sauce, strawberries, and watermelon.
According to culinary historian and writer Michael Twitty, the historical importance of red food traces back to the time of enslavement when red-colored foods were rare and exciting, but also because red was an important color in the cultures of enslaved Africans who were coming to Texas from the continent and through the Caribbean.

Photo courtesy of New York Times
Barbecues are another important element of any Juneteenth celebration because they are known for bringing people together. Texas Monthly's barbecue editor, Daniel Vaughn, discovered multiple newspaper reports that called for entire communities to gather at the local barbecue pit to prepare food and gather together to honor Juneteenth.
Juneteenth barbecue foods: pork, chicken, ribs, hot links (encased sausages), and brisket.
These meals are all about celebrating good luck and wishing for the best, according to Michiel Perry, lifestyle expert, and creator of the brand Black Southern Belle, which is why the side dishes consist of "prosperity meals'.
Prosperity meal foods and sides: corn, cornbread, collard greens, cabbage, black-eyed peas, pork, potatoes, yams, and sweet potatoes.
We hope this helps you design your menu for your own Juneteenth commemoration. And while you are deciding what to include in your menu, try this delicious recipe for Watermelon Ginger Beer from Taylor's book.

Photo courtesy of NY Times Cooking
 Warm Regards,
The Beaverton Farmers Market
---
We will see you this Saturday at the Market from 8:30 AM-1:30 PM.
---
Father's Day 
Father's Day is this Sunday, and the market is brimming with goodies for the Dad in your life. The market has everything from fine libations to beard care and choice meat cuts for every dad.
Both Vertigo Brewing and Coin Toss Brewing will be attending and will have some refreshing sudsy brews. Our picks for dad include Vertigo IPA (AKA Uno Mas IPA), which is a classic NW-style IPA brewed with a combination of Mosaic, Amarillo, and Simcoe hops, which gives it a bold, citrusy hop-forward characteristic. Coin Toss Brewing has the perfect beer for dad to sip all day long, whether at a ball game or chilling by a lake, the Day Drinker Amber Wheat can't be beaten. It's their take on American amber wheat beer, brewed with Cascade and El Dorado hops and finished with a touch of Himalayan pink salt.
Historically men have been overlooked when it comes to skincare products, but the truth is that everyone needs a good skincare routine. Landia Skincare has formulated a skincare line for men. Our marketing director gave her husband the starter kit and the Face Creme No. 1 is now his favorite product. Not sure where to start? The best place to begin is with the starter kit – it also makes a great gift! Our friends over at Bearded Oregon have you covered for all your dad's beard care needs. From beard oil to beard balm and beard wash, their beard will be perfectly groomed. What we love most about Bearded Oregon is that their naturally formulated scents are inspired by towns and cities throughout Oregon. Don't have a beard? Try their Beaverton soap with aromas of carrot, apple, ginger, mushroom, and beet. Pictured here with our favorite Ginger!
If Dad is a meat-eater chances are that they will want to BBQ on Sunday and we are here with the best meat you can buy! Mason Hill Cattle is naturally produced Wagyu Beef. No growth steroids or hormones and humanely raised on Oregon pasture. For a truly decadent meal pickup a Wagyu boneless rib eye from Mason Hill to grill on Sunday. Another great steak cut that is often overlooked is skirt steak. Recently, Marketing Director, Kate, and her husband smoked a skirt steak low on their Traeger. Kate said it was unbelievable, "like having meat candy!" Yum!

Photo courtesy of Hot Pan Kitchen
In more recent years goat meat has become more popular in the United States, but we're just catching up to the rest of the world. 63% of the world's population consumes goat meat. It's not difficult to see why it is so popular, goat meat is a red meat that is 80% less fat than beef, and is packed with high protein, vitamins, and minerals. If you want to serve Dad an affordable, healthy red meat alternative then goat is an amazing option! Lonely Lane Farms is a third-generation farm sustainably raising grass-fed beef, goat, lamb, and pork. Because most Americans' goat meat consumption is from stewed meat we encourage you to try a different cut, like loin chops (tiny t-bones). This week Kate seared loin chops in a cast iron pan and served them over a bed of roasted zucchini and peter pan squash, cherry tomatoes, and freekeh (an ancient wheat grain), along with dollops of pesto.
---
We'd like to introduce you to Supa Fresh Youth Farm who will be joining us for the day this Saturday. Supa Fresh Youth Farm is an established Social Purpose Enterprise that has employed and trained underserved youth, ages 16 – 24, in the Tigard-Tualatin School District and SE Washington County since 2009 where it serves as a learning space that provides rich experiential vocational opportunities for youth. All of their farmers' market proceeds go directly to supporting youth programming and youth-led businesses. Its mission is to cultivate self-sufficient, confident, and joyful youth who enthusiastically pursue their career and life goals through internships, training, and entrepreneurship. Stop by their booth this week and support their farm and its important mission.
Alex Farm will be in the market this week with garlic scapes and the first cherries of the season. We are expecting Baird Family Orchards to begin on the 25th.
Music this week is Rogue Moon.
Copyright © 2022 Beaverton Farmers Market, All rights reserved.