FISH MARKET • RESTAURANT • OYSTER BAR
FRESH FOOD FOR MEALS OF GRATITUDE
Okay! We have much to discuss — but not before this moment of gratitude, with neither attitude nor platitude, only the habitude for latitude to say: THANK YOU. Seriously, thank you for supporting our small but growing family business. Obviously Flying Fish can't do this without you. We are very grateful for you, now and always.
And to show our gratitude during this cold and cooling season, these two WARM SPECIALS: Chickpea Truffled Miso (bottom at right) and Mulled Cider, served NA but with an option for a shot of rum or bourbon to zing it up a little. We're also tinkering with more soup ideas for this soup season. That's what's cookin' in the restaurant. And in the shop?
---
3004 East Burnside Street • 971-806-6747
FRESH CATCH MARKET

10am–8pm Every day (except Tuesday, when we are usually closed)
10am–4pm THIS TUESDAY 11/22, MARKET ONLY
CLOSED THURSDAY 11/24 FOR THXGVN

DINE-IN RESTAURANT (walk-in only, no reservations) → MENU

11am–8pm every day (except Tuesday, when we are closed)

HAPPY HOUR

3–5pm Weekdays (except Tuesday, when we are closed)
We accept EBT/SNAP/Oregon Trail.
---
SUGGESTED ADDITIONS TO YOUR BIG FAMILY MEALS
We know you've got the turkey (or Tofurky®, shoutout Hood River) and mashed potatoes and stuffing and corn pudding all sorted out, so we shan't interfere. HOWEVER, may we suggest…
Flying Fish family-recipe house-smoked fishes: Just open, pat dry, and plate with, like, some dill or parsley garnish and a big hunk of full-bodied cheese, a basque perhaps. Smoked Fish. Yes.
Tinned fish: Oh boy, tinned fish has reached TikTok trend status. Well at risk of sounding like a grumpy ol' sourpuss, we've BEEN doing tinned fish date night! Check out the tinned fish section of our shop, it's loaded with the usuals — sardines and tunas — but also with specialty octopus and mussels and lobster. Lobster!
Flying Fish DIPS: Indeed, when I dip you dip we dip. And we, Flying Fish, dip in fishes both white AND red. Our house smoked whitefish dip and house smoked salmon dip. Try some, it look like this:
---
SPECIAL ORDERS FOR THE HOLIDAYS AHEAD
Holidays incoming: You want a whole bunch of something but want to make sure we've got it in stock? Risk averse much? Smart, actually. Order ahead. Easy peasy. All the usual fresh fishes and shellfishes, plus house smoked goods et cetera. Go:
---
SAVE THE DATE FOR THE PORTLAND BAZAAR: SAT/SUN DEC 17–18
We're happy to announce that we'll be back for the Portland Bazaar, the always fun market with a million vendors around the holidays. We'll be there for the weekend of December 17th & 18th slinging tons of our house-smoked fishes. It's at the Premier Gear & Machine Works building, 1715 NW 17th Ave, under the flyovers of the Fremont Bridge. Follow along on the Bazaar Instagram joint HERE, then come and see us and all our friends a month from now.
---
UPCOMING MUSIC IN THE BEER GARDEN (~4–7pm)
Tomorrow evening, we welcome back our tried and true honky tonkin MANN of the hour, 
Ray Mann
, for tunes with friends in our beer garden. (Which, as a reminder, is covered and heated and a generally very pleasant place to spend some time with food and drink and honky tonkin tunes.)
Saturday, November 19: Ray Mann
Saturday, November 26: (No live music this day)
Saturday, December 3: Isabel Dammann
Saturday, December 10: Megan Cronin
Saturday, December 17: Gary Furlow
Saturday, December 24: (No live music this day)
Saturday, December 31: Jazzy Dillon
All times approximately 4–7pm. Full schedule HERE.
---
NOW THEN, THE FRESH FISH NEWS!
NEW FISH ALERT: KANPACHI IS HERE!
This? This is not kanpachi. This is a fresh fish sampler. But now we'll tell you about kanpachi, which is so new we don't even have a pic of it yet.
KANNNNNPACHIIIIIIIII!
Kanpachi. Not necessarily to be confused with Kampachi, the phonetically AND genetically similar fish that is trademarked and marketed as Kona Kampachi, which we have sold here in the past. NAY, this is Kanpachi, a fresh, sushi-grade fish brand new to the market (the market at large and our market specifically). Chef Erik is particularly stoked about Kanpachi. Says he:
This is an exciting fish for several reasons:
It uses a new technology (mobile net pens) that, after 8 years of development, finally sent fish to market in August of this year. These are mobile net pens roaming about 10 miles off the shore of Costa Rica. They are ASC-certified* sustainably farmed fish. They are fed a diet of sustainable fish protein as well as vegetation.

This is sushi-grade fish featuring a mild white flesh with good oil content and texture. It cooks up nicely in the pan as well. Has a juicy bite and texture that poultry only wishes it could have.
*ASC = Aquaculture Stewardship Council
While Flying Fish obviously loves wild fish caught from excellent, ethical fishermen and fisherwomen, we are also big proponents of responsible aquaculture, i.e. sustainably farmed fish. It's why we label everything in this newsletter and on our website, it's what our captain Lyf studied in school, and as noted in an article on Quartz just this week, it could be the future of fish on a strained and overpopulated planet. Whether farmed or wild, fresh or frozen, you can trust us with fish — and we trust that you'll ask us about it if and when you have questions.
FRESH FISH AS OF FRIDAY NOVEMBER 18TH
Ahi/Bigeye Tuna* – wild, Pacific Ocean (Hawaii) – fillets
Black Cod/Sablefish – wild, Pacific Ocean (Oregon) – fillets
Branzino – sustainable farm-raised, Greece – whole fish
Kanpachi* – sustainable farm-raised, Costa Rica – fillets
Ora King Salmon* – sustainable farm-raised, New Zealand – fillets
Petrale Sole – wild, Pacific Ocean (Oregon) – fillets
Rockfish – wild, Pacific Ocean (Oregon) – fillets
Steelhead – sustainable farm-raised, Washington – fillets
Striped Bass – wild, Pacific Ocean (Baja California, Mexico) – fillets
Sturgeon – wild, Columbia River – fillets
Swordfish – wild, Pacific Ocean (Hawaii) – fillets →→→
* – Sushi-grade fish
OYSTERS: OFFICIAL DINNER STARTER
A dozen at a time, how about that. Photo by Kara • Perfect Food Days
Oysters, oysters, so many oysters. They can start a meal, but did you know they can also finish a meal? Oysters for dessert??? Nothing's unheard of. Nothing's shocking. How about green apple sorbet with gin for your oysters? 
You can do it
!
General rule: We have lots of oysters, lots of varieties, mostly from Washington, sometimes from Oregon, often from the East Coast (Massachusetts and PEI, usually). Stop in to see what we've got fresh, they rotate quickly. But as of this writing?
FRESH OYSTERS AS OF FRIDAY NOVEMBER 18TH
Baywater Indigo – Washington
Chelsea Sapphire – Washington
Netarts – Oregon
Sand Dune Select – PEI, Canada
Shigoku – Washington
Swinomish – Washington
Tidepoint – Washington
Valley Pearl – PEI, Canada
ALL OF THE SHELLFISH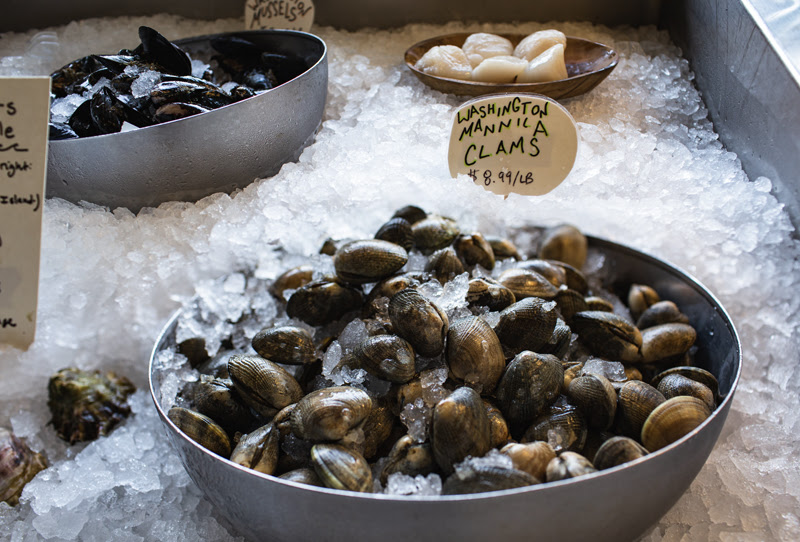 A shellfish spread, a delightful spread, a spread for the days when you're sick of turkey. A bowl of 
Bay Shrimp
 cocktail munchies as pictured below, perhaps? Or perhaps some 
Steamed Clams
, the easy kind with barely more than butter and garlic and white wine, all of which you already have. Mix in a little fresh squeezed lemon and half & half if you're into creamy, and voilà, Steamed Clams. (
This recipe
 is a good guide.) Pro tip: a Grand Central sourdough will complete the meal.
FRESH SHELLFISH AS OF FRIDAY NOVEMBER 18TH
Atlantic Scallops – wild, Atlantic Ocean (Massachusetts)
Manila Clams – sustainable farm-raised, Washington
Mussels – sustainable farm-raised, Washington
FROZEN SHELLFISH AS OF FRIDAY NOVEMBER 18TH
Bay Shrimp – wild, Pacific Ocean (Oregon) →→→
Lobster Tail – wild, Maine
Shrimp – wild, Mexico (Del Pacifico)
Squid – wild, California – tubes & tentacles
INSTAGRAM JAM OF THE WEEK
A very happy 30th birthday to @ramseycm who came to Portland and celebrated with us!
FLYING FISH SIGNOFF & DISCLOSURE
Alex gon' pour ya one tall and strong. 
PLEASE NOTE: This email was accurate at the time of its weekly writing. Some products come and go quicker than others, so for best results on the freshness, follow us on the social medias — Instagram / Facebook / Twitter — or just stop on in.
And tag us in your Instagram pics @flyingfishpdx – we love seeing your food pics!
---
Cheers,
Lyf and the Flying Fish Team: Alana, Alex, Austin, CJ, Danny, Ellison, Erik, Jack, Jae, Jesse, Julia, Kenneth, Kevin, Lydia, Maybe, Mike, Molly, Neebs, Owen, Ryan P, Ryan S, Sam, Sylvia, Wyatt, and Brad
Lyf Gildersleeve: Owner, Chief Fishmonger

Erik Englund: Culinary Director

Danny Atkins: Sous Chef

Jack Bressoud: General Manager

Alana Ginster: Assistant Manager

Wyatt Manyon: Assistant Manager 

Sam Moser: Oyster Bar Manager

Alex Stephen: Beverage Director
FLYING FISH, FAMILY OWNED SINCE 1979
Craig and Sandy Gildersleeve opened Flying Fish Company in Sandpoint, Idaho in 1979. The next year, their son Lyf was born into the family business. Now president of Flying Fish, Lyf has spent his entire life around fish, including an aquaculture education at the Harbor Branch Oceanographic Institute at Florida Atlantic University.
Lyf opened Flying Fish in Portland in 2010 as a food cart at the D Street Noshery on Division Street. In 2011, we opened the fish shack at Kruger's Farm Market on Hawthorne Boulevard. In 2016, we moved into a stand at Providore Fine Foods on Sandy Boulevard. And in February 2020, we opened our standalone location on East Burnside with a restaurant and beer garden.
Flying Fish has sister locations in Sandpoint, Idaho and Durango, Colorado.
* * *
Thank you for supporting our family-owned business. 
—Lyf, Natalie, Juniper, and Miles Gildersleeve (and Hazel the Dog)
---
PHOTO BY NATALIE GILDERSLEEVE: Juniper, in the desert, on film
Copyright © 2022 Flying Fish Company, All rights reserved.
Our mailing address is:
Flying Fish Company
3004 E Burnside St
Portland, OR 97214-1950