SPANISH STYLE GARBANZOS WITH GREENS & MANCHEGO 
Inspired by the tapas served in Spain, this simple dish shows that beans and greens are universal.
Chop the onion and cook it in extra virgin olive oil with a good pinch of sea salt over medium heat until very soft, about 15 minutes. If you're using the salami, cut it into roughly quarter inch cubes, add it to the onions, and cook for about 5 minutes to lightly brown.
Add a couple of cloves of chopped garlic and cook for another minute, then add about a cup of canned crushed tomatoes (or crush whole canned tomatoes with your hands). Reduce the heat and let simmer, uncovered, for about 10 minutes.
Chop the greens into smallish pieces; you want at least 2 cups, but more is okay since they cook down dramatically. Add them along with about a teaspoon of smoked pimentón paprika.
Cook, stirring occasionally, for about 5 minutes, then add the beans and cook until heated through, about 5 minutes.
Taste and add salt if needed. Serve with grated manchego cheese.
I like to get in the mood by popping open a tin of mejillones en escabeche and cutting a few slices of queso manchego to snack on while I gather up ingredients and get to prepping. A simple pleasure, these Galician mussels are fully cooked and swimming in a traditional sauce of pimenton and vinegar, and make for a delicious way to fake a European vacation.
LA BODEGAS DE LAS ESTRELLAS
As temperatures here in Portland are expected to climb into the 80s this week, this Spanish-influenced recipe calls for something refreshing to wash it all down with. Throughout Spain it's common to find little tapas bars serving small glasses of red or white 'vino de casa,' often poured straight from a big barrel behind the bar (sort of like we used to do at the shop with olive oil).
These wines are typically inexpensive and fresh, flexible pairing partners for the various pintxos and tapas crowding your table. In this spirit, we offer red, white, and rosé wines from La Bodegas las Estrellas, a family-owned biodynamic winery located deep in Valdepeñas, central Spain. Owners Dionisio and Karina de Nova package their wines in 1.5 liter pouches, which reduces their carbon footprint by as much as 80%, and helps keep the wine fresh for up to a month after opening. 
So, like the Spanish, we keep one of these in the fridge at all times, for an easy and economical way to enjoy a small glass of vino whenever we want… especially at lunch.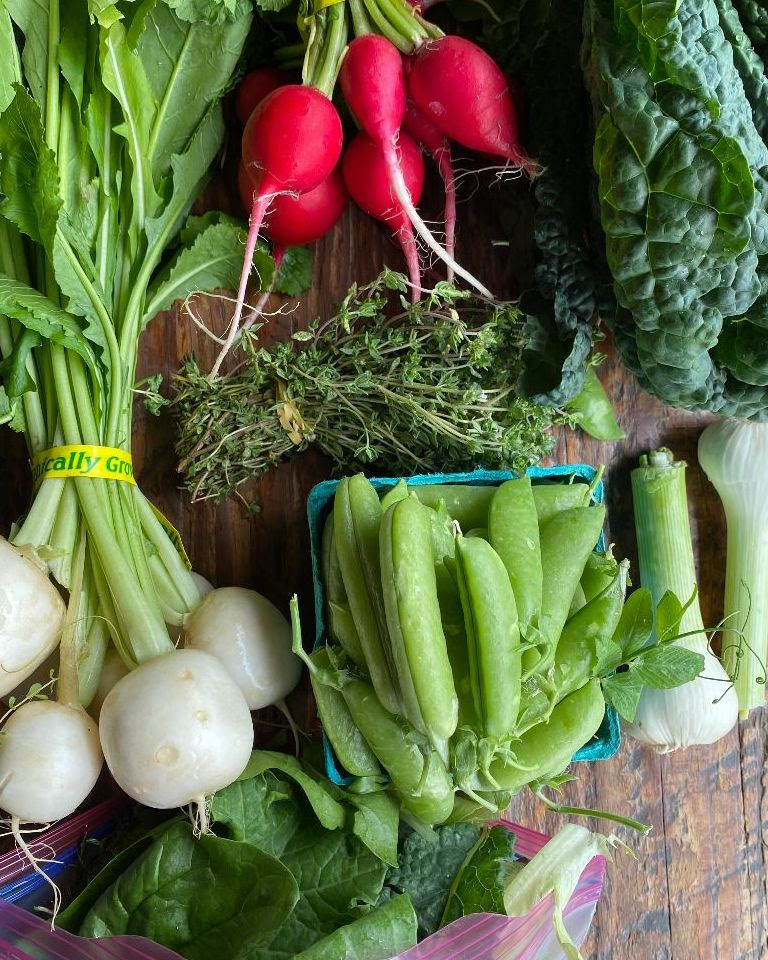 PRODUCE PICKUP
GROUNDWORK ORGANICS, TOPAZ & GATHERING TOGETHER FARMS
SOURDOUGH LOAF
GRANO BAKERY
It's starting to get hot in Portland, which means grilling season is upon us! Grab your chilled wine and pre-order your Piccone's Corner butcher box for June 5th.  Direct from Wallow & Root Farms in Sandy, Oregon to the RGF parking lot to your trunk!