FISH MARKET • RESTAURANT • OYSTER BAR
3004 East Burnside Street • 971-806-6747
* OPEN 10AM–8PM EVERY DAY EXCEPT TUESDAY *
(Closed every Tuesday)
Please read our Covid-19 house rules HERE  •  We accept EBT/SNAP/Oregon Trail.
HALP WANTED
Happy Earth Day from Cap'n Lyf and KGW8
Thank you for reading last week's thoughts on the documentary that's as poorly named as it is at telling a complete story and fact-checking – Seaspiracy – as penned by the person who writes the email you're reading. If you want to hear directly from the owner of the company whose same email you are reading, let us turn to KGW8 and our bud Drew Carney. Click that image above for a local counterpoint to that propaganda pic and hear from someone who knows about an industry near and dear to the Pacific Northwest.
---
---
In other more important news, WE ARE HIRING. Front of house, back of house, admin assistant, maintenance… If any of these caught your attention, please email Lyf: oregonfreshfish@gmail.com.
---
---
Speaking of Earth Day, shoutout to everyone who came out to BRODER ØST for our Fish Night! (Including you, Chef Trever.) We liked it so much we're gonna run it back on Thursday, May 20th. Add'l details to come.
---
---
FISH WIT US? We're heading to sea with our buds at Garibaldi Charters on Thursday, May 18th to fish for Lingcod, and we've still got a couple spots. Email Lyf – oregonfreshfish@gmail.com – if you wanna come along and cast your line.
THAT AIN'T NO HOKIE POKE
Yes, it's pronounced "pokie." Yes, it is spelled poke. No, it does not have an accent aigu.
Photo by Natalie, styling by Matthew
Okie dokie, let's talk poke. We've always got it on the menu – scroll down to see it, or just take our word for it when we tell you the options include Sesame Soy, Spicy Tobanjan (pictured above), and Cilantro Ginger. Sesame seeds, scallions, soy sauce and all that stuff is standard. Juanita's Chips? Check. Underrated sleeper ringer? That's the ogo. Ogo is the reddish brown crispy seaweed you need to make the bowl pop and taste like the ocean. Well friend, we've got ogo for YOU to take home and make yer own low-key okie dokie poke. And the fish? How about some Ora King Salmon OR Tombo Tuna, either way sushi grade, fresh ain't never been frozen. Okie. Dokie. Poke.
FRESH FISH AS OF SATURDAY APRIL 24TH
Ora King Salmon* – sustainable farm-raised, New Zealand
Tombo (Albacore Tuna)* – wild, Pacific Ocean (Hawaii)
Pacific Halibut – wild, Pacific Ocean (Alaska) – cheeks and fillets (pictured in butter by Natalie) →
Rockfish – wild, Pacific Ocean (Oregon)
English Mackerel – wild, Pacific Ocean (New Zealand) – whole and fillet
Lingcod – wild, Pacific Ocean (Oregon)
Bigeye Ahi Tuna* – wild, Pacific Ocean (Hawaii)
Sablefish/Black Cod – wild, Pacific Ocean (Oregon)
Petrale Sole – wild, Pacific Ocean (Oregon)
Sauvie Island Trout – sustainable farm-raised, Oregon
Escolar* – wild, Pacific Ocean (Hawaii)
Steelhead – sustainable farm-raised, Washington
Opah* – wild, Pacific Ocean (Hawaii)
Night Smelt – wild, Pacific Ocean (California)
* – Sushi-grade fish
SPOTTY OTTY OTTY OTTY OTTY OTTY (MWAH)

And if the beat live, you know Chef Erik made it
It's sweet meat season in the deep blue sea of the north. Alaska Spot Prawns are back and they are big and meaty, sweetie. Pop quiz, which of these is the correct way to prepare Alaska Spot Prawns? A. Grill em up and serve em over a lemony bed of arugula. B. Butterfly em and toss em in olive oil in a medium-high heated pan for no more than 20 seconds on each side. C. Eat the roe attached to the belly.
"The answer is D – all of the above." (RIP, Shock G.)
FRESH SHELLFISH AS OF SATURDAY APRIL 24TH
Spot Prawns – wild, Pacific Ocean (Alaska)
Bay Shrimp – wild, Pacific Ocean (Oregon) – cooked and peeled, ready to eat
Atlantic Scallops – wild, Atlantic Ocean (Massachusetts)
Dungeness Crab Meat – wild, Oregon – cooked and picked, ready to eat
Littleneck Clams – sustainable farm-raised, Massachusetts
Manila Clams – sustainable farm-raised, Washington
Mussels Clams – sustainable farm-raised, Washington
TALKIN' 19 TO A DOZEN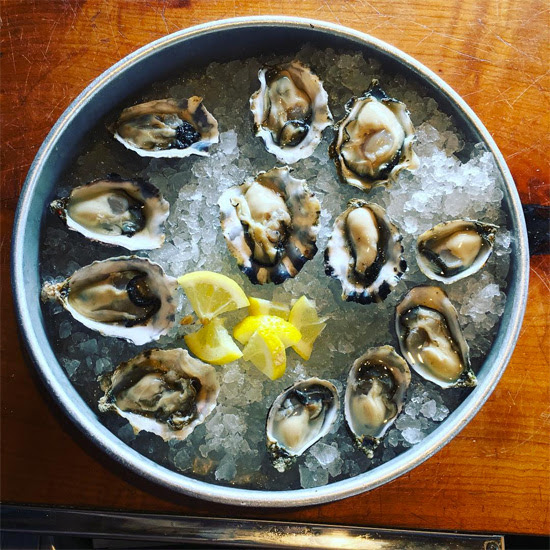 Lil squirt, lil slurp
Oysters on half shell
oysters on ice
oysters in sack
oysters are nice
oysters with twist
oysters first cousin
oysters, a list
oysters, a dozen:
FRESH OYSTERS AS OF ROUGHLY 11AM SATURDAY APRIL 24TH
Baywater Indigo – Washington
Baywater Sweet – Washington
Tidepoint – Washington
Blue Pool – Washington
Chelsea Gem – Washington
Ruby – Washington
Capital – Washington
Hama Hama – Washington
Mere Point – Maine
Kumamoto – Washington
Shigoku – Washington
Kusshi – British Columbia
FISH SMOKERS SMOKING FISH
Smoked on a plate with beer, wine, and oysters rockefeller. Parts sold separately. Nat/Matt pic.
We've been busy all week so the house fish smoker's been a little concentrated in its duties, but its duties are basically the prime numbers of our house smoked fishes. For the number 2, king of all prime numbers, we give you Smoked Ora King Salmon, the king of King from the southern hemisphere. For the number 5, Smoked Black Cod, melt in your mouth prime numbers with a second name for a second prime number, let's go with 53. That weighted prime number is for Alton Lister, the NBA journeyman who had a couple good seasons in Seattle and played his final seven games with the Blazers.
What does this mean? What indeed. Everything is made up and the points don't matter.
SMOKED FISHES AS OF SATURDAY APRIL 24TH
Smoked Ora King Salmonº
Smoked Black Cod/Sablefishº
Sockeye Salmon Lox – Kenai-Red Fish Company
º – Flying Fish house-smoked, Gildersleeve family recipe
THE MEAT SECTION IS TINTED IN THE HUE OF MAGENTA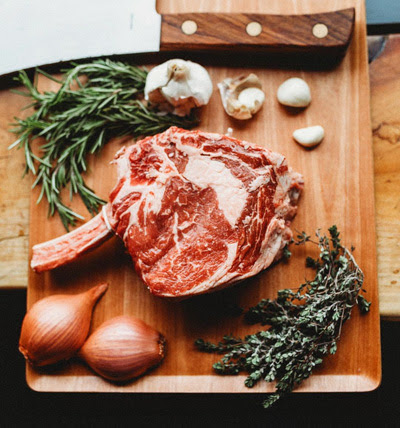 Howdy, cowboy. Heard you like
Ribeye
 with the bone IN. Well pardner, don't squat with your spurs on, we gotcha covered. A butter baste, a piping hot cast iron skillet, about five minutes on both sides, basting till crispy, let it sit on the cutting board about 8 minutes, cut to your liking, dig right in.
FRESH MEAT AS OF SATURDAY APRIL 24TH
BEEF – Carman Ranch, Wallowa Valley, OR; Laney Family Farms, Canby, OR; Painted Hills Natural Beef, John Day, OR
Ribeye (Painted Hills)
Ground beef (Laney)
Stew meat (Laney)
CHICKEN – Totum Farm, Philomath, OR
Whole bird, breast, leg quarters, hearts, liver, feet
OUR RESTAURANT MENU
For dining here or to-go. Last updated April 10, 2021.
CLICK MENU TO ORDER ONLINE FOR PICKUP:
ALSO: Cocktails, sake, wine, and beer. Inquire within.
FLYING FISH SIGNOFF & DISCLAIMER
PLEASE NOTE: This email was accurate at the time of its weekly writing. Some products come and go quicker than others, so for best results on the freshness, follow us on the social medias: Facebook, Instagram, and Twitter. And tag us in your Instagram pics @flyingfishpdx – we love seeing your food pics!
Cheers,
Lyf Gildersleeve and the Flying Fish Team: Alana, Aphid, Brooklyn, Chris, Danny, Elowynn, Erik, Jack, Jae, Jordan, Kevin, Luis, Mad Dog, Mike, Neebs, Ross, Ryan P, Ryan S, Sam, Sarah, Sawyer, Tara and Brad
INSTAGRAM JAM OF THE WEEK
@candidkitchens, that is one handsome plate of Ahi. We appreciate your support of our family business and your dedication to sourcing your own foods responsibly. 
ABOUT FLYING FISH
Craig and Sandy Gildersleeve opened Flying Fish Company in Sandpoint, Idaho in 1979 – the year before their son Lyf was born.
Now president of Flying Fish Company, Lyf has spent his entire life around fish, including an aquaculture education at the Harbor Branch Oceanographic Institute at Florida Atlantic University.
Flying Fish has three locations: Sandpoint, Idaho; Durango, Colorado; and Portland, Oregon. The Portland location opened in 2009 as a food cart at the D Street pod on Division Street. In 2011, we opened the fish shack on Hawthorne Boulevard. In 2016, we moved into a stand at Providore Fine Foods on Sandy Boulevard. In February 2020, we opened our standalone location on East Burnside with a restaurant and a patio.
* * *
Thank you for supporting our family-owned business. 
—Lyf, Natalie, Juniper, and Miles Gildersleeve (and Hazel the Dog)
* * *
PHOTO BY NATALIE GILDERSLEEVE PHOTOGRAPHY: Mama's lil 11-year-old.
Copyright © 2021 Flying Fish Company, All rights reserved.
Our mailing address is:
Flying Fish Company
3004 E Burnside St
Portland, OR 97214-1950