FISH MARKET • RESTAURANT • OYSTER BAR
3004 East Burnside Street • 971-806-6747
* MARKET OPEN 10AM–8PM EVERY DAY EXCEPT TUESDAY *
* RESTAURANT OPEN 11AM–8PM EVERY DAY EXCEPT TUESDAY *
(Both closed every Tuesday)
Please read our Covid-19 house rules HERE  •  We accept EBT/SNAP/Oregon Trail.
COCKTAILS ON THE PATIO: EASY SQUEEZY
Cocktail, anyone? Summer says you need one, and it's gonna cool you right off while we prep your oysters on the half shell, also cool. Cool, cold, cocktails. That happens on our patio, and those cocktails come through the shaker of our mixmaster Ross. Martini. Bloody. Boulevardier. Hurricane Lyf?!? Yep. Give or take. Have some.
Or perhaps you're into beer? Wine? Sake? To paraphrase an important moment in George Costanza's life, we've got it all. And you should have it too. Dining, drinking, shopping, LIVING. Those are Flying Fish's four patio principles®.
Quick reminder, we have updated our house covid rules.
And now, the fish and oysters and shellfish and smoked fish and meat, in that order, followed by the Instagram Jam of the Week sendoff and about us, as usual. Toodles.
PRO-SALMON PROGRAMMIN'
Timelapse, midstream. Still from series filmed by @zoching for Flying Fish.
Summer, summer, summertime. Time to sit back and cast lines. Our fisher friends on the Coast have lines adrift in yonder blue (and sometimes gray) Pacific, and they're reeling in the summer bounty. We've salmon aplenty: the great and sacred 
Chinook
 from both the ocean and Yakama Nation Fisheries, its companion raised carefully at sea by 
Ora King Salmon
 (pictured above as crudo), and coming in fresh from wild and scenic Juneau, Alaska, 
Taku River Reds
 sockeye salmon. This is a good place to mention our house-smoked fishes too. Be sure to check the smoked section a little further down (hint it is also salmon heavy).Also: You may have noticed our Instagram story yesterday, and if not (and even if so), it is pictured at right for your convenience. Local 
Albacore Tuna
 season is ALMOST HERE. There is nothing like peak season sashimi from Oregon caught Albacore. Don't miss it, it's on its way.
Here's all the fish that's fit to print as of right now.
FRESH FISH AS OF FRIDAY JULY 9TH
Sockeye Salmon – Taku River Reds – wild, Alaska
Chinook Salmon – wild, hook & line, Pacific Ocean (Oregon)
Chinook Salmon – wild, tribal caught, Columbia River
Ora King Salmon* – sustainable farm-raised, New Zealand
Pacific Halibut – wild, Pacific Ocean (Alaska) – fillets, steaks, cheeks
Black Cod/Sablefish – wild, Pacific Ocean (Oregon)
Lingcod – wild, Pacific Ocean (Oregon)
Rockfish – wild, Pacific Ocean (Oregon)
Escolar/Walu* – wild, Pacific Ocean (Hawaii)
Swordfish – wild, Pacific Ocean (Hawaii)
Ahi/Bigeye Tuna* – wild, Pacific Ocean (Hawaii)
Branzino – sustainable farm-raised, Greece
* – Sushi-grade fish
TASTE
Tasteful but NSFW. Photo by Natalie.
Hot days, cold oysters. That's livin' in Portland, that's livin' anywhere. See our Instagram Jam of the Week below for full instructions by Aileen Tran. We have a ton of oysters in stock (but not a ton of Kusshis – if those are your bag, get on it quick) for your riverside picnic. Sharpen up your shucker, strap on your creek shoes, LEZ GOOOOO.
FRESH OYSTERS AS OF FRIDAY JULY 9TH
Disco Hama – Washington
East Cape – Prince Edward Island
Fat Bastard – Washington
Glacier Point – Alaska
Hammersley – Washington
Hoshi – Washington
Ichabod – Massachusetts
Kokus – Washington
Kusshi – British Columbia – LIMITED SUPPLY
Los Rucos – Washington
Moon Shoal – Massachusetts
Netarts – Oregon
Pickering Passage – Washington
Shigoku – Washington
Totten Inlet – Washington
SHELLFISH: A TITILLATING TRIO
Well, it's really a titillating quartet if you include oysters, which you should, as they are both shellfish and particularly titillating. But the titillating trio above will titillate as it will: oysters from the ocean, clams and mussels from the sound. Sizzle em, stew em, eat em up with titillating vigor.
FRESH SHELLFISH AS OF FRIDAY JULY 9TH
Manila Clams – sustainable farm-raised, Washington
Mussels – sustainable farm-raised, Washington
Sea Scallops – wild, Atlantic Ocean (Massachusetts)
Littleneck Clams – sustainable farm-raised, Massachusetts
Shrimp (FROZEN) – wild, Del Pacifico, Mexico
SMOKIN' THEM FISHES
The file photo at right? We call that a harbinger, a foretoken, a sign of things to come. As noted above, local Albacore Tuna is en route, so Flying Fish house-smoked Albacore Tuna ain't too far behind. Keep a nose up for it, and in the meantime, please enjoy these selections.
SMOKED FISHES AS OF FRIDAY JULY 9TH
Smoked Ora King Salmonº
Smoked Sablefish/Black Codº
Smoked Salmon Collarsº
Smoked Salmon Belliesº
Smoked Scallopsº
Smoked Steelheadº
º – Flying Fish house-smoked, Gildersleeve family recipe
THE MEAT SECTION IS BLACK AS THE CHARCOAL COOKING YOUR BURGER
And the text is red (ish). Photo by Natalie, styling by Matthew.
You may have noticed that, with regard to meat, we have lightened our load. A lot of the stuff we often have (ribeye, chicken, pork) will be back around seasonally, but we're keeping it simple with fresh ground beef from Laney Family Farms. The photo above is just one way we prep it in house. The Company Burger on the menu may or may not match this photo. But it will be delicious, we promise that.FRESH MEAT AS OF FRIDAY JULY 9TH
BEEF – Laney Family Farms, Canby, OR
Ground beef (Laney)
OUR RESTAURANT MENU
For dining here or to-go. Menu updated June 2021CLICK MENU TO ORDER ONLINE FOR PICKUP:
ALSO: Cocktails, sake, wine, and beer for dining onsite. Inquire within.
FLYING FISH SIGNOFF & DISCLAIMER
PLEASE NOTE: This email was accurate at the time of its weekly writing. Some products come and go quicker than others, so for best results on the freshness, follow us on the social medias: Facebook, Instagram, and Twitter. And tag us in your Instagram pics @flyingfishpdx – we love seeing your food pics!
Cheers,
Lyf Gildersleeve and the Flying Fish Team: Alana, Boo-boo, Chris, Danny, Elowynn, Erik, Isabelle, Jack, Jae, Jesse, Jordan, Kenneth, Kevin, Luis, Mad Dog, Madeline, Mike, Neebs, Ross, Ryan P, Ryan S, Sam, Sarah, Sawyer, Tara, Trever, Wyatt, and Brad
INSTAGRAM JAM OF THE WEEK
You may call it showing off, but we just call it LIVIN. And @tranaileen shows us how it's done with a slurp and a cider down by the river.
ABOUT FLYING FISH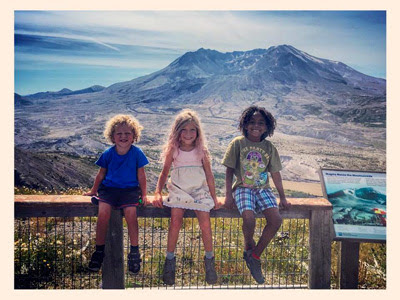 Craig and Sandy Gildersleeve opened Flying Fish Company in Sandpoint, Idaho in 1979 – the year before their son Lyf was born.
Now president of Flying Fish Company, Lyf has spent his entire life around fish, including an aquaculture education at the Harbor Branch Oceanographic Institute at Florida Atlantic University.
Flying Fish has three locations: Sandpoint, Idaho; Durango, Colorado; and Portland, Oregon. The Portland location opened in 2009 as a food cart at the D Street pod on Division Street. In 2011, we opened the fish shack on Hawthorne Boulevard. In 2016, we moved into a stand at Providore Fine Foods on Sandy Boulevard. In February 2020, we opened our standalone location on East Burnside with a restaurant and a patio.
* * *
Thank you for supporting our family-owned business. 
—Lyf, Natalie, Juniper, and Miles Gildersleeve (and Hazel the Dog)
* * *
PHOTO BY NATALIE GILDERSLEEVE PHOTOGRAPHY: Once upon a time at Mount St Helens.
Copyright © 2021 Flying Fish Company, All rights reserved.
You are receiving this email because you opted in via our website.Our mailing address is:

Flying Fish Company

3004 E Burnside St

Portland, OR 97214-1950