FISH MARKET • RESTAURANT • OYSTER BAR
3004 East Burnside Street • 971-806-6747
* MARKET OPEN 10AM–8PM EVERY DAY EXCEPT TUESDAY *
* RESTAURANT OPEN 11AM–8PM EVERY DAY EXCEPT TUESDAY *
(Both closed every Tuesday)
Please read our Covid-19 house rules HERE  •  We accept EBT/SNAP/Oregon Trail.
SALMON BURGUR DURGUR?
Yes. Salmon burgur durgur. That photo at right, taken by
Natalie Gildersleeve
 and styled by 
Matthew Domingo
, is summer at Flying Fish in a nutshell. Salmon burgur durgurs are one of the stars of the new menu, and the steelhead sammich below is one of the staples. Jojos on the side? Check. Cold Oregon beverages on tap? Check that too.
It's Flying Fish, here at 30th & Burnside, home of the salmon burgur durgur. Have it on our patio, have it at a picnic table, have it to go. Have it your way, I think I heard someone say once. Just don't have it on the beer garden – the beer garden is for drinks and oysters. FYI.
It's the first weekend in June. Things are looking up (Blazers aside). Order in, take out, do some shopping, have fun. And just as a reality check refresher, our current COVID POLICY: Please wear a mask when inside the store/heading to restroom and when ordering at the host stand.
All righty. The fresh list is upon us. As we go a little something like this, HIT IT.
TROUT CLOUT
You may think this photo was staged but this is just how nature falls into place.
This and additional staged photos by Natalie Gildersleeve.
Trout. Fillets. Fresh. Fantastic. Rainbow trout surrounded by a rainbow of veggies and herbs. Ain't life grand?
And as for the parent salmon? Examine the salmon, Sammy, it's slammin', we're jammin', ain't no famine, just salmon, you just won backgammon. Wow!
Chinook Salmon, the classic, the motherfish, troll caught in yonder Pacific Ocean. The Pacific bounty continues from Alaska to Hawaii and all shore points between.
FRESH FISH AS OF FRIDAY JUNE 4TH
Ahi/Bigeye Tuna* – wild, Pacific Ocean (Hawaii)
Chinook/King Salmon – wild, troll caught, Pacific Ocean (Oregon)
Lingcod – wild, Pacific Ocean (Oregon)
Ora King Salmon* – sustainable farm-raised, New Zealand
Pacific Halibut – wild, Pacific Ocean (Alaska) – fillets, steaks, cheeks
Rainbow Trout – sustainable farm-raised, Idaho – fillets
Rockfish – wild, Pacific Ocean (Oregon) →
Sablefish/Black Cod – wild, Pacific Ocean (Oregon)
Swordfish – wild, Pacific Ocean (Hawaii)
Steelhead – sustainable farm-raised, Washington
* – Sushi-grade fish
BITE ME, I'M A SCALLOP.
Too edgy? Photo by Natalie.
Put a little sizzle on your tongue – that's what pan seared sea scallops do. You can already hear the sizzle of a preheated cast iron skillet with perfect vegetable oil raring to go. Feed the need. Sizzle those scallops. Enjoy.

FRESH SHELLFISH AS OF FRIDAY JUNE 4TH
Dungeness Crab Meat – wild, Oregon – cooked and picked, ready to eat
Littleneck Clams – sustainable farm-raised, Massachusetts
Manila Clams – sustainable farm-raised, Washington
Mussels – sustainable farm-raised, Washington
Sea Scallops – wild, Atlantic Ocean (Massachusetts)
HAVE A DOZEN, COUSIN
A dozen varieties for a dozen slots on your circular aluminum tray with crushed ice. Isn't that nice and tidy? Maybe your tray has 14 slots. If so, stop by this weekend, we'll probably have 14 by then. Or more. Or less. Your mileage may vary. We confess. O lord have mercy upon us miserable offenders.
FRESH OYSTER VARIETIES AS OF FRIDAY JUNE 4TH
Blue Pool – Washington
Disco Hama – Washington
Hama Hama – Washington
Hoshi – Washington
Kokus – Washington
Kusshi – British Columbia
Los Rucos – Washington
Mere Point – Maine
Shigoku – Washington
Summerstone – Washington
Totten Inlet – Washington
Whaleback – Maine
SMOKIN' SAMPLES
Stone cold killin' that stone ground mustard. Photo by Natalie
It's salty, it's smoky, it's sweet. And if you spread it over some crostini with some stone ground mustard, it adds a tang of sour and the wholesome crunch of bread. Wow!
SMOKED FISHES AS OF FRIDAY JUNE 4TH
Smoked Scallopsº
Smoked Ora King Salmonº
Smoked Steelheadº
Smoked Sablefish/Black Codº
º – Flying Fish house-smoked, Gildersleeve family recipe
BEEF STEW WEATHER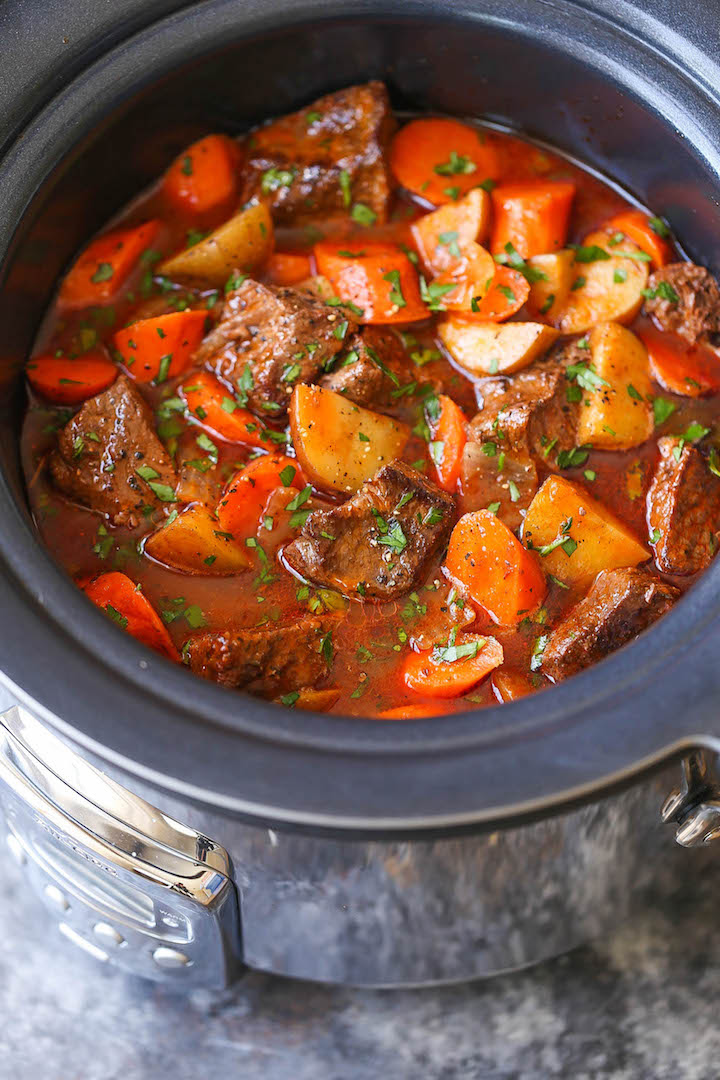 Sixties, damp, and gray. This weekend's forecast is tailor made for 
Beef Stew
. Get out your slow cooker, get a couple pounds of Laney Family Farms stew meat, load up on the potatoes and carrots, and don't forget a couple sprigs of fresh rosemary. The photo here is from a spectacular and easy recipe from Damn Delicious that is accurately named. Check it out 
HERE
.
FRESH MEAT AS OF FRIDAY JUNE 4TH
BEEF – Carman Ranch, Wallowa Valley, OR; Laney Family Farms, Canby, OR
Ground beef (Laney)
Stew meat (Laney)
CHICKEN – Totum Farm, Philomath, OR
Whole bird, breast, leg quarters, hearts, liver, feet
OUR RESTAURANT MENU
For dining here or to-go. Menu updated May 2021
CLICK MENU TO ORDER ONLINE FOR PICKUP:
ALSO: Cocktails, sake, wine, and beer for dining onsite. Inquire within.
FLYING FISH SIGNOFF & DISCLAIMER
PLEASE NOTE: This email was accurate at the time of its weekly writing. Some products come and go quicker than others, so for best results on the freshness, follow us on the social medias: Facebook, Instagram, and Twitter. And tag us in your Instagram pics @flyingfishpdx – we love seeing your food pics!
Cheers,
Lyf Gildersleeve and the Flying Fish Team: Alana, Boo-boo, Chris, Danny, Elowynn, Erik, Isabelle, Jack, Jae, Jesse, Jordan, Kevin, Luis, Mad Dog, Mike, Neebs, Ross, Ryan P, Ryan S, Sam, Sarah, Sawyer, Tara, Trever, Wyatt, and Brad
INSTAGRAM JAM OF THE WEEK
Not gonna lie, @pdxnomnom, that pic's kinda making us hungry. All the best to your friend moving to Austin!
ABOUT FLYING FISH
Craig and Sandy Gildersleeve opened Flying Fish Company in Sandpoint, Idaho in 1979 – the year before their son Lyf was born.
Now president of Flying Fish Company, Lyf has spent his entire life around fish, including an aquaculture education at the Harbor Branch Oceanographic Institute at Florida Atlantic University.
Flying Fish has three locations: Sandpoint, Idaho; Durango, Colorado; and Portland, Oregon. The Portland location opened in 2009 as a food cart at the D Street pod on Division Street. In 2011, we opened the fish shack on Hawthorne Boulevard. In 2016, we moved into a stand at Providore Fine Foods on Sandy Boulevard. In February 2020, we opened our standalone location on East Burnside with a restaurant and a patio.
* * *
Thank you for supporting our family-owned business. 
—Lyf, Natalie, Juniper, and Miles Gildersleeve (and Hazel the Dog)
* * *
PHOTO BY NATALIE GILDERSLEEVE PHOTOGRAPHY: Daydream Juni.
Copyright © 2021 Flying Fish Company, All rights reserved.
Our mailing address is:
Flying Fish Company
3004 E Burnside St
Portland, OR 97214-1950