FISH MARKET • RESTAURANT • OYSTER BAR
3004 East Burnside Street • 971-806-6747
* MARKET OPEN 10AM–8PM EVERY DAY EXCEPT TUESDAY *
* RESTAURANT OPEN 11AM–8PM EVERY DAY EXCEPT TUESDAY *
(Both closed every Tuesday)
Please read our Covid-19 house rules HERE  •  We accept EBT/SNAP/Oregon Trail.
AN OCEAN, A NOTION
Take a big step back and see the sea. Samuel Boardman at sunset.
The ocean is having a moment. The Paul Nicklen / Yo-Yo Ma 
collaboration on Antarctica
 premiered last week. National Geographic 
formally recognized
 the waters surrounding Antarctica as the Southern Ocean. And that announcement came on 
World Oceans Day
, celebrated every June to recognize the power and importance of the precious resource that covers a vast majority of the only planet we inhabit.
For Flying Fish's part, we couldn't do what we do without the ocean. Obviously. With that in mind, Lyf published his latest blog post, which began as a Mindfulness Challenge for Earth Day. The spirit of Earth Day and World Oceans Day are intertwined anyway, and Lyf's list of seven tips for mindful living will remain evergreen. They're the guidelines Lyf and his family follow in this life here in Portland, here on Planet Earth. Check it out HERE.
---
And to be one with the ocean, one must eventually come TO the ocean. We'll be doing that to ring in the fall, Tuesday, September 21st, when we leave port in Astoria and head out the mouth of the Columbia River, and cast our lines for Coho Salmon on their run home from the deep blue Pacific. It's $200, keep what ya catch. Email Lyf – oregonfreshfish@gmail.com – if you're interested. Pro tip: Book an airbnb the night before, fill up your cooler with Buoy Beer, and get a head start with us in the morning.
---
Wanna talk fresh fish? Okay, let's talk fresh fish.
STEELIES & ZEALIES
For reallies.
SID BREAM. Tragic hero. Sid was a native of Central Pennsylvania, playing for his beloved Pittsburgh Pirates in the first two of their three years of dominance in the early 1990s. By the third, he'd begrudgingly left Pittsburgh after the team's penny pinching management (which it remains today) wouldn't pay him what he was worth. He went to Atlanta, contributing to their run to the playoffs, where they faced? PITTSBURGH.
In the bottom of the 9th inning of game 7, down one run with two outs, Sid was on second base with the winning run. (The tying run was on third.) Sid's former teammate and fellow Central PA native Stan Belinda was on the mound, trying to preserve the Pirates' 2-1 lead and finally lift them to the World Series. Atlanta's last hope, the little used Francisco Cabrera, drove a 2-1 pitch to leftfield. Slow-footed Sid, who'd had knee surgery only months before, ran as fast as he could toward home while legendary villain Barry Bonds scooped the ball and fired it toward home. Sid slid in a split second ahead of catcher Mike LaValliere's tag, winning the game and series for the Braves, forever cementing his hero status in Atlanta. Sid Bream, tragic hero.
SEA BREAM. Totally unrelated. As you can see in the photo of our fish case, above, Sea Bream is parenthetically known as (Snapper). This has both a simple explanation and a big picture view. In New Zealand, where they're reeled in via set longline in the Pacific, they're known as Snapper. In the US, "Snapper" tends to imply Red Snapper and an association with the Southeast, where its longtime popularity has led to overfishing – which in turn has led to the mislabeling of other fish AS Red Snapper. Flying Fish does not carry American Red Snapper, and will not until it's safe and appropriate to do so. We do, however, currently have New Zealand Red Snapper, which is not to be confused with American Red Snapper, which is not to be confused with New Zealand Snapper, which we call Sea Bream, to avoid confusion.
In conclusion, no confusion, pro seclusion, go Venusian. Never forget that we're all going to die. Live life to the fullest, be kind, and hug someone you love today. Amen.
FRESH FISH AS OF FRIDAY JUNE 11TH
Smelt – wild, Pacific Ocean (California)
Kampachi* – sustainable farm-raised, Hawaii
Ono/Wahoo* – wild, Pacific Ocean (Hawaii)
Swordfish – wild, Pacific Ocean (Hawaii)
Pacific Halibut – wild, Pacific Ocean (Alaska) – fillets, steaks, cheeks →
Rainbow Trout – sustainable farm-raised, Idaho
Ora King Salmon* – sustainable farm-raised, New Zealand
Red Snapper* – wild, Pacific Ocean (New Zealand)
Sea Bream (Snapper)* – wild, Pacific Ocean (New Zealand)
Trevally* – wild, Pacific Ocean (New Zealand)
Lingcod – wild, Pacific Ocean (Oregon)
Petrale Sole – wild, Pacific Ocean (Oregon)
Rockfish – wild, Pacific Ocean (Oregon)
Sablefish/Black Cod – wild, Pacific Ocean (Oregon)
Steelhead – sustainable farm-raised, Washington
* – Sushi-grade fish
MUSSELS FOR YOUR CAZUELAS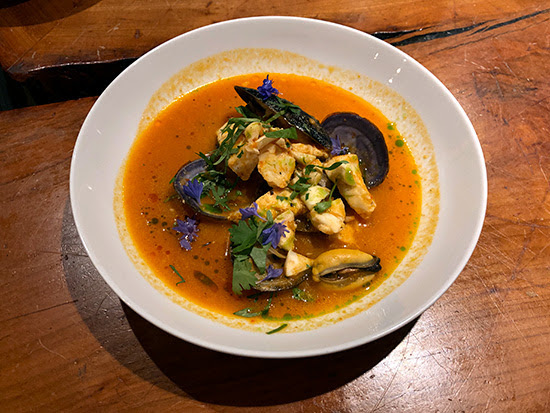 Like that cat from the internet, this soup's got CHONK.
This right here is a shoutout to our homie Trever, Flying Fish kitchen comrade and architect of the Cazuelas de Mariscos seen here. With a red coconut broth, this "seafood casserole" features mussels, clams, and big ol' chonks of Halibut. This photo was taken at the Colombia Popup Dinner we hosted a couple years ago at our previous location. Chefs Trever and Andre Uribe – who's killing it on the home-delivered private chef life with his Sustainable Meals Oregon – knocked it out of the park like Sid Bream over nine courses. We recommend trying cazuelas de mariscos at home. Stop on in, we've got the proteins you'll need.

FRESH SHELLFISH AS OF FRIDAY JUNE 11TH
Dungeness Crab Meat – wild, Oregon – cooked and picked, ready to eat
Manila Clams – sustainable farm-raised, Washington
Mussels – sustainable farm-raised, Washington
Sea Scallops – wild, Atlantic Ocean (Massachusetts)
OYSTERS, STARS OF THE SPREAD
Half a dozen's not enough on that plate. Better put another one on its own plate just in case.
Photo by Natalie, styling by Matthew, inspiration by Sid Bream.
The Flying Fish dining patio, where only the tables are blue. Cure your own blues with some oysters. Have em here and we'll shuck em for you and serve em up on the half shell, ready to slurp with tiny lemon pieces and tangy mignonette. Here are the dozen varieties we have as of this writing. PLEASE NOTE as noted in all caps: Kumamotos are popular lil buggers and as such they are currently in LIMITED QUANTITIES. Set your expectations accordingly.
FRESH OYSTER VARIETIES AS OF FRIDAY JUNE 11TH
Blue Pool – Washington
Disco Hama – Washington
Hama Hama – Washington
Hoshi – Washington
Kokus – Washington
Kumamoto – Washington – LIMITED QUANTITIES
Kusshi – Massachusetts
Los Rucos – Washington
Mere Point – Maine
Pickering Passage – Washington
Shigoku – Washington
Whaleback – Maine
THE RADDER PLATTER
Scoops for smokes. Photo by Natalie.
As noted in the section headline, the Flying Fish smoked salmon presents a radder platter for chatter to flatter, a badder batter like our man Sid Bream. It's all true. Do the research.
That radder badder fatter platter is on the Flying Fish menu for dining in house. You could get it to go, but tbh it travels a little clunky. Better to take home a whole hunk of smoke and make your own platter. It's all true. Do the research.
SMOKED FISHES AS OF FRIDAY JUNE 11TH
Smoked Scallopsº
Smoked Ora King Salmonº
Smoked Steelheadº
Smoked Sablefish/Black Codº
º – Flying Fish house-smoked, Gildersleeve family recipe
THE MEAT SECTION IS HURTING MY EYES
Ooey gooey eggy ham durgur! OW MY EYES
[SHOUTING LIKE A WEATHER REPORTER STANDING ON THE BEACH DURING A HURRICANE:]
"THE PURPLE TEXT ON BRIGHT GREEN BACKGROUND IS UNNECESSARY, A SIGN OF POOR TASTE, AND FRANKLY AN AFFRONT TO COMMON DECENCY. PEOPLE ALREADY RECEIVE SO MUCH EMAIL. WHO ARE YOU HOPING TO REACH WITH THIS HEINOUS FORMATTING? HOW DOES THIS COMMUNICATE FRESH, RESPONSIBLY RAISED LOCAL MEAT? THIS IS POOR FORM, YOU SON OF A BITCH.
BACK TO YOU, BOB."
FRESH MEAT AS OF FRIDAY JUNE 11TH
BEEF – Carman Ranch, Wallowa Valley, OR; Laney Family Farms, Canby, OR
Ground beef (Laney)
Stew meat (Laney)
OUR RESTAURANT MENU
For dining here or to-go. Menu updated June 2021
CLICK MENU TO ORDER ONLINE FOR PICKUP:
ALSO: Cocktails, sake, wine, and beer for dining onsite. Inquire within.
FLYING FISH SIGNOFF & DISCLAIMER
PLEASE NOTE: This email was accurate at the time of its weekly writing. Some products come and go quicker than others, so for best results on the freshness, follow us on the social medias: Facebook, Instagram, and Twitter. And tag us in your Instagram pics @flyingfishpdx – we love seeing your food pics!
Cheers,
Lyf Gildersleeve and the Flying Fish Team: Alana, Boo-boo, Chris, Danny, Elowynn, Erik, Isabelle, Jack, Jae, Jesse, Jordan, Kevin, Luis, Mad Dog, Mike, Neebs, Ross, Ryan P, Ryan S, Sam, Sarah, Sawyer, Tara, Trever, Wyatt, and Brad
INSTAGRAM JAM OF THE WEEK
@anyrued, this photo is simple perfection. Straight up poetry, slidin' on em like Sid Bream.
ABOUT FLYING FISH
Craig and Sandy Gildersleeve opened Flying Fish Company in Sandpoint, Idaho in 1979 – the year before their son Lyf was born.
Now president of Flying Fish Company, Lyf has spent his entire life around fish, including an aquaculture education at the Harbor Branch Oceanographic Institute at Florida Atlantic University.
Flying Fish has three locations: Sandpoint, Idaho; Durango, Colorado; and Portland, Oregon. The Portland location opened in 2009 as a food cart at the D Street pod on Division Street. In 2011, we opened the fish shack on Hawthorne Boulevard. In 2016, we moved into a stand at Providore Fine Foods on Sandy Boulevard. In February 2020, we opened our standalone location on East Burnside with a restaurant and a patio.
* * *
Thank you for supporting our family-owned business. 
—Lyf, Natalie, Juniper, and Miles Gildersleeve (and Hazel the Dog)
* * *
PHOTO BY NATALIE GILDERSLEEVE PHOTOGRAPHY: Beach dreamers.
Copyright © 2021 Flying Fish Company, All rights reserved.