FISH MARKET • RESTAURANT • OYSTER BAR
3004 East Burnside Street • 971-806-6747
OUR HOURS
HEADS UP: We'll be closed on Monday, April 11th for a staff retreat.
MARKET: 10am–8pm every day except Tuesday 
RESTAURANT: 11am–8pm every day except Tuesday (walk-in only, no reservations)
CHEF SHACK: 1–8pm Friday–Sunday
HAPPY HOUR: 3–5pm every day except Tuesdays & holidays
TUESDAY: CLOSED
Please read our Covid-19 house rules HERE  •  We accept EBT/SNAP/Oregon Trail.
BUT FIRST, SOME IMPORTANT ANNOUNCEMENTS
"Important" is subjective, I suppose, but ain't that life in 2022? God help us all. HEY it's a FLYING FISH FRIDAY and HERE IS YOUR NEWSLETTER.
FIRST: As you probably just noted in red above, we will be closed this coming Monday, April 11th, in addition to our usual Tuesday off, for we are going shuckin in the wild. Shoutout to the 20 or so customers who'll head north with us for our Flying Fish Field Trip to Hama Hama, and our staff will retreat to Baywater that evening. We're open through the weekend, then we'll we back in action as usual on Wednesday. Check out all remaining 2022 field trip availability HERE.
---
---
HALIBUT PINCH HITTER
SECOND: FYI, this weekend on the patio, we'll be subbing in Halibut for our Fish & Chips (it's usually Cod). Sorry for the convenience.
---
---
THIRD, but probably first in subjective importance: We are thrilled and honored to announce that we are officially a member of 1% For the Planet. (Check us out on the directory HERE.) Flying Fish Company has been committed to sustainability from the very beginning. It's how we make decisions on what products we bring into the Fresh Catch Market, how and what we serve at our Restaurant & Oyster Bar (including the drinks), and how we run our business.
With our membership to 1% For the Planet, this means we are committed to donating 1% of our gross sales to environmental nonprofits to create a healthier planet for us all. We wouldn't be able to make this commitment without your support — and your belief in this ethos too. We really appreciate all of you — thank you for caring, and thank you for helping us make this the best thing it can be.
---
---
GUATEMALAN CHEF SHACKIN' W/ ELI TOMORROW, NOLA FLAVORS W/ MIKE NEXT WEEK
Thirdly, TOMORROW at the Chef Shack: Chef Eli Marroquin from Portland Pupusas y Taqueria will taquover the Chef Shack, 1–8pm, just come on by to see the menu. Steve Cheseborough will be back on the patio for a Saturday serenade, 4–7ish.
Then next week, Mike Aldridge is bringing his New Orleans flavor with 200 pounds of live crawfish for a classic NOLA boil. Bring your krewe, it's gonna be a hoot
UPCOMING CHEF SHACK CHEFS
UPCOMING CHEF SHACK MUSIC
See more HERE.
---
---
EARTH DAY ADVANCE, TOMORROW
TOMORROW, April 9th, join us at the coast for Surfrider Portland's Oswald West Action Day. Surfrider's organized a wonderful morning of service including beach and trail cleanup, beach restoration and more. DETAILS AND SIGNUP HERE.
ALSO: Speaking of important announcements buried in this deluge of information we send you every week: Flying Fish is now officially a Surfrider Ocean Friendly Restaurant!
---
---
EARTH DAY FOR REAL, FRI 4/22
Earth Day is Friday 4/22/22, and for the occasion the good captain Lyf is teaming up with Taylor Shellfish, Reef Renewal Curaçao, and Saildrone to Defend Our Future and talk fishery policy and seafood economy. And we'll be joined by Congresswoman Suzanne Bonamici, whose 1st Congressional District reaches from Forest Park to Cannon Beach. It's 10–11:30am two weeks from today, online, so you can have us open in a background window while you're "working." It's free, and there's a raffle at the end. SIGN UP HERE.
---
---
GRAINS OF WRATH, FLYING FISH INCOMING TUES 4/26
HEADS UP: Drink Boss Ross is taking a Flying Fish cadre to Grains of Wrath's PDX Brewhouse up on North Williams on Tuesday, April 26th, 5–8pm or sold out. We'll be shucking oysters to go with their tasty, award winning beers and they will also have an oyster themed cocktail special for the day. Mark yer calendars.
---
---
AND NOW, HERE GO THE FRESH FISH:
HALIBUTTER BABY
Wild Alaska Halibut
 is COOKIN, y'all. It's coming in full and fresh, full stop, and you are hereby invited to get down to brown butter. This photo  by 
Natalie
 at right sets the stage: Season both sides of a couple healthy Halibut fillets with salt and pepper (and maybe some Classic Foods spices of your choosing — see below for the spice), get some olive oil hot over medium high in a cast iron skillet, and cook the fish for three minutes. Get that side nice and brown, but not scorched. Flip it and do three more minutes. Remove the fish to a plate, throw half a stick of butter and a handful of sage leaves on medium high into the skillet, and let it foam up. When it starts to brown, turn the heat off, squeeze some lemon, whip it up with a fork and pour it straight over the fish. Top it off with some ground Oregon hazelnuts, dig in, and get a postcard ready to send mom. This is a meal you're going to write home about.
ALSO! Lyf's favorite fish is back in stock in limited supply: Ivory King Salmon. It's Chinook Salmon, it's just missing its salmony pink pigmentation. It's desaturated, it's deceiving, it's dangerously delicious. Never had it? Now's the time.
FRESH FISH AS OF FRIDAY APRIL 8TH
Ahi/Bigeye Tuna* – wild, Pacific Ocean (Hawaii) – fillets
Black Cod/Sablefish – wild, Pacific Ocean (Oregon) – fillets
Branzino – sustainable farm-raised, Greece – whole fish
Chinook Salmon – wild, Pacific Ocean (Oregon) – fillets
Halibut – wild, Pacific Ocean (Alaska) – fillets
Ivory King/Chinook Salmon – wild, Pacific Ocean (Oregon) – fillets →
Ono/Wahoo* – wild, Pacific Ocean (Hawaii) – fillets
Ora King Salmon* – sustainable farm-raised, New Zealand – fillets
Petrale Sole – wild, Pacific Ocean (Oregon) – fillets
Rainbow Trout – sustainable farm-raised, Washington – whole fish
Rockfish – wild, Pacific Ocean (Oregon) – fillets
Sea Bream* – wild, Pacific Ocean (New Zealand) – whole fish
Steelhead – sustainable farm-raised, Washington – fillets
Swordfish – wild, Pacific Ocean (Hawaii) – fillets
Tombo/Albacore Tuna* – wild, Pacific Ocean (Hawaii) – fillets
* – Sushi-grade fish
A DOZEN DOES IT

1-2-3-4-5, 6-7-8-9-10, 11 TWELVE. Photo by Natalie.
Twelve is the number most often associated with oysters. Did you know that? It's science. And for YOU, fellow mathletes, we have just that many varieties of fresh oysters for shuckin – your shuckin, our shuckin, your mom's shuckin, everybody's shuckin. Twelve. 12. Shuck shuck shuck shuck shuck shuck shuck shuck shuck shuck shuck shuck. 12.
FRESH OYSTERS AS OF FRIDAY APRIL 8TH
Aphrodite – Washington
Baywater Indigo – Washington
Baywater Sweet – Washington
Chelsea Gem – Washington
Cora Cressy – Maine
Fin de la Baie – New Brunswick
Hama Hama – Washington
Los Rucos – Washington
Moon Rock – Oregon
Netarts – Oregon
Tidepoint – Washington
Whaleback – Maine
MMM, MUSSELS
Fancy mussel fancy
When it comes to mussel broth, are you a sipper or a dipper? The bread, you will dip. Bowl to mouth, you will sip. Napkin on ready, you will drip. The dip, the sip, the drip; it's the mussel trip.
FRESH SHELLFISH AS OF FRIDAY APRIL 8TH
Manila Clams – sustainable farm-raised, Washington
Mussels – sustainable farm-raised, Washington
Savory Clams – sustainable farm-raised, Washington
Shucked oysters in a jar
OF SPICES AND SUNDRIES AND SUCH
That's a spicy spice rack 
Longtime readers of this weekly newsletter will recognize this section as a hodgepodge, a mishmash, a 
potpourri
. And we thank you, do reader, old Hawthorne heads and Burnside bébés alike – all 8,200 of you! Our prepared products section sings songs of smoked fishes. Our frozen products list has small lil shrimpies and big ass prawns. Sometimes we talk meat, sometimes we talk swag. Today, we get spicy over sundries and such. You may have noticed that as life during covid has evolved, so too has the fish market interior space — we've been adding lots of local products that we think you'll find as handy as we do. Like a whole rack of spices from Portland classic, 
Classic Foods
. Six bucks each for a whole spread of spices.
ALSO? Portland Ketchup? Aardvark Sauce? Barnacle BBQ? Have some, all of the above. And so much more.
PREPARED PRODUCTS TO GO AS OF FRIDAY APRIL 8TH
Cold Smoked Ora King Salmon
Dulse Seaweed
Grab n Go Pokeº →
House Smoked Fishesº
Smoked Salmon Dipº
Smoked Whitefish Dipº
Sushi Style Pickled Ginger
º – Flying Fish house-made products
SELECT FROZEN PRODUCTS AS OF FRIDAY APRIL 8TH
Alaskan Sablefish
Alaskan Spot Prawns
Copper River Sockeye Salmon
Ikura
Masago
Mexican Blue Shrimp Easy Peel and Peeled & Deveined
Octopus
Oregon Bay Shrimp
Premium Lobster Tails
Salt Cod
Tobiko
Weathervane Scallops
OUR RESTAURANT MENU
For dining here or to-go.
CLICK MENU TO ORDER ONLINE FOR PICKUP:
ALSO: Cocktails, sake, wine, and beer for dining onsite. Inquire within.
INSTAGRAM JAM OF THE WEEK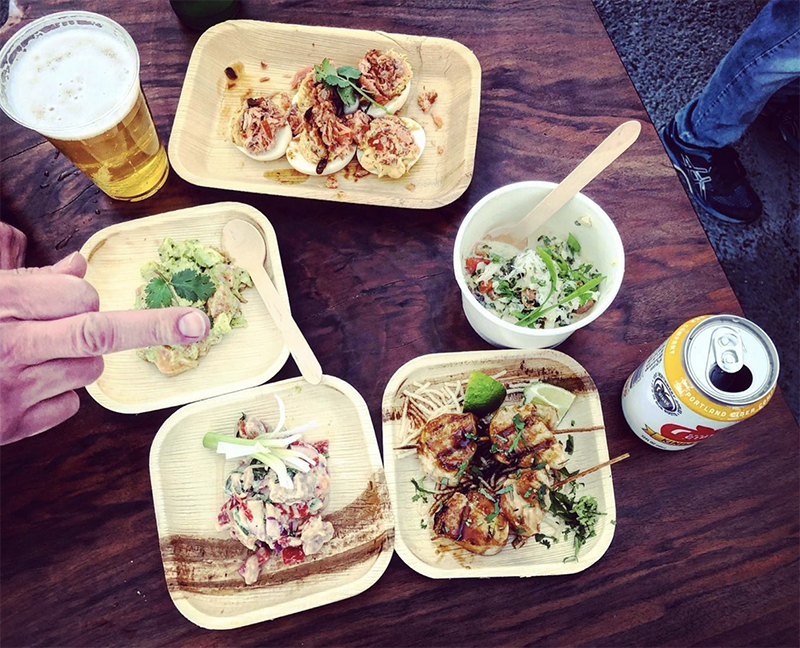 @plaiddie sez: "We're #1!
FLYING FISH DISCLOSURE
Chris and Danny: Flying Fish seasoned veterans.
PLEASE NOTE: This email was accurate at the time of its weekly writing. Some products come and go quicker than others, so for best results on the freshness, follow us on the social medias: Facebook, Instagram, and Twitter. And tag us in your Instagram pics @flyingfishpdx – we love seeing your food pics!
---
Cheers,
Lyf and the Flying Fish Team: Alana, Alex, Alina, Boo-boo, Chris, Danny, Ellison, Elowynn, Erik, Gabby, Jack, Jae, Jordan, Kenneth, Kevin, Luis, Madeline, Mike, Neebs, Owen, Ross, Ryan P, Ryan S, Sam, Sawyer, Shannon, Trever, Wyatt, and Brad
Lyf Gildersleeve: Owner, Chief Fishmonger
Erik Englund: Culinary Director
Danny Atkins: Sous Chef
Jack Bressoud: General Manager
Ross Richardson: Beverage Director
Genevieve "Boo-Boo" Jen: Operations Manager
Sam Moser: Oyster Bar Manager
Sawyer Lovell: Fish Market Manager
Alana Ginster: Assistant Manager
Trever Gilbert: Chef Shack Executive Chef
FLYING FISH, FAMILY-OWNED SINCE 1979
Craig and Sandy Gildersleeve opened Flying Fish Company in Sandpoint, Idaho in 1979. The next year, their son Lyf was born into the family business. Now president of Flying Fish, Lyf has spent his entire life around fish, including an aquaculture education at the Harbor Branch Oceanographic Institute at Florida Atlantic University.
Lyf opened Flying Fish in Portland in 2010 as a food cart at the D Street Noshery on Division Street. In 2011, we opened the fish shack at Kruger's Farm Market on Hawthorne Boulevard. In 2016, we moved into a stand at Providore Fine Foods on Sandy Boulevard. And in February 2020, we opened our standalone location on East Burnside with a restaurant and patio, and in January 2022 we added the Chef Shack.
Flying Fish has sister locations in Sandpoint, Idaho and Durango, Colorado.
* * *
Thank you for supporting our family-owned business. 
—Lyf, Natalie, Juniper, and Miles Gildersleeve (and Hazel the Dog)
* * *
PHOTO BY NATALIE GILDERSLEEVE PHOTOGRAPHY: Mount Hood bums. 
Copyright © 2022 Flying Fish Company, All rights reserved.
Our mailing address is:
Flying Fish Company
3004 E Burnside St
Portland, OR 97214-1950