FISH MARKET • RESTAURANT • OYSTER BAR
3004 East Burnside Street • 971-806-6747
 * PLEASE NOTE HOURS THIS WEEK * 
FRESH CATCH MARKET: Regular hours, 10am–8pm every day (except Tuesday, when we are closed)
DINE-IN RESTAURANT (walk-in only, no reservations): Takeout only today (Fri 5/6), then 11am–8pm every day (except Tuesday, when we are closed)
CHEF SHACK: Closed today/tomorrow, then 1–8pm Sunday
HAPPY HOUR: 3–5pm Weekdays (except Tuesday, when we are closed)
TUESDAY: CLOSED
We accept EBT/SNAP/Oregon Trail.
STAFFING STUFF
It is us, it is Flying Fish staff
Lighthearted greeting
: HELLO and HAPPY FRIDAY.
Important programming note: Flying Fish is currently a wee short on staff and as such our restaurant is TO-GO ONLY today. You can place an ORDER ONLINE, right over the internet. You can choose any time between 11:30am and 7:15pm to pick up your food. No minimum order, no fee. Wow. Again, the link to place an ORDER ONLINE, right over the internet, is RIGHT HERE. Thank you very kindly for understanding — and while we have the downtime today, we're going to make some improvements to the patio and host stand. Power through, keep it rolling.
Also: Because of the aforementioned staffing stuff, the Chef Shack will be closed today and tomorrow as Chef Trever helps out in the kitchen. The patio will resume dining-in hanging-out TOMORROW, and Paul Howard will play his saxophone 4–7pm for the occasion. The Chef Shack will resume normal hours Sunday. Then next Saturday May 14th, Chef Don Salamone of Burger Stevens and Stevens Italiano will helm the Chef Shack. That's him at right in a still from a Bones Brigade video. His menu consists of:
Oysters Casino
Cazzilli (Italian Potato Croquettes)
Pulpo (Grilled Octopus)
Pork Cutlet Slider
…and the following week, our old pals down Sandy way Tails & Trotters bring their Oregon hazelnut-finished Oregon pork to the Chef Shack:
Hong Shao Rou braised rib bites, lemon-tahini slaw, & pickled bok choi
Kalua Pulled Pork, Chef Shack mac salad, & pickled bok choi
Also: Just to let you know, both our Fish & Chips and our Fish Tacos are still rockin' the rockfish (and not the usual cod, which will return at some point).
And finally: A woman's body is her own sanctuary about which she can make decisions her goddamn self. Men should not make laws governing women's bodies. Not now, not ever.
UPCOMING CHEF SHACK CHEFS
Saturday, May 14: Don Salamone, Burger Stevens / Stevens Italiano
Saturday, May 21: Tails & Trotters
Saturday, June 4: Jenn Louis
Saturday, July 2: Two Spoons PDX
UPCOMING CHEF SHACK MUSIC
See more HERE.
---
---
NEXT THURSDAY: COOPER MOUNTAIN WHITE WINE RELEASE PARTY @ FLYING FISH WITH HAMA HAMA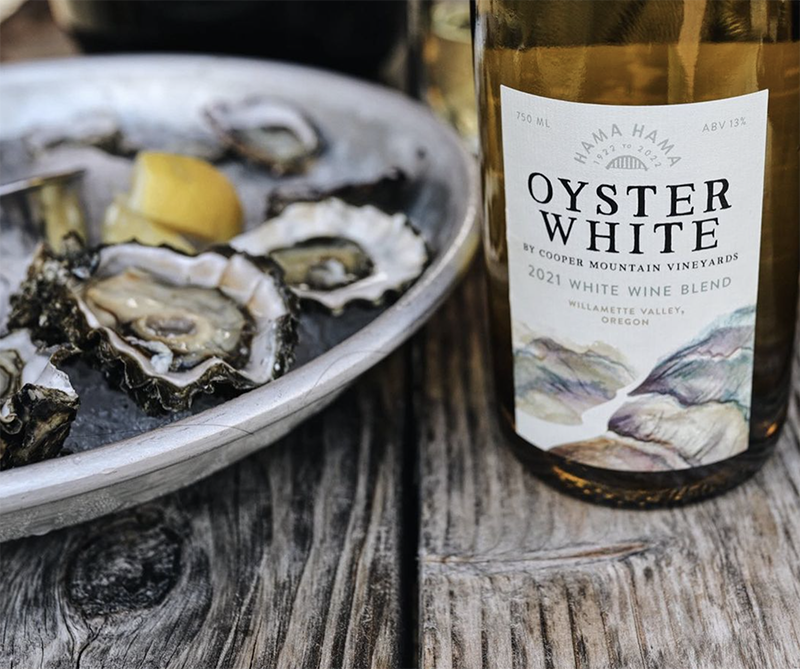 Slurp-n-sip: All of the tastes.  
 :  @coopermountainvineyards
Raise a glass during Oregon Wine Month to the release of this first-time collaboration between Cooper Mountain Vineyards and The Hama Hama Company, celebrating their 100th anniversary. Hama Hama Oyster White is a blend of Tocai Friulano, Pinot Gris, and Gewürztraminer, grown biodynamically in the volcanic soils of the Willamette Valley. It's a light, bright white wine — the perfect pairing for oysters raised by Hama Hama in the clear, clean waters of the glacially-carved Hood Canal.
Proceeds from Oyster White will be donated to the Puget Sound Restoration Fund, working to restore aquatic ecosystems and increase resilience to climate change. During this happy hour party at Flying Fish's Chef Shack, Oyster White will be available by the glass to enjoy with freshly harvested Hama Hama oysters on the half shell (available by 3, 6 or 12). Bottles will also be available to purchase.
Next Thursday, May 12th, 4–7pm @ Flying Fish!
---
---
ONLY 1 SPOT LEFT TO COME RAFTING
Come rafting. That's how they did it when I was just a kid. And when they said come rafting, my sister always did. [Steel drum/synthesizer solo]
Sunday through Thursday, July 17–21, join Flying Fish, Portland Food Adventures, and Canyon Outfitters for four days in Hells Canyon, paddling the sensational Snake with Idaho to the right and Oregon to the left. Oh, and there will be food, so much food, so much good food that it's part of the draw. Hells Canyon? Hells YEAH. Fish kissin' guaranteed.
Those and all Flying Fish Field Trips are on the Flying Fish Field Trip page.
---
---
AND NOW, WE TALK OF FRESH FISH & OYSTERS
FISH FISH FISH
SOON. Photo courtesy of Copper River Prince William Sound Marketing Association.
Copper River Sockeye
. It's arguably the world's finest salmon. In fact, that's how the Copper River Prince William Sound Marketing Association, who is charged with promoting the fish, promotes the fish. It's a beautiful fish, and its season opens in 10 days. Hot dog, hot damn. We source these beauties directly from both the 
Copper River Fish Market
 and 
60º North Seafoods
, who get it straight from the fishermen & fisherwomen, process it, and ship it direct to us Alaska Air Cargo. This is the real deal, folks, and it's almost here.
And you know what's here right now? The great and legendary Chinook Salmon, in season and sourced directly from the Oregon Coast. And here's what else is happening, more or less. List may be incomplete. As always, for best results, stop on in the market.
* * *
FRESH FISH AS OF FRIDAY MAY 6TH
Ahi/Bigeye Tuna* – wild, Pacific Ocean (Hawaii) – fillets
Black Cod/Sablefish – wild, Pacific Ocean (Oregon) – fillets
Chinook Salmon – wild, Pacific Ocean (Oregon) – whole fish & fillets
Halibut – wild, Pacific Ocean (Alaska) – fillets
Lingcod – wild, Pacific Ocean (Oregon) – fillets →
Rockfish – wild, Pacific Ocean (Oregon) – fillets
Steelhead – sustainable farm-raised, Washington
* – Sushi-grade fish
SHELLFISHELLFISHELLFISH
It's creamy, it's dreamy, it's our clam chowder
Kick out the JAMS with CLAMS. The bacon bits in a way are HAMS, measured out in GRAMS so that it SLAMS. And if you come across some errant YAMS, chances are they are SAM'S.
FRESH SHELLFISH AS OF FRIDAY MAY 6TH
Manila CLAMS – sustainable farm-raised, Washington
Mussels – sustainable farm-raised, Washington
Savory CLAMS – sustainable farm-raised, Washington
Shucked Oysters in a Jar
Kick out the JAMS. With CLAMS.
13 OYSTER KINDS, 20% OFF OYSTERS
Like sands through the hourglass, these are the oysters of our lives. Photo from our tour of Taylor Shellfish Farm's processing facility a few weeks ago.
13. Thirteen, a baker's dozen. Twelve donuts and one on the house. Well don't get any ideas, bub! We have thirteen varieties of oysters. You could get a whole dozen with no repeats. No repeats in the Baker's Dozen. Everything's right. But no freebies. 
Unless…
20. The percentage off of OYSTERS TO-GO that we are taking to encourage you to take em home and shuck em. All 13 varieties, 20% off when you take em home. So 1 in 5 really is free, if you think about it. It's easy math. We'll put em in a nice sack and everything. Need a shuckin' knife? Gotchu.
FRESH OYSTERS AS OF FRIDAY MAY 6TH
Baywater Sweet – Washington
Chelsea Gem – Washington
Disco Hama – Washington
Fin de la Baie – New Brunswick
Hammersley – Washington
Kokus – Washington – Killer Grillers
Los Rucos – Washington
Pickering Passage – Washington
Skagit Oishi – Washington
Skok Sweet – Washington
Tidepoint – Washington
Valley Pearl – Prince Edward Island
Virginica – Washington
SMOKED & PREPARED & FROZEN
Smoked Salmon GALORE. You want it? We got it. Flying Fish's house-smoked chinook salmon, famous (to us) for its brine of local raw honey sweet, Jacobsen sea salt salty, and apple/cherry wood chip smoky, plus super secret spices guarded in a family locket. Plus Smoked Steelhead, plus Smoked Ora King Salmon, plus Smoked Halibut. Oh MY. Oh NO? Oh YEAH.

FROZEN PRODUCTS TO GO AS OF FRIDAY MAY 6TH
Ikura
Masago
Mexican Blue Shrimp Easy Peel + Peeled & Deveined
Octopus
Oregon Bay Shrimp
Premium Lobster Tails
Salt Cod
Tobiko
Prob other stuff, check freezer
º – Flying Fish house-made products
PREPARED PRODUCTS AS OF FRIDAY MAY 6TH
Grab & Go Pokeº
House Smoked Fishesº
Smoked Salmon Dipº
Smoked Whitefish Dipº
AND VARIOUS PANTRY ITEMS
Rice
Vinegars & such
Shucking Knives, as noted above
Ketchup. Yes, ketchup. But not THAT kind.
Hot Sauce
Tinned Fish
Spices
Flying Fish Merch, best gift for Mother's Day
OUR RESTAURANT MENU
For dining here or to-go.
CLICK MENU TO ORDER ONLINE FOR PICKUP:
ALSO: Cocktails, sake, wine, and beer for dining onsite. Inquire within.
INSTAGRAM JAM OF THE WEEK
Recent Chef Shack Stud and Regular Ol' Superstar @dougiepdx
FLYING FISH SIGNOFF & DISCLOSURE
Sawyer & Trever, seasonal field research
PLEASE NOTE: This email was accurate at the time of its weekly writing. Some products come and go quicker than others, so for best results on the freshness, follow us on the social medias: Facebook, Instagram, and Twitter. And tag us in your Instagram pics @flyingfishpdx – we love seeing your food pics!
---
Cheers,
Lyf and the Flying Fish Team: Alana, Alex, Alina, Boo-boo, Chris, Danny, Ellison, Elowynn, Erik, Gabby, Jack, Jae, Jordan, Kenneth, Kevin, Luis, Madeline, Mike, Neebs, Owen, Ross, Ryan P, Ryan S, Sam, Sawyer, Shannon, Trever, Wyatt, and Brad
Lyf Gildersleeve: Owner, Chief Fishmonger
Erik Englund: Culinary Director
Danny Atkins: Sous Chef
Jack Bressoud: General Manager
Ross Richardson: Beverage Director
Genevieve "Boo-Boo" Jen: Operations Manager
Sam Moser: Oyster Bar Manager
Sawyer Lovell: Fish Market Manager
Alana Ginster: Assistant Manager
Trever Gilbert: Chef Shack Executive Chef
FLYING FISH, FAMILY OWNED SINCE 1979
Craig and Sandy Gildersleeve opened Flying Fish Company in Sandpoint, Idaho in 1979. The next year, their son Lyf was born into the family business. Now president of Flying Fish, Lyf has spent his entire life around fish, including an aquaculture education at the Harbor Branch Oceanographic Institute at Florida Atlantic University.
Lyf opened Flying Fish in Portland in 2010 as a food cart at the D Street Noshery on Division Street. In 2011, we opened the fish shack at Kruger's Farm Market on Hawthorne Boulevard. In 2016, we moved into a stand at Providore Fine Foods on Sandy Boulevard. And in February 2020, we opened our standalone location on East Burnside with a restaurant and patio, and in January 2022 we added the Chef Shack.
Flying Fish has sister locations in Sandpoint, Idaho and Durango, Colorado.
* * *
Thank you for supporting our family-owned business. 
—Lyf, Natalie, Juniper, and Miles Gildersleeve (and Hazel the Dog)
* * *
PHOTO BY NATALIE GILDERSLEEVE PHOTOGRAPHY: Bill the Mule and the June Bug
Copyright © 2022 Flying Fish Company, All rights reserved.
Our mailing address is:
Flying Fish Company
3004 E Burnside St
Portland, OR 97214-1950