FISH MARKET • RESTAURANT • OYSTER BAR
3004 East Burnside Street • 971-806-6747
FRESH CATCH MARKET:

10am–8pm Every day (except Tuesday, when we are closed)

DINE-IN RESTAURANT (walk-in only, no reservations):

11am–8pm every day (except Tuesday, when we are closed)

CHEF SHACK:

4–8pm Friday–Saturday–Sunday

HAPPY HOUR:

3–5pm Weekdays (except Tuesday, when we are closed)

TUESDAY:
We accept EBT/SNAP/Oregon Trail.
THIS SUNDAY: PAELLA PARTY WITH CHEF ANDRE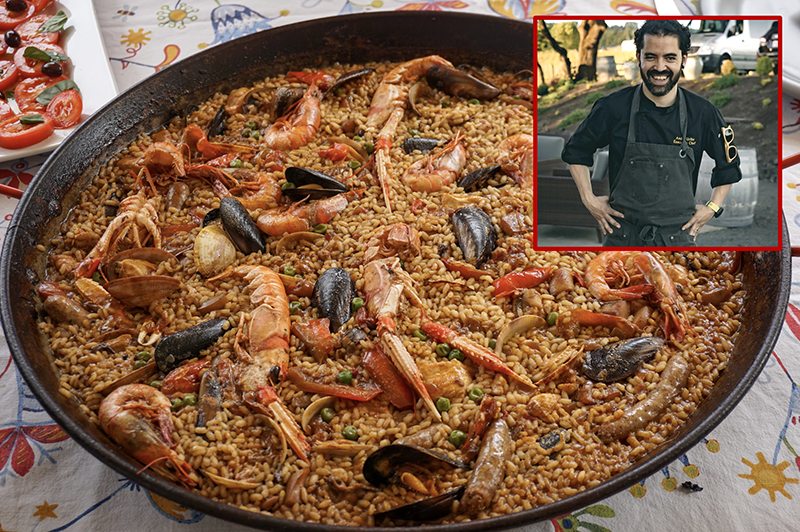 Paella stock photo: Chef Andre's paella will look different.
Chef Andre photo: This is really what he looks like.
Sunday Sunday SUNDAY. Our old pal Chef Andre Uribe will make his triumphant return to Flying Fish to sling a big ol pan of slow and carefully crafted Paella at the Chef Shack. (He'll have a Ceviche on the menu too.) Andre is a personal chef who's worked with Jessica Alba and former Blazer Norman Powell, among others, and he runs Sustainable Meals Oregon with Chef Patrick Marg. He's been in the Flying Fish world for a while too, helping to run one-off events like Science Night earlier this year and the Colombian meal he cohosted with Chef Shack Chef Trever at our old location, and he was here when we opened the Burnside location. We're stoked to have him back and can't wait to dip our ladle in that paella pan. He'll be here Sunday 4–8pm, and Trever will be running things at the Chef Shack today and tomorrow same time.
TOMORROW: The bluegrass stylings of the Hillwilliams Trio will take the stage around 4pm for some pickin & grinnin to go with your shuckin & slurpin.
UPCOMING CHEF SHACK GUEST CHEFS (4–8pm)
Sunday, August 21: Chef Andre Uribe, making PAELLA & CEVICHE
UPCOMING CHEF SHACK MUSIC (~4–7pm)
Saturday, August 20: The Hillwilliams Trio
Saturday, August 27: DJ Kevin's Gate
Saturday, September 3: Bees in a Bottle
Saturday, September 10: Erik Clampitt
Saturday, September 17: Barrie Dempsey and Woody Woods
Saturday, September 24: Jeff Donovan + Friend
Full schedule HERE.
---
VERY IMPORTANT PROGRAMMING NOTE!
This week's newsletter has some minor changes designed to reduce word count and maintain your interest. Will you notice? Will it work? Stay tuned for next week's newsletter to find out!
---
FISHIN & SAILIN': MEXICO IN JANUARY
Flying Fish is once again going fishing, and this time it's down south, way down south, to MEXICO. We've partnered with our friend Ruby Gates to offer a 5-day immersive sailing course, designed by a woman for women that'll happen while Lyf's fishing trip heads to sea for giant yellowfin tuna, snapper, and other incredible fish. It's a perfect couple's vacation: one half goes fishing, one goes sailing, and the two reconvene in a couple days with a lifetime of stories.
Nothin staged in that photo at right – that is a very real, very enormous yellowfin tuna caught in the very waters we're going fishing. Never been to Puerto Vallarta or catch a 200 lb fish? Sounds like you're coming with us.
It's all happening Saturday, January 14th through Thursday the 19th. Learn more about the fishing trip HERE.
Sea Nixie is Ruby's enterprise that teaches women the basics of sailing, at sea, in a wholly supportive environment. No sailing experience required. Learn more about Sea Nixie HERE.
(All Flying Fish Field Trips and events are HERE.)
---
FRESH FISHIN', HAPPENIN' NOW
FRESH FISHIN'
Say it with us and try not to drool: Coconut poached Halibut with mango-avocado salsa. Photo courtesy of Alaska Seafood.
Perfect Portland summer is in this weekend's forecast, and peak perfect summer fishes are IN SEASON. Wild local Albacore Tuna is smokin, Chinook and Coho Salmon from Oregon to Alaska are sizzlin, and up in Alaska, the Halibut holds court. It commands one's attention most especially, as pictured above, when prepped right with local know-how. Alaska Seafood is an incredible source for, uhhh… Alaska Seafood, and it's not just pretty pictures and useful info. It's also rock & roll recipes designed by Alaskans for Alaska fishes. A big fillet of Halibut lightly poached in coconut milk after a coconut oil pan sear (with garlic, onion, and ginger), bok choy cooked in the same coconut poach, served on jasmine rice and topped with a fresh mango-avocado salsa. 
……….I KNOW, RIGHT?
FRESH FISH AS OF FRIDAY AUGUST 19TH
Ahi/Bigeye Tuna* – wild, Pacific Ocean (Hawaii) – fillets
Albacore Tuna* – wild, Pacific Ocean (Oregon) – fillets
Black Cod/Sablefish – wild, Pacific Ocean (Oregon) – fillets
Chinook/King Salmon – wild, Pacific Ocean (Alaska) – whole fish & fillets
Chinook/King Salmon – wild, troll caught, Pacific Ocean (Oregon) – fillets
Coho Salmon – wild, Pacific Ocean (Alaska) – whole fish & fillets
Halibut – wild, Pacific Ocean (Alaska) – fillets
Lingcod – wild, Pacific Ocean (Oregon) – fillets
Ora King Salmon* – sustainable farm-raised, New Zealand – fillets
Petrale Sole – wild, Pacific Ocean (Oregon) – fillets
Rainbow Trout – sustainable farm-raised, Idaho – fillets
Rockfish – wild, Pacific Ocean (Oregon) – fillets
Sardines – wild, Atlantic Ocean (Spain) – whole fish
Steelhead – sustainable farm-raised, Washington – fillets
Swordfish – wild, Pacific Ocean (Hawaii) – fillets
* – Sushi-grade fish
AWESOME OYSTERIN'
Baker's half dozen, center of attention. Photo by Natalie.
And few are the places associated with awesome oysterin' that reaches PEI level. Prince Edward Island sits in the chilly waters of the Gulf of St Lawrence, the brackish drainage for pretty much all of eastern Canada's watersheds, including the Great Lakes. Malpeques are, like, the Yankees hats of PEI oysters (you can find em all over the world), but there are tons of amazing options, including two on our list this week. Valley Pearls have a bright and clean shine to them, while East Capes are more hearty and meaty, with an almost garlicky flavor profile. Try some?
FRESH OYSTERS AS OF FRIDAY AUGUST 19TH
East Cape – Prince Edward Island
Kokus – Washington
Norumbega – Maine
Row 34 – Massachusetts
Skagit Oishi – Washington
Summerstone – Washington
Valley Pearl – Prince Edward Island
SHIPSHAPE SHELLFISHIN'
Sizzly Scallops, citrusy kale slaw, squeezy lemon. Pic by Natalie.
Scallops, tasty and meaty and chewy, 
Atlantic Sea Scallops
, a gift of the gods of the sea. We're back in action with the Massachusetts fishery, where wild scallops are harvested responsibly and sustainably under US regulation. NOAA publishes stock assessments on loads of fisheries, so if you're interested in a deep dive (so to speak), check it this overview of Scallops 
HERE
. And if you're up for maxing your Scallops in the frying pan, may we recommend this 
garlic basil butter recipe
.
FRESH SHELLFISH AS OF FRIDAY AUGUST 19TH
Atlantic Scallops – wild, Atlantic Ocean (Massachusetts)
Manila Clams – sustainable farm-raised, Washington
Mussels – sustainable farm-raised, Washington
FROZEN SHELLFISH AS OF FRIDAY AUGUST 19TH
Bay Shrimp – wild, Pacific Ocean (Oregon)
Blue Shrimp – wild, Mexico (Del Pacifico)
Lobster Tail – wild, Maine
THE PANTRY & PREPARED SECTION HAS A NEW LOOK, WHOA
I like my pasta like my coffee: black as night. 
Look, we know as well as you do that these newsletters are long — as long as our product list, my dawg. As always, for best results, just stop in to see what we have, and on that notion, we're gonna streamline things here a bit. We certainly DO have our house-made products like our Smoked Fishes and Dips made with them. We absolutely have a freezer full of things like Ikura, Masago & Tobiko. And all the other shelves and racks around the shop? That's your pantry shop, including the NEW PRODUCT ALERT pictured above: An outrageously delicious squid ink pasta from Rustichella d'Abruzzo in Italy. Recommended: pan sear some Del Pacifico Shrimp (check our freezer) in olive oil (check our aforementioned pantry), halve some cherry tomatoes, pick some fresh basil, and go to town.

HOUSE-MADE STUFF: Smoked fish like Chinook Salmon, Steelhead, Sockeye, Halibut & more; stocks & broths; dips; AND MORE.

FROZEN STUFF: Ikura, Masago & Tobiko; fish fillets; bay shrimp; AND MORE.

PANTRY STUFF: Italian squid ink pasta; cortido & kraut-chi; ketchup & hot sauce; AND MOOORE.
INSTAGRAM JAM OF THE WEEK
@jacksonglidden goes for summer tomatoes in summer light
FLYING FISH SIGNOFF & DISCLOSURE
Danny: Sous city soldier
PLEASE NOTE: This email was accurate at the time of its weekly writing. Some products come and go quicker than others, so for best results on the freshness, follow us on the social medias — Instagram / Facebook / Twitter — or just stop on in.
And tag us in your Instagram pics @flyingfishpdx – we love seeing your food pics!
---
Cheers,
Lyf and the Flying Fish Team: Alana, Alex, Boo-Boo, CJ, Danny, Ellison, Erik, Gabby, Jack, Jae, Jesse, Jordan, Kenneth, Kevin, Lydia, Maybe, Mike, Molly, Neebs, Owen, Ross, Ryan P., Ryan S., Sam, Sawyer, Shannon, Sylvia, Wyatt, and Brad
Lyf Gildersleeve: Owner, Chief Fishmonger
Erik Englund: Culinary Director
Danny Atkins: Sous Chef
Jack Bressoud: General Manager
Ross Richardson: Beverage Director
Genevieve "Boo-Boo" Jen: Operations Manager
Sam Moser: Oyster Bar Manager
Sawyer Lovell: Fish Market Manager
Alana Ginster: Assistant Manager
Trever Gilbert: Chef Shack Executive Chef
FLYING FISH, FAMILY OWNED SINCE 1979
Craig and Sandy Gildersleeve opened Flying Fish Company in Sandpoint, Idaho in 1979. The next year, their son Lyf was born into the family business. Now president of Flying Fish, Lyf has spent his entire life around fish, including an aquaculture education at the Harbor Branch Oceanographic Institute at Florida Atlantic University.
Lyf opened Flying Fish in Portland in 2010 as a food cart at the D Street Noshery on Division Street. In 2011, we opened the fish shack at Kruger's Farm Market on Hawthorne Boulevard. In 2016, we moved into a stand at Providore Fine Foods on Sandy Boulevard. And in February 2020, we opened our standalone location on East Burnside with a restaurant and patio, and in January 2022 we added the Chef Shack.
Flying Fish has sister locations in Sandpoint, Idaho and Durango, Colorado.
* * *
Thank you for supporting our family-owned business. 
—Lyf, Natalie, Juniper, and Miles Gildersleeve (and Hazel the Dog)
* * *
PHOTO BY NATALIE GILDERSLEEVE PHOTOGRAPHY: Some dudes, their fish, and a dog by the sea
Copyright © 2022 Flying Fish Company, All rights reserved.
Our mailing address is:
Flying Fish Company
3004 E Burnside St
Portland, OR 97214-1950