FISH MARKET • RESTAURANT • OYSTER BAR
3004 East Burnside Street • 971-806-6747
OUR HOURS
EVERY DAY EXCEPT TUESDAY: 10am–8pm MARKET, 11am–8pm RESTAURANT
TUESDAY: CLOSED
HAPPY HOUR: 3–5pm EVERY DAY ('CEPT TUESDAY)
Please read our Covid-19 house rules HERE  •  We accept EBT/SNAP/Oregon Trail.
CHEF SHACK COMETH (NEXT WKND)
It's even got a logo!
At last, it is official: 
CHEF SHACK IS OPENING!
 The Chef Shack — two words, we've decided — is our brand new food cart semi-permanently stationed on our patio as a complement to our in-house menu. It will feature a rotating cast of chefs from around Portland and the region, putting their spin on all kinds of fishes and all kinds of dishes. And it begins NEXT SATURDAY January 22 with our own main man, FF sous chef Trever Gilbert, whose 
latest IG post
 has a lil preview of what to expect:
Carve out your ni-che with a little cevi-che. Pic: @cheftag
A big shout and thank you to Andi Prewitt and Willamette Week for the preview this week — check it out HERE. Things will kick off at 1pm next Saturday, with live music from our buds Lapado & Mann at 4:30. That's what's happening, and what's happening is the CHEF SHACK. Get into it.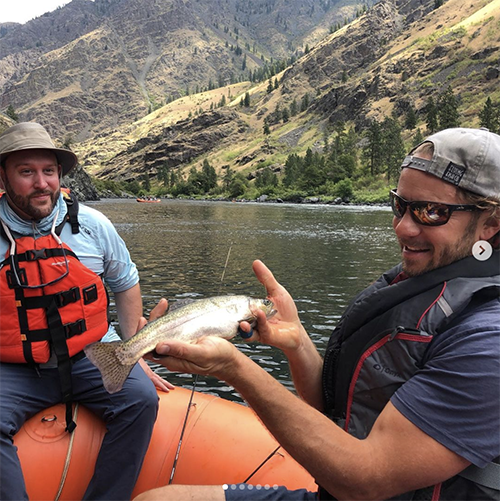 ---
---
But also get into Flying Fish Field Trips! So far we have locked in dates for a Washington oyster farm tour (Mon 4/11), an Oregon Coast nearshore rockfish fishing trip (Thur 5/5), an Oregon Coast deep reef lingcod fishing trip (Fri 5/6), an Astoria sturgeon fishing trip (Sun 6/5), and two Astoria coho salmon fishing trips (Weds 9/14 & Thur 9/15), PLUS a 4-day rafting trip in Hells Canyon Mon 7/17 – Thur 7/21. That's livin, baby. L I V I N.
Check out all details and signups on our FLYING FISH FIELD TRIP PAGE.
---
---
HERE GO THIS WEEK'S FRESHIES:
COME GET THESE CRABS
Elowynn's holding up crabs again
DID YOU KNOW: Peak 
Dungeness Crab
 season tends to be front-loaded, early in crabbing season after the crabs have spawned and are sizable (see pic with Elowynn for scale) and population is highest. Makes sense, dunnit? The season will continue for months, but supply may fluctuate, and when supply fluctuates, so will price. All of which is to say: If you are a fan of Dungeness Crabs and have not gotten any of the 2022 jammies, what are you waiting for? Come and get some, we've got em, and they are gooooood.
FRESH SHELLFISH AS OF FRIDAY JANUARY 14TH
Dungeness Crabs – wild, Oregon Coast – whole, cooked
Manila Clams – sustainable farm-raised, Washington
Mussels – sustainable farm-raised, Washington
Scallops – wild, Atlantic Ocean (Massachusetts)
URGIN' FOR STURGEON
Sturgeon! We don't always have it in the shop because it's not always available. Overfished years ago for its roe, wild sturgeon populations have been strictly monitored and slowly rebuilt over the last few decades, and as such wild sturgeon is typically very limited in availability for eating. Farm raised sturgeon, on the other hand, is growing ever more available.  With sustainable farmed white sturgeon, circular tanks provide a little current and an endless path for them to follow, keeping them happier and healthier than closed, rectangular tanks. Just as important, these systems are separate from natural waterways, keeping the latter clean and putting a sharper focus on maintaining a clean and healthy production environment, with specific attention to water quality, oxygen levels, temperature, and tank water levels.

Sturgeon definitely has a strong flavor (to go with a decidedly firm texture), and one way of handling that is cooking it with another strong flavor — like sauerkraut. This old Polish recipe bakes sturgeon fillets in sauerkraut with wild mushrooms, garlic, whole grain mustard, and *checks notes* raisins?!? Sturgeon, strong like bull.

FRESH FISH AS OF FRIDAY JANUARY 14TH
Ahi/Bigeye Tuna* – wild, Pacific Ocean (Hawaii)

Black Cod/Sablefish – wild, Pacific Ocean (Oregon)

Branzino – sustainable farm-raised, Greece – whole fish

Escolar/Walu* – wild, Pacific Ocean (Hawaii) 

→

Monkfish – wild, Atlantic Ocean (Massachusetts)

Ono/Wahoo* – wild, Pacific Ocean (Hawaii)

Ora King Salmon* – sustainable farm-raised, New Zealand 

Petrale Sole – wild, Pacific Ocean (Oregon)

Rockfish – wild, Pacific Ocean (Oregon)

Steelhead – sustainable farm-raised, Washington

Striped Bass – sustainable farm-raised, Mexico – whole fish

Sturgeon – sustainable farm-raised, Oregon

Swordfish – wild, Pacific Ocean (Hawaii) 

Tombo/Albacore Tuna* – wild, Pacific Ocean (Hawaii)

True Cod – wild, Iceland
* – Sushi-grade fish
OYSTER TIME IN OYSTER TOWN

Best oysters? It's an open and shut case.
Clean, crisp, briny, a little bright. That's the line on Blue Pool oysters pictured above. Tumbled for deep cups on Hama Hama oyster farm in beautiful Lilliwaup on the Hood Canal — Puget Sound, orca country. Had some? Have some more.
A GOOD OL' DOZEN OYSTER VARIETIES AS OF FRIDAY JANUARY 14TH
Baywater Indigo – Washington
Blue Pool – Washington
Chelsea Gem – Washington
East Cape – Prince Edward Island
Hama Hama – Washington
Kokus – Washington
Netarts – Oregon
Tidepoint – Washington
Valley Pearl – Prince Edward Island
PREPPIES & FREEZIES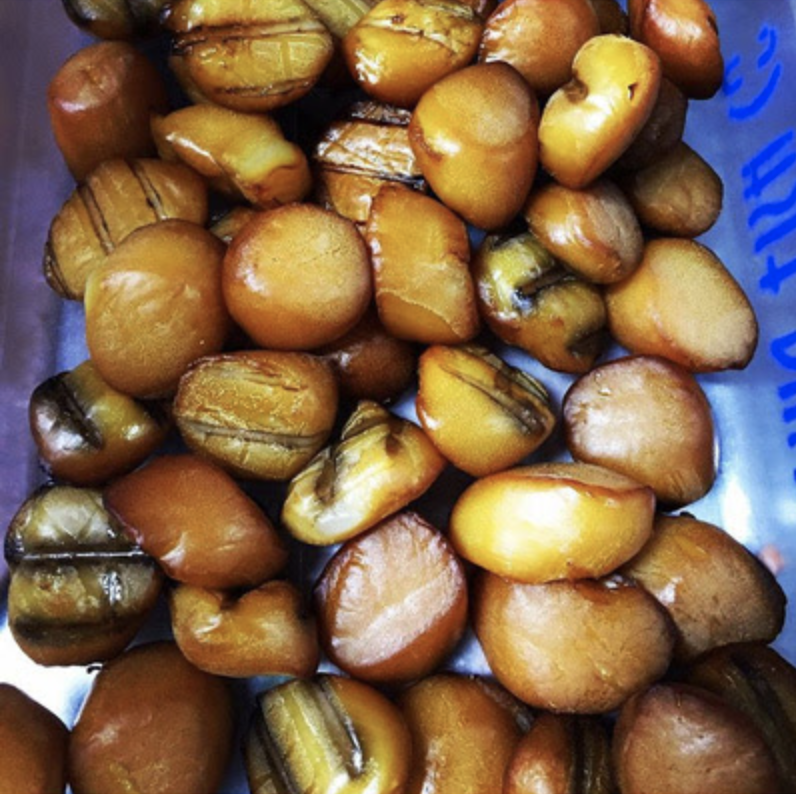 & smokies taboot
SCALLOPS! You saw em above in the fresh shellfish section, you'll see em again below – two times! We have scallops fresh. We have scallops frozen. We have scallops smoked, by us, in our own smoker, in a brine of local raw honey, sea salt, and a blend of herbs known only to the Gildersleeve family and paid staff sworn to secrecy. It's sweet, it's salty, it's smoky, it's mysterious. It's smoked scallops AND smoked fishes.
HOUSE-MADE PRODUCTS TO GO AS OF FRIDAY, JANUARY 14TH
House Smoked Fishes (Salmon, Steelhead)
House Smoked Scallops
House-made Salmon Dip
House-made Whitefish Dip
Kenai Red Sockeye Lox
Ora King Cold Smoked Salmon
Boquerones
Shucked Oysters in a Jar
SELECT FROZEN PRODUCTS AS OF FRIDAY, JANUARY 14TH
Copper River Sockeye Salmon
Halibut Cheeks
House-made Fish Stock (frozen)
Lobster Tails
Mexican Blue Shrimp
Oregon Bay Shrimp
Roe: Ikura
Roe: Jalapeño Masago
Roe: Tobiko
Salt Cod
Scallops
OUR RESTAURANT MENU
For dining here or to-go.
CLICK MENU TO ORDER ONLINE FOR PICKUP: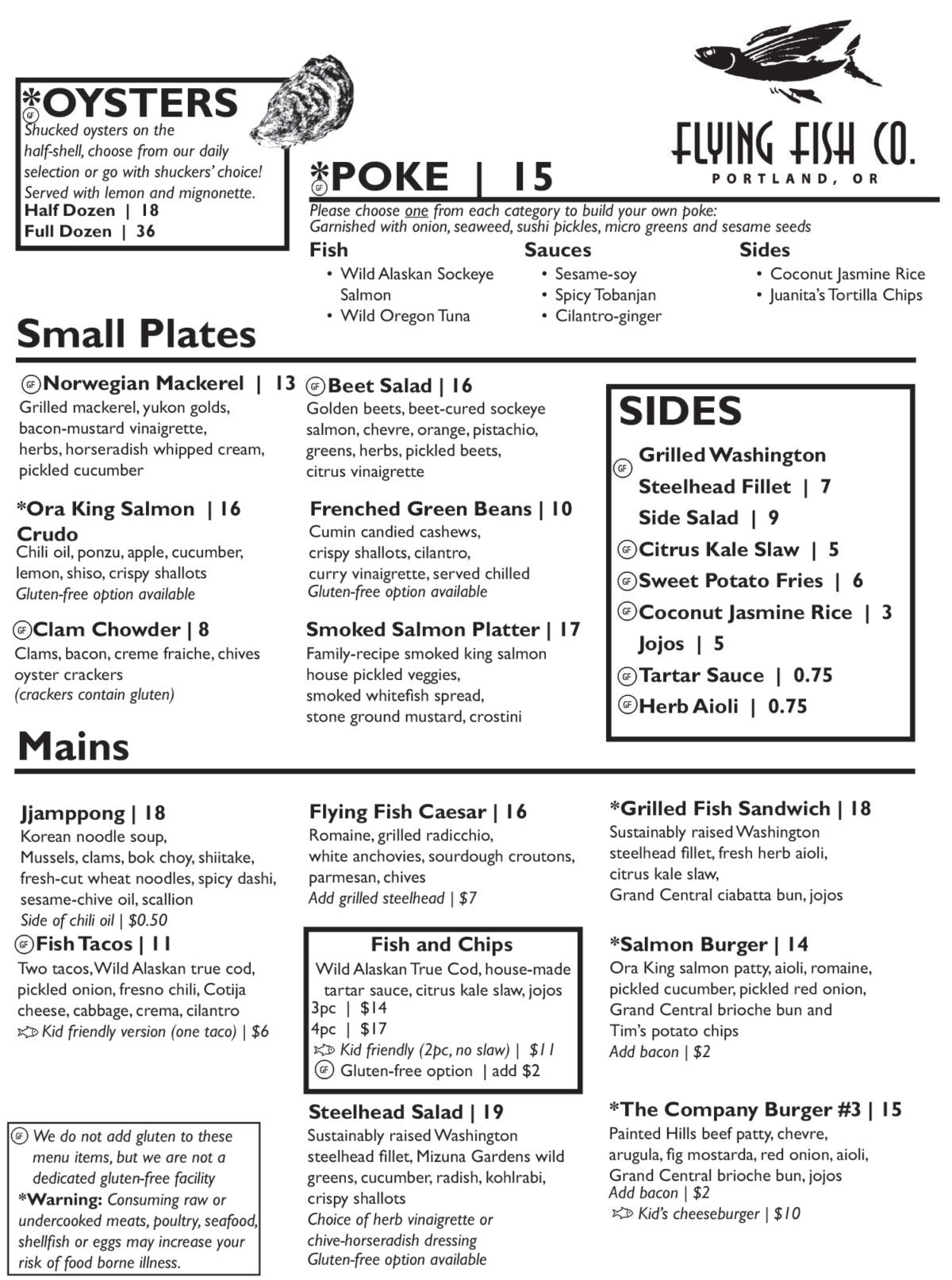 ALSO: Cocktails, sake, wine, and beer for dining onsite. Inquire within.
FLYING FISH SIGNOFF & DISCLAIMER
PLEASE NOTE: This email was accurate at the time of its weekly writing. Some products come and go quicker than others, so for best results on the freshness, follow us on the social medias: Facebook, Instagram, and Twitter. And tag us in your Instagram pics @flyingfishpdx – we love seeing your food pics!
Cheers,
Lyf Gildersleeve and the Flying Fish Team: Alana, Boo-boo, Chris, Danny, Elowynn, Erik, Erin, Gabby, Isabella, Jack, Jaelyn, Jesse, Jordan, Kenneth, Kevin, Luis, Mad Dog, Madeline, Mike, Neebs, Ross, Ryan P, Ryan S, Sam, Sarah, Sawyer, Stephen, Trever, Wyatt, and Brad
INSTAGRAM JAM OF THE WEEK
Who knows beer? @beerguypdx knows beer. Love this pic of our Smoked Oyster Stout, brewed by Yachats Brewing in partnership with Flying Fish and Hama Hama Oyster Company.
ABOUT FLYING FISH
Craig and Sandy Gildersleeve opened Flying Fish Company in Sandpoint, Idaho in 1979 – the year before their son Lyf was born.
Now president of Flying Fish Company, Lyf has spent his entire life around fish, including an aquaculture education at the Harbor Branch Oceanographic Institute at Florida Atlantic University.
Flying Fish has three locations: Sandpoint, Idaho; Durango, Colorado; and Portland, Oregon. The Portland location opened in 2009 as a food cart at the D Street pod on Division Street. In 2011, we opened the fish shack on Hawthorne Boulevard. In 2016, we moved into a stand at Providore Fine Foods on Sandy Boulevard. In February 2020, we opened our standalone location on East Burnside with a restaurant and a patio.
* * *
Thank you for supporting our family-owned business. 
—Lyf, Natalie, Juniper, and Miles Gildersleeve (and Hazel the Dog)
* * *
PHOTO BY NATALIE GILDERSLEEVE PHOTOGRAPHY: This lil bugger is 9. HBD Miles!
Copyright © 2022 Flying Fish Company, All rights reserved.
Our mailing address is:
Flying Fish Company
3004 E Burnside St
Portland, OR 97214-1950