FISH MARKET • RESTAURANT • OYSTER BAR
3004 East Burnside Street • 971-806-6747
* MARKET OPEN 10AM–8PM EVERY DAY EXCEPT TUESDAY *
* RESTAURANT OPEN 11AM–8PM EVERY DAY EXCEPT TUESDAY *
(Both closed every Tuesday)
Please read our Covid-19 house rules HERE  •  We accept EBT/SNAP/Oregon Trail.
YES, THAT WAS FLYING FISH ON TOP CHEF

Pic unrelated.
The famous b-roll montage from the Restaurant Wars episode of Bravo's 
Top Chef
 now features Flying Fish Company. FYI.
Speaking of, we would like to specially recognize our good friend, the great chef (you might even call him a top chef), Gregory Gourdet. Pictured at right is his new book, a 400-page banger that came out this month, featuring loads and loads of healthy and delicious recipes. 10/10 do recommend, and congrats to GG30000.
The biggest news originating from Flying Fish's own kitchen is actually out on the apron of the property: YO, THE BEER GARDEN IS OPEN! It's so new that we don't even have the pro photos of it to share yet; you're just gonna have to take our word for it and come check it out. It's situated on the 30th Street Bikeway, a complement to the existing dining patio and a sibling to the seating on the Burnside side, pictured above.
And now? Here go the fish.
BETTER BUTTER THAT BUTTERFLY, BUDDY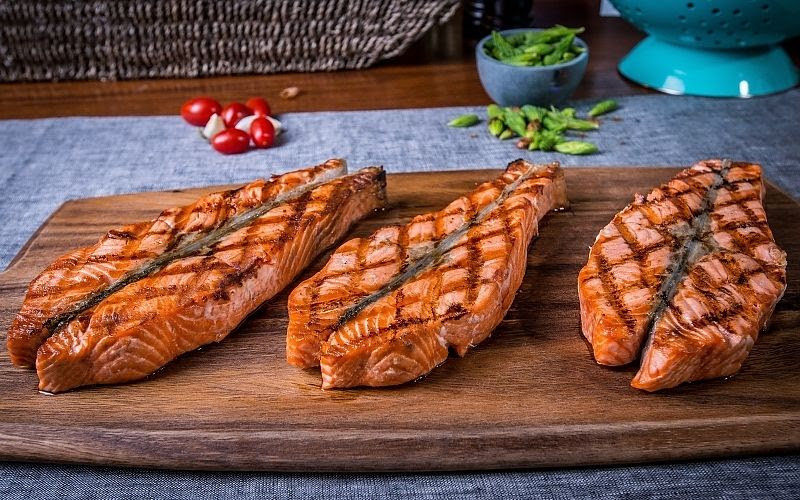 Butterflied Copper River sockeye salmon, straight from the source.
Photo courtesy of Copper River Prince William Sound Marketing Association.
Copper River Sockeye Salmon season is officially swingin', babies. We got our first shipment on Thursday, and we should be loaded up at least for a couple weeks. But you can't snooze on this if you want a taste of this phenomenal fish. There's a reason Alaska's Copper River is prized for its sockeye runs – several reasons, really, including heart-healthy omega-3 fatty acids and b-12 vitamins, super protein for your muscles, and most noticeably, rich flavor for your palate. Pictured above is meal of butterflied steaks. If you have an old school gridiron, we can't recommend this recipe enough.
ALSO: We've been thick with ocean-caught wild Chinook Salmon recently, and you know what? Zoe Ching came by and made one of her killer stop-motion timelapse videos that goes from whole fish to ready-to-eat crudo in 34 seconds. Check it out HERE.
ALSO ALSO: Over the last two weeks in this newsletter, we've talked about the responsible, accountable, sustainable shrimping operations at Delpacifico Seafoods, our source for shrimp. As we are here in the fish section, we'd like to talk about the responsible, accountable practices of Pacifico Aquaculture (no relation). Pacifico has four stars (the highest rating) from Best Aquaculture Practices for their operation to raise Striped Bass in the open ocean off the coast of the Baja California.
May we recommend the dish pictured at right, Peruvian tiradito with Striped Bass as its star, direct from Pacifico. Check it out 
HERE
.
FRESH FISH AS OF SATURDAY MAY 22ND
Sockeye Salmon – wild, Copper River (Alaska
Chinook/King Salmon – wild, Pacific Ocean (Oregon)
Ora King Salmon* – sustainable farm-raised, New Zealand
Steelhead – sustainable farm-raised, Washington
Halibut – wild, Pacific Ocean (Alaska) – fillets, steaks, cheeks
Lingcod – wild, Pacific Ocean (Oregon)
Rockfish – wild, Pacific Ocean (Oregon)
Striped Bass – sustainable farm-raised, Pacific Ocean (Mexico)
Swordfish – wild, Pacific Ocean (Hawaii)
Escolar* – wild, Pacific Ocean (Hawaii)
Opah* – wild, Pacific Ocean (Hawaii)
Kampachi – sustainable farm-raised, Hawaii
Ahi/Bigeye Tuna* – wild, Pacific Ocean (Hawaii)
* – Sushi-grade fish
WHY DO WE ONLY HAVE PICKED
DUNGENESS CRAB MEAT?
Why DO we go through periods (like now) where we only have Dungeness Crab Meat, and not whole Dungeness Crabs? Well. In a nutshell, it's because of Those Guys. When the prices are low for the crab fishery, the bigger processors buy up all the live crabs. While this keeps whole crabs from the market, it also keeps crab meat in regular supply. What they do is: they take the fresh crabs and cook them halfway, and then freeze them in blocks (think tote-sized ice cubes) as a matter of preserving maximum quality. These blocks are thawed every week, cooked the rest of the way, and then meat is picked from the shells. So they're a bit of an anomaly in the seafood world in that they are both frozen AND fresh. But if you know, you know. And if you know, stop in for that Dungeness Crab Meat, we got it.

FRESH SHELLFISH AS OF SATURDAY MAY 22ND
Dungeness Crab Meat – wild, Oregon – cooked and picked, ready to eat
Atlantic Scallops – wild, Atlantic Ocean (Massachusetts)
Manila Clams – sustainable farm-raised, Washington
Purple Savory Clams – sustainable farm-raised, Washington
Littleneck Clams – sustainable farm-raised, Massachusetts
Mussels – sustainable farm-raised, Washington
FLYING FISH: A MOISTER OYSTER

Do try this at home.
You know how if you hold a seashell up to your ear it sounds like the ocean? Well, if you hold an oyster shell up to your ear, it sounds like the bay. Similar, but different. Stop by the Flying Fish Oyster Bar, where we have lots of oyster shells to serve you. They arrive with oyster meat, but after you've consumed that, you can hold the shell up to your ear and hear the bay. Bring your own Q-Tips® for runoff oyster water in your ear. (Dude that's gross, why would you write that in an email that goes out to customers?)
As of this writing, Saturday morning May the 22nd, we have 17 varieties for you to hold up to your ear. For that, and for no other reason, we will reshare the Beavis & Butt-Head gif that we shared last week. [loud extended slurping sound]
17 FRESH OYSTER VARIETIES (give or take) AS OF SATURDAY MAY 22ND
Baywater Sweet – Washington
Blue Pool – Washington
Chelsea Gem – Washington
East Cape – Prince Edward Island
Hama Hama – Washington
Hoshi – Washington
Ichabod Flat – Massachusetts
Kokus – Washington
Kusshi – Washington
Los Rucos – Washington
Mere Point – Maine
Ruby – Washington
Shigoku – Washington
Sumo Kumo – Washington
Tidepoint – Washington
Totten Inlet – Washington
Whaleback – Maine
FLYING FISH HOUSE SMOKED FISH: IT'S A THING
Put some collar in your belly. Our house-smoked salmon collars are always on the menu for dining onsite at Flying Fish.
House-smoked fishes on the restaurant menu, house-smoked fish packages to take home. Two great tastes that taste great together.
SMOKED FISHES AS OF SATURDAY MAY 22ND
Smoked Ora King Salmonº
Smoked Sablefish/Black Codº
Smoked Scallopsº
º – Flying Fish house-smoked, Gildersleeve family recipe
SOUL IN THE  WHOLE
Cock up your cockiness, spatchcock that bird, and crow like a cock: BACOCK!
Recommended: Cast iron roasted whole chicken with thin-sliced potatoes,  425º for about an hour. The recipe from Bon Appétit HERE is pretty solid. We might also add some thin-sliced Walla Walla onions to that skillet so that the rings drape over the potatoes and pass along that chicken juice en route to dinner perfection. #chefskiss
The meat menu's been kinda the same of late and for the immediate future, and we ain't even mad. Steak, burger, chicken? Ain't nothin wrong with that.
FRESH MEAT AS OF SATURDAY MAY 22ND
BEEF – Carman Ranch, Wallowa Valley, OR; Laney Family Farms, Canby, OR; Painted Hills Natural Beef, John Day, OR
Ribeye (Painted Hills)
Ground beef (Laney)
Stew meat (Laney)
CHICKEN – Totum Farm, Philomath, OR
Whole bird, breast, leg quarters, hearts, liver, feet
OUR RESTAURANT MENU
For dining here or to-go. Menu updated May 7th.
CLICK MENU TO ORDER ONLINE FOR PICKUP:
ALSO: Cocktails, sake, wine, and beer for dining onsite. Inquire within.
FLYING FISH SIGNOFF & DISCLAIMER
PLEASE NOTE: This email was accurate at the time of its weekly writing. Some products come and go quicker than others, so for best results on the freshness, follow us on the social medias: Facebook, Instagram, and Twitter. And tag us in your Instagram pics @flyingfishpdx – we love seeing your food pics!
Cheers,
Lyf Gildersleeve and the Flying Fish Team: Alana, Boo-boo, Chris, Danny, Elowynn, Erik, Isabelle, Jack, Jae, Jesse, Jordan, Kevin, Luis, Mad Dog, Mike, Neebs, Ross, Ryan P, Ryan S, Sam, Sarah, Sawyer, Tara, Trever, Wyatt, and Brad
INSTAGRAM JAM OF THE WEEK
Talk about product placement. Thanks for the sweet photo, @theporkinglot!
ABOUT FLYING FISH
Craig and Sandy Gildersleeve opened Flying Fish Company in Sandpoint, Idaho in 1979 – the year before their son Lyf was born.
Now president of Flying Fish Company, Lyf has spent his entire life around fish, including an aquaculture education at the Harbor Branch Oceanographic Institute at Florida Atlantic University.
Flying Fish has three locations: Sandpoint, Idaho; Durango, Colorado; and Portland, Oregon. The Portland location opened in 2009 as a food cart at the D Street pod on Division Street. In 2011, we opened the fish shack on Hawthorne Boulevard. In 2016, we moved into a stand at Providore Fine Foods on Sandy Boulevard. In February 2020, we opened our standalone location on East Burnside with a restaurant and a patio.
* * *
Thank you for supporting our family-owned business. 
—Lyf, Natalie, Juniper, and Miles Gildersleeve (and Hazel the Dog)
* * *
PHOTO BY NATALIE GILDERSLEEVE PHOTOGRAPHY: Ocean man. Take me by the hand, lead me to the land… that you understand. 
Copyright © 2021 Flying Fish Company, All rights reserved.