FISH MARKET • RESTAURANT • OYSTER BAR
3004 East Burnside Street • 971-806-6747
FRESH CATCH MARKET:

10am–8pm Every day (except Tuesday, when we are closed)

DINE-IN RESTAURANT (walk-in only, no reservations):

11am–8pm every day (except Tuesday, when we are closed)

CHEF SHACK:

1–8pm Friday–Saturday–Sunday

HAPPY HOUR:

3–5pm Weekdays (except Tuesday, when we are closed)

TUESDAY:
We accept EBT/SNAP/Oregon Trail.
COME SHELLFISHIN' TOMORROW
Cynthia Nims, author of new Shellfish recipe book, will be signing books at the Chef Shack TOMORROW!
(Pic from her IG.)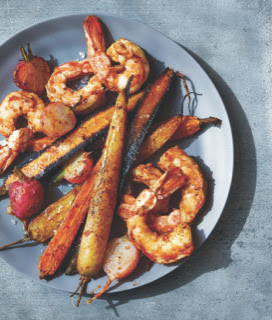 Tomorrow, Saturday July 23rd, 1–3pm, let's give a big Portland welcome to Seattle's Cynthia Nims, who'll be signing her latest book, Shellfish: 50 Recipes for Shrimp, Crab, Mussels, Clams, Oysters, Scallops, and Lobster. Well what do you know, we have ALL of those things available for sale right here in our little fish market!
Shellfish is Cynthia's 13th(!) cookbook and we are honored to have her here at the Chef Shack, where head chef in charge Trever Gilbert willbe whipping up Cynthia's recipe for Harissa Roasted Shrimp, Carrots and Radishes, pictured at right. Trever sourced fresh organic produce from Gathering Together Farm, and the dish will feature the Del Pacifico wild shrimp you'll find in our freezer. Here is Cynthia's book at Powell's.
Next up: Chef Andre Uribe will be back in action at the Chef Shack next month. Check out Sustainable Meals Oregon to see Andre's approach to cooking and place an order while you're there.
UPCOMING CHEF SHACK MEET THE AUTHOR EVENT (1–3pm)
Saturday, July 23rd: Meet the Author: Cynthia Nims, Shellfish: 50 Recipes for Shrimp, Crab, Mussels, Clams, Oysters, Scallops, and Lobster
UPCOMING CHEF SHACK GUEST CHEFS (1–8pm)
Sunday, August 21: Chef Andre Uribe, Sustainable Meals Oregon
UPCOMING CHEF SHACK MUSIC (~4–7pm)
Saturday, July 23: Eliot Chamberlain
Saturday, July 30: DJ Billy Brown & Layla
Saturday, August 13: Lone Fir Hot Club
Saturday, September 3: Bees in a Bottle
Saturday, September 10: Erik Clampitt
Full schedule HERE.
---
SO LONG, HELL; SEE YOU IN JANUARY, MEXICO!
You can't bring your guns to the fish show, but you can bet that Cap'n Lyf will bring his fish to the guns show. That pic — let's call it Trout For Breakfast — was taken but a mere couple days ago with Portland Food Adventures and Canyon Outfitters as we rafted and ate our way down Hells Canyon. Thank you so much to everyone who came along and made it such a blast.
Next January, we're heading south to MEXICO and hitting the high seas for giant yellowfin tuna that you will not believe until you see it. Matter of fact, click that thumbnail to watch the full video Lyf's buddy Lucas made from this very fishing trip where he caught those very real, very large tuna in the photo.
Puerto Vallarta base, big fish, big fun. Saturday, January 14th through Thursday the 19th. Learn more and sign up HERE.
---
AND NOW, LIVE FROM 3004 EAST BURNSIDE, HERE GO THE FISHES OF OUR FRESHNESS:
SUMMER OF SALMON
(the fish section)
Erik plates a crudo. Still from video by @zoching
Salmon, salmon, SALMON. We got Coho, we got King; We got Coho, we got King, we got King again. And Steely too. Up and down the northwest, fresh to def, most definitely.

ALSO: Can we have a moment for Walu? We can and we will. Walu, aka Escolar, is extremely rich, full of natural waxes and oils — the kind you shouldn't have TOO much of. But a little will do ya, oh it'll do ya, with deep flavor from here to Reed College, where the throwback photo below is dedicated to the memory of Lompoc Brewing and its Proletariat Red Ale, which always paired nicely with a hunk of Smoked Walu, a Smoked Salmon Belly, an olive loaf from Grand Central, some Fraga Farm feta, and a crunchy cameo apple. RIP Lompoc.

FRESH FISH AS OF FRIDAY JULY 22ND
Ahi/Bigeye Tuna* – wild, Pacific Ocean (Hawaii) – fillets

Black Cod/Sablefish – wild, Pacific Ocean (Oregon) – fillets

Branzino – sustainable farm-raised, Greece – whole fish

Chinook/King Salmon – wild, Pacific Ocean (Alaska) – whole fish & fillets

Chinook/King Salmon – wild, troll caught, Pacific Ocean (Oregon) – whole fish & fillets

Coho Salmon – wild, Pacific Ocean (Alaska) – whole fish & fillets

Coho Salmon – wild, Pacific Ocean (Oregon) – fillets

Halibut – wild, Pacific Ocean (Alaska) – fillets

Ora King Salmon* – sustainable farm-raised, New Zealand – fillets

Petrale Sole – wild, Pacific Ocean (Oregon) – fillets

Rockfish – wild, Pacific Ocean (Oregon) – fillets

Sockeye Salmon – wild, Copper River, Alaska – whole fish & fillets

Steelhead – sustainable farm-raised, Washington – fillets

Tombo/Albacore Tuna* – wild, Pacific Ocean (Hawaii)

Walu/Escolar* – wild, Pacific Ocean (Hawaii) – fillets 

→→→
* – Sushi-grade fish
OYSTERS APLENTY w/ 3 NEW VARIETIES
(the oyster section)
As of this writing at 6:19 PDT, the oyster board is a rock & roll baker's dozen — 13 kinds including three n00bs to the shop! Friends, neighbors, humans of the world: Riding shotgun from Maine with Aphrodite driving and Petit Manan in the middle, say hello to NORUMBEGA. A little big, a little firm. Coming south from Washington, say hello to MINTER SWEET and MIYAGI. Minter Sweets are mild and a little sweet, Miyagis are crisp and briny beach babies. Try all three?
FRESH OYSTERS AS OF FRIDAY JULY 22ND
Aphrodite – Maine
Fin de la Baie – New Brunswick
Kokus – Washington
Lucky Penny – Washington
Minter Sweet – Washington
Miyagi – Washington
Netarts – Oregon
Norumbega – Maine
Petit Manan – Maine
Pickering Passage – Washington
Sea Nymph – Washington
Summerstone – Washington
Valley Pearl – Prince Edward Island
SCALLOPS ON THE SCENE
(the shellfish section)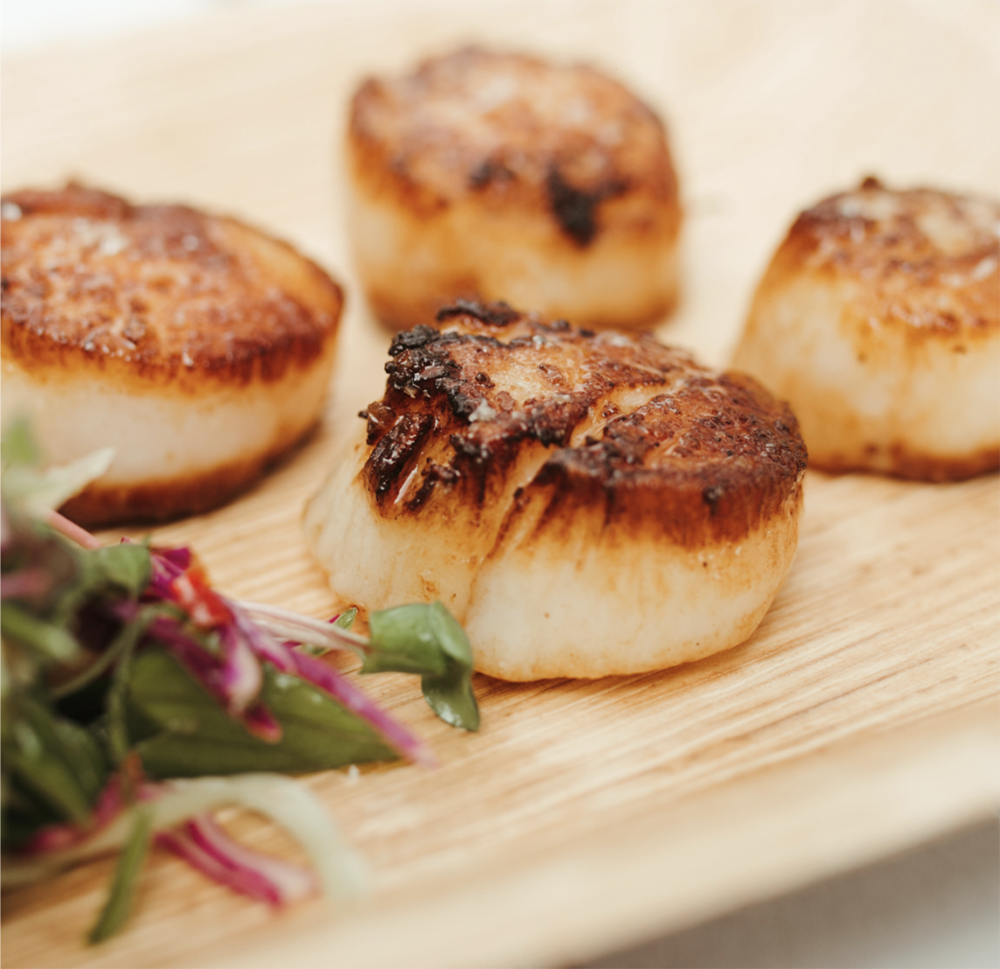 OooOOOooh, the SEEEAR • Photo by Natalie
Searin' and sizzlin', sweet and sensational, SCALLOPS. It's nice to have em back after a relative absence. They're riding in cold and fresh from Maine, no preservatives, no antibiotics, no foolin'. Pan sear em to perfection with little more than a little butter and a lime. Salt and pepper to yer taste, no more than two minutes per side, and get down to some wild Atlantic Ocean Scallops. Balance with some summertime mixed greens with a vinaigrette. There it is.
FRESH SHELLFISH AS OF FRIDAY JULY 22ND
Manila Clams – sustainable farm-raised, Washington
Mussels – sustainable farm-raised, Washington
Savory Clams – sustainable farm-raised, Washington
Scallops – wild, Atlantic Ocean (Maine)
Shrimp (frozen) – wild, Mexico (Del Pacifico)
Shucked Oysters in a jar from Jolly Roger, Willapa Bay, WA
LIL SMOKIES
(the hodgepodge market section)
Smokin' for here, smokin' for there • Photo by Dylan

This section's for the SHOP, into which you'll STOP, to see the things we SMOKE, and it'll stoke your STOKE. Whoa.

We do be smokin', it's what we do. The heavily guarded top secret Gildersleeve family recipe applies a brine that comes alive at the intersection of smoky, salty, and sweet. At that same intersection, you can make a left onto our patio and dine from the menu, or hang another left into the shop and take that smoky goodness on home.

Pictured ABOVE is one sampling of our house Smoked Salmon Platter, found on the restaurant menu with Chinook Salmon and Smoked Whitefish Spread and accompanied by our house pickled veggies and crostini. Pictured BELOW is one sampling of our house smoked fish packages to go. Salmon, sable, so much more, products that vary based on season and supply.

PREPARED PRODUCTS AS OF FRIDAY JULY 22ND
Cold Smoked Ora King Salmon
House Smoked Fishesº  →→→
Smoked Oysters
Smoked Salmon Dipº
Smoked Scallops
Smoked Whitefish Dipº
Sushi Style Pickled Ginger
º – Flying Fish house-made products
FROZEN PRODUCTS TO GO AS OF FRIDAY JULY 22ND
Alaskan Sablefish
Calamari
House-made Stock & Brothº
Ikura
Local Albacore
Local Coho Salmon Fillets
Masago
Mexican Blue Shrimp Easy Peel + Peeled & Deveined
Octopus
Oregon Bay Shrimp
Salt Cod
Tobiko
º – Flying Fish house-made products
AND ADD'L PANTRY ITEMS INSIDE THE MARKET
Caviar Spoon →→→
Cortido & Kraut-chi →→→
Hot Sauce
Ketchup
Oregon Coast Wasabi Rhizome
Rice
Shucking Knives
Sibeiho Sambals
Spices
Tinned Fish
Vinegars & such
Flying Fish SWAG, or MERCH
And more baby more
OUR RESTAURANT MENU
For dining here or to-go.
CLICK MENU TO ORDER ONLINE FOR PICKUP:
ALSO: Cocktails, sake, wine, and beer for dining onsite. Inquire within.
INSTAGRAM JAM OF THE WEEK
Heyyyyy THANK YOU to Chef Elsy of Creole Me Up, doin' the dang thing at the Chef Shack last week. Follow her at @creolemeup to see where she'll be next and where you can get her incredible products.
FLYING FISH SIGNOFF & DISCLOSURE
Danny did it, Danny DOES it.
PLEASE NOTE: This email was accurate at the time of its weekly writing. Some products come and go quicker than others, so for best results on the freshness, follow us on the social medias — Instagram / Facebook / Twitter — or just stop on in.
And tag us in your Instagram pics @flyingfishpdx – we love seeing your food pics!
---
Cheers,
Lyf and the Flying Fish Team: Alana, Alex, Boo-Boo, CJ, Danny, Ellison, Erik, Gabby, Jack, Jae, Jordan, Kenneth, Kevin, Luis, Maybe, Metzy, Mike, Neebs, Owen, Ross, Ryan P., Ryan S., Sam, Sawyer, Shannon, Trever, Wyatt, and Brad
Lyf Gildersleeve: Owner, Chief Fishmonger
Erik Englund: Culinary Director
Danny Atkins: Sous Chef
Jack Bressoud: General Manager
Ross Richardson: Beverage Director
Genevieve "Boo-Boo" Jen: Operations Manager
Sam Moser: Oyster Bar Manager
Sawyer Lovell: Fish Market Manager
Alana Ginster: Assistant Manager
Trever Gilbert: Chef Shack Executive Chef
FLYING FISH, FAMILY OWNED SINCE 1979
Craig and Sandy Gildersleeve opened Flying Fish Company in Sandpoint, Idaho in 1979. The next year, their son Lyf was born into the family business. Now president of Flying Fish, Lyf has spent his entire life around fish, including an aquaculture education at the Harbor Branch Oceanographic Institute at Florida Atlantic University.
Lyf opened Flying Fish in Portland in 2010 as a food cart at the D Street Noshery on Division Street. In 2011, we opened the fish shack at Kruger's Farm Market on Hawthorne Boulevard. In 2016, we moved into a stand at Providore Fine Foods on Sandy Boulevard. And in February 2020, we opened our standalone location on East Burnside with a restaurant and patio, and in January 2022 we added the Chef Shack.
Flying Fish has sister locations in Sandpoint, Idaho and Durango, Colorado.
* * *
Thank you for supporting our family-owned business. 
—Lyf, Natalie, Juniper, and Miles Gildersleeve (and Hazel the Dog)
* * *
PHOTO BY NATALIE GILDERSLEEVE PHOTOGRAPHY: Accurate depiction of Gildersleeve family vibe