FISH MARKET • RESTAURANT • OYSTER BAR
3004 East Burnside Street • 971-806-6747
FRESH CATCH MARKET:

10am–8pm every day (except Tuesday, when we are closed)

DINE-IN RESTAURANT (walk-in only, no reservations):

11am–8pm every day (except Tuesday, when we are closed)

CHEF SHACK:

1–8pm Friday–Saturday–Sunday

HAPPY HOUR:

3–5pm Weekdays (except Tuesday, when we are closed)

TUESDAY:
We accept EBT/SNAP/Oregon Trail.
A dark day on a dark week — for our country, for women, for all of us, and with horrible foreboding.
If you can, support NNAF.
FLYING FISH: FOOD FOR HERE + FOOD TO GO
The Salmon Burger is for here or there.
Our Salmon Burger: It's a heavenly concoction of Ora King salmon, aioli, pickled red onion, pickle slices, and romaine on a Grand Central brioche roll. Ready? C'mon in. It comes with chips and we have a whole mess of drinks for pairing. Check it out in the context of our full menu HERE, or just scroll down this email to see it there.
---
WASSUP WASSUP WASABIIIIII
Lyf and Jennifer go green @ Oregon Coast Wasabi
Flying Fish salutes our friends at Oregon Coast Wasabi and Oregon Seaweed, whose products we are proud to carry in our market. We checked out their farms this week on a staff Tillamook trip, and yep, everything checks out!
Oregon Coast Wasabi: Real deal, actual wasabi, grown with coastal stream water in Tillamook County. This ain't your pappy's green-colored American horseradish-mustard mix, this is the plant, the root, the RHIZOME. Grate it with a microplane which macerates the cells and opens up the flavor. But don't grate too early, once oxidation happens flavor gets mild within 15 minutes — grate it when you're ready to eat. It's awesome with sushi, yes, but you should also consider bloody marys and steaks, just to name a few. They also sell plant starts if you wanna try some real wasabi in your own backyard. Check out this profile from Forbes from 2020.
Oregon Seaweed: Dulse seaweed. It's nutritious, it's delicious, it's a complete protein. Dulse is a small clamshell of fresh seaweed that's good for salad, pasta, poke, soups, smoothies, and much more, including oysters, pictured in the oyster section down below.
Renewable, sustainable, local, plant-based goods. We can dig it. Can YOU dig it?
Oregon Seaweed squad: Ellison, Mike, Alanna, Kevin
---
CHEF SHACK CURRENT & COMING ATTRACTIONS
That right there? BAO BUN. Chef Trever's latest addition to the Chef Shack menu — check it out this weekend? Please do come by and check out Trev's menu this weekend, he'll be there today, tomorrow, and Sunday, 1–8pm. Lonnie Ohta will be here tomorrow, serenading the Chef Shack / beer garden with tunes in the neighborhood of 4–7pm.
Next weekend? Look at this guest spot goodness coming Friday AND Saturday next weekend from Chefs Rachel and Laura from Two Spoons PDX:
And then? Chef Elsy will unleash some Creole Me Up fire on Friday, July 15th. And the following month, we'll welcome Chef Andre back to Flying Fish facilities for a round of fresh made PAELLA, baby! Plan ahead.
UPCOMING CHEF SHACK GUEST CHEFS (1–8pm)
Friday–Saturday, July 1–2: Chefs Laura & Rachel, Two Spoons PDX
Friday, July 15: Chef Elsy Dinvil, Creole Me Up
Sunday, August 21: Chef Andre Uribe, Sustainable Meals Oregon
UPCOMING CHEF SHACK MUSIC (~4–7pm)
Saturday, June 25: Lonnie Ohta
Saturday, July 2: Carl Solomon
Saturday, July 9: Gary Furlow
Saturday, July 16: Steve Cheseborough
Saturday, July 16: Eliot Chamberlain
Saturday, August 13: Lone Fir Hot Club
Full schedule HERE.
---
BIG FISH, BIG FUN
Two major field trips are on the horizon, and one is less than a month away. Skip to it!
RAFTING IN HELLS CANYON, JULY 17–21 • 2 SPOTS LEFT • Details HERE • contact Chris at Portland Food dventure: 503-314-4221 / chris@portlandfoodadventures.com
FISHING IN MEXICO: Multi-day adventures will depart from Puerto Vallarta, Mexico in October (5 SPOTS LEFT) and November (3 SPOTS LEFT) where we'll be fishing for BIG ASS TUNA (pictured at right) and other trophy fishes.
These and all Flying Fish Field Trips and events are on the Flying Fish Field Trips and Events page.
---
AND NOW, FRESH FISH AND SUCH
PEAK SLAMMIN' SEASON
Copper River Sockeye is down with the herb • Photo courtesy of Copper River Salmon
Local Chinook Salmon is running like 50 years of Uncle Phil on the Oregon Coast, or maybe more specifically like a dude named Pre down Coos Bay way. Pictured above? Copper River Sockeye Salmon, the good stuff, the really good stuff, awaiting grill preparation with fresh herbs. As fragrant as Mount Tabor on a dewy summer morning. As flavorful as Queen Latifah's circa-1993 Flavor Unit. As melt-in-your-mouth as peanut M&Ms left in the glove box on a hot day. Heck yeah, Copper Sockeye.ALSO: a related fresh fish heads up: Oregon Albacore Tuna season is generally July-August-September, and July is one whole week away… which means? Get ready for local Albacore, it's the best of the best, and it's COMING SOON. In the meantime, we've got it good and fresh and steady from Hawaii, where it's called Tombo.
FRESH FISH AS OF FRIDAY JUNE 24TH
Ahi/Bigeye Tuna* – wild, Pacific Ocean (Hawaii) – fillets
Black Cod/Sablefish – wild, Pacific Ocean (Oregon) – fillets
Branzino – sustainable farm-raised, Greece – whole fish
Chinook Salmon – wild, Pacific Ocean (Oregon) – whole fish & fillets
Escolar/Walu* – wild, Pacific Ocean (Hawaii) – fillets
Halibut – wild, Pacific Ocean (Alaska) – fillets →→→
Lingcod – wild, Pacific Ocean (Oregon) – fillets
Ora King Salmon* – sustainable farm-raised, New Zealand – fillets
Petrale Sole – wild, Pacific Ocean (Oregon) – fillets
Rockfish – wild, Pacific Ocean (Oregon) – fillets
Sockeye Salmon – wild, Copper River, Alaska – whole fish & fillets
Steelhead – sustainable farm-raised, Washington – fillets
Swordfish – wild, Pacific Ocean (Hawaii)
Tombo/Albacore Tuna* – wild, Pacific Ocean (Hawaii)
* – Sushi-grade fish
OYSTER DRIP
Drippin like the dribble of a brine from a shell for a shuck, what what
Thirteen varieties. Like Baskin Robbins but backwards and salty, not sweet. Salty like the ocean, ocean like the brine that's guiding that sensation down ya gullet. Slurp em down, get one of each. Oysters, that is. Thirteen varieties of oysters, RIGHT NOW.
FRESH OYSTERS AS OF FRIDAY JUNE 24TH
Fin de la Baie – New Brunswick, Canada
Hama Hama – Washington
Hammersley – Washington
Kokus – Washington – GRILLIN OYSTERS
Kusshi – British Columbia, Canada
Mr Bill – Massachusetts
Netarts – Oregon
Pickering Passage – Washington
Shigoku – Washington
Summerstone – Washington
Tidepoint – Washington
Valley Pearl – Prince Edward Island, Canada
Willapa Willies – Washington
CLAMS CLAMS CLAMS
Clams, I said, Clams.
Clams clams clams. Clams MUSSELS clams. Plus frozen shrimps. And oysters for shuckin and slurpin, as you may have noted above. So much shellfish. So much freshness. Clams clams clams. Clams MUSSELS clams.
FRESH SHELLFISH AS OF FRIDAY JUNE 24TH
Clams Clams Manila Clams – sustainable farm-raised, Washington
Mussels, Man, Mussels – sustainable farm-raised, Washington
Clams Clams Savory Clams – sustainable farm-raised, Washington
BIG ON BEEF
Ribeye: just about to be an "after" photo
BIG beef. Beef as big as John Day Country, home of the Painted Hills AND Painted Hills Natural Beef. Ribeye, specifically. Bone in or bone out? Yes.
FRESH BACON MEMORIES AS OF FRIDAY JUNE 24TH
PORK

Uncured Applewood Bacon – Tails & Trotters – Portland, OR

EGGS

Chicken Eggs – Odyssey Hill Farm – Salem, OR
Quail Eggs

BEEF

Ribeye – Painted Hills Natural Beef – John Day, OR
TACO TIME?
Halibut tacos, that is. Drizzled.
Yeah, Halibut Fillets are cool, but have you tried Halibut Taco Pieces??? You could be making fish tacos at home but you gotta grab a little bag of these. You can take them any direction you like, but we insist on the cotija cheese. And we insist your consideration for ALL of these delightful things found inside the shop – they might be frozen, they might be prepared, they might be in the pantry, they might be all of the above.
FROZEN PRODUCTS TO GO AS OF FRIDAY JUNE 24TH
Alaskan Halibut Fillets & Taco Pieces
Alaskan Sockeye Salmon Fillets
Calamari
Ikura
Local Coho Salmon Fillets
Masago
Mexican Blue Shrimp Easy Peel + Peeled & Deveined
Octopus
Oregon Bay Shrimp
Salt Cod
Tobiko
Wasabi Paste
Weathervane Scallops
PREPARED PRODUCTS AS OF FRIDAY JUNE 24TH
Boquerones
Cold Smoked Ora King Salmon
Oregon Seaweed Dulse Seaweed
House Smoked Fishesº
Pickled Herring
Smoked Salmon Dipº →→→
Smoked Whitefish Dipº
Sushi Style Pickled Ginger
º – Flying Fish house-made products
AND ADD'L PANTRY ITEMS INSIDE THE MARKET
Sibeiho Sambals
Oregon Coast Wasabi Rhizome
Cortido & Kraut-chi
Caviar Spoon
Rice
Vinegars & such
Shucking Knives
Ketchup
Hot Sauce
Tinned Fish
Spices
Flying Fish Swag
And More
OUR RESTAURANT MENU
For dining here or to-go.CLICK MENU TO ORDER ONLINE FOR PICKUP:
ALSO: Cocktails, sake, wine, and beer for dining onsite. Inquire within.
INSTAGRAM JAM OF THE WEEK
Sheesh @terry.woodburn, THAT is how you do poke at home. Well done and thank you.
FLYING FISH SIGNOFF & DISCLOSURE
Say hey, Jae →
PLEASE NOTE: This email was accurate at the time of its weekly writing. Some products come and go quicker than others, so for best results on the freshness, follow us on the social medias — Instagram / Facebook / Twitter — or just stop on in.
And tag us in your Instagram pics @flyingfishpdx – we love seeing your food pics!
---
Cheers,
Lyf and the Flying Fish Team: Alana, Alex, Boo-Boo, CJ, Danny, Ellison, Erik, Gabby, Jack, Jae, Jordan, Kenneth, Kevin, Luis, Maybe, Metzy, Mike, Neebs, Owen, Ross, Ryan P., Ryan S., Sam, Sawyer, Shannon, Trever, Wyatt, and Brad
Lyf Gildersleeve: Owner, Chief Fishmonger
Erik Englund: Culinary Director
Danny Atkins: Sous Chef
Jack Bressoud: General Manager
Ross Richardson: Beverage Director
Genevieve "Boo-Boo" Jen: Operations Manager
Sam Moser: Oyster Bar Manager
Sawyer Lovell: Fish Market Manager
Alana Ginster: Assistant Manager
Trever Gilbert: Chef Shack Executive Chef
FLYING FISH, FAMILY OWNED SINCE 1979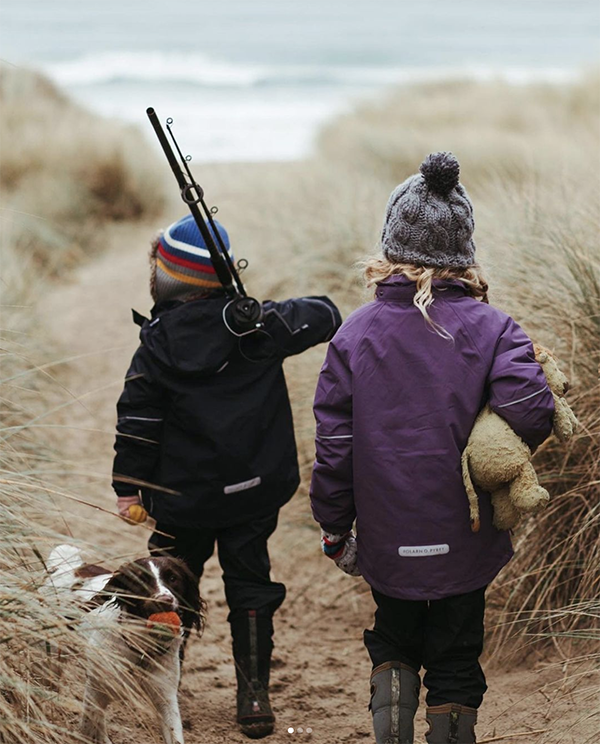 Craig and Sandy Gildersleeve opened Flying Fish Company in Sandpoint, Idaho in 1979. The next year, their son Lyf was born into the family business. Now president of Flying Fish, Lyf has spent his entire life around fish, including an aquaculture education at the Harbor Branch Oceanographic Institute at Florida Atlantic University.
Lyf opened Flying Fish in Portland in 2010 as a food cart at the D Street Noshery on Division Street. In 2011, we opened the fish shack at Kruger's Farm Market on Hawthorne Boulevard. In 2016, we moved into a stand at Providore Fine Foods on Sandy Boulevard. And in February 2020, we opened our standalone location on East Burnside with a restaurant and patio, and in January 2022 we added the Chef Shack.
Flying Fish has sister locations in Sandpoint, Idaho and Durango, Colorado.
* * *
Thank you for supporting our family-owned business.
—Lyf, Natalie, Juniper, and Miles Gildersleeve (and Hazel the Dog)
* * *
PHOTO BY NATALIE GILDERSLEEVE PHOTOGRAPHY: Hazel, Miles & Juniper: in their element
Copyright © 2022 Flying Fish Company, All rights reserved.
Our mailing address is:
Flying Fish Company
3004 E Burnside St
Portland, OR 97214-1950