FISH MARKET • RESTAURANT • OYSTER BAR
3004 East Burnside Street • 971-806-6747
* MARKET OPEN 10AM–8PM EVERY DAY EXCEPT TUESDAY *
* RESTAURANT OPEN 11AM–8PM EVERY DAY EXCEPT TUESDAY *
(Both closed every Tuesday)
Please read our Covid-19 house rules HERE  •  We accept EBT/SNAP/Oregon Trail.
BACK ON THE SCENE, CRISPY AND CLEAN
Greetings and hello, Flying Fish community. Cap'n Lyf and Chef Erik have returned from Hells Canyon and Brad the Email Guy has returned from Phishin' in Atlantic City. Lyf and his family have subsequently gone fishin' in Alaska along with a number of folks in the Flying Fish family. They're casting lines for wild Alaska fishes: salmon, halibut, cod, oh yeah. Go git it, Miles. But this email? It's happening – in fact you're reading it.
Pictured above and on our patio and at all three Lardo locations: The CHEFWICH. This collabo sando with Chef Rick at Lardo features local albacore tuna lightly seared, smothered with fish sauce chimmichurri, house aioli, and pickled onions on a Dos Hermanos Bakery brioche bun. Order here and get it with oysters. Order there and get it with dirty fries. Part of the proceeds will be donated to our friends at Save Our Wild Salmon. There is no way to lose – unless you snooze. It's only available through August, which *checks calendar* has 10 days left. Tick tick. *makes Dame Time motion*
Speaking of, shoutout to Fox12 Good Day Oregon for the Chefwich love! Watch it HERE.
And shoutout to the LA Times for the love in their recent profile of the PDX food scene. Read it HERE. (Also check out the package design at @tofuhomestyle.)
---
The local oyster sitch is still in post-heat dome regroup, so we're all stocked on East Coasties and New Zealies. As usual, inventory varies by day. For best results, come on by. Following are some other things you might expect to see in our little slice of heaven at 30th & Burnside…
TUNA TIME
Woof. That's the Chefwich "before" shot. Photo by Dylan.
Ain't no party like an Oregon Albacore party cos the Oregon Albacore party don't stop. Well, until it does, when the season's over. But in season? Let's party. 
Dylan Santos Green
 took us some snazzy photos of the Chefwich and other selections on our menu, so the newsletter photo library is hella stocked. Pictured here is a nice cut of local 
Albacore Tuna
 loin, seasoned and ready for action. You can make your own at home, mix and match ingredients, or just slice it raw, dip it (or don't!), and send that sumbitch down your gullet. As sushi as you wanna be. It's Oregon Albacore party time, and if that alone doesn't scratch your tuna itch, may we suggest the Hawaiian Yellowfin? Or our house Tuna Niçoise, pictured below? We may and we will.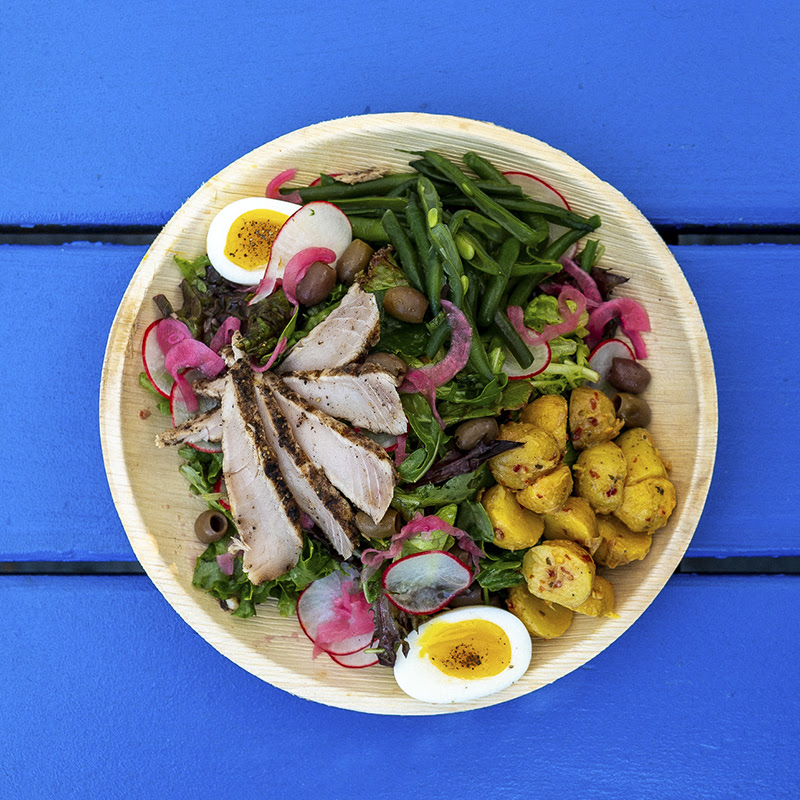 FRESH FISH AS OF
SATURDAY AUGUST 21ST
Albacore Tuna* – wild, Pacific Ocean (Oregon) →
Chinook Salmon – wild, tribal caught, Columbia River
Coho Salmon – wild, Pacific Ocean (Alaska)
Halibut – wild, Pacific Ocean (Alaska)
Rainbow Trout – sustainable farm-raised, Idaho
Rockfish – wild, Pacific Ocean (Oregon)
Steelhead – sustainable farm-raised, Washington
Yellowfin Tuna* – wild, Pacific Ocean (Hawaii)
* – Sushi-grade fish
NOW THAT'S A SPECIAL OYSTER SPECIAL
But it, as with all our products, is subject to change. Photo by Dylan.
Ahhh, subject to change. Ain't that life. You may find yourself with a berry kombucha snow with pickled Fresno chili and beet micro green. (Pictured above, that was earlier this week.) You may find yourself with fermented pineapple tepache, chili oil, cilantro and cucumber. (Not pictured here, but on the menu this weekend.) These fancy concoctions come atop two East Cape oysters, two for $9, or half a dozen for $24. They fancy, and they deeelicious.
And you may ask yourself, can I try this at home? Sure, and you can even try it on half a dozen oyster varieties. Letting the days go by. Let the water hold me down.
FRESH OYSTERS AS OF SATURDAY AUGUST 21ST
Coromandel – New Zealand
East Cape – Prince Edward Island
Fairhaven – Massachusetts
Island Creek – Massachusetts
Wellfleet – Massachusetts
Whaleback – Maine
MUSSEL MASS
I want all I can get. I want mussels, mussels, mussels. With apologies to Diana Ross.

FRESH SHELLFISH AS OF SATURDAY AUGUST 21ST
Mussels – sustainable farm-raised, Washington
Manila Clams – sustainable farm-raised, Washington
Littleneck Clams – sustainable farm-raised, Massachusetts
Sea Scallops – wild, Atlantic Ocean (Massachusetts)
Shrimp (FROZEN) – wild, Del Pacifico, Mexico
THE SMOKER YOU FISH,
THE COLLAR YOU GET
With apologies to Joe Walsh et al. Flying Fish house-smoked fishes. We love em and hope you do too. Results may vary, just check the smoked fish cooler.

Smokin' centerpiece photo by Dylan. 
SMOKED FISHES AS OF 
SATURDAY AUGUST 21ST
Smoked Salmon Collarsº
Smoked Salmon Belliesº
Smoked Steelheadº
Smoked Ora King Salmonº
º – Flying Fish house-smoked, Gildersleeve family recipe
Yeah yeah yeah yeah yeah, Rocky Mountain way. Ooooh.
OUR RESTAURANT MENU
For dining here or to-go. Menu updated July 2021.
NOTE: In-person version includes Chefwich.
CLICK MENU TO ORDER ONLINE FOR PICKUP:
ALSO: Cocktails, sake, wine, and beer for dining onsite. Inquire within.
FLYING FISH SIGNOFF & DISCLAIMER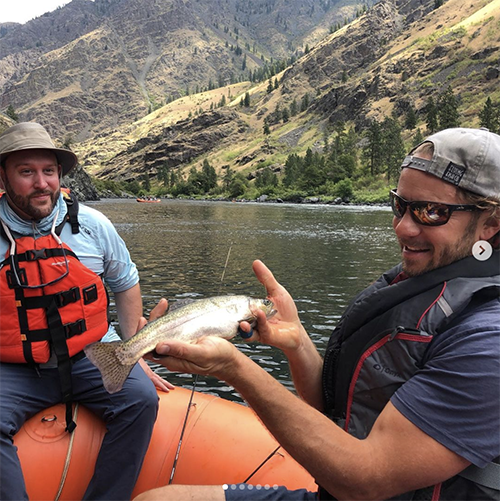 PLEASE NOTE: This email was accurate at the time of its weekly writing. Some products come and go quicker than others, so for best results on the freshness, follow us on the social medias: Facebook, Instagram, and Twitter. And tag us in your Instagram pics @flyingfishpdx – we love seeing your food pics!
Cheers,
Lyf Gildersleeve and the Flying Fish Team: Alana, Boo-boo, Chris, Danny, Elowynn, Erik, Isabelle, Jack, Jae, Jesse, Jordan, Kenneth, Kevin, Luis, Mad Dog, Madeline, Mike, Neebs, Ross, Ryan P, Ryan S, Sam, Sarah, Sawyer, Tara, Trever, Wyatt, and Brad
INSTAGRAM JAM OF THE WEEK
Super duper thank you to everyone who came on the Hells Canyon rafting trip, to @portlandfoodadv for putting it together for us, and to @pennsyown for this in-the-moment pic of Chef Erik and Cap'n Lyf (with trout) in situ.
ABOUT FLYING FISH
Craig and Sandy Gildersleeve opened Flying Fish Company in Sandpoint, Idaho in 1979 – the year before their son Lyf was born.
Now president of Flying Fish Company, Lyf has spent his entire life around fish, including an aquaculture education at the Harbor Branch Oceanographic Institute at Florida Atlantic University.
Flying Fish has three locations: Sandpoint, Idaho; Durango, Colorado; and Portland, Oregon. The Portland location opened in 2009 as a food cart at the D Street pod on Division Street. In 2011, we opened the fish shack on Hawthorne Boulevard. In 2016, we moved into a stand at Providore Fine Foods on Sandy Boulevard. In February 2020, we opened our standalone location on East Burnside with a restaurant and a patio.
* * *
Thank you for supporting our family-owned business. 
—Lyf, Natalie, Juniper, and Miles Gildersleeve (and Hazel the Dog)
* * *
PHOTO BY NATALIE GILDERSLEEVE PHOTOGRAPHY: The Gildersleeves go to Alaska.
Copyright © 2021 Flying Fish Company, All rights reserved.
Our mailing address is:
Flying Fish Company
3004 E Burnside St
Portland, OR 97214-1950