FISH MARKET • RESTAURANT • OYSTER BAR
3004 East Burnside Street • 971-806-6747
FRESH CATCH MARKET: 10am–8pm every day (except Tuesday, when we are closed)
DINE-IN RESTAURANT (walk-in only, no reservations): 11am–8pm every day (except Tuesday, when we are closed)
CHEF SHACK: 1–8pm Friday–Saturday–Sunday
HAPPY HOUR: 3–5pm Weekdays (except Tuesday, when we are closed)
TUESDAY: CLOSED
We accept EBT/SNAP/Oregon Trail.
WANNA WORK WITH US?
Behind the scenes, we're cooking up a storm. Erik, Chris, Lyf & Sawyer.
Hey hey: WE'RE HIRING! Wanna work with us? We're looking for talented line cooks to join our hard working, good looking, fun having team. Good pay, good opportunity, the best in fresh ingredients and commitment to sustainability. Sound good? Tell us why and send your résumé via email to 
food@flyingfishpdx.com
.
---
---
HAPPY MEMORIAL DAY WEEKEND, COME VISIT US @ FLYING FISH & CHEF SHACK!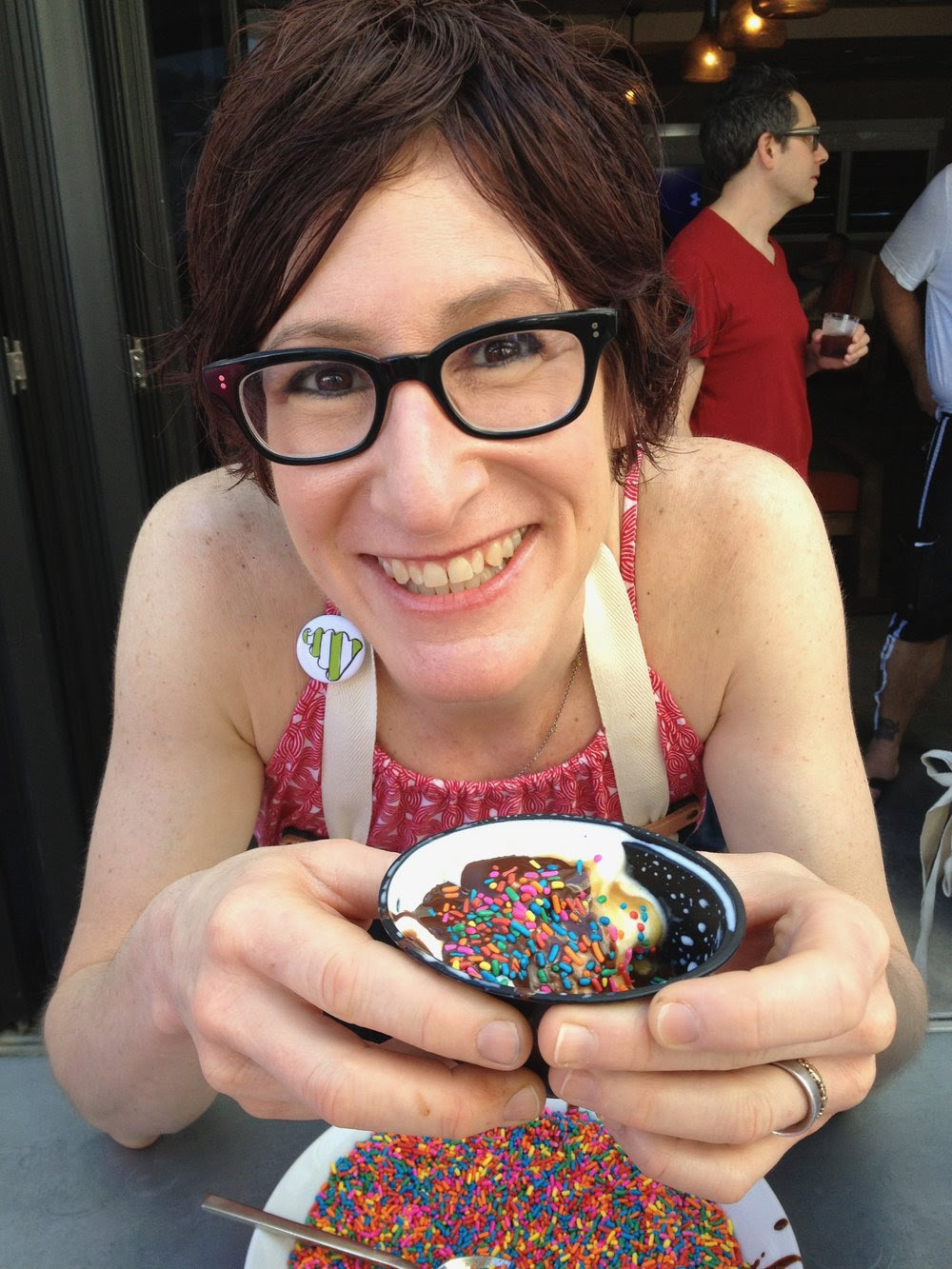 We'll have room on the patio just for you and yours. 
Chef Trever
 is doing his thing and testing out some new menu stuff – think shrimp, think ceviche, definitely plan on grilled oysters, which we'll get more to in the oyster section below. 
Henry Fields
 will man the tunes round about 4:30.
Then next Saturday, our bud Jenn Louis, pictured at right without her multiple James Beard nominations, will run the show. And as a bonus treat, her sweetheart Larry will have his Reichman-Zekala Duo playing tunes. ALSO: Next Friday, we have a special edition music session with Sandra Small & Paul Brainard at the Chef Shack. Details? Here ya go:
UPCOMING CHEF SHACK CHEFS (1–8pm)
Saturday, June 4: Jenn Louis
Saturday, July 2: Two Spoons PDX
UPCOMING CHEF SHACK MUSIC (~4–7pm)
See more HERE.
---
---
WHOA, TWO RAFTING SPOTS HAVE OPENED!
This could be us but you have to sign up first.
There it is: news you can use. Hells Canyon. A big ol raft. A big ol party. Fantastic food. Join us Sunday–Thursday, July 17–21, as we paddle down the Snake River with Canyon Outfitters and Portland Food Adventures. Check out the details HERE, and when you're ready, get in touch with Chris at Portland Food Adventures here: 503-314-4221 / chris@portlandfoodadventures.com.
This and all Flying Fish Field Trips are on the Flying Fish Field Trip page.
---
---
MULTNOMAH VILLAGE, WE'LL SEE YOU IN TWO WEEKS!
Shoutout to all our old heads who remember the Flying Fish fish truck that we used to set up with Kris across from John's Marketplace. We're coming back for one afternoon only: Saturday, June 11th, 12–3pm. We'll be shucking Netarts and Kokus Oysters, paired with beers from Baerlic Brewing and bubbles from Corollary Wines. That's it. See you there.
---
---
HERE ARE YOUR MEMORIAL DAY WEEKEND FRESHIES
Okily dokily doo, neighborino.
FRESH FISH, THE HIGH-QUALITY KIND
Halibut. Wild Mushrooms. Greens. Heaven. Photo and recipe courtesy of Alaska Seafood.
Halibut Halibut Halibut. 
Three times, in bold – but coming in TWICE. The first is steady as she goes: Wild and reeled from the cold water depths offshore of Alaska, a big honkin fish for a big honkin weekend. The other is a total bonus? The fishermen and fisherwomen trolling for Chinook Salmon off the Oregon Coast are allowed a small percentage of Halibut bycatch which happens this time of year. And guess who's the beneficiary. Hint: IT'S US! We've got Halibut coming from up north AND out west.
This Sunday looks like a nice one for cooking inside. Get a good rainy hikeabout in the morning, come on home and smell the house up with halibut, first sautéed on the stovetop, then finished in the oven. Semolina crust, olive oil to keep it light (or butter to go nuts), serve over buttery mushrooms and leeks, serve THAT over a bed of greens (arugula's always the move)… That's bad, baby. Not bad meaning bad but bad meaning good…….. THERE IT IS. Try the recipe HERE.
ALSO: Copper River Sockeye Salmon is rolling! Our next shipment of the stuff arrives tomorrow (Saturday). Also pay attention to the local Lingers and Lunkers — Lingcod and Chinook Salmon — both coming in hot from the Coast. Not hot meaning hot but hot meaning cold……… THERE IT IS. *Bob James bell solo*
FRESH FISH AS OF FRIDAY MAY 27TH
Ahi/Bigeye Tuna* – wild, Pacific Ocean (Hawaii) – fillets
Black Cod/Sablefish – wild, Pacific Ocean (Oregon) – fillets
Branzino – sustainable farm-raised, Greece – whole fish
Chinook Salmon – wild, Pacific Ocean (Oregon) – whole fish & fillets
Copper River Sockeye Salmon – wild, Alaska – fillets – ARRIVING SATURDAY – pictured with capers, lemon, and asparagus at right courtesy of Copper River Salmon→ → →
Escolar/Walu* – wild, Pacific Ocean (Hawaii) – fillets
Halibut – wild, Pacific Ocean (Alaska) – fillets
Halibut – wild, Pacific Ocean (Oregon) – fillets
Lingcod – wild, Pacific Ocean (Oregon) – fillets
Ora King Salmon* – sustainable farm-raised, New Zealand – fillets
Petrale Sole – wild, Pacific Ocean (Oregon) – fillets
Rockfish – wild, Pacific Ocean (Oregon) – fillets
Steelhead – sustainable farm-raised, Washington – fillets
Swordfish – wild, Pacific Ocean (Hawaii)
Tombo/Albacore Tuna* – wild, Pacific Ocean (Hawaii)
* – Sushi-grade fish
OYSTERS: GRILLIN LIKE BOB DYLAN
See? They're steaming because they were on the grill. Thanks Trever.
A happiest 81st birthday to the Bard. In his honor we're shuck shuck shuckin on heaven's door. More specifically, we're grill grill grillin beaucoup Kokus. Memorial Day weekend weather's looking cool and damp, like late May in Portland should, and you know what that means: Effervescent, ever fragrant steam will rise from your grill. You know the scene: It's that light rain steadier than a mist but not quite a downpour; the kind that will explode with the smoky steam of oysters when you lift the lid of your grill. Breathe it in. 
Ahhh.
Kokus are rated #1 on our list of grillin oysters, but they're only one of 17 – seventeen! – varieties of oysters we have available right this very second. One more shuck of oyster 'fore I go… TO THE VALLEY BELOW.
POSITIVELY FRESH OYSTERS AS OF FRIDAY MAY 27TH
Chelsea Gem – Washington
Disco Hama – Washington
Fin de la Baie – New Brunswick
Fortune Select – Nova Scotia
Hama Hama – Washington
Hammersley – Washington
Kokus – Washington – GRILLIN LIKE BOB DYLAN
Los Rucos – Washington
Mere Point – Maine
Netarts – Oregon
Petit Manan – Maine
Pickering Passage – Washington
Shigoku – Washington
Skagit Oishi – Washington
Valley Pearl – Prince Edward Island
Virginica – Washington
Willapa Willies – Washington
Next week's oyster section will start anew.
But it's all over now, baby blue.
CLAMS SO SAVORY,
MUSSELS SO FLAVORY
Get with the program, Avery
Savory Clams. Purple varnish. Invasive. Delicious. Help?
FRESH SHELLFISH AS OF FRIDAY MAY 27TH
Manila Clams – sustainable farm-raised, Washington
Mussels – sustainable farm-raised, Washington
Savory Clams – sustainable farm-raised, Washington
Shucked Oysters in a jar from Jolly Roger, Willapa Bay, WA
SENSATIONAL SEAWEED
See that Seaweed, CC. It goes with everything, it goes by itself. But it only goes if you take it there. Will you take it there? Oregon Seaweed will. It's the feature photo of this section, representing products prepared and ready to eat. The pantry, or dry goods inventory, is represented by tinned fish, which we sell as a fish market. Evidently it is a trendy item, as noted by this Guardian story. "Yes we can!" It says. CAN because of the CAN. Very clever indeed, Guardian. And the frozen products? Keep a napkin handy for that feature photo, Calamari, as noted in bold with right arrows.

FROZEN PRODUCTS TO GO AS OF FRIDAY MAY 27TH
Alaskan Halibut Fillets & Taco Pieces
Alaskan Sablefish
Alaskan Sockeye Salmon Fillets
Calamari, got the drip → → →
Ikura
Local Coho Salmon Fillets
Masago
Mexican Blue Shrimp Easy Peel + Peeled & Deveined
Octopus
Oregon Bay Shrimp
Salt Cod
Tobiko
Weathervane Scallops
PREPARED PRODUCTS AS OF FRIDAY MAY 27TH
Boquerones
Cold Smoked Ora King Salmon
Dulse Seaweed
House Smoked Fishesº
Pickled Herring
Smoked Salmon Dipº
Smoked Whitefish Dipº
Sushi Style Pickled Ginger
º – Flying Fish house-made products
AND VARIOUS PANTRY ITEMS
Rice
Vinegars & such
Shucking Knives
Ketchup
Hot Sauce
Tinned Fish → → →
Spices
Flying Fish Swag
YEAH, WE GOT BEEF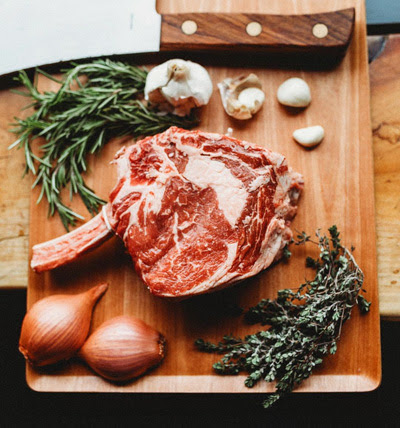 And there it is in a photo by Natalie, resolution clearly reduced from an earlier, high-quality photo, its size fudged up in Mailchimp from a small photo. #fulltransparency
Beef? Beef. Rock & roll ribeye. Beef.
FRESH MEAT AS OF FRIDAY MAY 27TH
Chicken Eggs – Odyssey Hill Farm – Salem, OR
Quail Eggs
Pork – Tails & Trotters – Portland, OR

Salami Fire Sticks 

Beef – Painted Hills Natural Beef – John Day, OR
Rock & roll.
OUR RESTAURANT MENU
For dining here or to-go.
CLICK MENU TO ORDER ONLINE FOR PICKUP:
ALSO: Cocktails, sake, wine, and beer for dining onsite. Inquire within.
INSTAGRAM JAM OF THE WEEK
Wow @nichole__lynn this is a thing of beauty!!!
FLYING FISH SIGNOFF & DISCLOSURE
"Here comes the good stuff." — Alina →
PLEASE NOTE: This email was accurate at the time of its weekly writing. Some products come and go quicker than others, so for best results on the freshness, follow us on the social medias: Facebook, Instagram, and Twitter. And tag us in your Instagram pics @flyingfishpdx – we love seeing your food pics!
---
Cheers,
Lyf and the Flying Fish Team: Alana, Alex, Alina, Boo-boo, Chris, Danny, Ellison, Elowynn, Erik, Gabby, Jack, Jae, Jordan, Kenneth, Kevin, Luis, Madeline, Mike, Neebs, Owen, Ross, Ryan P, Ryan S, Sam, Sawyer, Shannon, Trever, Wyatt, and Brad
Lyf Gildersleeve: Owner, Chief Fishmonger
Erik Englund: Culinary Director
Danny Atkins: Sous Chef
Jack Bressoud: General Manager
Ross Richardson: Beverage Director
Genevieve "Boo-Boo" Jen: Operations Manager
Sam Moser: Oyster Bar Manager
Sawyer Lovell: Fish Market Manager
Alana Ginster: Assistant Manager
Trever Gilbert: Chef Shack Executive Chef
FLYING FISH, FAMILY OWNED SINCE 1979
Craig and Sandy Gildersleeve opened Flying Fish Company in Sandpoint, Idaho in 1979. The next year, their son Lyf was born into the family business. Now president of Flying Fish, Lyf has spent his entire life around fish, including an aquaculture education at the Harbor Branch Oceanographic Institute at Florida Atlantic University.
Lyf opened Flying Fish in Portland in 2010 as a food cart at the D Street Noshery on Division Street. In 2011, we opened the fish shack at Kruger's Farm Market on Hawthorne Boulevard. In 2016, we moved into a stand at Providore Fine Foods on Sandy Boulevard. And in February 2020, we opened our standalone location on East Burnside with a restaurant and patio, and in January 2022 we added the Chef Shack.
Flying Fish has sister locations in Sandpoint, Idaho and Durango, Colorado.
* * *
Thank you for supporting our family-owned business. 
—Lyf, Natalie, Juniper, and Miles Gildersleeve (and Hazel the Dog)
* * *
PHOTO BY NATALIE GILDERSLEEVE PHOTOGRAPHY: Juniper in the wild