---
To Our Market Community,
One of the things we love most about Oregonians is how much they love and respect our outdoor spaces. If there is anything predictable about us it is that we will choose to be outdoors over being indoors whenever the weather cooperates (and even when it doesn't!). This means coming to the farmers market, dining at a sidewalk table, or grabbing our backpack and boots to explore one of the thousands of hiking trails in our beautiful state.
Market vendors Melanie Jenkinson of Howl at the Spoon and Aiyesha Christian of Nomad Mix understand this pull to the outdoors and have designed products to make the experience even more pleasurable for all explorers.
Aiyesha grew up fishing in our beautiful rivers, camping in the lush wilderness, and swimming in the frigid ocean. During her adventures trail mix was her go-go snack but as she matured, her taste buds matured as well. She began to find conventional trail mix too salty or too sweet. Every brand seemed to contain the same ingredients. Aiyesha dreamed of a mix that utilized unique flavors and ingredients. Tapping into her creativity, love, and knowledge of food, Nomad was born. Nomad's mission is to offer the world a healthy snack while protecting our natural environment and our inherent human curiosity for exploration.
Melanie Jenkinson found similar inspiration in the outdoors. An avid backpacker, cookbook author, and all-around busy person,  Melanie got tired of finding the same old boring packaged condiments for use with meals on the go, so she decided to produce her own.
Using recipes she regularly made at home, she came up with a variety of plant-based sauces made from organic ingredients and blended with high-quality olive oil. She packaged them in individual packets that fit easily into a lunch box, backpack, or purse. She makes four restaurant-quality sauces — Al Pastor, Chimi Churri, Lemon Dill, and her newest flavor, Marionberry.
Both Howl at the Spoon and Nomad Trailmix donates portions of their proceeds to organizations that support our planet and you will find them in the center aisle, right next to each other this Saturday.
 Warm Regards,
The Beaverton Farmers Market
---
We will see you this Saturday at the Market from 8:30 AM-1:30 PM.
---
Bokashi is Back!
Cartwheel Community Farm is back at the market and so is their Bokashi! As gardeners begin to prepare their gardens for the upcoming season we thought we would reshare an article on Bokashi from Emma at Cartwheel that ran in last year's newsletter.
The World of Bokashi!
Plants feed us generously; it's time we feed them too!
Bokashi is fermented plant food. It supplements soil and plant health. Made of Effective Microbes (EM), wheat bran, and molasses – Bokashi helps minimize dependence on chemical fertilizers, boost the health of the soil, plants, and their resilience, as well as intensifies flavor profiles and plant growth.
Effective Microbes (EM) act as the fermenting agent in Bokashi. Like a sourdough starter or kombucha mother. EM is a unique consortium of 80+ microbes. Developed by Dr. Higa -a Japanese scientist and professor, in 1982. Bokashi, in many different forms, has been made for generations across Asia.
These microbes help initiate regeneration in the soil by making nutrients more accessible and offering themselves as a food source to indigenous microbes. This supports and strengthens the existing soil biome, rather than taking over and altering its native key players. Acting like a probiotic, Effective Microbes energize the soil food web and boost its health. This directly supports a plant's resilience and ability to thrive. When plants receive the nutrients they need their health and nutrient density increase and as a consumer, your own as well.
We make Bokashi weekly at Cartwheel Community Farm and generously dust handfuls at the base of transplants, layer it into mulch, and ferment other nutrients into it to make them more accessible.  We will have bokashi at the market so you can try it out in your garden and have bulk order options available as well. We are thrilled to introduce you to these marvelous microbes and share them with you! We offer workshops and educational opportunities if you'd like to learn more or come see the microbes in action!
Feel free to reach out with any questions: cartwheelcommunityfarm@gmail.com
---
Fiesta Festive Pasta
Cinco De Mayo is next Thursday and if you are looking to serve a dish that puts a new twist on traditional flavors then Barry Bronson of Esotico Pasta has a great idea for you. He is offering $1 off on the purchase of his Black Bean Chipotle Pasta which comes with a recipe card for this tasty sauce.
Tomato/Avocado Sauce 
8 oz. Esotico black bean/ chipotle pasta (cook as directed on the back of the package)
3 tomatoes chopped
4 cloves garlic minced
½ c cilantro
2/3 tsp cumin
1 ½ tsp. salt
1 tsp. olive oil
2 avocados chopped
Combine in bowl and toss with hot pasta. Garnish with chopped cilantro.
---
Bring your kid(s) to Market this Saturday and Fraga Farm will be sure to bring their kids — baby goats that is! Market Sprouts Kids Club is excited to partner with Fraga Farm for an activity meeting baby goats from their farm. Learn what goes into caring for baby and adult goats and what they produce!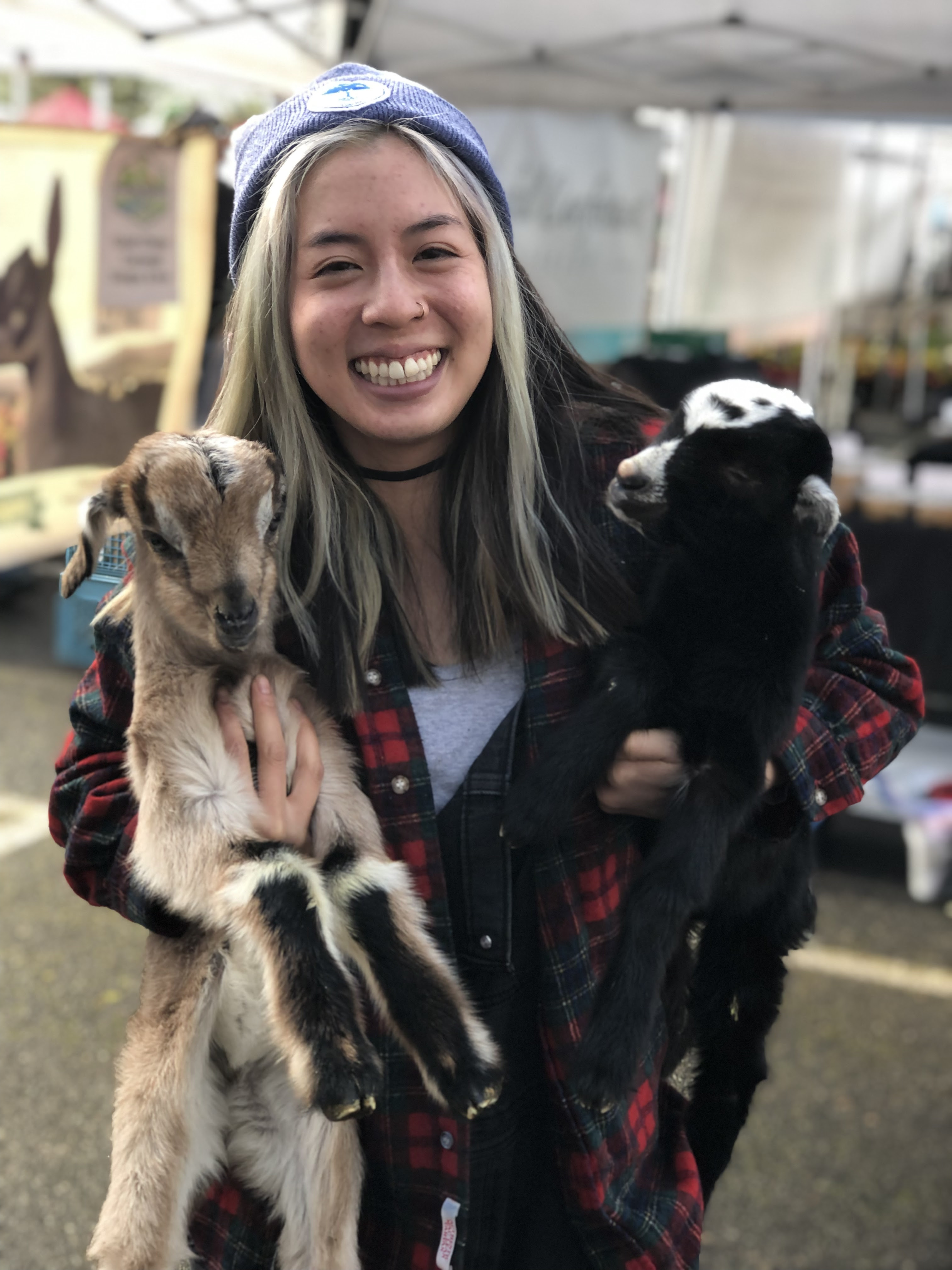 ---
The Beaverton Farmers Market Is Hiring!
The Beaverton Farmers Market is hiring! We are looking for just the right person to be the market bookkeeper.
The bookkeeper role is 20-25 hours a week, including working at the Market on Saturdays. This is an in-person job but the weekday schedule is very flexible.
For more information, please email market@beavertonfarmersmarket.com.
Copyright © 2022 Beaverton Farmers Market, All rights reserved.
Beaverton Farmers Market

PO Box 4

Beaverton, OR 97075