FISH MARKET • RESTAURANT • OYSTER BAR
3004 East Burnside Street • 971-806-6747
* MARKET OPEN 10AM–8PM EVERY DAY EXCEPT TUESDAY *
* RESTAURANT OPEN 11AM–8PM EVERY DAY EXCEPT TUESDAY *
(Both closed every Tuesday)
Please read our Covid-19 house rules HERE  •  We accept EBT/SNAP/Oregon Trail.
IN PORTLAND, ON INDEPENDENCE
File photo, 2011. Please for the love of all heck do not set off fireworks at Mount Tabor this weekend.
Add a Monday observed holiday to a standing summer Friday and you're looking at a 3.5 day weekend. Ain't nothin wrong with that. To prepare for said long weekend over the Fourth, Flying Fish has stocked up on American essentials: Hot dogs, burgers, shrimp, fish, and oysters. Grab & go salad packs from 
Mizuna Gardens
 too. Celebrate our independence with a treat for your tongue. All details below.
LOW TICKET ALERT: We have two spots remaining for our September fishing trip. We're heading to Astoria on Tuesday, September 21st to wrap up summer on Captain Bob's boat and reel in some Coho Salmon on their run up the Columbia. $200, keep what ya catch. Email Lyf ASAP if you're interested: oregonfreshfish@gmail.com
Re: TOP CHEF: Flying Fish is honored to have made a cameo on what was a really awesome season of Top Chef. It really did a good job of showing the best parts of the PDX and Oregon culinary scenes. We were pulling for Chef Dawn (and not ONLY because she shopped at Flying Fish, but yes also because of that), but the recently revealed ugliness surrounding Gabe Erales' behavior really muddies the end result of the season. Our bud Chef Gregory said what needed to be said and we love him for it.
FLYING FISH RESTAURANT: FULLY OPEN AGAIN. A trophy for all of us for surviving the heat dome of June 2021. Our kitchen has finally earned its trophy, and all dishes — cold dishes (pokes and salads – caesar salad w/ anchovies pictured), grilled dishes (steelhead, burgers), fried dishes (fish & chips), and oysters — are now back in action. Come and git it. ALSO: FYI, we have updated our house covid rules.
SLAMMIN SUMMER SALMON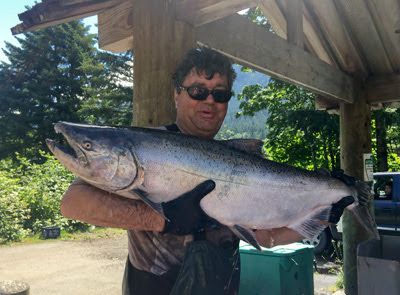 Gotta hand it to ya, that's a big ass fish. Wild, tribal caught Chinook in situ, Cascade Locks.
2021. Halfway there, for better or for worse. Let's go with better and  hope for the best with the rest of the summer ahead. The heat wave and already dry weather are not, shall we say, good for salmon and other fish runs. There are not yet any warnings or restrictions on salmon catches or consumption, but we will stay plugged in through the season and keep you posted if anything changes.
For now, Chinook Salmon is looking great, both from our Columbia River tribal sources in Cascade Locks and the fishing vessels off the Oregon Coast. We're also still within Copper Copper River Sockeye Salmon season, but it's not going to last, so grab some of that while you can. And of course we've got a healthy supply of Ora King Salmon, one of the few sushi-grade fresh (never frozen) salmons of the world. And if we're being complete about salmon options, we might as well mention Steelhead and Rainbow Trout (more or less the same fish, but with distinctive size and lifestyle differences).
The salmons are up first on the fresh list here. The salmon crudo pictured here is another LED production: Lyf, Erik, and Danny on concept, execution, and delivery.
FRESH FISH AS OF FRIDAY JULY 2ND
Chinook/King Salmon – wild, troll caught, Pacific Ocean (Oregon)
Chinook/King Salmon – wild, tribal caught, Columbia River
Sockeye Salmon – wild, Copper River, Alaska
Ora King Salmon* – sustainable farm-raised, New Zealand
Steelhead – sustainable farm-raised, Washington
Rainbow Trout – sustainable farm-raised, Idaho – fillets
Sablefish/Black Cod – wild, Pacific Ocean (Oregon)
Rockfish – wild, Pacific Ocean (Oregon) – skin-on fillets
Swordfish – wild, Pacific Ocean (Hawaii)
Ahi/Bigeye Tuna* – wild, Pacific Ocean (Hawaii)
Tombo/Albacore Tuna* – wild, Pacific Ocean (Hawaii)
Pacific Halibut – wild, Pacific Ocean (Alaska) – fillets, steaks
* – Sushi-grade fish
GOT THEM NO CRAB BLUES
All chum, no crab. A younger cap'n, 2012.
With regret, we must announce that we have no dungeness crab meat, and likely will not until December. Blame cutthroat capitalism if you wanna cut to the chase. (Climate change receives bonus points.) Crab prices have surged by 50%, supplies are effectively drained, and the big guys got all that was available. It really do be like that sometimes.
That said, we are happy to announce that we DO have an abundant supply of wild shrimp. If we may blockquote ourselves:
Mexico-based Del Pacifico Seafoods was the first shrimp company in the world to be certified Fair Trade (2016), which considers labor, trade and responsible environmental practices. Del Pacifico works directly with local fishermen and fish co-ops to create jobs and harvest shrimp in the Pacific that is respectful of the ocean floor. AND, each box has a lot number you can enter HERE that will tell you exactly who you're supporting by purchasing their product.
Cool huh? We've got a whole mess of shrimp for your barbie, shrimp for your cocktail, shrimp for your sizzlin hot scampi. We've got em peeled and deveined, we've got em shell-on easy-peel, and we'll have a bunch of em boiled up and ready for your shrimp cocktail. Ask us about our cocktail sauce.
FRESH SHELLFISH AS OF FRIDAY JULY 2ND
Shrimp – wild, Pacific Ocean (Mexico)
Manila Clams – sustainable farm-raised, Washington
Mussels – sustainable farm-raised, Washington
Sea Scallops – wild, Atlantic Ocean (Massachusetts)
OYSTERS UP
A super huge thank you to everyone who helped us move all those oysters on fire sale during the heat wave. Hopefully some nice cold oysters hit the spot to keep you refreshed.
We're back in action with a nine-spot of varieties as of this writing. As always, for best results, just stop on in. You can take some to shuck at home, or we'll shuck em and plate em for you to slurp down on our patio or beer garden.
[File photo by Natalie and Matthew of oyster sack from a time of ample dungeness crab. Sigh.]
FRESH OYSTERS AS OF FRIDAY JULY 2ND
Carbajals – Washington
Fat Bastard – Washington
Hoshi – Washington
Kokus – Washington
Kusshi – Washington – LIMITED SUPPLY
Los Rucos – Washington
Mere Point – Maine
Totten Inlet – Washington
Whaleback – Maine
EAT A WIENER FOR AMERICA
Real talk. Painted Hills hot dogs deserve better than basic yellow mustard and mass produced ketchup whose primary ingredient is high fructose corn syrup and which is sold in 114 oz jugs. Nay, you need Portland versions of those, 
Portlandia Foods
 if we're being honest. We've got some of those in house to go with a nice retail pack from Painted Hills Natural Beef. Hot damn, hot dog.
FRESH MEAT AS OF FRIDAY JULY 2ND
BEEF – Laney Family Farms, Canby, OR; Painted Hills Natural Beef, John Day, OR
Ground beef (Laney)
Stew meat (Laney)
Hot dogs (Painted Hills)
SMOKIN SMOKED FISHES
Smell-o-phone or smell-o-puter recommended but sold separately.
Let it go, let your fish smoke, slow and low, that is the temp-ro-ture. Flying Fish has been smoking fishes slow and low using a Gildersleeve family brine of spices, raw honey, and sea salt over soaked apple and cherry chips since… well, it's been a minute. See what all the fuss is about – grab a hunk of Flying Fish house-smoked fish that'll land on your palate somewhere between sweet, salty, and smoky. Here are our current hunks.
SMOKED FISHES AS OF FRIDAY JULY 2ND
Smoked Steelheadº
Smoked Sablefish/Black Codº
Smoked Ora King Salmonº
Smoked Salmon Collarsº
Smoked Salmon Belliesº
º – Flying Fish house-smoked, Gildersleeve family recipe
OUR RESTAURANT MENU
For dining here or to-go. Menu updated June 2021
CLICK MENU TO ORDER ONLINE FOR PICKUP:
ALSO: Cocktails, sake, wine, and beer for dining onsite. Inquire within.
FLYING FISH SIGNOFF & DISCLAIMER
PLEASE NOTE: This email was accurate at the time of its weekly writing. Some products come and go quicker than others, so for best results on the freshness, follow us on the social medias: Facebook, Instagram, and Twitter. And tag us in your Instagram pics @flyingfishpdx – we love seeing your food pics!
Cheers,
Lyf Gildersleeve and the Flying Fish Team: Alana, Boo-boo, Chris, Danny, Elowynn, Erik, Isabelle, Jack, Jae, Jesse, Jordan, Kevin, Luis, Mad Dog, Mike, Neebs, Ross, Ryan P, Ryan S, Sam, Sarah, Sawyer, Tara, Trever, Wyatt, and Brad
INSTAGRAM JAM OF THE WEEK
Well well, @salaciousbites makes her triumphant return to the IJOTW with this spectacular taste sensation: miso butter drizzled all over a fresh shucked Fat Bastard. Well done indeed!
ABOUT FLYING FISH
Craig and Sandy Gildersleeve opened Flying Fish Company in Sandpoint, Idaho in 1979 – the year before their son Lyf was born.
Now president of Flying Fish Company, Lyf has spent his entire life around fish, including an aquaculture education at the Harbor Branch Oceanographic Institute at Florida Atlantic University.
Flying Fish has three locations: Sandpoint, Idaho; Durango, Colorado; and Portland, Oregon. The Portland location opened in 2009 as a food cart at the D Street pod on Division Street. In 2011, we opened the fish shack on Hawthorne Boulevard. In 2016, we moved into a stand at Providore Fine Foods on Sandy Boulevard. In February 2020, we opened our standalone location on East Burnside with a restaurant and a patio.
* * *
Thank you for supporting our family-owned business. 
—Lyf, Natalie, Juniper, and Miles Gildersleeve (and Hazel the Dog)
* * *
PHOTO BY NATALIE GILDERSLEEVE PHOTOGRAPHY: Miles, man about town.
Copyright © 2021 Flying Fish Company, All rights reserved.
Our mailing address is:
Flying Fish Company
3004 E Burnside St
Portland, OR 97214-1950